Big cats are known for their impressive hunting skills, majestic colors and patterns, and loud roars. They are largely solitary mammals that mark out their individual territories and defend them mercilessly. There is a lot of variation in the geographical distribution of each of the different types of big cat species, but all together they are found across Europe, Asia, Africa, and America!
These large carnivores have sharp canines that they use to catch and kill their prey, mostly with a vicious bite to the animals neck or throat. Fossil records from extinct species of wildcats give us a unique insight into the history of felines.
1. Tiger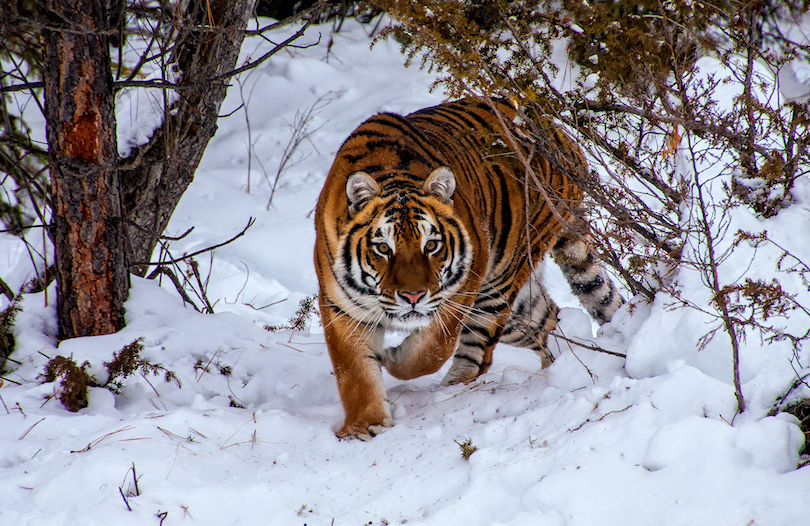 © dreamstime
Tigers are a species of big cat that are found across most of Asia. They are easily spotted because of their bright orange bodies covered in black stripes. Their underbodies are a cream color. They are slender and lean, and live a solitary life. Tigers weigh anywhere between 310 to 660 pounds, with large variation across species.
Some of the best known tiger species are the Bengal tiger, Siberian tiger, and Malayan tiger! Curiously, the majestic white tigers are in fact Bengal or Siberian tigers that suffer from a leucitic condition and have a reduced pigmentation, giving them a bleached appearance. Many are endangered or critically endangered, like the rare Sumatran tiger. Historically there were species in Java and Bali, but sadly they are now extinct.
Tigers are ferocious predators that can run as fast as 30 to 40 miles per hour, and have large canine teeth that leave a deep wound on their prey. They inhabit rainforests, savannas, grasslands, and sometimes mangrove swamps.
2. Lion
© dreamstime
These notorious felines roam the savannas, woodlands, semideserts, grasslands, and open plains of sub-Saharan Africa. There is also a small population of lions in western India, deep in the forest. The average female weighs some 280 pounds, whilst males are much heavier and weigh around 420 pounds.
Male lions have extravagant manes around their heads and all lions have a loud roar that can be heard up to 5 miles away. These incredible mammals are apex-predators that use their speed, strength, and advanced hunting skills to track and pounce on wildebeest, zebras, antelopes, and pretty much anything else! They even try to tackle small giraffes and eat reptiles and fish if they can´t get their claws on anything else.
They can run at speeds of up to 50 miles per hour and are the only big cats that aren't solitary. Lions live in small prides of up to 30 lions, where the females are the main hunters.
3. Jaguar
© dreamstime
Jaguars are big cats that have white bellies, a cinnamon brown body, and are covered in dark brown spots surrounded by black rings. They are rapid land mammals that run at top speeds of 50 miles per hour. They live in South America and Central America, though their populations have been greatly reduced over the last few centuries.
The largest remaining populations are found in Brazil, which is home to 170,000 jaguars that mainly live in the wetland of the Pantanal and the rich canopy of the rainforest. Jaguars are the 3rd largest wild cat in the world, and can weigh up to 265 pounds.
They are opportunistic feeders that have a bite more powerful than that of any other big cat species. In fact, their teeth are strong enough to bite through a turtle shell and the thick skin of crocodilians. Jaguars take down their prey with a fatal bite to the back of the skull, and can prey on prey up to four times their own weight.
4. Leopard
© dreamstime
Leopards are largely solitary animals that mark out and defend their territories from other leopard intruders. Females and males only come together in mating season, and then return to their own territories. These majestic big cats are covered in small spots called rosettes, that look a lot like the markings on a jaguar. They mostly have lightly colored fur, but there are some black leopards!
You can find these beautiful animals across countries in Sub-Saharan Africa, Central Asia, parts of northeast Africa, and in India and China. They are opportunistic feeders that will prey on pretty much anything around, from little insects to big mammals! They stalk their prey until they are close up to the animal, and then jump out of their hiding places with a big leap.
Their jumps can be as long as 20 feet, and they kill their prey with a vicious bite to the neck or throat. If they have to chase their prey down, they can reach speeds of up to 36 miles per hour, which doesn't leave their prey with much chance of a quick escape!
5. Snow Leopard
© dreamstime
These curious creatures live in northern and central Asia, in countries like Nepal. They especially love the Himalayas, where they live high up in the mountains. Snow leopards are well adapted to cold, snowy environments and can live at altitudes as high as 18,000 feet, though they tend to stay between 9,850 to 14,800 feet.
They look a lot like leopards and jaguars and have the characteristic rosette markings along their light fur. However, despite their appearance and name, they are closer related to tigers than leopards! They are great hunters that are highly agile and can gracefully navigate steep and unstable rocky cliffs on a hunt. These impressive big cats can leap up to 30 feet when they pounce on their prey!
Snow leopards have thick fur that reaches lengths of 5 inches along their bellies and keeps the cold out. They also wrap their long tails around themselves, and even have fur on their paws that helps them keep warm in snowy weather.
6. Cheetah
© dreamstime
Cheetahs are the fastest land animal on Earth! They can run at high speeds of 80 miles per hour and easily catch escaping prey during a chase. These animals have light brown fur and are covered in small, black spots.
Their preferred habitats are grasslands and open plains where there's always lots of prey around. The largest cheetah populations are found south of the Sahara desert in eastern and southern Africa, though there are also some smaller cheetah populations in Iran and northern Africa.
Cheetahs are largely solitary animals that spend most of their lives hunting and living alone. They spend just 18 months with their mothers before going off on their own. However, brothers are known to stay together in male sibling groups known as a coalition. These animals can live for up to 12 years in the wild, where they hunt birds, antelope species like steenbok, gazelles and springbok, and larger animals like sables.
7. Cougar
© dreamstime
Cougars are also called panthers or pumas, and sometimes referred to as mountain lions. They have sandy colored fur with cream-colored bellies and weigh an average of 136 pounds.
This species of big cat is widespread across the Americas, from Canada to South America. They live in a diverse set of habitats, from coastal regions and barren deserts to high altitude mountains and dense forests. There are even cougars in the wetlands of Florida.
They are carnivores, and hunt their own food. Cougars are nocturnal and mostly predate at night or in the early hours of the morning, or just after dusk. They feed on small deer, coyotes, and whatever they can find in their environment. These ferocious animals kill their prey with a bite to the back of the neck. They eat their prey over the course of a few days or a week, hiding it out of sight in-between meals.
8. Clouded Leopard
© dreamstime
These small big cats have a light brown coat of fur with intricate and irregular stripes and spots in a darker shade along their body. These peculiar cats can't roar or purr, unlike other big cats. They live in forests and are one of very few animals that can climb down trees headfirst.
Males weigh up to 50 pounds and females weigh a mere 25-35 pounds, they are very small for a big cat and thought to bridge the gap between big and small cats, as they don't really fit into either group. They are found in Bangladesh, eastern India, Sumatra, Nepal, Borneo, and China.
Clouded leopards can run at top speeds of 40 miles per hour. They are carnivores that prey on different monkey species like macaques, slow loris, and gibbons, as well as wild boars and small deer. They pounce on their prey from above, jumping out of their hiding places in trees, or chase them on the ground.
9. Caracal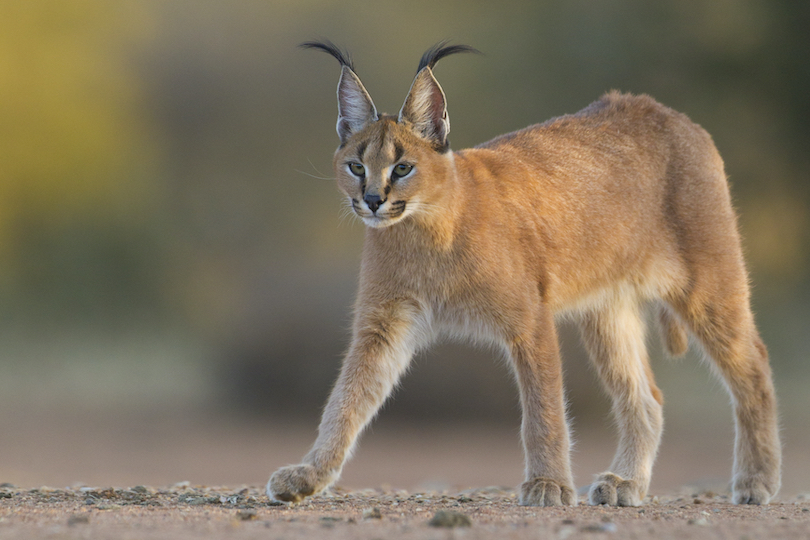 © dreamstime
Caracals are medium-sized wildcats that have sandy colored fur and are easily distinguished with a glance at the top of their ears, that have long, black hairs growing skywards off them. Their underside and chin are covered in white fur. They weigh somewhere between 25 and 40 pounds.
They inhabit savannas, forests, and savannas in Africa and some areas of the Middle East. Their impressive ears aren't just decorative, they also have the ability to swivel round to listen out for prey, thanks to the 20 muscles in each ear.
Caracals are opportunistic hunters that prey on monkeys, rodents, birds, and other small mammals like the mongoose and hyrax. They can run at top speeds of 50 miles per hour and leap off the ground to catch escaping birds mid-flight. Curiously, scientists think that they might use their long ear hairs to communicate with one another through twitches and subtle movements.
10. Eurasian Lynx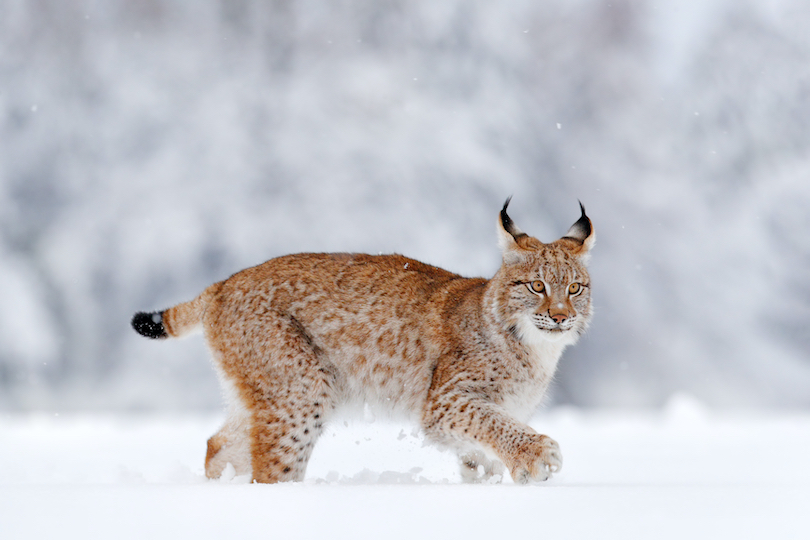 © dreamstime
This medium-sized wildcat species is the largest of all four lynx species, and the third largest European predator! They were very close to extinction in Europe by the 1950s, with estimates predicting there were just some 700 left. However, populations are starting to recover!
They prey on small deer and occasionally foxes and small mammals like rabbits and hares. The euroasian lynx has a large geographical distribution, with populations found across Europe, central Asia, East Asia and Siberia, where they live in forests.
They weigh somewhere between 30 and 60 pounds, and can live up to 17 years in the wild and some 24 years in captivity. They are largely nocturnal animals, and only hunt during the day when food is scarce and they need some extra meals! The euroasian lynx is one of the most widely distributed wildcat species in the world, but their populations are threatened by habitat loss and hunting.
11. Saber-toothed cat (extinct)
© dreamstime
These historical cats were a group of a few wildcat species that roamed the Earth long ago. They had long, sharp canine teeth that stuck out of their top jaw and down past their chins. They went extinct about 10,000 years ago and different families of this extinct group were around at different points in history.
They were about 3 feet long and it's thought they had a life expectancy of about 40 years. The oldest fossil records predict that they roamed the planet as long as two million years ago and were distributed across the American continent.
Some of the best preserved bones of this extinct animal were found in old tar pits in California. Animals would get stuck in the sticky asphalt, and attract prey like saber-toothed cats! It's hard to know exactly what they looked like, it's thought they had sandy brown fur, though some species were likely covered in spotted markings much like modern leopards.
12. American lion (extinct)
wikipedia/Sergiodlarosa
A subspecies of modern day lions, these animals roamed the Earth about 350,000 years ago and were spread across North America and the more northern areas of South America. American lions went extinct some 13,000 years ago, at the end of the Ice Age.
They are thought to have preferred more open landscapes, like grasslands and steppe-tundra over dense forests. These large cats weighed over 500 pounds and reached lengths between 8 and 12 feet! There was a lot of variation between female and males, known as sexual dimorphism. This alone makes it hard to generalize about these ancient wildcats.
As well as fossils, we have also found cave paintings of these fantastic creatures. These historic paintings suggest that the American lion didn't have a mane and was covered in dark spots. They had large, rounded canines and sharp retractable claws. They had a loud roar and long, slender legs. Humans once hunted these impressive wildcats!