Third only in size to lions and tigers, the elegant yet ferocious jaguar is the only big cat in all of the Americas. Sometimes mistaken for leopards, the solitary and evasive creatures can be distinguished by their beautiful rosettes which often have a dark spot in the middle. In addition, they have larger, squarer heads and shorter legs than their African and Asian cousins.
Now sadly listed as Near Threatened, the opportunistic hunters occupy around half of their historic range with most of them residing in the Amazon rainforest. Though some conservation groups reckon only 15,000 remain in the wild, jaguars are still sighted from time to time from Mexico to Argentina.
As they often live along rivers or in dense, dark rainforests, jaguars are both excellent climbers and swimmers with their poor prey never knowing where they'll strike from next.
Exploring the diet of a jaguar…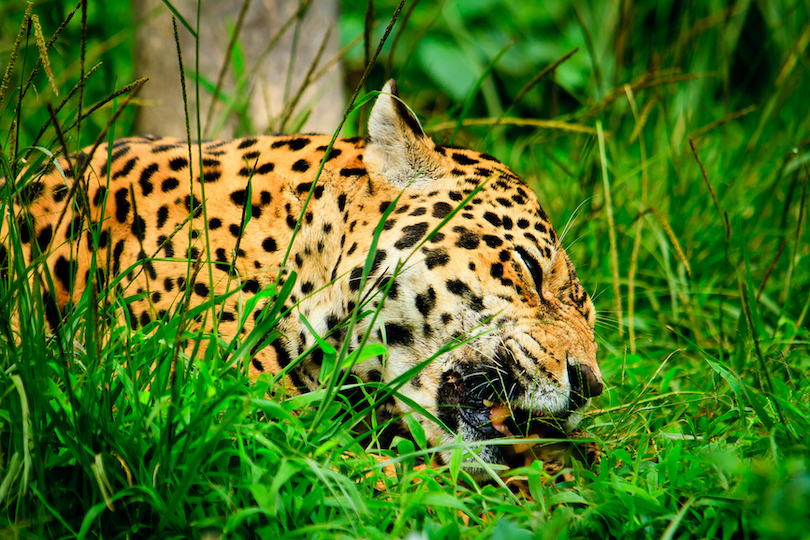 © dreamstime
As jaguars are comfortable hunting both on land or in water, the carnivorous cats enjoy very diverse diets. To date, they have been recorded eating more than 85 different species ranging from birds and fish to reptiles and primates.
While they normally stalk and ambush their prey, jaguars eat almost any animal they come across if the opportunity presents itself. They do, however, prefer to hunt mammals weighing between 45 and 85 kilograms with capybara, giant anteaters and marsh deer by far their favorite prey.
As well as black agouti and armadillos, peccaries, tapir and sloths also regularly feature while those living alongside rivers and wetlands may also catch fish, caimans and turtles from time to time. They also sometimes consume snakes and eggs or domestic livestock if they live next to human habitations.
While jaguars need to regularly eat if they are to stay in tip-top condition and survive, the fearsome predators barely ever drink. This is because they get all the nutrients they need from the fresh fleshy meat that they feast on.
How Much Do Jaguars Eat?
© dreamstime
To maintain a healthy weight, jaguars generally need to eat around 1.2 to 1.5 kilograms of meat a day. This varies though depending on the availability of prey and the size of the individual with the stealthy hunters both feasting and fasting when necessary.
Unlike other big cats, jaguars start feeding on the neck and chest of their kill first before consuming the heart and lungs and then moving onto the shoulders. They usually drag it to a secluded spot such as a dense thicket or up a tree before starting on their meal.
While the largest of them in Venezuela and Brazil can reach up to 120 and 90 kilos respectively for males and females, their counterparts in Central America only weigh roughly half that size.
How Often Do Jaguars Eat?
How often a jaguar eats depends to a large extent on the availability of prey and just how often they make a kill. If readily available, they will normally feed daily and consume smaller amounts than in times of scarcity.
While they prefer to eat larger mammals such as capybara and giant anteaters, they won't hesitate to snack on smaller prey like lizards, porcupines and birds if the chance presents itself.
If they don't eat regularly, jaguars quickly lose their powerful physique which then puts them at risk of starvation if they can't hunt and ambush prey to the best of their abilities. As such, they normally eat every day or two, only rarely going a week without making a kill.
How Do Jaguars Hunt?
© dreamstime
In the wild jaguars use a stalk-and-ambush strategy to sneak up on their unsuspecting prey and take them down in a split second. As their camouflaged coat helps them blend in with the lush vegetation around them, the fierce hunters remain concealed in the undergrowth until they are within pouncing distance of their intended target.
Once they are within about five or so meters of their prey, they lunge at them from a blind spot so the animal has even less time to react, dodge their attack and escape to safety. Unlike other cats which typically go for the neck or throat, jaguars use their powerful teeth, jaws and bite to pierce the skull and kill their prey almost instantly.
Besides prowling along rainforest paths, the solitary predator may also lie in wait on the branches of trees or hurl themselves into rivers or swamps in pursuit of caiman and turtles.
While jaguars use their keen sense of smell and phenomenal eyesight to locate their next meal, they rely on their stealth, strength and speed to surprise their prey and take them down.
When Do Jaguars Hunt?
Long thought to be nocturnal, recent research has actually revealed that jaguars are crepuscular and are most active at both dawn and dusk. They do however also hunt during the day and night, using the tactics we outlined above.
While they frequently rest during the hottest parts of the day, jaguars for the most part won't hesitate to pounce on any prey that comes their way. As they are very opportunistic and eat almost anything, a small animal or reptile could stumble onto their plate or pass below their tree at almost any time.
At night, jaguars often travel up to 10 kilometers in search of prey, using their excellent night vision to scan their surroundings and settle on a target. In particular, capybara, peccaries and tapirs are all ambushed in the dark as this is when they are most vulnerable.
Just how often a jaguar hunts also depends to a large extent on when they had their last meal and how hungry they are. If they have recently eaten a sizeable meal then they are less likely to hunt for a couple of days.
Their preferred prey also sometimes changes with the season and weather with researchers in Brazil having noted that jaguars went after cattle instead of caimans when the rains receded.
What Do Jaguar Cubs Eat?
© dreamstime
In general, jaguars give birth to between one and four cubs who are born blind, toothless and defenseless. Their mother looks after the litter and feeds them her fatty, nutrient-rich milk with weaning taking place at around the age of three months.
Although they can already eat small morsels of meat, cubs remain in the birth den up until about the age of six months which is when they first start to accompany their mother on hunting trips. She will then show them how to stalk, ambush and bring down prey and teach them everything they need to know if they want to survive in the wild.
After two years, cubs are big enough and strong enough to set out on their own and establish their own independent territories and hunting ranges, reaching sexual maturity a couple of years later.
In the wild, jaguars rarely live beyond the age of 11 with cubs having a particularly high mortality rate due to predation, accidents and illness.
What Do Jaguars Eat in Captivity?
© dreamstime
In contrast, jaguars in zoos and wildlife sanctuaries enjoy extended lifespans, sometimes reaching double the age they would in the rainforest. This is because they don't have to fend for themselves, are fed regularly and are provided with excellent medical care.
While individuals in the wild have very diverse diets due to all the different animals they prey on, jaguars in zoos mainly eat fresh ground meat with bones and organs being chucked in from time to time. In general, they are given a couple of kilos of meat each, though this depends on their activity levels, age and health.
To replicate their eating patterns and natural diet in the wild, fasting days are also factored into their feeding schedule.
In addition, they are sometimes given opportunities to forage or even hunt for themselves with toys and frozen foods also being thrown in for them to play with.
What Eats a Jaguar?
As they are very much at the top of the food chain, the main threats facing jaguars in the wild are unfortunately humans and habitat loss. Deforestation in particular and the poaching and illegal trade of jaguar body parts have all contributed to the incredible creatures going extinct in many areas or surviving in small, fragmented populations.
While adults are almost untouchable, their young and defenseless cubs can be preyed upon by other predators with black caimans and anacondas being the only reptiles they really need to keep an eye out for.