Jaguars are the only big cat in the Americas. They make for a striking sight, thanks to their powerful physique and eye-catching coats dotted with dark rosettes and spots. Only smaller than tigers and lions, the solitary creatures are superb hunters and have a strong bite; feeding off of everything, from capybara and marsh deer to tapirs, turtles, and caiman.
Listed as Near Threatened by the IUCN, the ferocious predators now sadly only occupy around half of their historic range. Estimates vary as to how many are thought to still be living in the wild. While some researchers put the total population at around 170,000, other experts argue that it is closer to just 15,000.
This vast variation is because it is very hard to monitor jaguar numbers, as they usually inhabit the wildest and remotest reaches of rainforests and wetlands. So where do jaguars live in the wild? While they are incredibly hard to spot in the wild, jaguars can be sighted from Mexico in North America, right down to Argentina in South America.
1. Brazil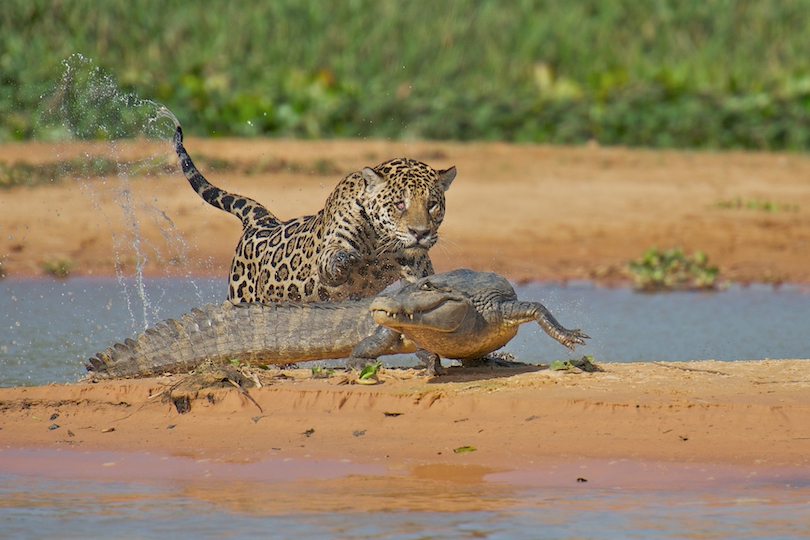 © dreamstime
As the sprawling and steamy Amazon Rainforest covers so much of its territory, it is no wonder that Brazil is thought to be home to around half of the world's remaining wild jaguars. Sightings are still rare though, due to their camouflaged coats, solitary nature, and the inaccessible areas of the jungle in which they reside.
Consequently, the best place to see the majestic creatures in Brazil is undoubtedly the Pantanal; the vast tropical wetlands that lie in the west of the country.
Most people head to Cuiaba River or Caiman Ecological Reserve, where you have a good chance of seeing them swim across a river or sunning themselves on a sandbank. Remarkably enough, jaguars in the Pantanal grow to be almost twice as big as their Amazonian counterparts.
2. Colombia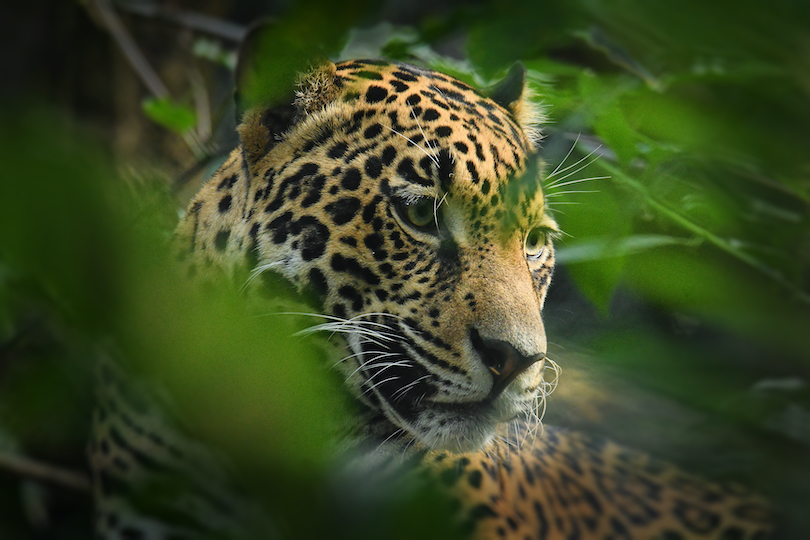 © dreamstime
Bordering both Brazil and the Amazon Rainforest to the northwest is Colombia, which is also home to one of the largest populations of jaguars.
One of the most biodiverse countries on Earth, the fierce felines are surprisingly widespread throughout Colombia's rainforests and wetlands, but are still very hard to spot due to their nocturnal habits and reclusive nature.
Cutting across Colombia is the Serrania de San Lucas—an integral part of the 'Jaguar Corridor' that connects their habitats in Central America to those of the Amazon Basin. Besides its pristine forests, visitors can also see jaguars in national parks, such as Sierra Nevada de Santa Marta, Chingaza, and El Tuparro, with Tayrona being the most popular of the lot.
3. Venezuela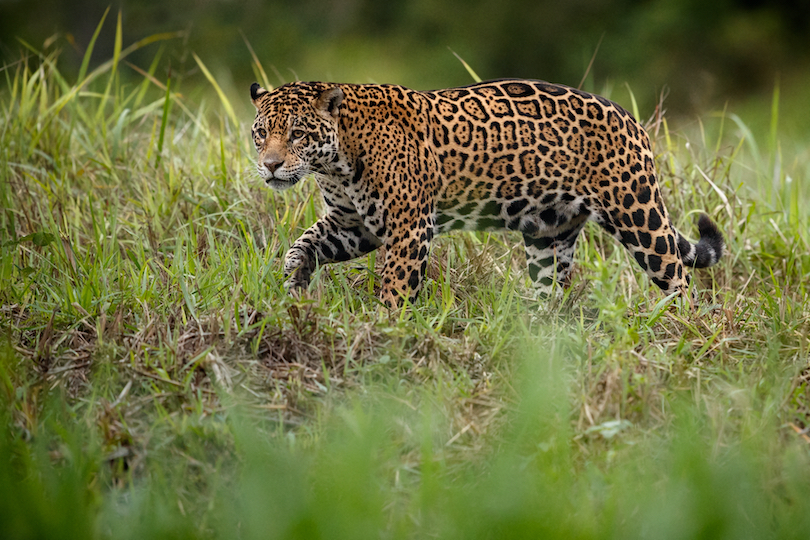 © dreamstime
Right next to both these countries is Venezuela, which along with Brazil and Paraguay, boasts some of the largest jaguars in the world. Much bigger than those of Central America, its hefty hunters can weigh as much as 120 kilos with the largest females reaching around 90 kilos in total.
Most of Venezuela's jaguars can be found either in the remote rainforest that coats the south of the country or the rolling plains of Los Llanos. Here they hunt capybara and giant anteaters, with turtles and caiman also occasionally serving as tasty meals.
Although incredibly elusive, visitors may spot the rare jaguar in Canaima or Terepaima national parks, and even the historic Henri Pittier National Park which lies along the country's coastline.
4. Costa Rica
© dreamstime
Renowned for its beautiful nature and wildlife, Costa Rica has long been lauded as a sustainable ecotourism destination. Much of its territory is protected as part of national parks or nature reserves. Within its steamy rainforests and mountains roam countless jaguars, with the even rarer melanistic jaguar or black panther also having been spotted prowling about.
One of the species' final strongholds in Central America is Corcovado, which is considered to be the crown jewel of Costa Rica's national park system. While sightings are uncommon, visitors do often come across their tracks along the beach.
In addition, jaguars are also known to reside alongside pumas, ocelots, and margay in the tropical forests of La Amistad International Park.
5. Mexico
© dreamstime
While jaguars once roamed across the southwestern states of the US, now only the odd, isolated individual is spotted from time to time. As such, Mexico is the northernmost country on the planet where populations of the predators still survive, although their habitats are under severe pressure from human activity and encroachment.
Much smaller than their South American counterparts, Mexico's jaguars weigh around fifty kilos with the main bulk of their prey consisting of white-tailed deer.
While sightings are rare, healthy populations of jaguars can be found in both Calakmul and Chamela-Cuixmala biosphere reserves. Although numerous wildlife corridors have been set up to connect the areas they live in, jaguars are increasingly rare in both the Sierra Madre Occidental and Sierra de Tamaulipas mountain ranges.
6. Belize
© dreamstime
One of the most biodiverse places on Earth, Belize is home to all kinds of incredible animals, with over half its land being coated in forest.
Residing amidst the tropical forests of the Maya Mountains are countless jaguars, with the Central American country boasting the world's first nature reserve dedicated to the protection and conservation of these animals.
Established in 1986, Cockscomb Basin Wildlife Sanctuary sprawls over a huge area with solitary males, and females with their cubs, roaming and hunting within its confines.
While many jaguars live amidst its dense forests and alongside its rivers and rapids, it is still highly unlikely that visitors will catch a glimpse of the reclusive creatures—besides seeing paw prints that they've left behind.
7. French Guiana
© dreamstime
Almost entirely covered by verdant rainforest, French Guiana is one of the most sparsely populated places in the world, with all its towns and villages located solely along its Atlantic Ocean coastline. While its wild and remote reaches are almost impenetrable, and still not completely explored due to the dense vegetation, this thankfully protects the natural habitat of the elusive jaguars.
Most of the camouflaged creatures live in the gigantic Guiana Amazonian Park which is remarkably one of the largest national parks and protected areas in the world.
Amidst the endless rainforest, the jaguars stalk and ambush their prey, using their expert climbing and swimming skills to surprise unsuspecting animals. As well as capybara and agouti, they also take down tapirs from time to time.
8. Peru
© dreamstime
While Peru is mostly known for being home to the Incas and Andes, a huge swathe of the Amazon Rainforest, and all its astounding animals, can be found in the east of the country. Within its excellent national parks reside countless jaguars, with the spotted cats being quite widespread throughout both the rainforest and the Tropical Andes.
Besides breathtaking scenery, parks such as Manu and Huascaran are quite accessible and well-developed, with visitors sometimes spotting jaguars prowling about.
In addition to these popular parks, both Cerros de Amotape and Yanachaga-Chemillen also house populations of jaguars. As they were once revered as a sacred animal by Peru's early peoples, many sculptures and figures of jaguars have been unearthed at its archaeological sites.
9. Paraguay
© dreamstime
Although often overlooked by tourists, Paraguay is also home to some fabulous nature and wildlife. While the east of the country is mostly made up of grassy plains and wooded hills, the marshy lands of the north also include part of the Pantanal, which is where jaguars can sometimes be spotted.
Along scenic and secluded sections of the Paraguay River and its tributaries, visitors can sometimes see jaguars swimming from bank to bank.
In this remote region, breeding pairs are often observed to stay together for up to five days, which is something quite unusual for the solitary creatures. Besides hunting for caiman and deer here, jaguars are also found in the wetlands of the southeast, which are set aside for the proposed San Rafael National Park.
10. Honduras
© dreamstime
Also lying along the Jaguar Corridor, which runs from the northern reaches of Mexico to Argentina, is Honduras. A biodiversity hotspot, Honduras's verdant rainforests and mountains are home to all kinds of animals, with both jaguars and puma living beside the tapirs and peccaries that they hunt.
Most of its incredible animals can be found in the sprawling mountains and tropical forests that lie along the La Mosquitia region of its Caribbean coastline.
Here you'll find the beautiful Bio Platano Biosphere Reserve, which boasts a vast array of wildlife and nature and is now a popular ecotourism destination. Lucky visitors may even spot a jaguar padding silently through the forest or swimming across one of its many rivers.