Instantly recognizable due to their distinctive black-and-white striped coats, zebras are one of the most well-known African animals on the savanna. While their camouflaged coats already make for a striking sight, seeing massive herds of zebras all move together as they migrate across the plains is an awe-inspiring experience.
On safaris in Africa, guests can see and snap photos of the beautiful and elegant animals up close and personal. So where do zebras live in the wild? While they were once spread throughout the continent, the large equines are now only found in the eastern and southern countries of sub-Saharan Africa.
The plains zebra, or common zebra as it is also known, is the most widespread of the species in terms of both numbers and geography. There are six or seven subspecies inhabiting grasslands and savannas across Africa. In contrast, the larger species of endangered Grevy's zebra only lives in several semi-arid areas of Kenya and Ethiopia. The vulnerable mountain zebra also only inhabits certain specific environments and is mainly found in the rugged mountains and hills of Namibia and South Africa.
1. Kenya
© dreamstime
Thanks to its successful conservation strategies, close work with local communities and sprawling wildlife reserves, Kenya boasts some of the largest herds of zebras on the planet. While the marvels of the Masai Mara are renowned around the world, important populations of endangered Grevy's zebra can also be found in its northern national reserves.
The massive open grasslands of the Masai Mara are, however, the best place to see plains zebras in the wild. Around July of each year, one of nature's greatest events takes place—more than a million wildebeest and 200,000 zebras migrate to the Masai Mara from the Serengeti. While the Great Migration is spellbinding to witness, you can also find large herds of zebras in both Tsavo East and Tsavo West national parks.
2. Tanzania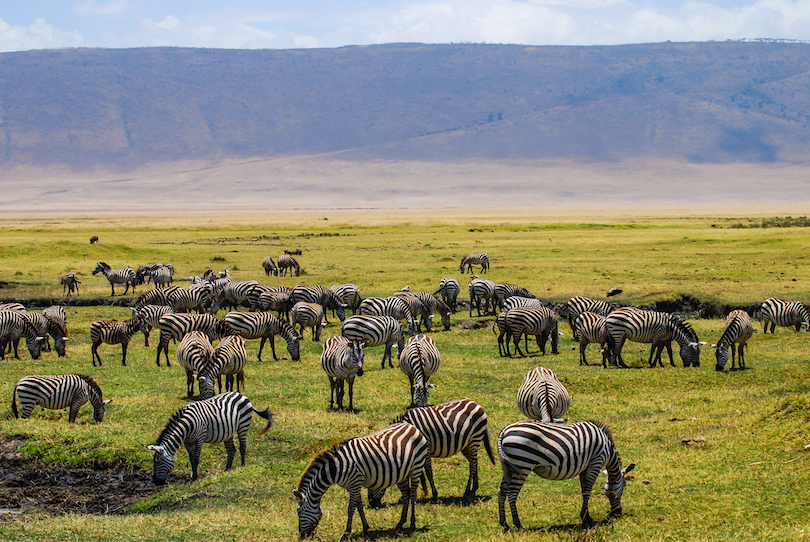 © dreamstime
Kenya's East African neighbor Tanzania is also one of the best places to see both the Great Migration and zebras in the wild. From around January to March, zebras graze on the rain-ripened grasses and give birth to thousands of tiny foals before the whole herd migrates north in search of fresh pastures.
While seeing the mass migration is an unforgettable experience, Tanzania also has plenty of other national parks and wildlife reserves to explore. Besides the magnificent and much-visited Ngorongoro Conservation Area, visitors can enjoy safaris in Mikumi and Ruaha national parks, both of which contain huge herds of Grant's zebras; the smallest subspecies of plains zebra.
3. South Africa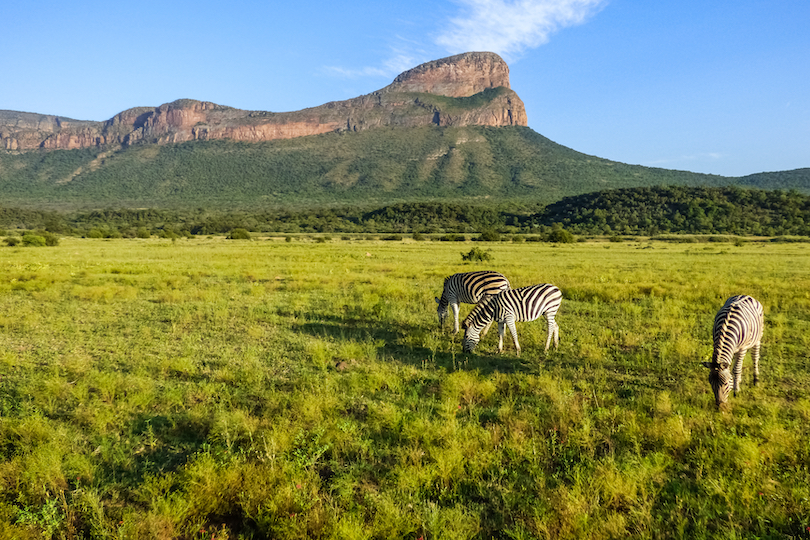 © dreamstime
Another nation that is famed for its incredible wildlife and national parks is South Africa, which has the continent's most developed tourism industry. The most popular place to go on safari is Kruger National Park; its spectacular scenery and abundant wildlife not only includes tens of thousands of common zebras but the Big Five too.
While the plains zebra can be spotted throughout the country, South Africa is also home to some of the world's last remaining populations of mountain zebras. Of these, the vulnerable Cape mountain zebras are thought to number just 700 in total and can only be found in Karoo and Mountain Zebra national parks. The other subspecies, Hartmann's mountain zebras, are slightly more numerous and have a larger range, being located in both the Goegap Nature Reserve and neighboring Namibia.
4. Namibia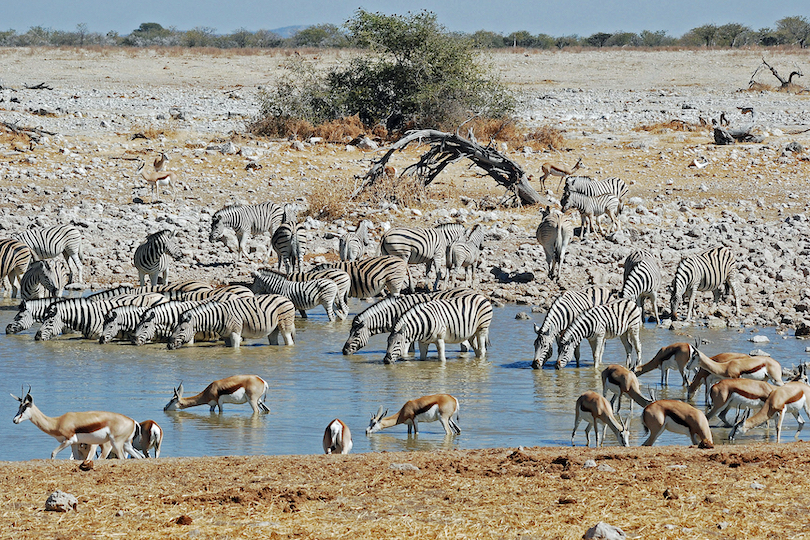 © dreamstime
Somewhat similar to Kruger, Etosha National Park is Namibia's most famous and popular wildlife viewing destination as its endless plains and waterholes teem with life. Huge herds of plains zebras and their distinctive camouflaged coats can be seen throughout the park, while the hardy Hartmann's mountain zebra can also be spotted in its rocky western regions.
Like its cousin the Cape mountain zebra, this subspecies prefers to live among rugged, dry, and mountainous terrain and forms much smaller family groups. Perfectly adapted for the harsh, hot hills they inhabit, these zebras have fast-growing hooves, are very nimble and live off of tufts of grass scattered about the escarpment. Besides Etosha, you can also find them in the hyper-arid mountains of Namib-Naukluft National Park.
5. Zambia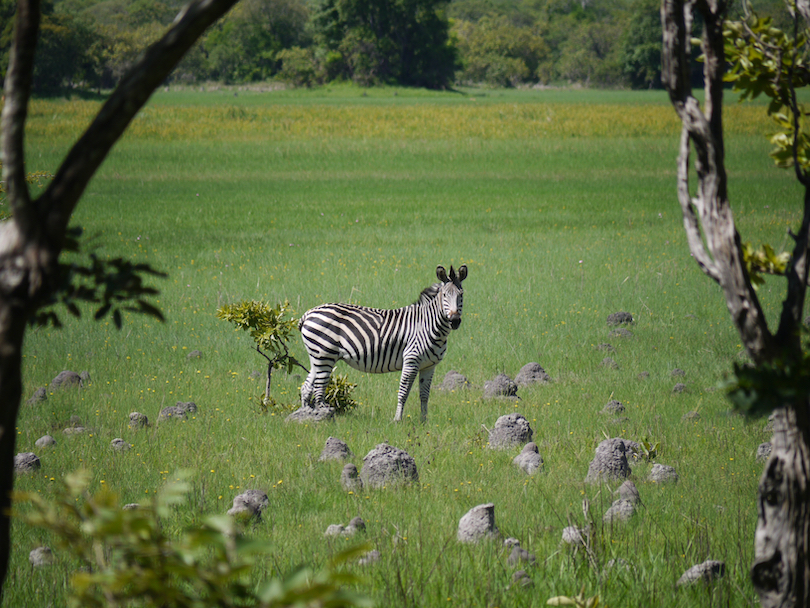 © dreamstime
Another country that is home to big herds of zebras is Zambia which is widely regarded to be one of the best places in the world to see animals up close and in the wild. Almost a third of its landmass is protected as part of national parks or nature reserves with stunning scenery, nature, and wildlife wherever you look.
Due to their abundance of animals, the most popular parks to visit are Kafue, South Luangwa, and Lower Zambezi. Amidst their verdant grasslands and vast floodplains, you can spot elephants, lions, and giraffes with several subspecies of plains zebra, such as Grant's, Chapman's and Crawshay's, also on show.
While they look quite similar, the zebra can be differentiated by subtle variations in the shape and shading of their stripes.
6. Botswana
© dreamstime
As Botswana's national animal, zebras not only appear on the country's coat of arms but also have their stripes featured on its flag. Fittingly enough, huge herds of plains zebras can be found throughout its nature reserves, with the Okavango Delta one of the most magical places to see them in the world.
One of the largest inland deltas on Earth, seasonal flooding transforms the basin and the resulting greenery attracts all kinds of animals. While antelopes, gazelles and zebras come to graze on its grasses, predators such as lions and cheetahs also come to prey on them.
Besides exploring the delta's massive Moremi Game Reserve, visitors can also head to Chobe National Park, which is widely reputed to have the highest concentration of game in the country.
7. Malawi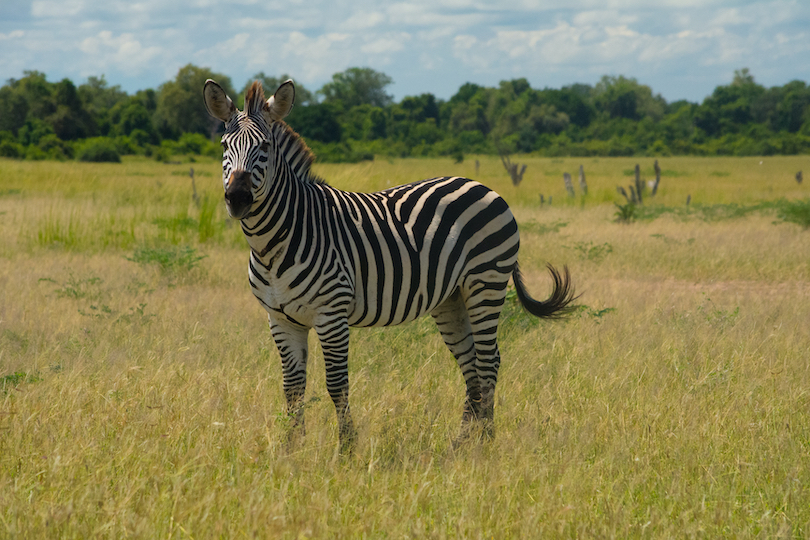 © dreamstime
Although it is not as well known for its wildlife, landlocked Malawi also boasts some incredible national parks and nature reserves. Delightfully under-visited in comparison with those of Kenya, Tanzania, and South Africa, their scenic confines are home to a staggering array of animals with countless plains zebras to be found alongside rhinos, leopards, and hippos.
Largely set on a plateau, with the long Lake Malawi making up most of its eastern border, its lush grasslands and savanna woodland are the ideal habitats for zebras to thrive in. Most of the country's zebras are from the Crawshay's subspecies, which have narrower stripes than other plains zebras.
The best places to see zebras are amidst the gorgeous scenery of both Nyika and Liwonde national parks.
8. Zimbabwe
© dreamstime
While it is most famous for being home to the spectacular Victoria Falls, Zimbabwe is another of Southern Africa's landlocked countries to house large herds of plains zebras. As much of the nation is made up of savanna, zebras and their distinctive stripes can be spotted throughout its parks and reserves.
The best place to see them though is Hwange National Park which is Zimbabwe's premier wildlife viewing destination. Besides leopards and lions, you can spy Burchell's zebra which is distinguished by its shadow stripes that lie between the broad and bold markings of its haunches.
Long considered a sacred symbol by Zimbabwe's Shona people, zebra stripes have been found decorating parts of Great Zimbabwe; the ancient stone city after which the country is named.
9. Ethiopia
© dreamstime
Although most zebras live much further south in the continent, isolated pockets of the endangered Grevy's zebra can also be found amidst the semi-arid grasslands of southern Ethiopia. Also known as the imperial zebra, it is the largest kind of equid living in the wild and is much more mule-like in appearance than its stripey cousins.
Now considered stable after decades of steep decline, populations of this more solitary subspecies of zebra are mostly found in the scenic yet secluded Chelbi Wildlife Reserve and Yabelo Wildlife Sanctuary. Here you can spot them grazing and galloping about the sun-scorched scrub and grasslands.
Thanks to conservation efforts by the Kenyan and Ethiopian governments, there are now said to be around 2,500 Grevy's zebras in the wild.
10. Uganda
© dreamstime
As well as being home to the magnificent mountain gorilla, Uganda's numerous national parks and nature reserves protect not just thousands of plains zebras but the Big Five too. Despite often being overlooked in favor of neighboring Kenya and Tanzania, the landlocked nation offers up some unforgettable wildlife viewing opportunities.
Besides seeing Burchell's zebra in both Lake Mburo National Park and Pian Upe Wildlife Reserve, visitors can also spot maneless zebras in Kidepo Valley National Park. The northernmost subspecies of plains zebra can be recognized by its very short mane.
As most of the park is made up of open tree savanna, herds of delightful zebras can be seen grazing alongside elephants and buffalo, with the rare Rothschild's Giraffe also spotted from time to time.