A rhinoceros, commonly shortened to rhino, is a type of horned mammal. Historically they were found across Africa, Asia, and Europe. Now, however, they only inhabit the African and Asian continents. There are now just 21,000 rhinoceros left in the wild, very few of which live outside of National parks or nature reserves.
There are five species of rhinos: the black rhino, the Javan rhino, the greater one-horned rhino, the white rhino, and the Sumatran rhino. Their coloring is always light or dark grey, despite what their name may suggest. Their conservation status varies across species, ranging from critically endangered to vulnerable.
Exploring the Diet of a Rhino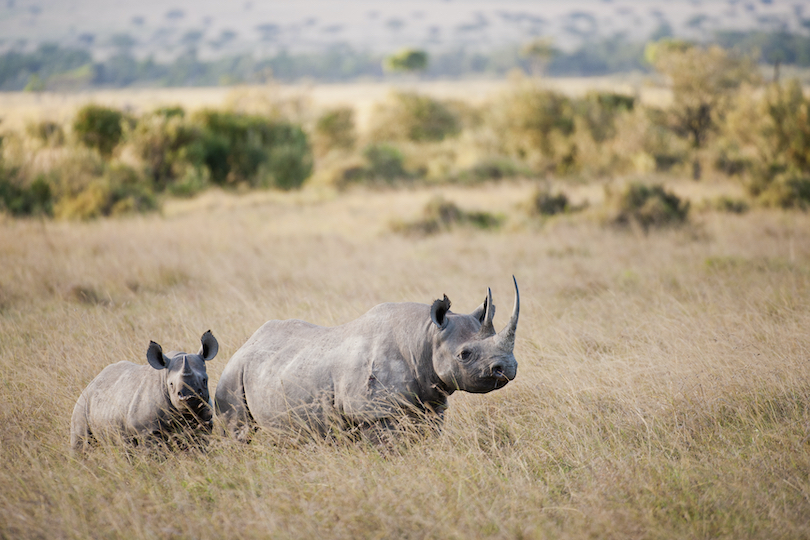 © dreamstime
All rhino species are herbivores. Their diet is made up entirely of vegetation, although there are considerable variations in diet across species. Rhinos can be broadly separated into grazers and browsers based on what vegetation they feed on.
Browsing species, like the black rhino, feed on foliage torn from bushes and trees. They also pick at seasonal fruits from high up branches and chew on twigs and bark. Their thick, long lips allow them to eat foliage of thorny trees like the Acacia.
Grazing species, like the white rhino, feed on low down roots and grasses. The diet of a grazing rhino will differ based on habitat, as each contains different grass species.
How Does a Rhino's Snout Help it Feed?
© dreamstime
Rhinos have snouts that are adapted to their feeding style. Rhino species that rely on browsing have rounded snouts with long lips. This helps them reach foliage on high up branches and get around the spikes on shrubs like Acacia trees. They feed mostly on leaves, twigs, and bark.
On the other hand, rhino species that are heavy grazers have flat, squared snouts. The structure of their snout allows them to get their mouths flat against the ground, where they nibble grasses and roots. They graze on plants that are as short as one millimeter in height, so this feature is essential for them to optimize feeding.
How Much Does a Rhino Eat?
Rhinos are large, heavy animals. Most species weigh over 2,200 pounds, though their weight varies across species and can be anywhere between 1,800 and 4,400 pounds. The amount a rhino eats per day varies greatly across species due to the animal's size and choice of feed.
The smallest rhino is the Sumatran rhino that eats some 110 pounds of browse per day. Similarly, a white rhino will consume an estimated 120 pounds of graze per day. This is a lot of food if you consider how little a piece of grass weighs!
Across species, it is thought that rhinos eat around 2.5% of their body weight per day. They will have to spend long hours browsing and grazing to get all the food they require. Luckily most of the water the animal needs is in their food; a rhino can go up to five days without drinking. This allows them to forage and graze far away from waterholes without worrying about dehydration.
When Do Rhinos Eat?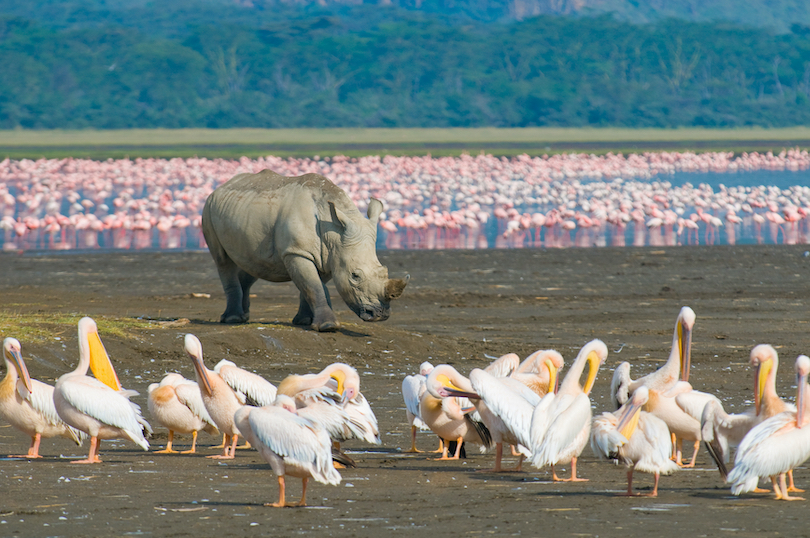 © dreamstime
Rhinos are nocturnal animals. They are more active at night than during the day. This behavior is largely influenced by their habitat. They live in hot climates where the sun is too intense during the day for foraging and browsing.
To avoid the midday heat they spend the day wallowing in mud and water, where they are protected from insects and the sun. When the sun starts to go down, they come out of their mud baths and start feeding.
They forage and graze from dawn to dusk. They spend about 12 hours a day feeding and have evolved a sharp sense of smell and keen sense of hearing that helps them carry out all their activities at night.
Where Do Rhinos Feed?
There are five species of rhino spread across Africa and Asia. Each species lives in a unique habitat, with little geographical crossover. Where they live greatly affects their diet.
There are two African rhino species. White rhinos are the larger of the two and they live in open grassland areas and savannas, their diet is rich in grasses. Black rhinos inhabit countries in Eastern and Central Africa where there is an abundance of shrubs and trees.
The remaining three species of rhino all live in Asia. Sumatran rhinos live in tropical and subtropical forests in Indonesia where they forage for a variety of foods. The Javan rhino is critically endangered, there is a single population of Javan rhinos left in the Ujung Kulon National Park in Java; east of Jakarta.
Lastly, the greater-one horned rhino is found across India and Nepal and has the most varied diet of all the rhino species.
Does a Rhino's Diet Vary Across Species?
© dreamstime
There is significant variation in a rhino's diet across species. Let's dive into the details of each species' diet, some of the differences might surprise you!
Black rhinos, Sumatran rhinos and Javan rhinos are all browsers. Their diet is made up of foliage from trees and bushes, like twigs, leaves and bark. They also eat fruits. Sumatran rhinos love mangos and figs and are known to break into fruit plantations to steal a snack.
Javan rhinos also munch on shoots, nibble young trees and occasionally graze. They are smaller than other browsing rhinos, so they eat browse from lower down. Black rhinos eat leaves and foliage from high up branches, this contributes towards forest management in African savannas.
The white and greater one-horned rhinos are species of grazers. White rhinos feed on 200 varieties of grasses available in their habitat. Aside from grazing, greater one-horned rhinos browse shrubs, fruit, and even consume aquatic plants!
What Do Rhino Calves Eat?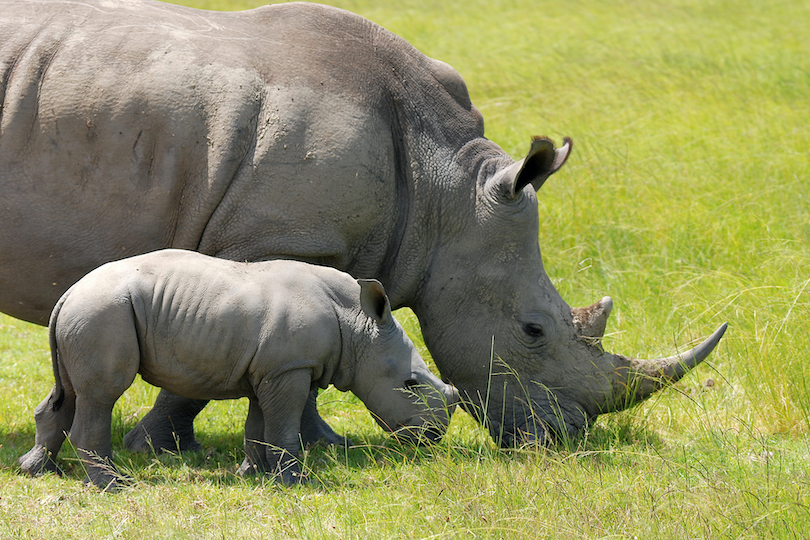 © dreamstime
Rhino calves are born after approximately 17 months gestation, with variation in gestation length occurring across species. Calves are born without a horn and are much smaller than their mothers.
Rhinos are mammals that nurse their calves with nutrient rich milk produced in mammary ducts. The milk is suckled by the calf from teats on the mother's belly. They nurse for up to 18 months, although they supplement their diet with vegetation during this period. Calves learn how to forage for food by mimicking their mother's behavior.
How Do Rhinos Digest Their Food?
Herbivorous diets pose a problem: plant matter is high in cellulose that is difficult to break down. This makes it hard for nutrients to be extracted from the vegetation ingested by herbivores. In response, herbivores have evolved specialized stomachs.
Most herbivores are ruminants, they have four stomach chambers and regurgitate their food in order to properly digest the plant matter. However, rhinos are monogastric mammals that have a single stomach. So, how have they tackled the issue their diet presents?
They are hindgut fermenters. They have an enlarged cecum that contains a microbiome made up of symbiotic bacteria that break down the cellulose found in plant materials. Once the ingested vegetation has been fermented in the cecum it can be broken down in their stomach into micro-molecules, like sugars, that are absorbed in the intestine.
What Eats a Rhinoceros?
Rhinos are large and heavy mammals with a tough outer skin. Of the five species of rhino, only one species has natural predators. The Sumatran rhino is the smallest species and is occasionally predated on by wild cats in tropical forests.
Whilst adult rhinos are safe from predation, calves can be at risk. To protect their calves as they grow, mothers will spend a period after birth near the water, choosing not to feed far away or in open grasslands where their calves may be at risk of predation.
Despite not having natural predators, all rhino species are hunted by humans. This has led species to near extinction and is the greatest threat faced by a rhino. They are hunted for sports, meat, and as an ingredient in Chinese medicine.
What Do Rhinos Eat in Captivity?
© dreamstime
Captive rhinos should be fed to closely resemble their diet in the wild to promote good health and proper development. Many species present increased rates of obesity and issues with development when they are held captive. By mimicking their wild diet this can be avoided.
In the wild, rhinos forage their food, which is made up entirely of vegetation. They feed on grasses and browse, like shrubs and foliage. It would be best to mimic this when feeding captive rhinoceros, however, in captivity their diet consists of alfalfa and soy.