There are two known species of hippopotamus, the common and pygmy hippopotamus. The common hippopotamus lives south of the Sahara, in Eastern Africa. Meanwhile, the pygmy hippopotamus lives in a few forests in West Africa.
The common hippopotamus is large, standing at a height of 1.5m and weighing between 1.4-5 tones. The pygmy hippopotamus, however, is only small. These creatures are just one meter tall and weigh between 160-275 kg.
The common hippopotamus has a population of 110,00-130,000. Unfortunately, the pygmy hippopotamus is endangered, and their population size is unknown.
Taking a closer look at the diet of a hippo…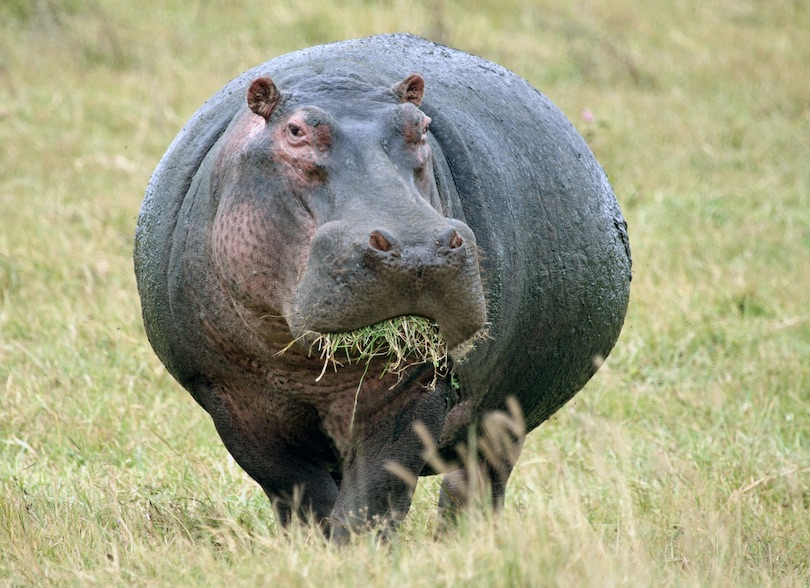 © dreamstime
Hippopotamuses are herbivores, they feed on matter of a plant origin and tend to avoid consuming anything from an animal origin. They spend their time grazing or browsing for food. Their diet and feeding behaviors differ across species as they live in different habitats.
The common hippopotamus' diet is made almost entirely of grasses. They opt for weakly rooted grasses that they can easily pull up from the soil, avoiding deeply rooted and thick grasses. This species of hippopotamus does eat some browse and a minimal number of aquatic plants, but these make up a small percentage of their diet.
On the other hand, the pygmy hippopotamus feeds mostly on browse, like leaves and roots, that it browses on the forest floor. They also feed on fruits and other forest plants like ferns. Like the common hippopotamus they eat grasses, but in small quantities.
Do hippos eat meat?
© dreamstime
Hippos can't digest meat and carrion well as their stomachs are adapted to a diet of vegetation. It is unusual and rare for a hippo to eat meat.
The presence of meat in a hippopotamus' diet tends to indicate that the hippopotamus is under nutritional stress, this can occur when environmental conditions like flooding or drought lead to food scarcity.
The common hippopotamus was observed scavenging for carrion and predating in a year of drought in southern Africa. There have even been reports of cannibalism within the species.
When do hippos feed?
Hippopotamuses spend the day in water reserves like lakes and rivers. They emerge from the water around dusk when the sun is going down and temperatures begin to drop. Both species of hippopotamus are nocturnal, they spend the day resting and sleeping, and feed at night.
A hippopotamus will spend some four to six hours of the night grazing or browsing for food, consuming anywhere between 40kg to 68kg of food. Considering their size and weight, this isn't much. It is only about 1.5% of the common hippopotamus' body weight.
Hippopotamuses have a largely sedentary lifestyle; they wallow in water during the day and are inactive until the night when they come out to feed. Because of this, they don't need to spend a long time feeding or eat large amounts as they conserve most of their energy.
Where do hippos feed?
© dreamstime
The common hippopotamus will emerge from the water and walk to surrounding grazing spots to find food. On average, they travel a distance of three kilometers to feed, but they will go to feeding spots up to 15 km away.
The pygmy hippopotamus has to travel into the thick vegetation of the forest. They often navigate the forest by following game trails. The hippopotamus swags its tail as it moves, clearing the vegetation behind it. It feeds of the forest floor as it goes, moving and eating until it's full.
Hippopotamuses feed by grabbing at grass and browse with their wide and muscular lips as they move their head in a side-to-side motion. This creates patches of land known as hippo lawns, where the grass is shorter, and the area is cleared.
What is the structure of a hippo's digestive system?
Hippopotamuses have a unique digestive system; it is closest to the ruminant's digestive system. However, hippopotamuses have three chambers, whilst ruminants have four. Unlike mammals who have a colon, hippopotamuses are foregut fermenters and have a pre-gastric fermentation chamber.
These animals are referred to as pseudo-ruminants. They are born with a sterile intestine that doesn't contain any of the necessary bacteria. Because of this, they must eat their mothers' faeces to build up an intestinal flora that contains the right microbiome.
The three chambers in the hippopotamus' stomach are the parietal blind sac, forestomach, and glandular stomach.
How do hippos digest their food?
Hippopotamuses chew their food, then it is swallowed and passed into the foregut fermentation chamber where the cellulose is broken down.
It then passes to the parietal blind sac and through the forestomach which acts as a connecting chamber. Next it moves to the glandular stomach or the "true stomach" of the hippopotamus, that is responsible for the secretion of enzymes like pepsin that break down the macromolecules in the ingested food.
Unlike ruminants, hippopotamuses don't regurgitate the cud that forms in their stomach or chew it again. Their specialized digestive system allows them to enjoy the benefits of a ruminant's stomach without rumination.
Once the cud has been broken down in the glandular stomach it moves into the small and large intestine where nutrient absorption takes place. These animals have a low metabolic rate and conserve their energy by having a largely sedentary lifestyle; thus, they don't need to feed in high quantities like other animals of their size.
What do hippos eat in captivity?
© dreamstime
It is important for zookeepers to keep a captive animal's diet as similar as possible to its diet in the wild. They should also avoid overfeeding, animals living in captivity show higher rates of obesity than in the wild and this can increase the risk of other health problems.
Hippopotamuses are non-selective grazers; they aren't fussy eaters. Hippopotamuses living in captivity are fed a mixed diet of herbivore pellets, alfalfa, hay, lettuce, mixed vegetables, and occasionally seasonal fruits. They especially enjoy melons and pumpkins!
In captivity their diet is completely made up of vegetation. Pygmy hippopotamuses are raised in areas with forest vegetation they can graze on.
What do hippos calves eat?
© dreamstime
Hippopotamuses have an eight-month gestation period. For a few weeks before and after birth they isolate themselves from their herd to spend time alone. They give birth in the water to a calf hippopotamus that weighs an average 45kg.
The new-born hippopotamus rises to the surface to take its first breath. They can't swim but can hold their breath for around two to three minutes at a time underwater.
Hippopotamuses are mammals and nurse their calves. Their breastmilk is rich, a single cup contains some 500 calories. Hippopotamus calves can suckle on land and underwater, to do this they close of their nose and ears whilst nursing.
Mothers have two teats that the calf can feed on. They give birth to one calf at a time and nurse them for some eight months. Hippopotamus calves start to eat grass or browse at around three weeks old, but the weaning process of a hippopotamus calf is slow.
What eats a hippo?
© dreamstime
Hippopotamuses are heavy and sturdy animals; they have wide jaws and are one of the largest mammals on the African continent. Mature adults aren't often predated on because of their size and strength, they also spend up to 18 hours of their day in the water, so they are hard to catch.
Hippopotamuses can run at a speed of 48km per hour, so they are able to keep up in a chase with most predators. The only known predators of hippopotamuses are big cats, like lions and cheetahs, hyenas, and crocodiles. However, even these large and brave carnivores will tend to predate on calves and weakened hippopotamuses.
This might be why female hippopotamuses choose to live in groups of 10 to 30 hippopotamuses, raising their calves within the herd. It offers them protection from predation.
Do humans eat hippopotamuses?
Humans are a predator of the hippopotamus. However, hippopotamus meat is a delicacy in many African countries and isn't commonly consumed by locals.
Hippopotamuses are mostly threatened by hunting expeditions. A Tanzanian Hippo hunt only requires a 21-day license with a daily rate of approximately $1,700 and trophy fees around $3,350. There has also been a significant rise in hippopotamus hunting for ivory since elephant ivory became illegal.
The common hippopotamus was endangered due to habitat loss and poaching, but stricter law enforcement has seen the population size plateau and stabilize.