Wildebeest belong to the antelope species. They live in the Serengeti plains of South-eastern Africa, spread across Kenya and Tanzania.
They have a light grey, brown or black coating with dark vertical stripes around their neck and shoulders, as well as a black mane. Wildebeest have curving horns at the top of their heads which male wildebeest use to compete in territorial disputes and shoving matches.
Female wildebeest and their calves travel in groups of anywhere between 10 and 1,000 wildebeest. On the contrary, male wildebeest are largely solitary and compete for large territories to attract female wildebeest to mate with.
Exploring the diet of a wildebeest…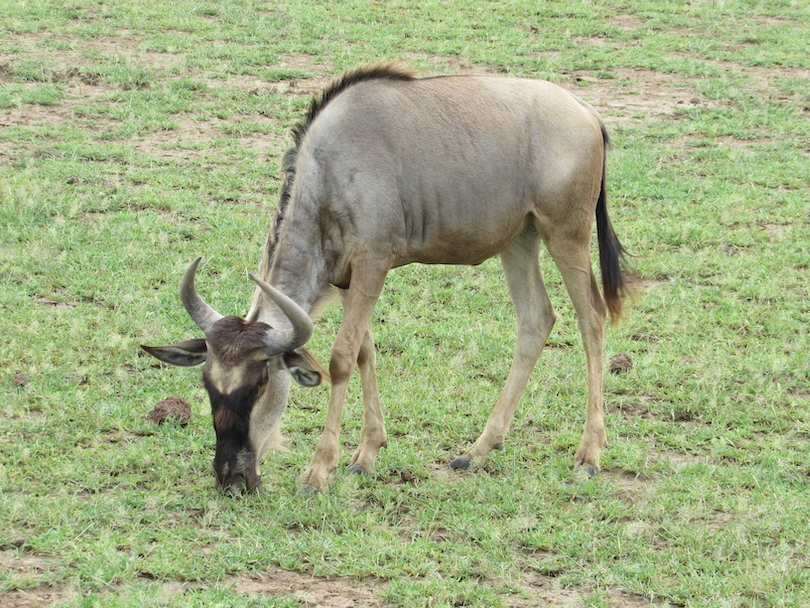 © dreamstime
There are two species of wildebeest, the Blue and Black wildebeest. Both species are strict herbivores, feeding entirely from matter of a plant origin. This selective form of eating may disadvantage them at times when there are food shortages.
They feed on short grasses and some succulent plant species found in the grassy plains and savannas of Africa. Wildebeests are grazers, they spend their time walking and feeding throughout the day rather than eating large meals.
Wildebeests should always make sure to be close to water reserves as they need to drink water twice a day. They can only last a few days without drinking water, leaving their populations sensitive to droughts. Wildebeests rely heavily on annual rains not only for water but for the fresh grasses they feed on.
When do wildebeests feed?
© dreamstime
A wildebeest's diet is not affected seasonally as they don't engage in behaviors like hibernation or torpor. They are diurnal animals that have an increased activity during the daytime.
They are most active during the morning and late afternoon when the sun isn't as hot, and they can comfortably graze. In the afternoon when the sun is most intense, they tend to rest. They sleep at night, but only for some 4.5 hours per day, so there's still plenty of time for night grazing.
Wildebeests feed in smaller quantities in the hottest hours of the day and at night-time, but they graze almost continuously. They must maintain a weight of some 118-275kg on grasses and succulents alone, so any opportunity to feed is eagerly taken by a wildebeest.
What do wildebeest calves eat?
© dreamstime
Male herd leaders defend large territories from other males and mate with the females in their herd. Wildebeest calves are born in February or March after a gestation period of some eight and a half months. Wildebeests are mammals, they nurse their calves with a milk source that is suckled from their teats.
The timing of wildebeest mating and birthing is not accidental, they reproduce and birth in accordance with the dry and wet seasons. Wildebeests must give birth in the wet, rainy season when grasses are abundant, and they can find the nutrients necessary for lactation and calf growth.
Calves are active within minutes after birth, standing and walking around. They grow up quickly. At just 10 days old they will begin to taste grasses and engage in grazing behaviors they observe from their mothers and adult herd members. However, they will remain with their mothers and suckle for a full 6 months.
What eats a wildebeest?
© dreamstime
Wildebeest, like other antelope species, are heavily predated in the African continent. There are many predators of a wildebeest, like hyenas, lions, chetahs, and wild dogs. Wildebeests also cross the Nile River in their migration routes and will often become the prey of crocodiles.
Wildebeests travel in large groups, though some smaller herds do remain nomadic. Male wildebeests will often stand on a mound, watching over the herd and on the look-out for predators. When a predator is spotted, they use loud, deep calling sounds to alert the herd.
Once an alarm call is heard, the wildebeests begin to stamp and gather. In a chase they can run at a speed of up to 80 km per hour. Their large numbers are their greatest defense, herds can consist of some 500 wildebeests at their largest. Stampeding wildebeests are hard to hunt and getting caught in the force of a stampede could be dangerous for a predator.
Where do wildebeests eat?
© dreamstime
Wildebeests migrate long distances to find food. The annual rainfall patterns set their migration course through the savannas and grasslands of Africa. They need to follow the rain as the short grasses they feed on don't grow in dry and arid conditions.
Their nomadic lifestyle allows them to forage all year, finding the nutrients they need to reproduce and rear their calves. They also need to be close to water reserves, which dry up during the dry season, leaving them vulnerable to dehydration and death. By moving to areas with wetter conditions they avoid this.
They migrate most in the months of May and June, covering distances between 500 and 1000 miles. Wildebeests move in large herds that are joined by other migrating species like zebras, other antelopes, elephants, and giraffes. Aggregations of up to 1.5 million migrating herbivores are seen in the African Serengeti each year.
What do wildebeest eat in captivity?
It is important for zookeepers to keep a captive animal's diet as close as possible to its diet in the wild. This way they ensure the animal gets all the nutrients its body has evolved to need, and the animal grows up healthy and fit. Overfeeding is a common problem in zoos and should be avoided.
Wildebeests feed on grasses and succulents in the wild, this simple and herbivorous diet is easy to maintain in zoos. The introduction of wildebeest into captivity is recent, and few zoos have wildebeest.
The issue with raising wildebeests in captivity is that they are migratory animals. In zoos they have a largely sedentary lifestyle, which does not suit the animal. However, being raised in captivity does offer the wildebeest a continuous supply of food, simplifying the wildebeest's life considerably.
What's the stomach of a wildebeest like?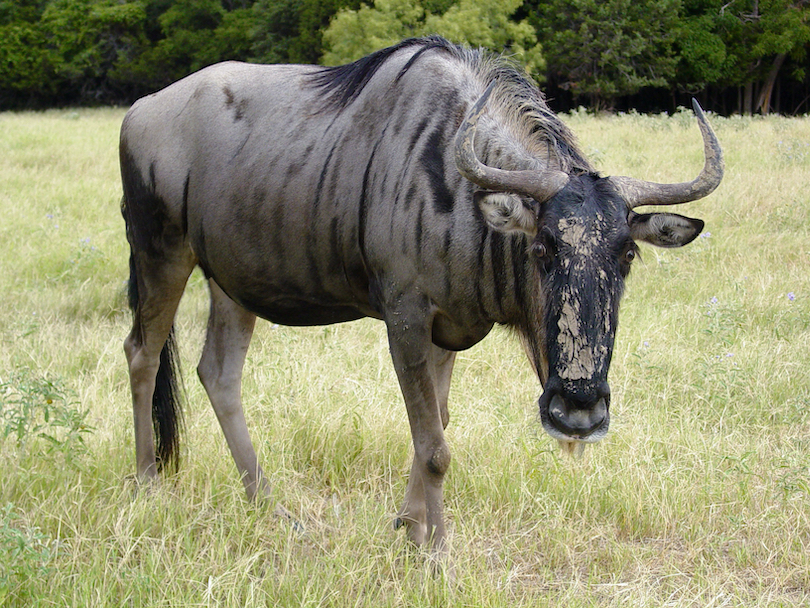 © dreamstime
Wildebeests are ruminants. They have specially adapted stomachs with four compartments, the rumen, reticulum, omasum, and abomasum. Grasses and other graze are low in nutrients and have a high cellulose content. Most animals cannot survive on a purely herbivorous diet as their stomachs cannot breakdown the cellulose.
Wildebeest and other ruminants, like cows and giraffes, have evolved the rumen to solve this problem. This is the first of the four stomach compartments. It contains symbiotic bacteria and microorganisms that break down the cellulose in the plant matter through fermentation.
They also regurgitate their food and digest it in their stomachs more than once to maximize nutrient breakdown, this way herbivores can get all the energy they need from graze alone.
How do wildebeest digest their food?

Wildebeests have denture particular to herbivores. They have wide molars that are perfect for grinding down plant matter before it is swallowed. They lack the canines of carnivores as they don't hunt or feed on carrion.
Swallowed food passes into the rumen where it is fermented, converting cellulose into sugars that can be absorbed later on. The food mass, now called cud, moves to the second chamber of the stomach called the reticulum. From here the cud is regurgitated back into the wildebeest's mouth and chewed again, further grinding down the tough grass.
Food is then swallowed for a second time. The cud moves through the omasum, the stomach chamber where water is absorbed from the cud, and abomasum before moving into the small intestine.
From here the processed cud will move through the digestive system where nutrients and water are absorbed into the body so they can be used as an energy source.
Do humans eat wildebeest?
Human's hunt and kill wildebeest as a food source in areas of sub-Saharan Africa. In South Africa they are enjoyed in a traditional stew known as biltong, that is made from wildebeest meat. Their meat is high in iron content, a great energy source. Wildebeest meat is compared to beef in flavor and texture.
Wildebeest can be legally hunted with a license, and hunting expeditions are available to tourist. However, the illegal hunting of wildebeests is still problematic.
Wildebeest populations have grown in numbers significantly and are currently stable. There are around 1,500,000 wildebeests in the world. However, one of its subspecies, the eastern, white-bearded wildebeest, has suffered a steep decline in population numbers, reminding us why conservation efforts and strict hunting laws are necessary.