Ostriches live in the semiarid plains and woodlands of Africa. A small number of ostriches also live in the Southern Australian outback. They were introduced to the Australian continent in the 1890s and again in the 1970s when locals were attempting to farm ostriches for their meat and feathers.
They are the largest bird in the world and can be as tall as 2.7m. Also, likely due to their size and weight, these birds are flightless.
Their coloring changes depending on their gender. Male ostriches have a black body with white tail feathers, whilst females are covered in brown feathers.
Exploring the diet of an ostrich…
© dreamstime
Ostriches live in dry, arid habitats. The food available in these conditions is limited. Ostriches are omnivores, eating foods of both plant and animal origin. They are opportunistic eaters and will feed on whatever is available.
In the wild their food is mostly browse, like leaves and plants. It is thought that 60% of a wild ostriches' diet is made up of plant matter. They feed on roots and seeds, as well as plant and leaves.
Ostriches will also scavenge for food, picking at carrion left over by other animals. They eat insects, like grasshoppers, locusts, crickets, and moths; reptiles, like snakes and lizards; and small animals like rodents.
Around 15% of an ostrich's diet consists of fruits and legumes; 20% is made up of salts, grains, and stones; and a mere 5% of animals and insects.
What do ostrich chicks eat?
© dreamstime
Contrary to common knowledge, some birds can produce a form of milk, known as crop milk, to nurse their young. However, despite this, ostriches don't nurse their young.
Instead, when ostrich chicks hatch, they absorb the remainder of the yolk sac contained within their egg into their abdomen. The nutrients from the sac help sustain them for the first 14 days of their life. However, they should begin to eat around 7 days of age to ensure that, as the sac is depleting, they maintain normal growth.
After 2 weeks, chicks rely on browse as their main source of feed. Farmed or captive chicks will be given ground food or pellets that should be mixed with small pebbles the size of rice grains.
In the wild, ostrich chicks learn to feed by imitating the feeding behaviours of their parents. It is essential that captive or farmed chicks be kept with an adult ostrich so that they can learn how to feed properly.
What do ostriches eat in captivity?
© dreamstime
Captive ostriches are fed a varied diet of fruit, vegetables, and commercial ostrich feed. They eat around 1.4kg of food per day. Overfeeding should be avoided as it can lead to obesity, which creates further health issues for the animal.
Ostrich pellets are rich in vitamins and minerals and should make up 80% of an adult ostrich's diet in captivity. There are various pellets available for ostriches, according to their age.
Broccoli, carrots, oranges, cabbages, and beets are some of their favorite fruits and vegetables! But they need to be fed to the ostrich chopped up as they will otherwise try to eat them whole. They don't have teeth and can easily choke.
If they are raised in captivity from hatchlings, they will need to be fed a special starter diet for the first two months of their lives.
How do ostriches digest their food?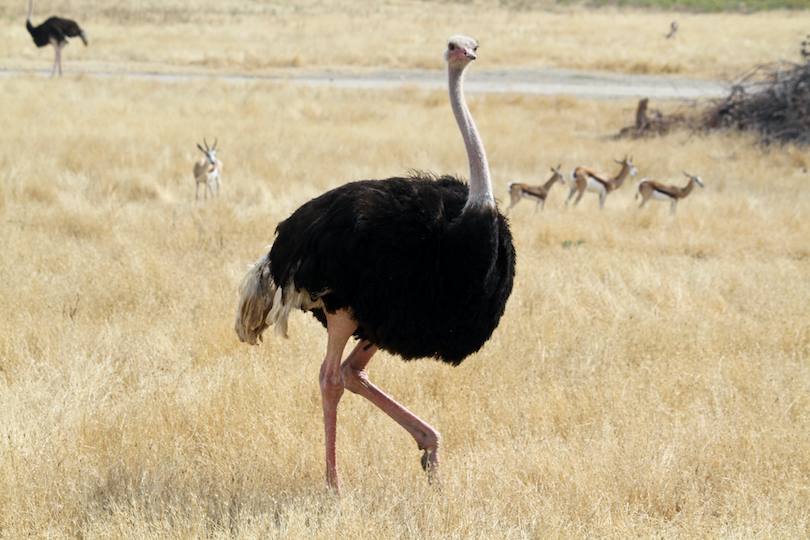 © dreamstime
Ostriches have three stomachs. This is to get around two problems: firstly, ostriches feed largely on plant material, which is hard to break down due to a high cellulose content; and secondly, they lack denticulation.
As they don't have teeth, birds swallow their food whole. To make up for this, they need a specialized mechanism to grind down their food before it moves into the digestive system for absorption. Their solution? The gizzard – a muscular stomach that grinds their food for them.
They also have a proventriculus that acts as a "true stomach". This first stomach has a secretory function, releasing different chemicals that further break down ground up food into smaller macromolecular components.
Ostriches will pass food between the gizzard and proventriculus repeatedly, further grinding and digesting the food with each cycle. Once the food has been through enough cycles, it will pass into the intestine for absorption. It takes an ostrich roughly 36 hours to digest their food!
What is the gizzard?
The gizzard is a specialized stomach, also known as the ventriculus, with tough muscular walls. It is not unique to the ostrich and is also found in other birds, crustaceans, some fish, and earthworms. The gizzard dates back to prehistoric times; even dinosaurs had gizzards!
Ostriches swallow stones and other small sharp objects that move into the gizzard to help grind down food. These objects are known as gastroliths. The thick muscles in the gizzard contract and mix the food and gastroliths, breaking down the cellulose walls in plant materials.
At any point there can be up to 1.5 kg of gastroliths in the gizzard. The hard stones will be polished and smoothed over time in the gizzard and are regurgitated and replaced by rougher stones, which are better at grinding.
What animals eat adult ostriches?

© dreamstime
Adult ostriches don't have many predators. This is because of their size and speed. They can run as fast as 70km per hour and maintain a speed of around 50km per hour. Few animals can keep up with an ostrich in a hunt.
They live in packs of about 10 ostriches, with a dominant female and male in each. They use their long necks to keep a lookout for predators. The dominant male has a deep and loud warning call that he will make if a predator is nearby.
Ostriches have a kick powerful enough to kill a lion, and a clawed foot that they can fend off potential predators with. They can also lie flat on the ground to hide from predators.
Potential predators of adult ostriches are cheetahs, lions, leopards, African hunting dogs, spotted hyenas, and Nile crocodiles. In a chase, cheetahs can be a threat because of their legendary speed.
What animals eat ostrich chicks and eggs?
Adult ostriches are not very susceptible to predation as they are able to outrun and fend off predators. However, ostrich chicks and eggs are at greater risk and are more heavily predated.
Ostriches lay their eggs in one large communal nest, where the dominant female lays the first 7-10 eggs. There can be up to 60 ostrich eggs in a single nest. The adults take turns sitting on the nest and keeping a lookout for hyenas, jackals, and Egyptian vultures that try to snatch their eggs.
Once they hatch, ostrich chicks grow quickly. They can run as fast as 55km per hour, but can't maintain this speed for long. They also don't have the strength of adult ostriches. Lions, hunting dogs, cheetahs, hyenas, leopards, and Nile crocodiles will all prey on ostrich chicks.
What are farmed ostriches fed?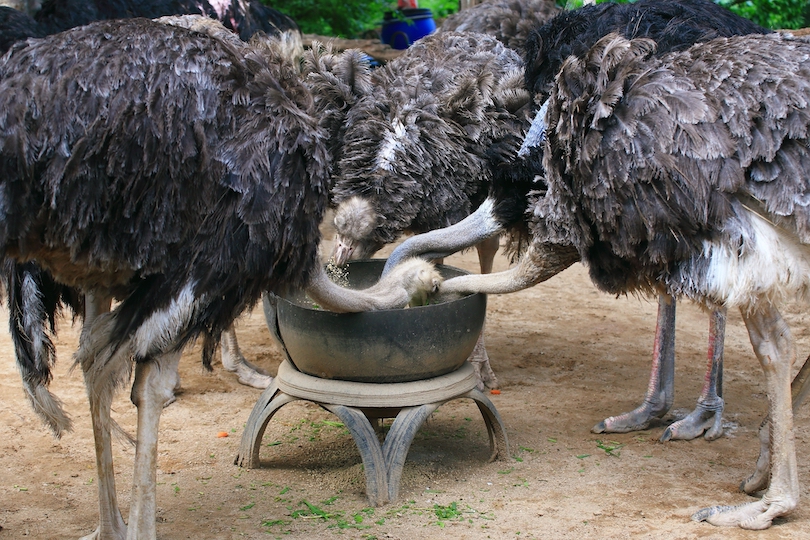 © dreamstime
Ostrich farming began in the African continent and has since spread to the USA and Europe. This is also how these large birds were introduced into Australia, although they now live in the wild as farming was largely unsuccessful.
Their feed is adapted depending on the stage of life they are in. Chicks and young ostriches will need a diet with more protein mineral supplements, like calcium and phosphor, to aid skeletal growth.
This is also important for females during the breeding season for proper eggshell formation. Farmed adult ostriches are often fed a diet entirely made up of pelleted feed that is marginally supplemented with vegetables, apples, root crops and green fodder.
Farmers will usually provide ostriches with stones and sand or grit that they can swallow to grind their food in their gizzard as needed.
Are ostriches a good source of food?
The first commercial ostrich farm was established in South Africa in about 1860. They are farmed for several reasons, but mainly for their feathers, skin, eggs and meat. Farmed ostriches can live as old as 70!
A single ostrich will lay some 15 eggs a month, each weighing around 1.3kg. Ostrich meat is said to taste like beef; however, ostriches need just 2% of the land cattle do. They also have a higher yield of young and produce less greenhouse gases. Could ostrich meat move us towards a more sustainable future?