There are nearly 10,000 bird species on Earth. These warm-blooded vertebrates come in an array of colors, sizes, and weights! They diverged from reptiles up to 200 million years ago, during the Jurassic period. Some of the rarest birds on Earth are found in the Amazon Rainforest, whilst other birds are common across different continents.
Birds have been able to conquer the sky as well as aquatic and terrestrial landscapes. They communicate with whistles, whoops, and distinct calls. They perform exotic mating dances, develop complex hunting strategies, and protect their chicks and nests ferociously.
Some birds, like chickens and penguins, have lost the ability to fly. Being flightless is particularly common amongst heavier bird species as their weight holds them down. For this reason few of the largest birds in the world are able to fly. But even flightless birds have wings, and species like penguins have found clever new uses for them – flippers!
12. King penguin (up to 20kg/44lb)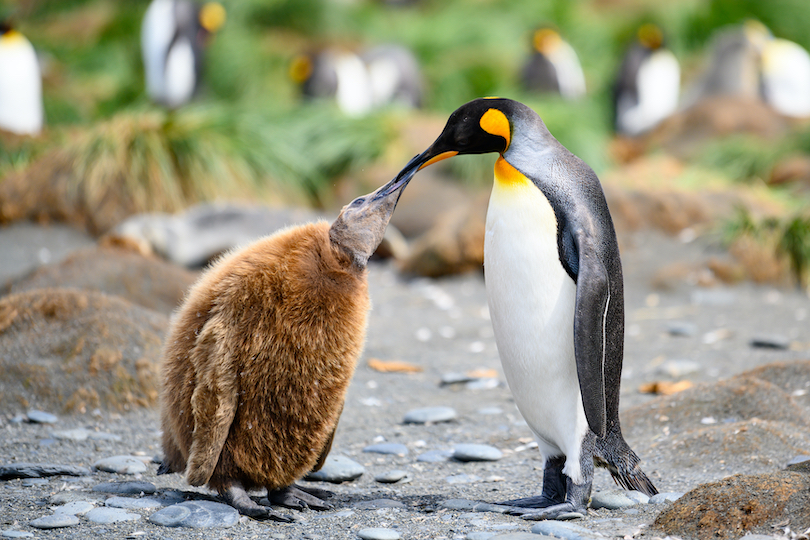 © dreamstime
King penguins are the second largest penguin species, and amongst the largest birds in the world! They weigh up to a whopping 44 pounds, as much as an African elephant's heart! They are large, flightless birds that are well adapted to life on land and in the water.
King penguins have the characteristic black-and-white countershading observed amongst penguin species, as well as a bright yellow patch at the top of either side of their head and just below their neck.
They hunt for fish on long hunting trips, covering up to 900 miles in search of food. They lay a single egg that is incubated by the male who loses up to 45% of his body weight during the 90–120 day incubation period.
11. Mute swan (up to 23kg/51lb)
© dreamstime
Swans have long, S-shaped necks that end in an orange beak surrounded by a patch of black. These heavy birds, that weigh up to 51 pounds, fly with their long necks extended straight in front of them.
Their feathers are white, giving this graceful waterbird an elegant appearance. They have appeared in fairy tales and long been protected by the Queen of England. Mute swans were introduced to North America and other continents, but are native to Europe.
They will happily live on city lakes, marshes, and boggy wetlands. Their webbed feet help them waddle through their muddy surroundings. These romantic birds form monogamous pairs and have long been a symbol of love.
10. Lesser rhea (up to 28.6kg/63lb)
© dreamstime
Lesser rheas stand at about 3 feet tall and can weigh up to a shocking 63 pounds, though they tend to weigh some 33–55 pounds. They look a lot like ostriches, but they're considerably smaller. Their long legs, elongated necks, rounded heads, and the thick plumage around their bellies and backs have given them the nickname 'the South American ostrich'.
These peculiar birds are only found in the open scrublands of Patagonia, in Argentina and Chile, and the Altiplano range, in Peru and Bolivia. They tend to avoid wetlands and marshy areas, choosing to live in dry, arid regions.
These large birds feed on insects, broad-leafed plants, seeds, fruits, and roots. They are social birds that live in groups made up of 5 to 30 lesser rheas.
9. Dwarf cassowary (up to 34kg/75lb)
© dreamstime
Dwarf cassowaries only live on a few islands, namely New Guinea, New Britain, and Yapen. Their preferred habitats are steep mountain terrains, where they live at altitudes as high as 10,000 feet. They have coarse, black plumage and are similar in appearance to lesser rheas.
Their wings are small, leaving this heavy bird flightless. Females tend to be larger than males, and they all have long, featherless legs ending in three toes, one of which has a sharp claw up to 4 inches long!
During the mating season, males perform dances and let out loud mating calls that are meant to impress nearby females. These large birds can weigh up to 75 pounds, as much as a small sofa! And yet, they're the smallest of the cassowary birds!
8. Domestic Turkey (up to 39kg/86lb)
© dreamstime
Turkeys have bright red sacs that hang below their beaks, and a thick plumage of black and white feathers that they can raise up to impress females or scare off intruders. These large birds are some 46 inches long and can only fly for short distances.
Turkeys are now bred and reared on every continent apart from Antarctica. They are a popular game bird and the main dish at many traditional celebrations like Christmas and Thanksgiving. Turkeys are sold for their feathers, meat, and eggs. They tend to have short lives that last just one or two years.
These heavy birds are rather vocal and communicate through 28 calling sounds; each has a distinct meaning! One of their most well-known sounds is the alien-like gobbling sound males make.
7. Greater rhea (up to 40kg/88lb)
© dreamstime
Greater rheas are South America's largest bird. They are some 4 to 5 feet tall and get most of their height from their long legs and slender, elongated necks! A greater rhea can weigh up to 88 pounds, though they usually weigh nearer to 50 pounds. Given their appearance, it's not surprising that these South American birds are close relatives of ostriches and emus.
They live in the pampas and woodlands of Argentina and Brazil. When it comes to breeding, it's the male greater rheas that incubate and rear the flock's young. A single male will mate with various females, all of whom lay their eggs in one big nest (with up to 50 eggs in it), and leave the hard work to dad.
Greater rheas can run at impressive speeds; they use their large wings to turn direction and balance. This is another great example of how a flightless bird can make use of its wings!
6. Emperor penguin (up to 46kg/100lb)
© dreamstime
Emperor penguins stand at nearly 4 feet tall and can weigh as much as 100 pounds! They are graceful looking, and have sleek, black and white plumage. Their young are born cute and fluffy, and unable to swim as their wet feathers aren't waterproof.
Their home, the cold, barren, and icy landscape of Antarctica, definitely has its challenges. Temperatures can drop to -76 Fahrenheit; to keep warm, they huddle together on the ice and have layers of waterproofing feathers and extra fat for insulation.
When they breed, they move up to 50 miles inland, which leaves them with a long journey back to food! Their preferred meals are fish, krill, and squid.
5. Emu (up to 70kg/150lb)
© dreamstime
Emus are the second tallest birds in the world, growing to up to 6 and a half feet! But they aren't the second heaviest, though they can still weigh a mighty impressive 150 pounds. They look a lot like ostriches, the only bird on the planet taller than them.
Their brown and white feathers appear speckled, and their wings are comically small next to their large bodies. They can run as fast as 31 miles per hour, making them a tricky prey to catch! 

Emus are only found in Australia, though they were once found on Tasmania and King Island. They let out loud calls that sound like "e-moo"!
4. Northern cassowary (up to 75kg/170lb)
© dreamstime
Northern cassowaries are structurally similar to an emu or ostrich and belong to the same family. But, they are much more brightly colored than their close relatives. They have a thick black plumage on their bodies, which is contrasted by their bright blue heads, and yellow and red necks.
These large and exotic birds live hidden away deep in the jungle in Papua New Guinea and some Indonesian islands. Their preferred habitats are coastal swamp lands and forests that are rich in vegetation they can disappear into.
Northern cassowaries are heavy, weighing up to 170 pounds, and are very tall! These colorful birds reach heights of 6 feet, taller than most of us!
3. Southern cassowary (up to 85kg/190lb)
© dreamstime
The word cassowary has its origins in the Papuan term "horned head", and the southern cassowary certainly lives up to its namesake. They have a large casque, a hollow horn-like structure made of keratin, on the tops of their heads.
They look a lot like the northern cassowary, but they have blue rather than yellow necks. Females are larger than males and weigh up to 190 pounds. They can measure over 6 feet, making them the third tallest bird on the planet! 

Their favorite food is fruit, which makes up a large part of their diet.
Northern cassowaries play an important role in seed dispersal, scattering them around in their excrements. They are flightless as they don't have the chest muscles required for flight.
2. Somali ostrich (up to 130kg/287lb)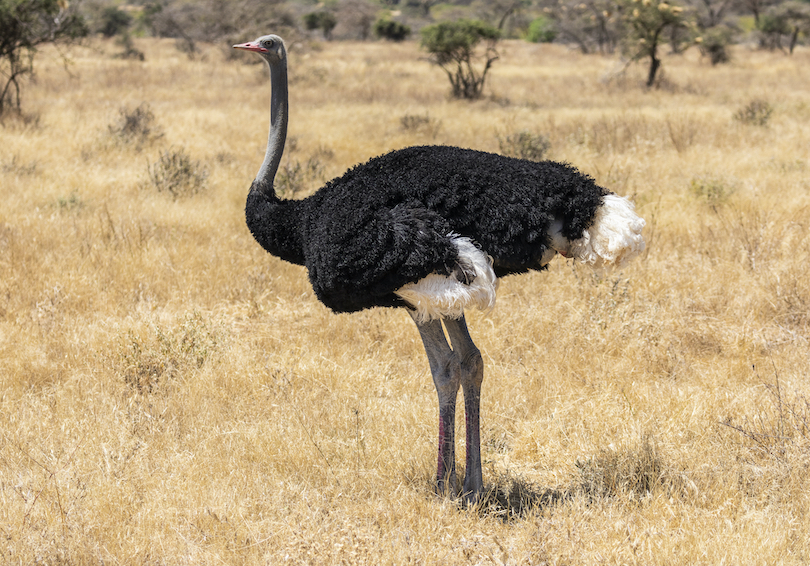 © dreamstime
These enormous birds have long legs and necks and present sexual dimorphism when it comes to their coloration. Males have black feathers along their bodies and luxuriant white feathers on their wings and rumps, whilst females have brown feathers all over.
A peculiar feature of the Somali ostrich is the way the males legs change color during mating season, turning from a blueish-gray to a light pink! These large birds can weigh as much as 287 pounds and run as fast as 43 miles per hour.

They were once common across Asia, Arabia, and Africa. Now, the Somali ostrich is only found in Sub-Saharan Africa where they live in dry, hot savannas and woodlands with sparse vegetation.
1. Common ostrich (up to 156.8/kg/346lb)
© dreamstime
Ostriches are quite the record holders. They are the tallest birds in the world, the heaviest birds on the planet, and the fastest birds too! Common ostriches can run as fast as 43 miles per hour, weigh up to a whopping 346 pounds, and stand at heights of over 9 feet!

Despite what you might think, ostriches are social birds that live in small flocks and gather in groups of up to 50 ostriches during mating season! They even hang out with other bird species, as well as zebras and antelopes.

They feed on plants, seeds, roots, insects, lizards, and even small rodents. You can see these incredible birds in the wild in woodlands, and arid savannas in Africa.