Whales are some of the Earth's most majestic and captivating creatures. They inhabit all the planet's oceans and often cover large distances each year as they migrate between feeding and mating grounds. These large aquatic mammals spend their entire lives in the sea and feed their calves with milk from their large mammary ducts.
Whale species are classified into baleen and toothed whales based on whether they have dentures or comb-like baleen plates, which affect how they feed. They come in a wide range of colors and sizes, and each of the different types of whale is characterized by unique calling sounds, mating behaviors, and migration routes.
1. Blue whale
© dreamstime
The blue whale is the largest animal on Earth. They can be as long as 98 feet and weigh as much as 200 tons. Their heart alone is the size of a small car and weighs around 1,500 pounds. They are found in every ocean on Earth, but are more abundant in the Southern Hemisphere.
In the summer they migrate to polar waters to feed, eating around four tons of krill each day. They feed through a series of specialized baleen plates that act as filters, separating their food from the sea water.
They have a low frequency call that they use to communicate with other blue whales. Their call can travel for hundreds of miles, making blue whales the loudest animal on the planet.
2. Bryde's whale
wikipedia/Morningdew
These whales can reach lengths of 45 feet, the size of a school bus! They were named after the consul of South Africa, Johan Bryde. Bryde's whales are part of the baleen family that have comb-like baleen plates. They feed on krill, copepods, red crabs, shrimp, and fish that they filter from the water.
Some populations of Bryde's whales are migratory, whilst others aren't. They are found globally in tropical, subtropical, and temperate waters. Their geographical distribution extends from approximately 40 degrees south to 40 degrees north of the equator.
These whales rely heavily on sound to carry out many of their daily activities, so noise pollution can be very damaging to individuals, affecting their feeding and mating behavior, and even their navigation skills.
3. Bowhead whale
© dreamstime
They are black with white patches at the front of their bottom jaws, and a small white band around the top of their flukes. They can grow to be as long as 60 feet. They live in the Arctic and hang out around ice floes where they can catch their favorite prey.
They are a type of baleen whale and use their highly specialized baleen plates to filter small invertebrates, krill, and fish from the water. They weigh up to 200,000 pounds and have to spend a large part of their day eating to maintain their body weight.
They can use the weight of their powerful bodies, and their large skulls, to break ice as thick as seven inches. Incredibly, scientists hypothesize that these whales can live to be over 200 years old!
4. Humpback whale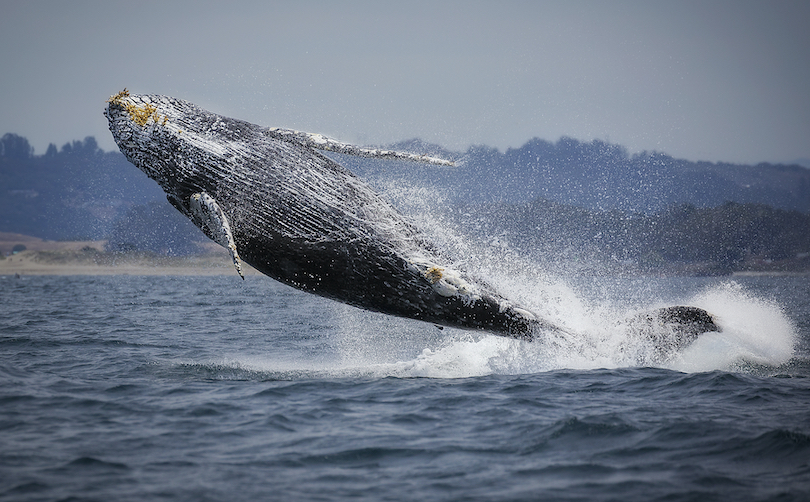 © dreamstime
These whales are grey or black, and white underneath. The longest humpback whale on record was an 89-foot-long female that weighed over 90 tons. But, normally this whale species is some 50 feet long and weighs around 36 tons, which makes the data taken seem dubious.
They are a species of baleen whale and classified as filter feeders. They have highly specialized baleen plates that filter their food from the vast quantities of sea water they ingest. They feed on krill, fish, and plankton.
This species shows annual migration patterns that take them into polar waters to feed during the summer and back to tropical and subtropical regions to breed in the winter. They have intricate mating calls and elaborate mating displays that they use to impress prospective partners.
5. Gray whale
© dreamstime
As you might expect, they are gray in color. They have a dorsal hump that runs along two-thirds of their body. They can measure up to 49 feet and weigh as much as 900,000 pounds. Females are a bit longer than their male companions. After their hump, and before their tail flukes, they have around 6 to 12 small bumps, known as knuckles.
They are a species of baleen whale that have baleen plates that finely comb their food out of the salty water. To feed, they turn on their sides and swim along the ocean floor, taking in large amounts of sediment and water that is filtered for small invertebrates.
They are found in the Pacific Ocean, in the North Hemisphere. They tend to stick close to shore, but occasionally venture into deeper waters.
6. Sperm whale
© dreamstime
This type of whale can reach 52 feet in length and weigh some 90,000 pounds, though there is variation across sex, with males being larger than their female companions. They are the largest toothed whale, and have the widest geographical distribution of any aquatic mammal. They are found in deep waters from the Arctic to the Antarctic!
Sperm whales hunt for their food, diving as deep as 10,000 feet in search of prey. Their diet is largely made up of squid, small sharks, and fish.
Females gather in matriarchal groups; they raise their young together and stay in their pod throughout their life. Young males stay with their mothers for up to 21 years, but are solitary for most of their adult lives.
7. North Atlantic right whale
flickr/Lauren Packard
This whale species comes in a dark gray or black coloration. They can reach lengths of 55 feet and weigh up to 150,000 pounds. Another feature of this whale is the bumps they have on their heads that throughout their lifespan turn white due to lice growing on them.
As their name suggests, they live in the Atlantic Ocean in the Northern Hemisphere. They are a species of baleen whale that feed mainly on small crustaceans that they filter from the water.
They are known to breed only off the coasts of Florida and Georgia. North Atlantic right whales are endangered, with estimates predicting there are just some 350 individuals left globally. Part of the problem is that they live in coastal waters near fisheries where they are injured by boats or get caught up in fishing nets.
8. North Pacific right whale
wikipedia/Hoffman & Long
This species of right whale inhabits the North Pacific Ocean and has a black coloration. Another distinguishing feature of the North Pacific right whale are the callosities on their large heads.
These baleen whales filter copepods and zooplankton out of the water, catching them in their baleen plates and then licking them off. They feed as they swim, keeping their mouths open to catch food, a style of feeding known as skimming.
North Pacific right whales can weigh up to 100 tons and measure between 45 to 60 feet, females are larger than males and normally some 55 feet long. This whale species is endangered, and it's thought there are just over 100 individuals left in the world. They are heavily protected throughout their geographical range, in an attempt to stabilize their declining populations.
9. Southern right whale
© dreamstime
This right whale species is black with a patchy white belly. They are some 40 to 55 feet long and can weigh up to 176,000 pounds. They are playful in nature and spend time around the water's surface breaching (jumping out of the water) and slapping the water's surface with their flukes and flippers.
They have large callosities on their heads and inhabit the Southern Hemisphere. They migrate further north in the winter and back south in the summer. But remember, these are the austral seasons that are reversed from those in the Northern Hemisphere!
They are a species of baleen whale that feed on small crustaceans, plankton, krill, and copepods. Their population size has declined due to climate change, pollution, fisheries, and historically human whaling.
10. Common minke whale
© dreamstime
These little whales are black on their dorsal (top) side and have a white underbody. They can be identified based on the small white bands on their flippers, which are unique to their species. They reach some 35 feet in length and weigh around 20,000 pounds at most. They have a small dorsal fin and two blowholes. They are thought to be the smallest of all the baleen whale species!
They have a large geographical distribution and are found at pretty much all latitudes in the northern hemisphere. However, their preferred habitats are colder northern waters and temperate waters.
They feed on crustaceans, small fish (like anchovies and mackerel), and plankton that they filter from the salty water. They are opportunistic feeders and will munch on pretty much any schooling fish they come across.
11. Antarctic minke whale
© dreamstime
These short whales are about 33 feet long and weigh about 9 tons. They don't have the same white marking on their flippers as their close relatives, the common minke whale. But other than that, they are very similar in appearance, with a black coloration on top and a white underbody.
They use their specialized baleen plates, which are mostly composed of keratin, to catch and filter small krill, their favorite meal.
Named after their habitat, they spend most of the year in Antarctica. However, there have been sightings of these small whales as far North as Brazil. It's thought that some populations migrate further south when it starts getting cold.
12. Rice's whale
This medium-sized whale reaches lengths of about 42 feet. They are long and slender in appearance and have short flippers that measure just 5.4 feet. They were historically thought to be a subspecies of the Bryde's whale and weren't correctly classified as a separate species until 2014 when in depth genetic profiling was done.
They are a species of baleen whale and can have anywhere between 230 and 288 pairs of baleen plates that filter their food out of the surrounding saltwater. They can dive as far down as 889 feet whilst foraging for food.
They live in the Gulf of Mexico and have a very small geographical distribution. They are critically endangered, and only about 40 individuals are left in the Gulf of Mexico.
13. Fin whale
© dreamstime
They are a dark grey on their dorsal (top) side and white on their ventral (bottom) side. However, a characteristic feature of fin whales is the asymmetrical coloration on their ventral head where the right side of their jaw is white, and the left is gray.
Fin whales are the second largest animal on the planet and can reach lengths of 85 feet and live for as long as 150 years! They are baleen whales that filter krill and small fish from the water by using their specialized baleen plates. They can weigh up to 80 tons, so they have to eat a lot.
There are three subspecies of fin whale, the North Atlantic, Southern, and North Pacific. Overall, fin whales have a global distribution with populations in every major ocean.
14. Omura's whale
wikipedia/Royal Society Open Science
These whales can measure up to 40 feet and weigh a maximum of 44,000 pounds. They have a dark gray body and white belly, and the same asymmetrical counter-coloring as fin whales on their ventral jaws (white on the right, and dark on the left). They have four distinctive black lines on the right side of their heads, behind their eyes.
Omura's whales were recognized very recently, prior to 2015 they were thought of as Bryde's whales as they are similar in size and have common habitats. They have a low-pitched call that they use to communicate with other whales nearby. Sometimes their calls synchronize in an Omura's chorus!
They are baleen whales that feed through a filtering system that relies on highly adapted baleen plates. They feed on fish, krill, and small crustaceans in the water. They have been observed in the Indo-Pacific and Atlantic Ocean in ocean basins.
15. Sei whale
These slender whales are some 40 to 60 feet long and have a dark blue to gray coloration. They have a soft-white belly. Their name is rooted in the Norwegian words for pollock "seje", as they are often spotted swimming near shawls of this particular fish in Norway.
They have a tall blowhole that sticks up nearly 13 feet above their bodies, along with a hooked dorsal fin. These whales live, broadly, in subtropical, temperate, and subpolar waters.
Populations suffered greatly due to whaling, which killed an estimated 300,000 sei whales during the 19th and 20th century. These majestic baleen whales are still an endangered species. There is ongoing conservation work taking place in an attempt to restabilize their global population.
16. Pygmy right whale
photo/WRMS
These rare whales are very similar in size and appearance to minke whales. In fact, it's debatable which is in actuality the smallest species of baleen whale. Pygmy whales are long and slender, with a dark gray coloration on their dorsal side and white bellies. They measure some 20 feet and weigh about 5 tons.
We know they are a species of baleen whale that have some 210 to 230 baleen plates that are claimed to be the most resilient and flexible of any baleen whale. They filter small copepods and krill from the water in temperate oceans of the southern hemisphere.
They have a peculiar skeletal structure that includes 17 pairs of ribs that extend along their body. They have the most ribs of any baleen whale, even much larger species!
17. Beluga Whale
© dreamstime
These small whales are just 13 to 20 feet long and weigh just over a ton. They are white all over and live off the icy shores of the Arctic Ocean. During the winter, when the sea freezes over, they migrate south to subarctic waters. They are easily characterized by their rounded head that is called a melon.
They are a species of toothed whale that use their cone-shaped teeth to capture, crush, and tear their prey. They hunt salmon, herring, and other Arctic fish. They also feed on shrimp, crabs, and mollusks.
They can make strange sounds, from clicks and whistles, to high-pitched chirps and squeals. This fascinating behavior has given them the nickname "the canaries of the ocean". Belugas live in pods anywhere between a few individuals to hundreds of belugas in size.