Whales are the largest marine mammals in the world. There are many types of whales, each with a unique aquatic habitat and specific migration routes. Whales are found in every ocean of our planet, and there are no whale species that inhabit fresh water.
Their coloring and size vary greatly. Most species are white, or a shade of blue or grey. The largest whale species is the blue whale, which can measure up to 26m in length. Conversely, the smallest whale is the dwarf sperm whale that is just 2.2m long.
Whales are classified into baleen and toothed whales based on the number of blowholes they have and how they feed. These classifications encompass two other cetacean families: dolphins and porpoises.
Taking a closer look at the diet of a whale
© dreamstime
Whales are divided into two classifications: baleen and toothed whales. Toothed whales are carnivorous and feed on aquatic and semi-aquatic animals that they hunt in the sea. Meanwhile, baleen whales filter large quantities of water, feeding on the small crustaceans, plankton, and fish they capture.
The larger the toothed whale, the larger the prey they can catch and consume. They feed on a diet of fish, aquatic or semi-aquatic mammals, large marine molluscs like octopi, and aquatic reptiles like turtles.
One of the most well-known toothed whales is the orca. Orcas, or killer whales, are ferocious and skilled hunters. Orcas eat a variety of prey, from small fish to large mammals like seals. They use their teeth to catch and injure prey.
Baleen whales are omnivores as they feed on matter from both plant and animal origin. They don't eat large prey like toothed whales. Instead, they feed on small fish, krill, zooplankton, phytoplankton, and algae.
How do baleen whales capture their food?
Baleen whales have specialized baleen plates in their mouth that are considered a form of modified teeth. These plates hang from their upper gum line, along the top of the whale's mouth. Their structure resembles a fine comb.
Baleen whales are considered filter feeders, like whale sharks. They take in large quantities of seawater and separate out their food. Their baleen plates act as the perfect sieve for the job!
As water passes into the baleen whale's mouth any food, like small fish and plankton, gets stuck in their baleen plates. Next, they push out the water they have ingested and use their large tongues to lick their baleen plates, removing any trapped food. Their catch, an assortment of small crustaceans, fish and plankton, is eagerly swallowed and digested.
What feeding methods do baleen whales have?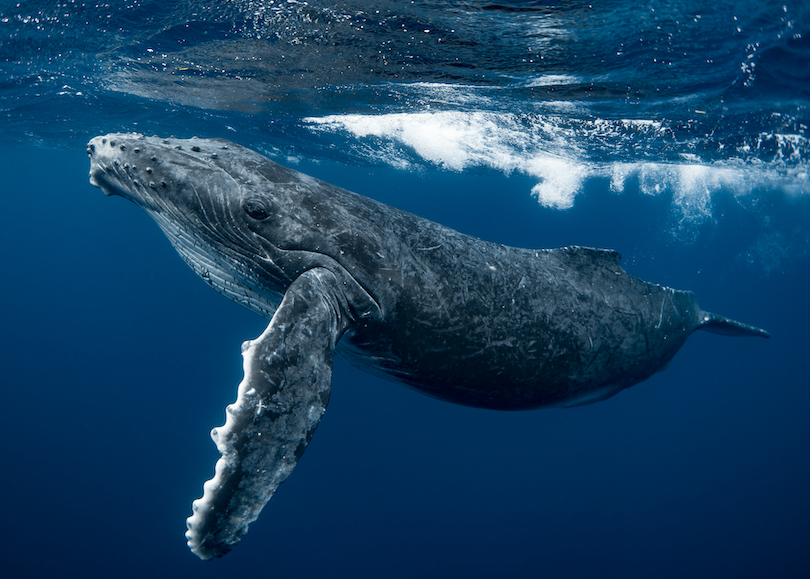 © dreamstime
There are 14 species of baleen whales. Whilst they are all filter feeders that use their characteristic baleen plates to capture and separate food from seawater, they have different feeding methods.
Bottom feeders, like the gray whale, swim along the ocean bed. They tilt their bodies sideways and skim the ocean floor, drawing sediment and amphipods into their mouths.
On the other hand, some baleen whales are skimmers, like the right whale. They swim along the surface of the ocean with their mouths open, collecting surface feed in their baleen plates.
Blue whales have a special technique for catching fish, called bubble net feeding. The large animal swims below a shawl of fish and releases large amounts of air from its blowhole, which forms bubbles in the water. Startled, the fish swim up to the surface. The whale can then swim up and easily capture the fish in its baleen plates.
How do toothed whales feed?
© dreamstime
Toothed whales have cone-shaped teeth on their bottom and top gum lines. Their teeth aren't specialized, all their sets of teeth are the same. They use their sharp teeth to catch, injure and hold onto their prey. Despite having teeth, they don't actually chew their food.
Toothed whales eat larger animals than baleen whales and don't have baleen plates that can filter feed from seawater. They have to hunt for their prey. Examples of toothed whales include sperm whales and beluga whales.
These whales rely heavily on echolocation to hunt their prey. They have asymmetrical heads that allow them to have a heightened depth perception. As they hunt, they emit sounds that bounce off nearby animals, revealing the location of prey.
Some toothed whales hunt in groups, called pods, to increase their chances of catching prey. Toothed whales are quick swimmers, adept at chasing down prey.
How much can a whale eat in a day?
The amount a whale can eat daily will vary greatly depending on their size. But it is undeniable all whale species are large mammals, and they eat a lot!
A blue whale, the world's largest mammal, will eat somewhere between 900kg and 1,400 kg of plankton in a single day during the summer feeding season. They spend the summer in cold Arctic waters where feed is abundant.
Humpback whales eat some 2000kg to 2500kg of food per day during the summer season. Like the blue whale, these large mammals migrate to the Arctic during the summer to feed. Sperm whales consume nearly 900kg of food per day, and dive to catch their prey. Their favorite is giant squid that lurk one to two kilometers below the water's surface.
To obtain the large quantities of food they need, whales cover long distances, dive to great depths, and spend most of their time awake searching and hunting for food.
What do whale calves eat?
© dreamstime
Whales are mammals that nurse their calves with a nutrient dense milk like other mammal species. They have inverted nipples that sit within nipple slits. When the slits are stimulated by a calf, the nipples are released so the calf can suckle.
The breast milk of whales is very thick, almost solid. This is due to the high fat content that makes up between 35% to 50% of the milk, with variations across whale species. The high fat content is also essential for the rapid formation and build up of blubber in whale calves. The blubber acts as an insulator for these mammals, regulating their body temperature.
Whale calves will suckle around 10% of their body weight in milk each day. Whale mothers need to ensure they are making high quantities of breastmilk to meet the feeding demands of their calves. Blue whale mothers produce around 200 litres of milk each day!
How long do whale calves suckle for?
The length of breastfeeding varies across whale species, although there are observable differences between baleen and toothed whale species.
Baleen whales have a much shorter lactation period than toothed whales, lasting some 5 to 7 months. In this time calves begin to eat other food sources, helping speed up the weaning process. Curiously, nursing baleen mothers fast, only consuming small amounts of food.
Toothed whales have a longer lactation period that lasts between 1 and 3 years. By six months calves begin to hunt and eat other foods but they continue to nurse. Nursing mothers don't fast like baleen mothers, and feed and hunt normally. This makes sense as their lactation period is so long.
Breastfeeding creates a strong connection between whale mothers and their calves. It is unusual for mothers to nurse calves that aren't their own, although some species rear their young in pods and will occasionally breastfeed other calves.
What do whales eat in captivity?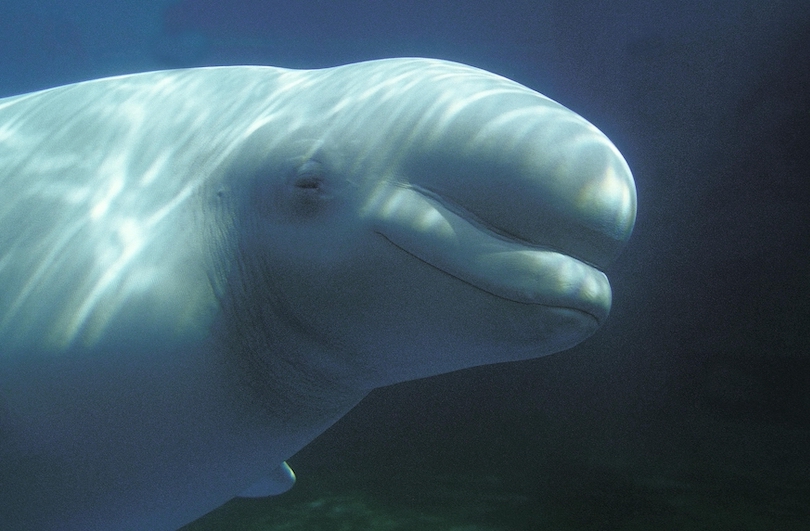 © dreamstime
Captive whales should be fed a diet that imitates their diet in the wild as closely as possible. This ensures the health of captive animals that are more at risk of problems such as obesity and issues with development.
Very few whale species are held in captivity. Due to their size, they would require enclosures far bigger than most facilities can provide. Additionally, larger whales, most of which are baleen species, demand quantities of feed that can't realistically be met in captivity.
Pure white beluga whales are kept in captivity as they are small. They are fed a diet of fish and shrimp. They eat around 3% of their body weight in feed each day, equivalent to some 18.2kg to 27.2 kg of frozen and thawed fish. It was also observed that, like wild beluga whales, their food intake decreased during the Autumn.