Deer are hoofed ruminants that spend a large part of their time grazing on grasses. They are native to most of the world, apart from Australia and Antarctica, and have been introduced into a variety of habitats.
Female deer are called does, and male deer are called stags. In all but one deer species, males can be distinguished from females by the presence of antlers on the tops of their heads. With these types of deer their antlers often branch out into smaller sections known as tines. These elegant animals are popular in kids' movies, like Bambi, and are an essential part of Santa's magical sleigh.
1. Reeves's muntjac
© dreamstime
Also known as the Chinese muntjac, the Reeves's muntjac was originally found in subtropical forests of southeastern China and Taiwan. They have since been introduced to areas including Belgium, the Netherlands, the United Kingdom, Ireland and Japan.
They are a chestnut color with striped markings on their faces. When fully grown, they stand at approximately one foot eight inches at the shoulder and are around three foot long. 
The natural predators of the Reeves's muntjac are tigers, leopards, crocodiles, and snakes. If you hear a dog-like bark while in their habitat, there's a chance that it could be one of them! When startled by predators, they sometimes react with a bark, earning them the nickname of "barking deer".
2. Tufted deer
© dreamstime
The tufted deer is a small species of deer that inhabits the high valleys, jungles and mountains of northeast Myanmar and southern and central China. They are close relatives of the Reeves's muntjac species.
This deer gets its name from a prominent tuft of black hair on its forehead and because of the fang-like canines present in males. They have short and shaggy chocolate-brown coats of fur. When they are young, they have a row of white spots along the top of their backs. 
Bucks are known to fight over territory and potential mates using their canines and antlers. Tufted deer are known to be shy and cautious during the day and become more active at night. 
3. European fallow deer (common fallow deer)
© dreamstime
European fallow deer were originally native to southwest Asia but were introduced to Europe as many as 9,000 years ago. They are now widespread across Europe and are the most common deer in the United Kingdom.
 You'll find the European fallow deer living in mixed herds of between 10-50 individuals in deciduous woodlands and grasslands. Grasses make up about 60% of their diet that is supplemented with acorns, herbs, leaves of young trees, chestnuts, and fruits. 
They have a spotted coat that varies in color from white to dark brown. Their tails are longer than other deer species and fully grown stags have broad, flattened antlers. They are a medium-sized deer, with their shoulder height averaging at 2.9 feet. 
4. Persian fallow deer
© dreamstime
Some consider Persian fallow deer as a subspecies of European fallow deer, while others say they are a separate subspecies. They are larger than European fallow deer, standing at a shoulder height of 3.6 feet and weighing up to 210 pounds.
They were once native to all of the Middle East but are currently only found in Iran, Israel, and Iraq. They are classified as endangered by the IUCN; their main threats being habitat loss, food access and poaching. 
Persian fallow deer inhabits open woodlands. They are active during the day and spend their time socialising and grazing on a diet of grass, leaves and nuts. Their coats are a dark chestnut color with white spots that don't fade in adulthood. Bucks have large, flattened antlers. 
5. Javan rusa (Sunda sambar)
© dreamstime
The Javan rusa or the Sunda Sambar is native to Indonesia and East Timor. Their common status can be credited to their adaptability to various habitats. You can find them in areas including grasslands, forest clearings and marshy river areas.
These deer have a grey-brown coat of fur and long black tails. They appear to be short and stocky, because of their short legs and a strong body. At shoulder height, they stand at about three feet. Javan rusa bucks have long, lyre-shaped antlers with three tines.
They are considered nocturnal and move around in small groups of the same sex. They come together for breeding between July and September when males compete with each other for dominance and mating rights. 
6. Sambar deer
© dreamstime
The Samber deer is native to southern China, Southeast Asia, and the Indian subcontinent. They are found in tropical seasonal forests and tropical forests. They eat grasses, foliage, fruits, and water plants.
Sambar deer have shaggy coats of fur ranging in color from yellow-brown to dark grey. Their size in adulthood varies, with western subspecies growing to be larger than the eastern subspecies. They reach heights of approximately 3.4 feet at the shoulder and large males can weigh as much as 1,100 pounds.
Bucks usually live alone, which is an unusual behavior for a deer, while the females live in small herds. They are a favorite prey of predators like tigers and the Asiatic lion. Local anecdotes claim that Bengal tigers imitate the call of sambar deer to lure them in and deceive them! 
7. Red deer
© dreamstime
The Red deer is the United Kingdom's largest deer, standing proud at an average height of 4.4 feet at the shoulder. They are commonly found in the Scottish Highlands, though can also be found in areas of northwest and southern England. Their habitats include moorlands, mountainsides, and grasslands by woodlands.
Their shaggy coats are a deep chestnut color, with a lighter patch on the rump and a pale tail. The bucks have large, branching antlers that can weigh as much as 33 pounds on their own!
During mating season, males fight with each other and bellow to assert dominance, often injuring the weaker deer with their sharp antlers.
8. Thorold's deer
© dreamstime
Thorold's deer can be found at high altitudes on the eastern Tibetan Plateau. Their preferred habitats are grasslands, shrublands and forests.
They can be distinguished by the white patch on their muzzle, which has earned them the nickname of "white-lipped deer". The long, thick coat of Thorold's deer gives them efficient protection against the extreme temperatures of their habitat, which can reach an elevation of 16,730 feet. They feed mainly on grass, leaves and bark. 
They are considered a vulnerable species and face threats from human agriculture and are often hunted for their meat, as well as their antlers and other body parts that are used in traditional Chinese medicine practices. Their only natural predators are wolves and snow leopards.
9. Sika deer
© dreamstime
The Sika deer, also known as the spotted or Japanese deer, is native to East Asia and was later introduced to regions including Europe and the United States. 
They are medium-sized deer that are characterized by their spotted coats of fur, the appearance of a furrowed brow, and the black and white markings on their rump. 
Sika deer feed on grasses, brushy vegetation, fungi, and trees. They typically live in small herds, though numbers increase for the rut starting in September. Bucks produce a whistling sound that differs from the grunt or roar of other species. They mark their territory by scoring the trunks of trees with their antlers, causing issues for young trees in some places. 
10. Elk
© dreamstime
The elk is one of the largest species within the deer family. They are native to North America and central and East Asia. Human activity has caused a decline in elk populations, and these days they are mostly found in mountainous regions and open planes in western North America, and less so in their other native habitats.
Their fur colour ranges from a tan-brown to a dark brown in summer. They have long thin legs that look lanky compared to the bulk of their bodies. They are well adapted to life in cold climates, and often form large groups to protect themselves from predators. 
At shoulder height, their size ranges between four to five feet. Male elks have antlers made of fast-growing bone; their huge antlers can tower up to four feet above their heads!
11. Eld's deer
© dreamstime
The Eld's deer is an endangered species indigenous to Southeast Asia. Eld's deer were formerly found in forests, lowland valleys, and plains across regions of India and Southeast Asia.
Today, they are found in just some protected areas of their former habitat. Local conservation projects in these areas are helping to raise awareness and protect the remaining deer populations.
They are characterized by their graceful physique and have long, thin legs, slender bodies, and large ears. Their colouring changes with the seasons, ranging from reddish-brown in summer to dark brown in winter. You can distinguish the females from the males by their size. Does are typically smaller and bucks are larger and have big, lyre-shaped antlers. 
12. Père David's deer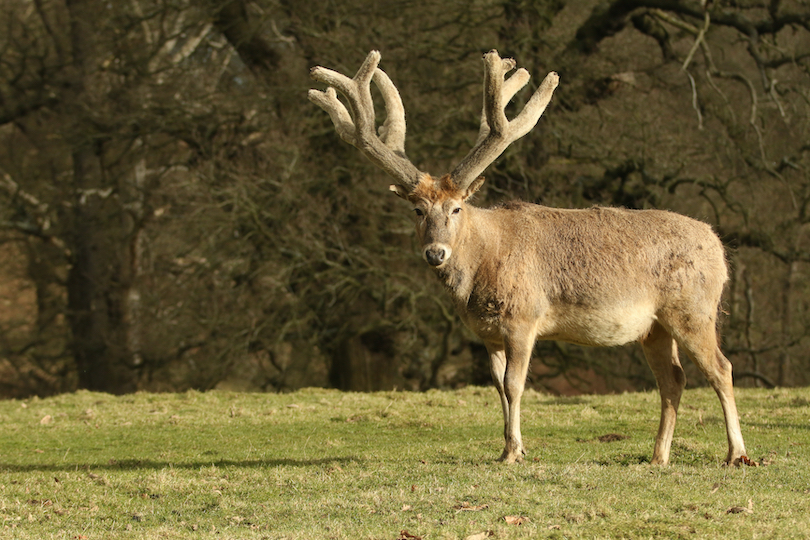 © dreamstime
Native to northern China, the Père David's deer was named after a French missionary who first noticed a decline in their population. Traditionally, they inhabited river valleys, coastal marshes, and grasslands. There are very few left in the wild today, though can be found in zoos, game reserves, and private collections. 
This deer has some interesting characteristics, with long eyelashes, a large horse shaped head, a tail like a donkey, and hooves like a cow! They really are quite peculiar looking creatures.
Père David's deer are semi aquatic animals that can swim with speed and endurance thanks to the assistance of their webbed hooves. They can spend long periods of time submerged in water up to their shoulders. 
13. Barasingha
© dreamstime
This graceful deer can be found in the grasslands and open planes of India and Nepal. The Barasingha feeds mostly on aquatic plants, which they obtain by submerging their heads underwater and pulling them out.
They are a medium-sized deer species, standing at approximately 3.6 feet at shoulder height. Their fur coats are a reddish-brown color and they have yellow undersides. During the winter months their coats grow course and shaggy. The antlers of bucks can grow to be as large as three feet long and are divided up into multiple tines.
The Barasingha is classified as a vulnerable species. They were formerly widespread across India and Nepal, though today can only be found scattered through their niche habitats and in reserves and national parks. 
14. Indian hog deer
© dreamstime
Indian Hog deer get their namesake from the way they run with their heads low in a hog-like manner. This allows them to avoid obstacles by going under them, rather than jumping over them like most other species of deer.
They are native to areas of South and Southeast Asia and have been introduced to areas including Australia and the United States. They were formerly widespread across their native range, though recent decades have seen a sharp decline in their population numbers due to habitat loss and hunting. 
Indian hog deer live in open, grassy areas and tend to avoid closed forests. They are strong swimmers tend to flee to the water when faced with a predator or threat. 
15. Axis Deer (Chital)
© dreamstime
The Axis deer is also known as the Chital or spotted deer. In fact, the name Chital is similar in origin to Cheetah, which references the animals spotted coat of fur. Both bucks and does have chestnut coats with spots and a dark marking that runs down their spine.
They are native to the Indian subcontinent, though their population today is mostly concentrated in the forests and grasslands of India and Sri Lanka. Some small populations can be found in introduced regions, including Australia and the United States.
They are highly social animals that live in herds of up to 30 individuals. They are known to form unlikely friendships with other species, like langur monkeys, who help them forage fruits from trees and warn them of potential predators. 
16. Reindeer (caribou)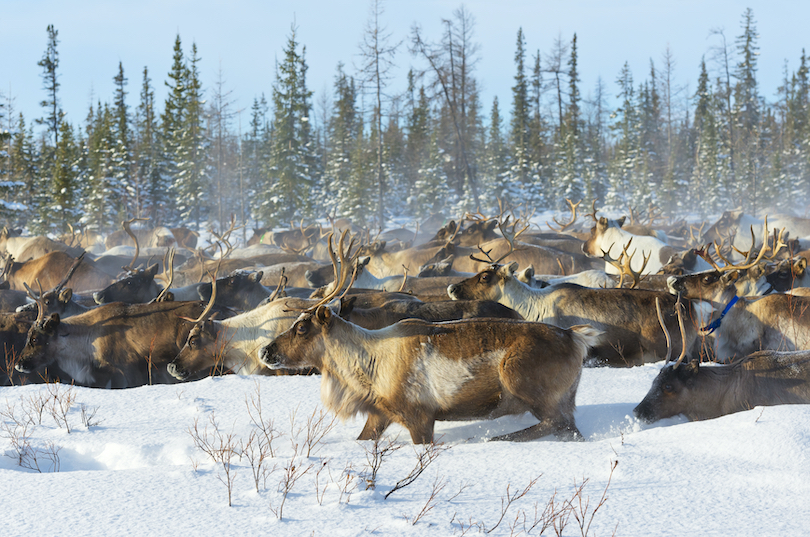 © dreamstime
Reindeer, also known as caribou, are native to arctic and subarctic regions of northern Europe, Siberia, and North America. They are called reindeer in Europe, though in North America they are only called reindeer when they are domesticated and are referred to as caribou otherwise.
They have shaggy coats of fur that vary in colour from mottled white to grey and brown depending on the species and season. Even their hoofs are covered in hair, which gives them good grip on icy surfaces. 
In most deer species, only the stags grow antlers. However, both male and female reindeer grow antlers once per year. The male drops his in November, but the females keep theirs throughout the winter until spring when their calves are born. This leads many to believe that Rudolph the red-nosed reindeer is actually female due to the presence of antlers on Christmas eve!
17. Red brocket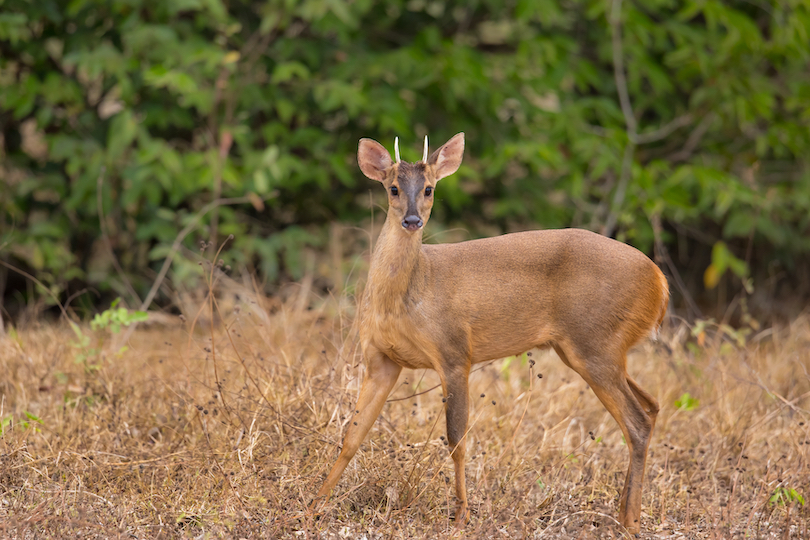 © dreamstime
The Red Brocket is represented by 14 subspecies. They have large bodies, long, slender legs and stand at 2.3 feet at shoulder height. They get their names from their red coats which have white patches on their legs, necks, lips, and ears.
Like most deer species, red brocket's have antlers, though they only grow into short dagger like spikes that aren't very impressive when compared to the large antlers of other species.
They have a large natural range over South America from the north of Argentina to Colombia, the Guianas, and some parts of the Caribbean. Within these areas, you'll find red brockets living in swamps, marshy areas, tropical forests, and other areas with dense vegetation. 
18. White-tailed deer
© dreamstime
White-tailed deer can be found across a huge geographical range, from southern Canada to South America. Their habitat of choice varies from summer to winter, with them choosing fields and meadows with shady areas during the summer and coniferous forests to protect them from the elements during the winter.
They have chestnut-brown colored coats of fur and get their name from the long white hairs on the underside of their tail and rump. 
White-tails and their young are preyed on by bobcats, mountain lions, coyotes, and humans. To escape their predators, they run at speeds of up to 30 miles per hour and can jump up to 10 feet high and 30 feet forward in a single leap.
19. Mule deer
© dreamstime
Mule deer are indigenous to western North America and today can be found in areas including the Great Planes, the Rocky Mountains, and the western coast.
They are characterized by their large, mule-like ears which earned them the name of Mule deer. They have distinctive black markings on their brow, light grey faces and a coat that varies from a tan-brown to a grey-brown color. 
Mule deer are fussy eaters that tend to feed on nutritious leaves, herbs, twigs and woody shrubs instead of large qualities of less nutritious grasses like other deer. They are known to run in a motion called "stotting" which involves all four hooves lifting off the ground at the same time. 
20. Pampas deer
© dreamstime
Pampas deer are found in South America in low altitude areas of Argentina, Bolivia, Brazil, Paraguay and Uruguay. Their habitat is usually grasslands with high coverage and many live on the Pantanal.
Less than 1% of their wetland habitat is left due to human activity. They are a threatened species that have been heavily affected by habitat loss, over-hunting, poaching, and disease. 
The Pampas deer has a light tanned coat of fur with white spots on their lips and throats, and short and bushy tails. Unlike other types of deer that compete for territory and mates through physical force, Pampas deer show their dominance by holding their heads high, using slow intentional movements and rubbing their antlers against vegetation or the ground. 
21. Marsh deer
© dreamstime
Marsh deer inhabit the marsh and lagoon regions of Argentina, Bolivia, Brazil, Peru, and Paraguay. They are the largest deer species in South America, standing at a shoulder height of 3.9 feet.
Marsh deer have large, white, and tan ears; a shaggy, chestnut brown coat; and long, dark legs. They have lighter markings on their faces and hips. They are strong swimmers, and their hooves have webbing which assists them in navigating their marshy habitat to find food and seek protection.
They feed on a diet of aquatic plants including flowers and shrubs that grow in the swamp lands. These beautiful deer are now considered a vulnerable specie due to habitat loss and hunting. 
22. Gray brocket
wikipedia/Charles J. Sharp
The Gray brocket is a species of brocket deer native to South America, specifically the region between eastern and southern Brazil, Northern Argentina, Bolivia, Paraguay, Southern Peru, and Uruguay. This species is sometimes known as the brown brocket. 
They have a coat of fur that ranges in colour from a light grey-brown, most common for those who live in grasslands, to a dark grey-brown, mostly seen in deer who live in forest areas. Gray brockets are typically shy, solitary, and territorial animals. Bucks tend to defend a large territory for themselves, whereas does have a smaller territory.
They mostly feed on fruits, though sometimes they eat other water rich plants like cacti, succulents, leaves, and roots to avoid getting dehydrated and supplement their fruity diets.
23. Southern pudu
© dreamstime
A short, stumpy deer, the Southern pudu is found in southwestern Argentina and Southern Chile. You'll find this deer in temperate rainforests that have dense vegetation that offer protection from predators. They are cautious animals who typically move slowly to keep themselves safe, though they can jump, climb trees, and run in a zigzag manner to escape danger.
They are actually the world's smallest deer, though the Southern pudu is typically slightly larger than the Northern Pudu. On average they stand at 1.1 foot at shoulder height.
They have short, glossy coats of fur that range in colour from reddish brown to dark brown. Males grow short, spiked antlers which they shed once a year in November. 
24. Taruca (north Andean deer)
© dreamstime
Also known as the north Andean deer, the taruca inhabits the Andean Mountain range across Peru, Bolivia, Chile, and Argentina. They are related to the South Andean deer, though should not be confused with this species.
They are a medium-sized deer with a stocky body and short legs. Their coats are sandy brown with white patches throughout. All taruca stags and some does have sharp canines on their upper jaw. The stags also have antlers that branch into two tines close to their skull and grow to a length of 11 inches. 
They live at high altitudes, with their habitats elevation gradually rising as taruca populations get closer to the equator. They have been found in areas as high as 16,400 feet in Peru. 
25. Guemul (south Andean deer)
© dreamstime
The guemul, or south Andean deer, are an endangered species native to the southern Andean Mountain range in Argentina and Chile. The guemul is a part of Chile's national coat of arms and has been considered a national Natural Monument since 2006.
They are very similar in appearance to the taruca, or north Andean Deer. The main difference between the two species is their antlers, which branch from a small stem into a number of tines and grow in an upward motion.
Their fur is thick and curled to provide protection against the cold climate and ranges in colour from brown to grey-brown with white undersides. Their habitat covers a range of difficult terrains including rocky cliff sides, scrubland, low bluffs, forests, and rocky areas. 
26. Roe deer
© dreamstime
The roe deer is native to the United Kingdom and widespread across Europe, from the Mediterranean to Scandinavia. They can even be found as far east as Iran and Iraq.
The habitat of the roe deer is as varied as the countries they inhabit. They are able to withstand cold climates and can live in open plains, farmland and grasslands. To rest, they retreat to dense woodlands for protection. In these areas they feed on a range of buds, leaves, trees shrubs, ferns, and grasses. 
Medium-sized, these slender deer are characterized by their reddish-brown coat of fur that has a pale patch on the rump. Males of this species have short, velvet covered antlers that typically have three tines. 
27. Water deer
© dreamstime
Water deer are a small deer native to China and Korea. They are separated into two subspecies, Chinese water deer and Korean water deer, based on their respective geographical distributions. They have been introduced to areas including the United Kingdom and France and tend to stick to habitats near rivers or up in the mountains.
Their most distinctive features include the lack of antlers on males and their prominent canines. These have earned them the nickname "vampire deer". Curiously, they run with a rabbit like hop due to their hind legs being longer than their front legs. 
The IUCN considers water deer to be a vulnerable species. While they are critically endangered in China, populations thrive in South Korea due to the extinction of their natural predators, the Korean tiger and leopard.
28. Moose
© dreamstime
The moose or elk is the largest and heaviest of all the deer species. At shoulder height they can be as large as 5 to 6.5 feet and can weigh as much as 1,800 pounds. They inhabit Eurasia and northern parts of North America.
Male moose have distinctive antlers that span up to 6 feet from base to tip. They are strong swimmers but are equally agile on land. Their hooves allow them to traverse difficult terrains and act as snowshoes when crossing areas with snow, ice, and mud. 
They eat a varied, season dependent diet. In summer they feed on long grass and shrubs to avoid having to lower their heads to the ground. During the winter they eat pinecones, shrubs, moss, and lichens.