The largest carnivorous land mammal on Earth, polar bears inhabit the almost endless icy world of the Arctic Circle. Perfectly adapted to their cold environment, they occupy a very narrow ecological niche and spend most of their lives out on the ever-changing sea ice, hunting for seals.
Bigger than any other species of bear, boars reach up to a colossal 700 kilograms in weight with the largest sows only weighing roughly half that. While their wonderfully white fur camouflages them against the snow and ice and keeps them warm, their large, furry feet and short, sharp claws also help them survive in the unwelcoming Arctic climate.
Now sadly classified as a vulnerable species, polar bears are thought to number only around 20 to 30,000 in the wild. Due to their striking appearance and fearsome nature, the massive and majestic creatures have long featured prominently in folk tales, fiction and film.
Explore the Diet of a Polar Bear..
© dreamstime
As they are hypercarnivorous, a polar bear's diet consists almost, if not entirely, of meat. This means they have to spend a lot of their time and energy hunting ringed seals; their preferred prey of choice.
While they do also hunt and eat other animals, ringed seals make for the perfect meal as they weigh only 60 kilos on average and so pose no problem or threat to the powerful predator. In addition, they are a very energy-rich food source with mature bears tending to feast on their fatty skin and blubber while younger bears focus instead on their protein-rich red meat.
Depending on where they live, polar bears may also consume a lot of harp, harbour or hooded seals and sometimes even eat small rodents and reindeer if nothing else is available. Likewise, eggs, fish, seabirds and vegetation, as well as berries and human rubbish also feature in their diets if necessary.
On occasion, large adult males may also go after bearded seals – this can be quite dangerous though as they often weigh a similar size to the bear itself. Young walruses, beluga whales and narwhals are also preyed upon with polar bears sometimes scavenging and eating whatever kind of carcasses they come across on the ice.
How Much Do Polar Bears Eat?
© dreamstime
How much a polar bear eats depends to a large extent on the availability of food and the time of the year with some lasting months and months without eating.
When they have just caught a seal however and are hungry, they can impressively devour up to 50 kilograms of fresh meat in just one sitting. At other times they may only eat the skin and blubber if hunting has been going well and they are in good condition.
In general, they need to consume about two kilos of fat a day if they are to survive and thrive in the harsh and unforgiving climate. To maintain their body weight they, therefore, need to hunt around every five or six days and capture and kill a seal in this time.
During the long Arctic winters, however, some polar bears have been recorded going up to eight months without food, solely surviving off of fat reserves until they can finally eat again.
How is a Polar Bear's Diet Affected by the Seasons?
As polar bears depend on pack ice forming for them to hunt and eat, their diets vary dramatically according to the season. In recent decades, this has put increasing pressure on the majestic mammals as each year the ice only retreats further as the Arctic warms.
Unlike other bears in the Northern Hemisphere, polar bears don't hibernate and keep hunting ringed seals year-round. They do, however, have to rely on their vast fat reserves for several months though in both summer and autumn when the ice is unfrozen and they can't hunt for prey.
When the ice floes are at their minimum and hunting is no longer possible, pregnant females dig a maternity den in which they will both birth and nurse their cubs. During this time, they lower their heart rate, enter a dormant state similar to hibernation and fast until spring comes around. They then re-emerge into the world with their newborn cubs.
While summer and autumn are a time of fasting and hunger for the hypercarnivorous bears, winter and spring are when they build up their fat reserves and eat as much as possible. This is because the sea ice teems with freshly born seal pups that make easy prey for hungry bears.
Over this period of plenty, some pregnant females consume prodigious amounts, with many even doubling their body weight.
How Do Polar Bears Get Their Food in the Wild?
© dreamstime
While polar bears sometimes hunt for seals on land or in the water, this is very rare as the predators instead prefer to use a method called 'still-hunting'. This is when they wait patiently, sometimes for hours at a time, next to a seal breathing hole before pouncing when they appear and dragging it out onto the ice.
To locate the hidden breathing holes, polar bears use their excellent sense of smell before relying on their considerable stealth and strength to make the kill. Once they have their prey in their paws, they then crush their skull with their mighty teeth and jaws. This tactic helps preserve their energy and ensures they don't waste valuable fat reserves chasing or swimming after the slippery seals.
On occasion, polar bears will also stalk seals resting on the ice, approaching as closely and quietly as possible before rushing in and attacking. With their fine sense of smell, they may also sniff out female seals' birth lairs and break in and devour their pups.
When hunting seals, polar bears may swim under ice floes or alongside the snowy shoreline before suddenly emerging and pouncing on their unsuspecting prey. At other times, they'll just scavenge and eat whatever they come across ranging from frozen carcasses and Arctic foxes to eggs, seabirds and even human rubbish.
What Eats a Polar Bear?
© dreamstime
As you can imagine, adult polar bears have next to no natural predators, what with being the largest carnivorous land mammals on Earth. Consequently, the main threat they face is from climate change and the retreating Arctic ice as large-scale hunting of the beautiful bears by humans thankfully no longer takes place.
When in the water, however, they do need to keep a watchful eye out for orcas who will happily take advantage and attack and eat them if the opportunity arises. This is quite rare though but is thought to be increasing as polar bears have to swim ever further due to polar ice shrinkage.
In areas where they overlap, polar bears usually lose out to brown bears in disputes over carcasses with young cubs sometimes being killed and eaten by their large and aggressive cousins.
Adult males may also kill other polar bears in fights to establish dominance and sometimes kill cubs so that a female will breed with them. While they rarely go on to actually eat the young, this does happen with some mothers also eating their offspring when times are tough and starvation beckons.
What Happens if a Polar Bear Goes Hungry?
As aforementioned, polar bears can last a remarkably long time without eating, with the longest on record not having fed for eight months between meals. This phenomenal fasting, however, is dependent on them building up enough fat reserves during the winter hunting season when the prey and pack ice are most prevalent.
In the warm summer months, when the polar ice retreats, they usually resort to scavenging whatever they can find, often not eating for months at a time. During these lean periods, polar bears lose a lot of weight with pregnant females sometimes shedding 60 or 70 kilograms as they fast in maternity dens and feed their cubs.
When hungry, polar bears really do show their dietary flexibility, sometimes even scavenging on land and hunting large ungulates. As their specialized metabolism requires large amounts of fat from marine mammals, the flesh of these terrestrial animals unfortunately does not provide them with the same amount of nutrients.
In particularly tough years, females may sadly resort to eating their own offspring if no alternatives present themselves. Pregnant females will also usually not give birth if they don't have enough food and fat reserves to provide for themselves and the cubs.
In addition, it is just the natural way of the world that once polar bears get too old, weak and slow to catch prey that they will eventually become unable to hunt and slowly starve to death.
What Do Polar Bear Cubs Eat?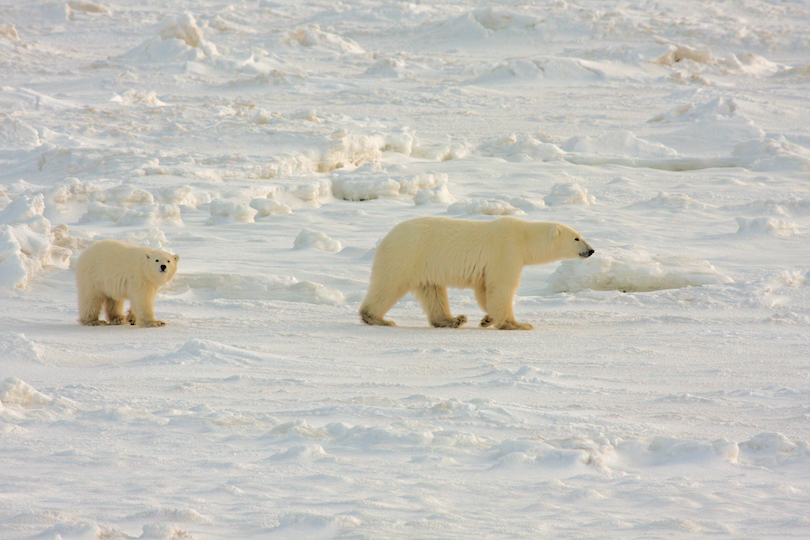 © dreamstime
Polar bear cubs are born in warm, safe maternity dens and usually feed on their mother's nutrient-rich milk up until about the age of two and a half when they are finally weaned off it. During this time however, they are also introduced to seal blubber and start eating solid food around the three to four month mark.
Once they leave the den in spring, cubs accompany their mother wherever she goes and learn how to stalk, hunt and kill prey out on the Arctic ice. They only become proficient at hunting though at about the age of one if not older.
Subadult bears who are independent but who are not big enough or experienced enough to always be able to successfully hunt will often have to scavenge carcasses from other bears if they want to survive.
What Do Polar Bears Eat in Captivity?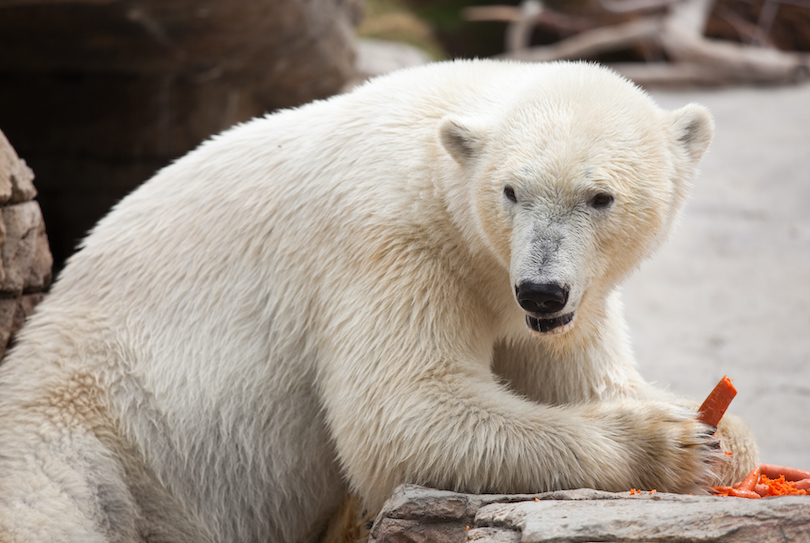 © dreamstime
While polar bears in the wild rarely live beyond the age of 25, those in captivity often easily surpass that as they don't have to hunt, deal with extreme weather and otherwise struggle to survive. In zoos and wildlife sanctuaries they enjoy a diverse diet that provides them with all the nutrients they need.
Although the rich, fatty blubber they are used to doesn't usually feature, the carnivorous creatures are typically given chickens, fish and other parts of animals such as cows and pigs. Sometimes they are given carcasses and bones to pick apart or thawed and frozen rabbits that they can play about with.
In addition to their fortified meat-based diet, polar bears are also given various fruits and vegetables to eat, as well as some berries and herbs from time to time.
Needless to say, polar bears in zoos do not starve for months on end like they would in the wild and are provided with food daily with some fasting days also being factored in.