The largest carnivorous land mammals on Earth, polar bears certainly make for a spectacular sight with their staggering size and wonderfully white fur. While seeing one up close and personal is an awe-inspiring experience, hardy adventurers will need to trek to the isolated world of the Arctic Circle if they are to stand any chance at spotting one in the wild.
Although they are born on land, polar bears spend most of their lives on the vast and ever-changing sea ice, roaming over snow, ice and open water in search of seals – their main prey and food source. Much larger than females, adult males can weigh up to a huge 700 kilos and reach a length of three meters, with the beautiful bears living up to 25 years in the wild.
Classified as a vulnerable species, they are reckoned to number between 20,000 and 30,000 in total. So where do Polar Bears Live in the wild? In this article you'll discover that these majestic mammals are found in just five nations that surround the Arctic Ocean.
1. Greenland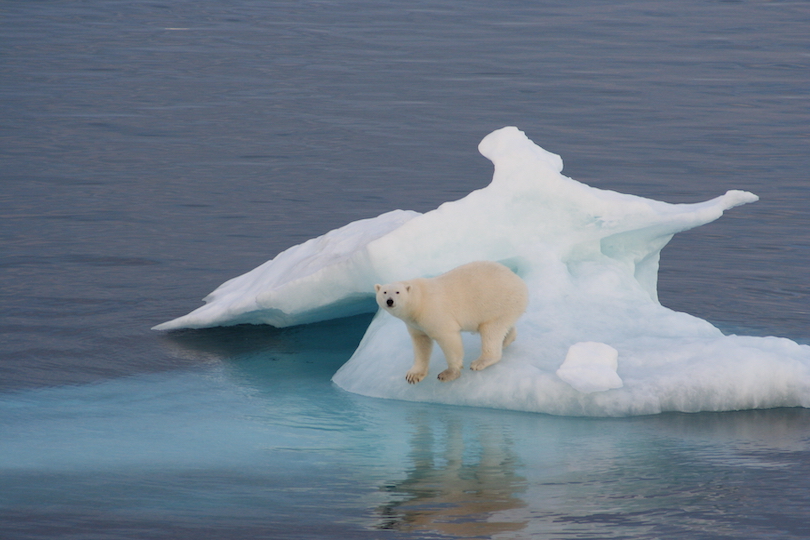 © dreamstime
The world's largest island, Greenland lies between the Arctic and Atlantic oceans with almost all of its rugged landscape coated in a shimmering sheet of ice. Very sparsely populated, it boasts unspoiled snowy scenery with glaciers and fjords found alongside endless tundra and ice floes.
Due to its wintery realm, Greenland is home to many of the world's remaining polar bears with most of them found in the northernmost parts of the isle. This, however, is a very inaccessible area with much of the remote region protected as part of Northeast Greenland National Park; remarkably the largest national park in the world.
As such, the best chance of seeing the incredible creatures in the wild is to take an epic Arctic cruise along the east coast of the island. Although sightings of polar bears are still relatively rare due to the staggering size of the region in which they hunt and roam, you'll certainly pass spellbinding scenery and jaw-dropping views on the trip. The undoubted highlight, however, is finally spotting one of them and their off-white fur against the snowy landscapes and ice all around them.
Despite, or perhaps because, of their elusive nature, polar bears have long played a prominent role in the island's culture, traditions and heritage. While its indigenous Inuit peoples have hunted and even worshiped polar bears for millennia, the magnificent mammal now occupies pride of place on Greenland's coat of arms.
2. Svalbard
© dreamstime
Famed for being home to more polar bears than people, the Arctic archipelago of Svalbard can be found midway between the northern coast of Norway and the North Pole. With most of its isolated and inhospitable islands coated in glaciers and snow, it is no wonder that the archipelago is home to thousands of polar bears. As well as being Svalbard's iconic symbol, these awe-inspiring animals are also its main tourist attraction.
One of the northernmost places on the planet where people live, it is only the main island of Spitsbergen that has any small settlements and infrastructure to speak of. As polar bears are so prevalent in the region, inhabitants and tourists alike are required to carry a rifle with them at all times for protection in case they encounter one of the powerful predators.
From these secluded settlements, you can arrange to go on boat trips around the nearby islands that are mostly made up of national parks and nature reserves. The best time of year to visit is between May and September when the ships can push their way through the melting ice and reach the snow-clad areas and dense drift ice in which so many bears live, roam, and hunt.
While some of Spitsbergen's fjords, such as Liefdefjord and Storfjord, seem to have small, stable populations of polar bears, important denning areas can be found on Edgeoya and Hopen, with the highest density being on Kongsoya.
Besides being one of the best places to see polar bears, Svalbard boasts stunning scenery with whales, walruses, and reindeer also regularly sighted.
3. Alaska
© dreamstime
The only state in the US to be home to all three species of bear, Alaska has long been renowned for its vast stretches of rugged and remote wilderness. Fittingly nicknamed 'the last frontier', its endless forests, fiery volcanoes and towering mountain ranges slowly give way to the tundra and permafrost of Arctic Alaska.
It is here, in the state's far north that most of its polar bears reside and roam, although they have been found as far south as St. Lawrence Island during particularly cold and icy winters. While they range over a wide area, its two main populations can be found along Alaska's northern coastline in the Southern Beaufort Sea and in the Chukchi Sea off western Alaska.
While they spend most of their lives out on the sea ice hunting seals, many of the massive mammals spend the ice-free months between August and October on or around the scenic and secluded Barter Island. During this time many people visit the isle's Inupiat village of Kaktovik. From here you can charter small planes to fly above the Arctic National Wildlife Refuge and spot polar bears prowling about from the air.
The only other place to see polar bears is at Utqiagvik which lies at the northwestern most tip of Alaska. To catch a glimpse of the mighty mammals, many people take boat tours or charter flights out over the surrounding pack ice. Polar bears can sometimes actually be spotted just outside your window though on the rare occasion that they venture into town and pad about the small settlement.
4. Russia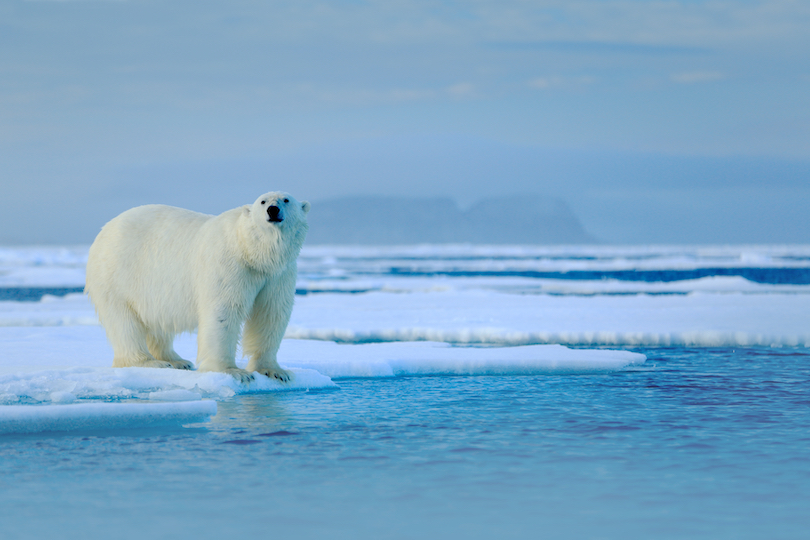 © dreamstime
With such a huge swathe of the country's colossal landmass lying in the icy Arctic Circle, it should come as no surprise to learn that Russia is home to several significant polar bear populations. Of these, the largest and most well-known are found on and around the remote Wrangel Island in the Russian Far East and on the isolated and icy archipelago of Franz Josef Land.
Renowned for having the highest density of dens in the world, Wrangel Island is often referred to as the 'polar bear maternity ward'. Remarkably enough, more than 500 mothers give birth to cubs here each year with most of the island protected as part of a nature reserve. As it lies in a very remote spot between the Chukchi and East Siberian seas, Wrangel Island is very hard to reach with only a few tour companies running excursions to see the polar bears.
The other main place to see polar bears in their natural habitat is at Franz Josef Land which lies 900 kilometers below the North Pole. Home to a huge and healthy population of polar bears, its 192 inhospitable islands are only inhabited by a few hardy military personnel. Now protected as part of the Russian Arctic National Park, the archipelago boasts wonderful wilderness and wildlife with its glaciers only being accessible by boat.
Besides these two main population centers, smaller groups of polar bears can be found scattered along the country's long Arctic Ocean coastline. While they are rated as rare in the Laptev Sea, both the adjacent Taymyr Peninsula and Kara Sea are home to many more of the majestic creatures.
5. Canada
© dreamstime
The second-largest country in the world, Canada is renowned for its vast untouched wilderness that includes everything, from mighty mountains and verdant forests to lovely lakes and a staggeringly long coastline. Fittingly nicknamed the Great White North, it boasts massive icy Arctic areas and an immense maritime terrain and is impressively believed to be home to between 60 to 80% of all the Earth's polar bears.
One of the best places to spot them is in the nation's newest, largest and most northerly territory of Nunavut which stretches from the west coast of Hudson Bay up to the Canadian Arctic Archipelago. The beautiful bay's scenic shoreline is known as 'Polar Bear Alley' as each autumn the world's southernmost polar bear population slowly heads north in search of sea ice and seals.
Although watching them migrate is an amazing experience, it is the neighboring town of Churchill in Manitoba that is the undisputed 'polar bear capital of the world'. For decades tourists and polar bears alike have flocked to its remote reaches with thousands of the latter converging on its shores every autumn. Once sturdy enough ice has formed on Hudson Bay, the awesome animals set off in search of ringed seals – their main food source.
While many polar bear populations around the Arctic sadly seem to be in decline due to climate change and encroachments on their territory, Churchill's may, in fact, be increasing. Thanks to the unspoilt scenery and the inaccessibility and isolation of the region, Canada's vast Arctic reaches are the perfect place for polar bears to live in peace in the wild.