Renowned around the world for their powerful physique, fearsome nature, and distinctive orange fur and black stripes, tigers are some of the most popular animals on the planet. The largest living cat species, they sport sharp teeth and claws, camouflaged coats, and muscular bodies while their giant spring and quick reflexes help them take down large prey such as deer, wild boar, and buffalos.
Once widespread across almost all of Asia, they now mainly inhabit rugged and remote areas with only around 5,000 or so thought to remain in the wild. While some subspecies of tiger are now sadly extinct due to habitat destruction, fragmentation, and poaching, others types of tigers are listed as endangered and only survive in small, isolated pockets.
Thankfully huge conservation efforts are now ongoing in different countries in an attempt to protect and preserve their natural habitat and range and ensure the continued existence of these marvelous creatures with their amazing markings.
1. Bengal tiger
© dreamstime
With bright orange fur, black stripes and white markings, the beautiful Bengal tiger is probably the breed that springs to mind when you picture the incredible cats. Similar in size to the Siberian tiger, adult males can reach up to 600 lb in weight and measure ten feet in length with most females being much smaller in general.
The most numerous of the tiger species, it can be found across India, Bangladesh, Nepal, and Bhutan with roughly 4,000 reckoned to still be living in the wild. Ferocious hunters, they inhabit lush grasslands, mangroves, and tropical or deciduous forests.
They prey on everything from gaur and chital to deer, wild boar, and even water buffalo. Due to their size, they face no natural threats beside humans and habitat loss with the tigers even hunting other predators like black bears, leopards, and wolves.
2. Siberian tiger
© dreamstime
Genetically very close to the extinct Caspian tiger, the Siberian tiger is now usually considered to be the largest of the species. While the biggest individual on record clocked in at a colossal 660 lb and stretched almost twelve feet long, some rather dubious sources have previously put their maximum weight at a scarcely believable 900 lb.
Now sadly classified as endangered, the majestic mammal solely resides in rugged and remote parts of Northeast China and the Russian Far East, having once roamed across a much larger area. In total there are thought to be around 600 Siberian tigers remaining in the wild with hunting, humans, and habitat loss all having contributed to their sad decline.
Also called the Amur tiger, its main prey consists of goral, deer, and wild boar with rabbits and rodents sometimes featuring in their diet.
3. South China tiger
© dreamstime
Even more elusive than its northern neighbor is the critically endangered South China tiger which may possibly even be extinct in the wild as none have been sighted since the late 1980s. While they once occupied a vast range of landscapes across the whole of China, extensive deforestation, habitat fragmentation, and 'anti-pest' campaigns have tragically put paid to most if not all their population.
As well as being smaller in stature than their carnivorous cousins, they have lighter, more yellowish coats, narrower, more numerous stripes, with their shorter skulls also setting them apart.
Although likely extinct in the wild, Chinese zoos have successfully bred dozens of the tigers in captivity over the last few decades. Remarkably enough, some have even been released in a South African nature reserve to see if they could one day be reintroduced to China's national parks and protected areas.
4. Indochinese tiger
© dreamstime
Another big cat that is listed as endangered is the magnificent Indochinese tiger of Southeast Asia. Mainly located in Thailand and Myanmar with a couple of hardy individuals hanging on in Laos, it normally occupies steamy tropical forests, mountainous areas, and hilly regions where they can hide and hunt banteng, sambar deer and wild boars.
A bit smaller than both Bengal and Siberian tigers, they typically reach between 220 and 430 lb in weight and measure about seven-and-a-half to nine-and-a-half feet depending on their sex, the season and availability of prey.
Besides their size, they can also be distinguished from other mainland Asia species and populations by their smaller skull, shorter, narrower stripes, and the slightly darker coloration of their coats.
5. Sumatran tiger
© dreamstime
Situated even further to the south is the Sumatran tiger which only persists in small and fragmented populations across the enormous Indonesian island of the same name. The sole surviving species in the Sunda Islands archipelago now that the Bali and Javan tigers are extinct, its 600 or so remaining individuals live everywhere from lowland coastal regions to hill and mountain forests.
As they are genetically diverse from the rest of the mainland tigers, it is widely believed that they have been isolated from the others for around 6,000 to 12,000 years. This has led to them not only being much smaller in size at between 165 to 310 lb in weight but also sport spots as well as stripes and have longer skulls and prominent ruffs.
6. Malayan tiger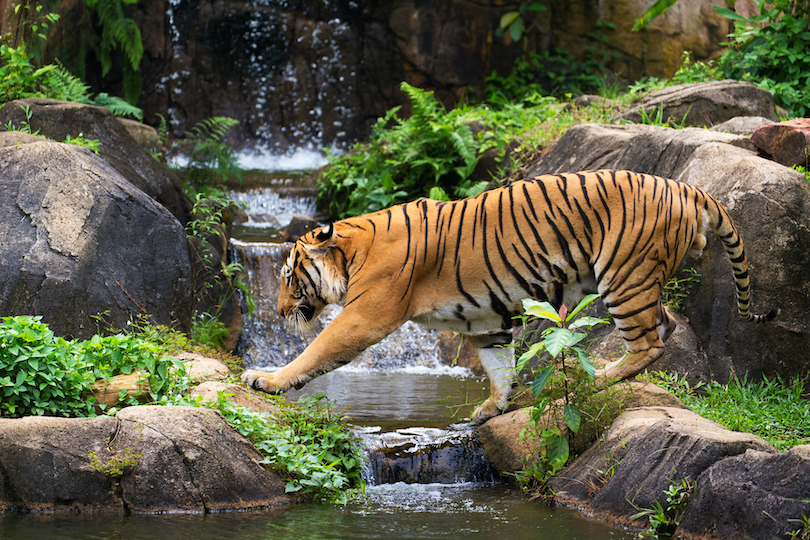 © dreamstime
Only identified as a separate subspecies in 2004, the striking Malayan tiger looks almost identical to its close relative and nearby neighbor the Indochinese tiger. Native to Peninsular Malaysia, it lives along rivers and in forests and in agricultural areas with the critically endangered animals thought to number only about a couple of hundred in the wild.
On average, males reach about six-and-a-half to seven feet in length and weigh around 220 to 300 lb while females are usually only just a tiny bit shorter but considerably lighter at between 165 to 245 lb.
As there is no clear distinction between Malayan and Indochinese tigers in terms of both their crania and pelage, it was genetic analysis that determined they were a separate subspecies. Like their cousins they hunt gaur, deer and wild boar and are threatened by deforestation, poaching, and the traditional medicine trade.
7. Javan tiger (extinct)
wikipedia/Andries Hoogerwerf
Now sadly extinct, the gorgeous Javan tiger once roamed across the Indonesian island of the same name up until about the mid-1970s when it was spotted for the last time. Much smaller than species on the mainland due to the slighter prey available on Java, it was very similar in size and stature to the Sumatran tiger next door.
While it once inhabited most of the isle, rampant hunting and widespread deforestation meant they slowly retreated to more secluded mountains and forests. On top of this, civil war, diseases to their most important prey species and a massive population boon all contributed to their eventual decline.
While efforts were eventually made to protect the tigers, their prey and natural habitat, it was all too little too late and although rare sightings continue to be reported, no definite, direct evidence points to any lonely individuals still eking out an existence in the wild.
8. Bali tiger (extinct)
© dreamstime
Several decades prior, the Bali tiger was also hunted to extirpation on the isle of the same name in another part of the Sunda Islands archipelago. The smallest member of the entire species, a typical tiger would have weighed between 143 and 220 lb and measured about seven feet in total from the tip of its nose to the end of its tail.
While it still occupies a prominent role in Balinese folkloric beliefs, tales, art, and magic, the almost mythical tiger was eventually hunted to extinction with palm plantations and rice fields also having encroached on their natural habitat.
Although they were last recorded in the 1930s, a few survivors likely lived on into the forties and possibly even fifties with now only some skulls, skins, and bones in museum collections being all that remain of the once mighty creature.
9. Caspian tiger (extinct)
© dreamstime
Another subspecies to tragically go extinct in the seventies was the colossal Caspian tiger that once inhabited a diverse array of landscapes across much of Central Asia. Named after the world's largest inland body of water, it used to live in river basins, wetlands and forests, roaming everywhere from Azerbaijan and Iran to Kazakhstan, Afghanistan and western China.
One of the largest extant cat species along with the Siberian tiger, it stretched up to a staggering 10 feet in length and could weigh as much as 530 lb. As well as boasting brighter and more uniform fur than that of its close relative, it had narrower, fuller, more closely set stripes and a thicker coat due to the cold climes it inhabited.
Once relatively widespread around the Middle East and Central Asia, hunting and habitat loss sadly spelled the end for these ferocious felines with the restricted nature of its distribution along rivers surrounded by deserts also having contributed to their sad extinction.