Penguins are aquatic, flightless birds. All penguin species live in the Southern Hemisphere, with the exception of the Galapagos penguin that lives off the coast of Ecuador. There are 18 species of penguins, five of which live in Antarctica.
They have characteristic countershading of white and black plumage. Their feathers are highly waterproof, allowing penguins to regulate their body temperature when they are in cold waters.
Unlike other birds, penguins have flippers instead of wings, a reflection of their lifestyle. They also have sharp claws that they use to help them walk on slippery ice.
Exploring a Penguin's Diet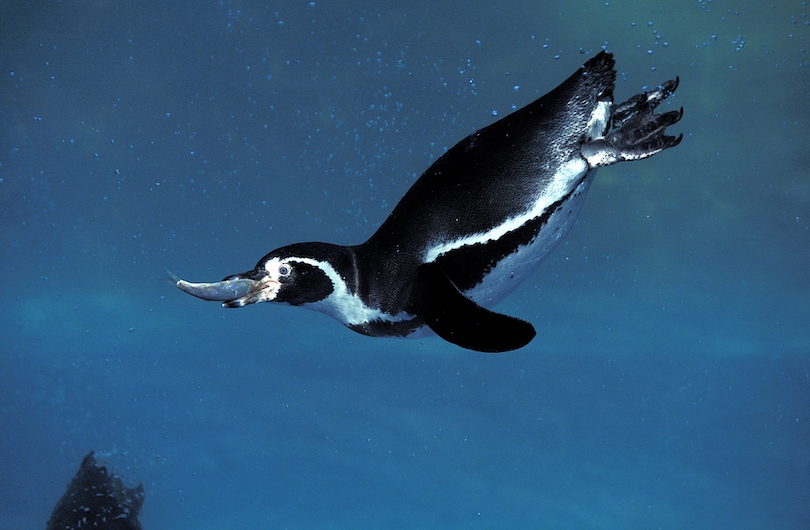 © dreamstime
Penguins are carnivores, more specifically piscivores as they only feed on animals caught in the sea. They are opportunistic feeders that eat a range of sea species and adapt their diet to what is abundant in each season.
Their diets are made up entirely of fish, crustaceans and cephalopods. Penguins most commonly catch squid, though crabs and shrimp aren't off the menu. They feed on small fish species, like sprat, anchovies, sardines, cod, silverfish, pilchards, opal fish and lantern fish.
Different penguin species have slight variations in feeding preferences, this helps reduce competition among populations with shared habitats.
Their diet is also dependent on their geographical location and size. Antarctic and subantarctic penguin species, like Adelie and chinstrap penguins, have diets rich in krill and squid. On the other hand, penguin species that live further North, like Emperor and king penguins, eat more fish.
How Do Penguins Get Their Food?
© dreamstime
Penguins hunt for their food. They can spend up to 20 minutes underwater, giving them plenty of time to chase, catch and swallow their prey before coming back to the surface for air. Penguins rely heavily on their sight when they hunt.
It is still unknown how penguins hunt and feed at night, although scientists hypothesize that the light produced by bioluminescent species of fish, plankton, squid, and crustaceans likely provides enough light for penguins to navigate at night. Penguins also have spiny tongues and strong jaws that help them grip onto slippery fish.
They swallow their prey whole as they swim. Penguin species that share a common habitat and hunting grounds will develop different feeding preferences to reduce competition for food between species.
Schooling fish have evolved defense strategies in response to the striped markings found on penguins. The school breaks up, as a way of distracting the penguin and making the chase harder. Non-striped penguins don't tend to target schooling fish, and thus don't provoke an aversive response.
What Do Penguin Chicks Eat?
© dreamstime
Penguins breed and incubate their eggs on land. They attract mates through complex courting displays and sounds. Nearly all penguin species are monogamous.
Penguins lay their eggs on nests made of small pebbles, called a clutch. Most penguin species lay two eggs at a time, whilst emperor and king penguins lay a single egg. The incubation period differs across species and ranges from 30 to 66 days.
Penguin couples take turns sitting on the nest, alternating between incubating and feeding. Emperor penguins have a different approach; males incubate the eggs whilst the females hunt at sea. Male emperor penguins fast and rely on fat reserves, losing up to 45% of their body weight.
Once chicks hatch, they are fed by their mothers and fathers. Parent penguins go to sea to catch food, they then digest it and regurgitate it into the chick's beak. Feeding typically lasts a few months as the chicks grow and replace their plumage.
Where Does a Penguin Hunt?
Different penguin species have different hunting grounds. Some target prey close to the shore, staying near their colony and breeding grounds, whilst others travel long distances to feed. Penguins tend to hunt close to the water's surface, staying between 15.3 to 18.3 feet below the surface.
Adelie penguins hunt their prey no further than nine miles away from the colony's settlement. Meanwhile, Emperor penguins will travel up to 900 miles from their colony in search of food. On a hunting trip, an Emperor penguin can spend months at sea and cover distances between 100 and 900 miles in a single trip.
When penguins need to stay close to their colony, they take advantage of seal holes and other breaks in the ice to hunt. This feeding behavior is common among penguins during periods of moulting and breeding when they can't hunt or swim.
How Much Does a Penguin Eat?
© dreamstime
The amount a penguin eats is influenced by its size and the time of year. Penguins go through periods of fasting when they breed and moult. Prior to fasting they undergo periods of increased food intake. This is necessary to build up an individual's fat reserves in preparation for fasting.
The entire breeding population of Adelie penguins will consume an estimated 330,000,000 pounds of krill, 253,000,000 pounds of fish and some 7,700,000 pounds of squid per year. But this fluctuates depending on the size of the colony, which can range from 2,000 to a million nesting pairs. It is hard to quantify how much an individual penguin eats.
Curiously, penguins have been observed purposefully swallowing small pebbles and stones. It is thought they do this to reduce hunger when they spend long periods on land, and to reduce their buoyancy when they are at sea, helping them dive deeper to catch prey. In chicks, this behavior may also occur to help their stomachs grind down the tough exoskeletons of ingested crustaceans.
Do Penguins Fast?
Penguins go through annual periods of fasting. They fast for two main reasons: to breed and moult. In both instances, they must spend prolonged periods on land and aren't able to go to sea to hunt and feed.
When a penguin moults it can't hunt at sea because without its feathers it lacks the waterproofing and insulating qualities its plumage provides in the water. Young chicks that are shedding their juvenile feathers and replacing them with adult plumage undergo a period of involuntary fasting as their parents stop feeding them before their feathers have been replaced.
In the weeks building up to fasting penguins increase their food intake, gaining weight and accumulating their fat reserves. This fat will be slowly broken down during the length of their fasting period and provide them the energy they need to survive whilst they can't feed.
The species and sex of a penguin will dictate the length of the individual's fast. Male penguins often fast longer. Emperor males fast for 90 to 120 days when they breed, the time it takes for courting and incubation to occur. Meanwhile, king penguins fast for just 54 days.
What Eats a Penguin?
© dreamstime
Penguins are semi-aquatic birds that have predators both at sea and on land. In the ocean, penguins are predated on by leopard seals, fur seals, sea lions, sharks, and killer whales. They are fast and agile swimmers that can usually escape from predators by rapidly changing directions underwater and confusing their predators.
Another advantage penguins have over their aquatic predators is that they can hop out of the water and onto land, placing themselves out of reach. However, aquatic predators have evolved intelligent solutions. Killer whales will create large waves with their tails that push penguins off ice floes, and occasionally beach themselves to catch their prey.
On land, adult penguins don't have any predators. However, penguin chicks and eggs are at risk of predation. Large predatory birds are a looming threat, species like sheathbills and giant petrels will often sweep down and snatch penguin chicks.
What Do Penguins Eat in Captivity?
© dreamstime
It is important to keep a penguin's diet in captivity as similar as possible to its diet in the wild. This helps avoid health issues often faced by animals held in captivity, such as poor development and obesity.
Captive penguins have a diet made up of dead fish, which is mostly frozen and thawed before feeding. They eat krill and crustacean species. Their diet isn't too hard to replicate in captivity. But zookeepers need to be aware of the differences in dietary needs across species.
Penguins are fed small fish, like sardines and lantern fish, that they can swallow whole. They don't have teeth, thus larger fish need to be chopped into small chunks before feeding.