One of the most famous and most-loved birds in the world, the penguin is renowned not only for its distinctive black and white markings but its wonderful waddle too. Mostly found in the Southern Hemisphere, the flightless aquatic birds occupy a diverse range of continents and habitats with some living on isolated islands or secluded beaches and others on the endless ice of Antarctica.
In total, there are believed to be 21 living species, ranging from adorable little penguins right up to enormous penguins which tower over three foot tall. Even the largest penguin species spend up to half their lives in water and use their flippers to propel themselves agilely after prey such as fish, krill and squid and away from any potential predators.
12. African penguin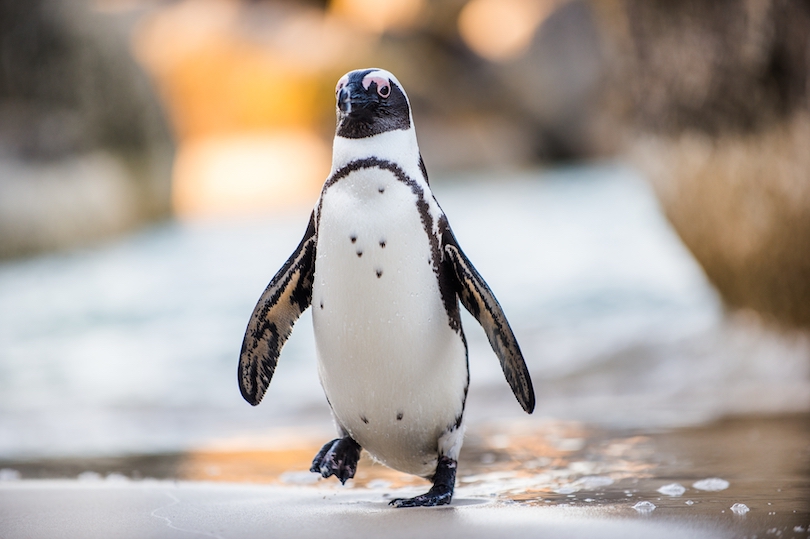 © dreamstime
Although most people don't normally associate Africa with penguins, some of its southern countries are home to some admittedly smaller members of the species. Also known as Jackass penguins, due to the distinctive braying sound they make, the cute little critters stand just 24 to 28 inches tall and weigh roughly 4.9 to 7.7 lb.
While they sport similar black and white camouflage coats to their cousins, the African penguin is also noted for the pink patches above its eye which help to regulate its heat. Now sadly classified as endangered, it can only be found in South Africa and Namibia where they congregate in colonies on the coast and breed and feed on isolated isles or at Boulders Beach; a very popular tourist attraction.
11. Fiordland penguin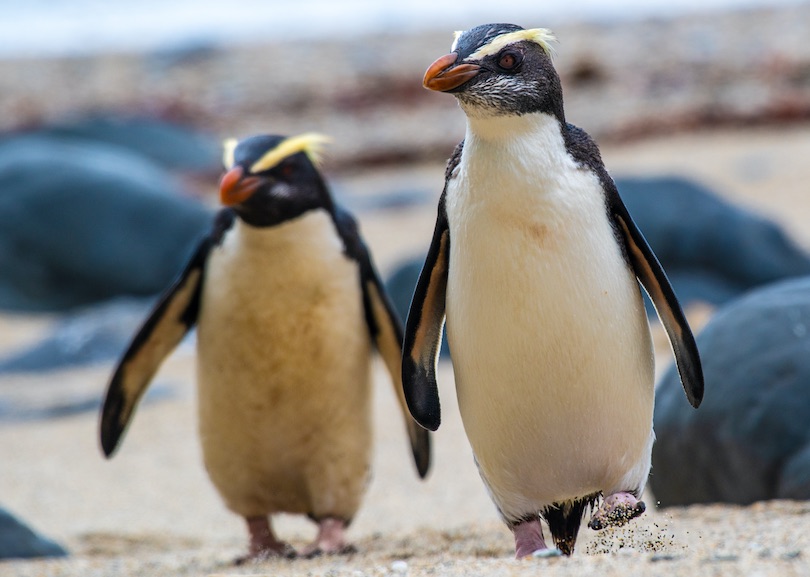 © dreamstime
Just a bit larger on average than its African counterpart, the Fiordland penguin now only lives in the least-populated parts of New Zealand's South Island. Thought to have once occupied a much larger range, they are now endemic to the country with introduced predators and human disturbance sadly meaning they are vulnerable to extinction.
Also known as the Fiordland crested penguin, thanks to its bright yellow eyebrow-stripes, it usually only grows about 24 inches in height with adults weighing between 4.4 and 13.1 lb at their absolute largest. Unlike most other species of penguin, they remarkably nest among tree roots and rocks in temperate coastal forests. From here, they venture into the nearby sea where they fish for the squid and crustaceans that make up most of their diet.
10. Galapagos penguin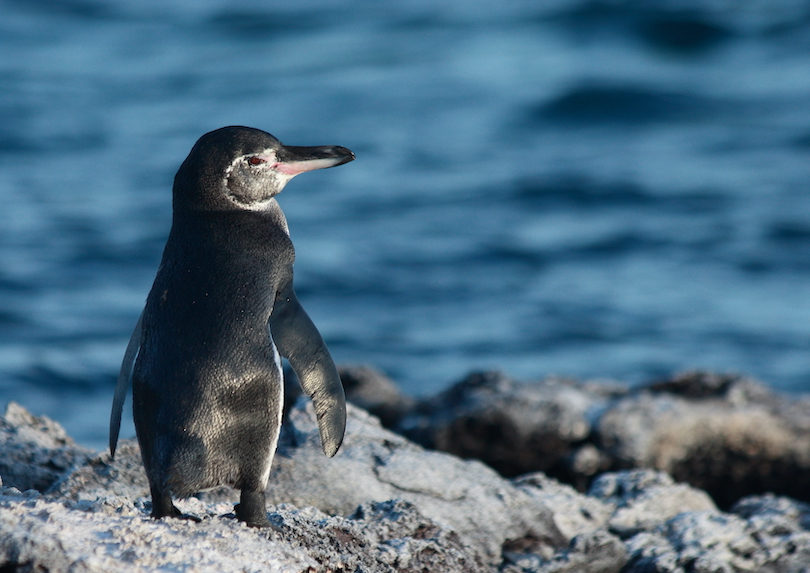 © dreamstime
The only penguin found northwards of the equator, the Galapagos penguin inhabits Ecuador's scenic and secluded archipelago that is so famed for its unique and fearless fauna. Reaching just 20 inches in height, they weigh around 5.5 to 9.9 lb with the small, flightless birds being perfectly adapted to the warm weather of their tropical environment.
Over the aeons, the isolated species has developed a number of ingenious techniques to keep cool with the penguins also having benefited from the cooling, nutrient-rich waters of the Humboldt and Cromwell Currents. Almost all of the population fish, feed and mate on the west side of the volcanic Galapagos Islands which lie over 600 miles off of South America in the eastern Pacific Ocean.
9. Chinstrap penguin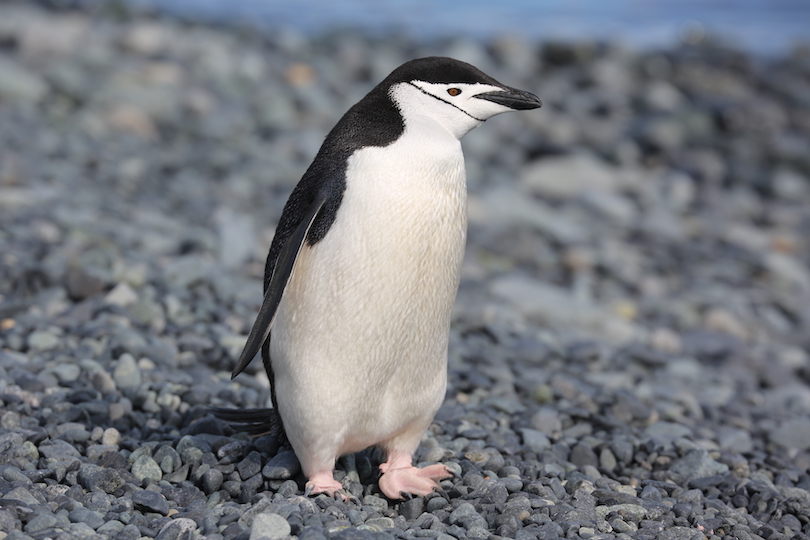 © dreamstime
Widespread across not just Antarctica, Argentina and Chile but a number of surrounding islands too, Chinstraps are one of the most populous penguin species on Earth. So named because of the narrow black band under their chin, they typically measure between 27 and 30 inches with adults clocking in at around 7.1 to 11.7 lb, depending on their size, sex and the season.
Aside from their classic countershaded coats and chinstrap, the smallish penguins have black bills, short, stumpy legs and pink webbed feet. Noted for their loud, harsh call, they are considered to be the most aggressive and ill-tempered members of the species. Also called the stonecracker penguin, they have a circumpolar distribution with some colonies inhabiting Bouvet Island, the Falklands and South Georgia and the South Sandwich Islands.
8. Magellanic penguin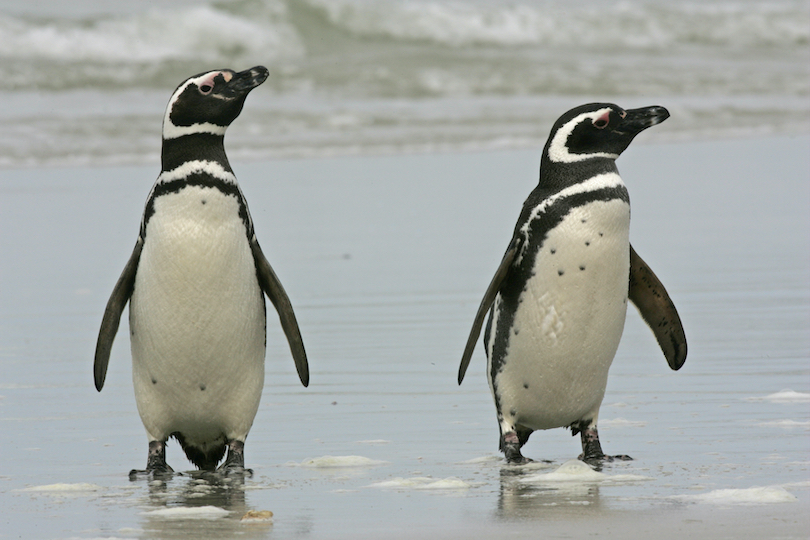 © dreamstime
Mainly located along the cold coasts and islands of southern South America, Magellanic penguins are most closely related to their African, Humboldt and Galapagos cousins. Named after the famous Portuguese explorer who first spotted the black and white birds in 1520, they normally reach around 24 to 30 inches in height and weigh about 6 to 14.3 lb.
Set along the shores of Argentina, Chile and the Falkland Islands, they typically gather in massive nesting colonies and often travel in huge flocks when hunting for food. The main bulk of their prey consists of squid, krill, cuttlefish and crustaceans with the aquatic birds often diving down to depths of 65 to 165 feet as they forage for food in the cold Atlantic and Pacific currents.
7. Humboldt penguin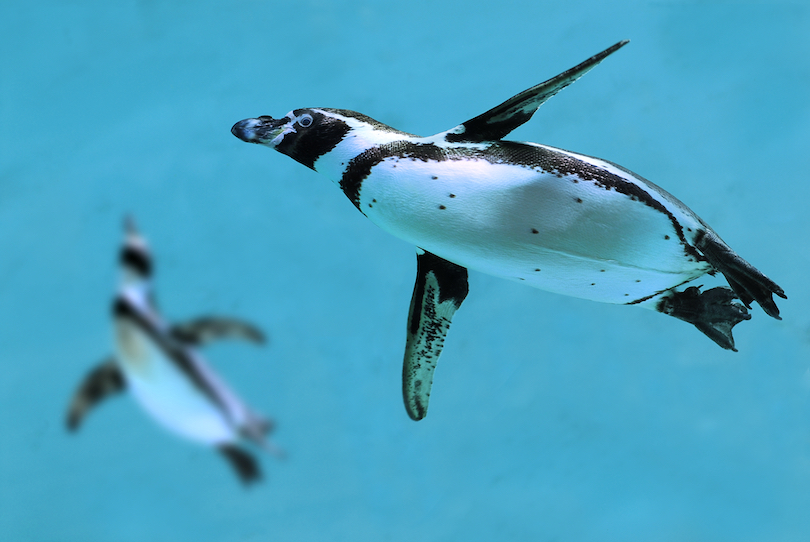 © dreamstime
Like the Magellanic penguin, Humboldt penguins also have a horseshoe-shape black mark on their chest which helps distinguish them from other members of the species. Only found along the Pacific coast of South America, they range from north Peru to southern Chile with the medium-sized birds weighing roughly 6.4 to 13.2 lb and reaching between 22 to 28 inches in height.
Named after explorer Alexander von Humboldt, they rely on the cold water current that flows north along the coast that is also named for the naturalist. The Humboldt Current not only provides them with nutrient-rich waters but also acts as an abundant food source and free form of transport. While the penguins breed everywhere from dry and arid coastal regions to subtropical islands, they prefer to nest along rocky shores and sometimes even use secluded caves.
6. Adélie penguin
© dreamstime
Living along the entire coast of the icy Antarctic continent and some surrounding islands, the Adelie penguin is one of the most widespread members of its species. Noted for the bright white rings that surround their eyes, they grow between 18 and 28 inches in size with adults usually weighing 7.9 to 13.2 lb.
They're much smaller in general than their nearby neighbors the Gentoo, King and Emperor penguins who also inhabit Antarctica. They remarkably migrate thousands of miles each year as they follow the sun from the site of their rookeries to the winter foraging grounds. The mid-sized penguins mainly feed on krill, silverfish and glacial squid and are themselves preyed upon by leopard seals, large seabirds and even the occasional orca.
5. Macaroni penguin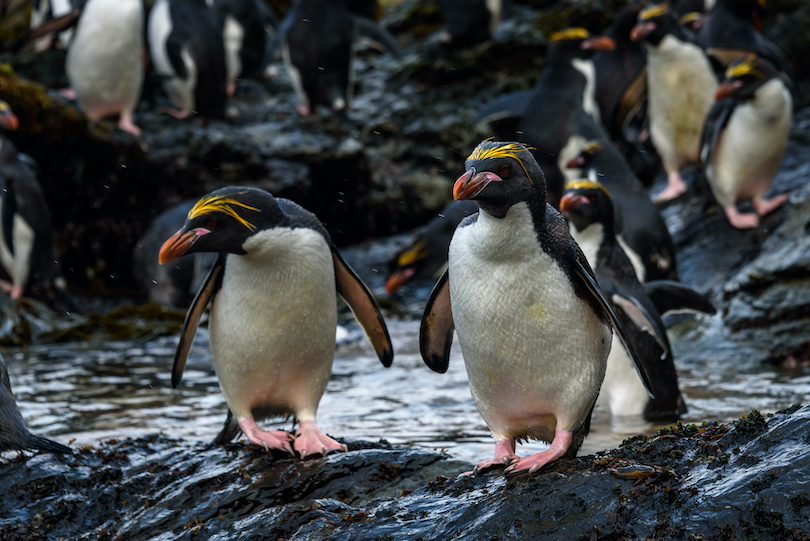 © dreamstime
Thought to boast the largest population of any penguin species on the planet, the Macaroni penguin can be found everywhere from Antarctica and Australia to isolated islands off New Zealand, South Africa and Chile. Standing up to 28 inches tall, healthy individuals normally weigh between 6.6 and 17.6 lb depending on if they are incubating, moulting or fasting.
So named due to their flamboyant yellow crest, macaroni penguins have an almost identical black and white coat to other species though this has a bluish sheen when young and is rather brown when old. Each year they both moult and migrate with the penguins preferring to live among cliffs and rocks alongside the ocean where they dive up to 330 feet either at night or during the day in search of the krill, crustaceans and cephalopods they eat.
4. Yellow-eyed penguin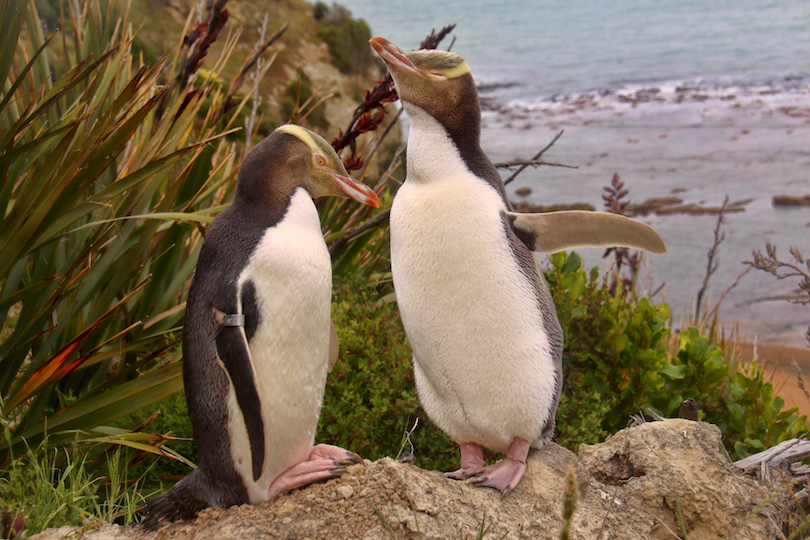 © dreamstime
Endemic to New Zealand, the yellow-eyed penguin inhabits both secluded parts of the South Island and several of the country's subantarctic islands and archipelagos. Instantly recognizable due to the yellow eyes and pale band around their head that lend them their name, they reach around 24 to 31 inches in height and weigh from 6.6 lb right up to 18.7 lb.
At their heaviest when they are just about to moult, the colorful penguins often lose several pounds before they get their bright, shiny new plumage. One of the rarest species in the world, they are now sadly considered to be endangered due to habitat degradation and introduced predators. Once found throughout the North Island too, they now only reside along the southeast coast of the South Island and around the Codfish, Campbell, Stewart and Auckland islands.
3. Gentoo penguin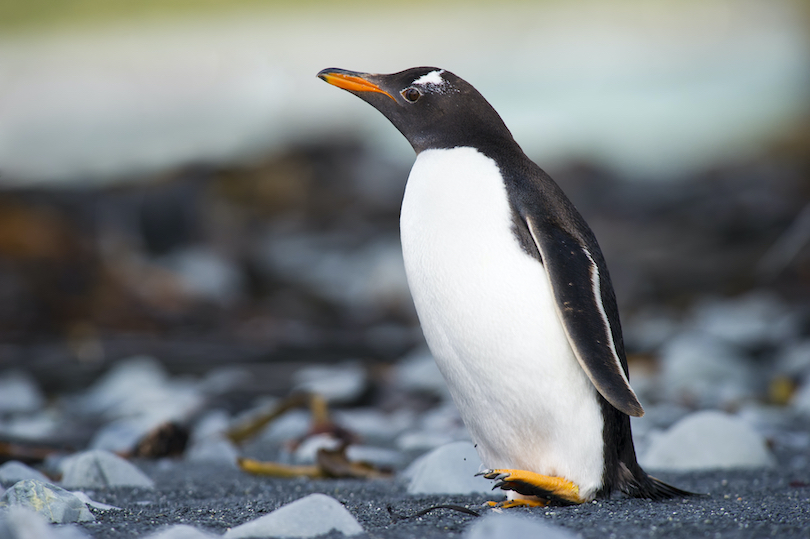 © dreamstime
Most closely related to its Adelie and Chinstrap cousins, the Gentoo penguin lives on ice-free parts of subantarctic islands with some also occupying the Antarctic Peninsula and Falkland Islands. One of the largest of its kind, it can grow to a maximum height of 37 inches with individuals weighing between 11 and 19 lb in general.
Unlike some other species of penguin, they don't migrate and only breed in ice-free areas along the coast, in valleys or beneath cliffs. Impressively enough, they are the fastest underwater birds on the planet and can reach speeds of up to 22mph as they swim about in search of crustaceans, krill, squid and fish. Although sea lions, leopard seals and killer whales all prey on the Gentoo, their population is pretty stable though hunting and pollution have led to some rather rapid declines in recent years.
2. King penguin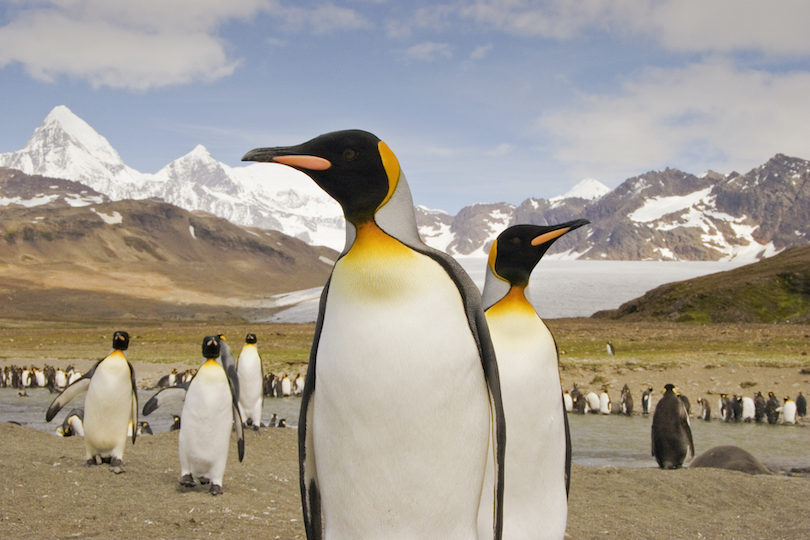 © dreamstime
Somewhat similar in appearance but smaller than the enormous Emperor penguin, the King penguin can be found in the South Atlantic and South Indian Ocean. Like with the rest of the species, males are usually larger than females with healthy adults attaining a height of between 28 and 39 inches and a weight of 21 to 40 lb.
As they don't tend to inhabit the same areas as their regal relatives, they can easily be distinguished with their longer, straighter bills, bright orange plumage and larger flippers also setting them apart. Aside from subantarctic islands, the penguins breed around Tierra del Fuego, the Falklands and even the northern reaches of Antarctica with some super individuals having been recorded at depths of over 1,000 feet as they hunt for fish, squid and krill.
1. Emperor penguin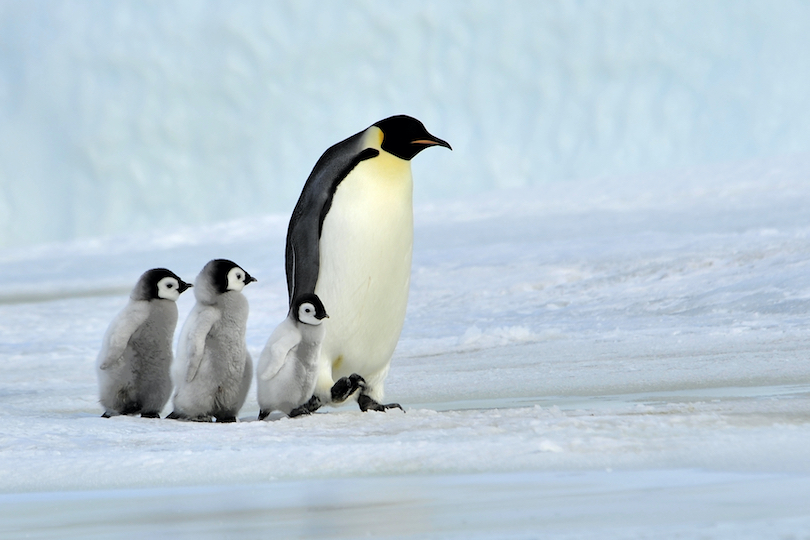 © dreamstime
The largest species of penguin on Earth, Emperor penguins can remarkably reach up to 47 inches in height and weigh from 50 to 100 lb. Renowned around the world for their distinctive and delightful yellow plumage, they inhabit the endless, inhospitable ice of Antarctica, huddling together in huge, unmoving masses to protect themselves against the freezing winds and winters.
One of the heaviest bird species, they consume large quantities of crustaceans, cephalopods and fish in the run-up to the breeding season which actually takes place during the bleak and brutal Antarctic winter. As they remain with the egg for more than two months without eating, most adult males lose about 26 lb as they wait for them to hatch. Besides being able to endure both hunger and the harsh weather conditions, emperor penguins are known for the arduous treks they make over the ice and the impressive depths of over 1,800 feet they can reach when diving down for food.