Killer whales (also called Orcas) are aquatic mammals classified as a type of toothed whale. They are black with white bellies, and white patches above their eyes. They live in all of the Earth's oceans, though they prefer colder waters. Their largest populations are off the shores of Norway, Alaska, and Antarctica.
They have a lifespan ranging anywhere between 50 and 80 years, which is long for any mammal. They are between 6 and 8 meter in length, almost as long as a bus! These mammals are considered to be the most predatorial of the toothed whale species, they are relentless hunters and unfussy carnivores.
Exploring the diet of a killer whale
© dreamstime
Killer whales are classified as toothed whales. This taxonomic group is composed of three cetacean species: dolphins, whales, and porpoises. The name killer whale is misleading as they are actually a species of dolphin. Unsurprisingly, they are the largest dolphin species.
These sea mammals are at the top of the food chain. They are skilled and efficient hunters that feed on an entirely carnivorous diet. They hunt large mammals, sea birds, fish, aquatic reptiles, and invertebrate species like molluscs. Their cone-shaped teeth help them catch and injure their prey, but they don't chew their food.
Animals like seals, penguins, squid, octopi, turtles, and salmon are all on the menu. Killer whales have even been observed hunting whales much larger than themselves and great white sharks! No aquatic animal, big or small, is safe from a hungry killer whale.
What is a killer whale's favorite meal?
© dreamstime
Killer whale pods have eating habits comparable to the individual food cultures of different countries. Variation in diets across pods is very common, even when they live in the same habitat, as each pod learns a different set of hunting behaviors that dictate what prey they catch and eat.
For example, one ecotype of killer whales in the U.S. Pacific North was observed to only eat fish, mainly salmon, whilst the members of a nearby ecotype feed on marine mammals and squid. Therefore, an orca's preferred food source will be dependent on the social behaviors taught in the animal's pod.
What do killer whale calves eat?
© dreamstime
Killer whales are mammals and thus nurse their calves with nutrient-dense milk. Mothers have inverted nipples that sit within nipple slits. When the slits are stimulated by the calf, the nipples are released so the calf can suckle.
Orcas have a 17-month gestation period before birth. Calves are born 2.6m long and weigh between 120kg and 160kg. They rely heavily on their mother's milk at the start of their lives. Though, by 3 weeks old they nurse for just 10 minutes a day and by two months this drops to 5 minutes. They continue to nurse for one to two years.
Their breastmilk is very thick, almost solid. This is due to the high fat content. The amount of fat in the mother's milk changes as the calf grows and builds up a layer of blubber. The blubber acts as an insulator for these mammals, preventing heat loss.
How do killer whales hunt?
Killer whales hunt in small groups or families known as pods. There can be up to 40 killer whales in a single pod. Each group is led by an older female member, who teaches younger members how to hunt and helps mothers nurse their young.
Every killer whale pod has a unique set of hunting techniques and singular dietary preferences. Pods that are transient tend to prey more on large mammals, whilst pods who live in one area hunt more fish. Hunting styles are passed down across generations.
They are fast in the water, reaching speeds of 56km per hour. They use echolocation to hunt, emitting sounds that bounce off nearby animals to locate their prey. Pods have been observed creating waves in the sea to tip seals off ice floes and beaching themselves to catch prey on land.
What adaptations do killer whales have that help them feed?
© dreamstime
Each killer whale is born with 40 to 56 teeth that aren't replaced like in other mammal species. Their cone-shaped teeth interlock and are perfect for tearing and ripping prey during a hunt, injuring and slowing the animal down.
Killer whales rely on echolocation to locate their prey. To heighten this ability, they have evolved asymmetrical skulls. The organs in their heads are pushed into the left side, leaving space on the right side for soft tissue that helps them echolocate.
These mammals also have specialized eyes that differ structurally from those of land mammals. They have a highly spherical lens that the cornea projects light onto, similar to a fish's eye. They lack the pigments needed to see colors in the blue wavelength, which helps them see underwater.
How much do killer whales eat in a day?
An adult killer whale weighs between three thousand and four thousand kilograms. They are the largest and heaviest of the dolphin species. The most common dolphin species, the bottlenose dolphin, will eat between 6.8 – 13.5 kg of fish, squid, and crustaceans per day.
Comparatively, an adult killer whale will eat somewhere between 45-135kg of food per day. The amount they eat will depend on what prey they catch that day and the availability of food in their habitat.
Many wild killer whale populations are experiencing declines in numbers correlating to the decrease in wild salmon populations. Adult killer whales need to eat around 2% of their body weight each day, thus they cannot thrive in habitats where fish is scarce.
Mother killer whales need to feed well as they rear their young to produce enough breast milk. Calf killer whales suckle around 10% of their body weight in breast milk each day, putting their mothers under considerable amounts of pressure.
What do captive killer whales eat?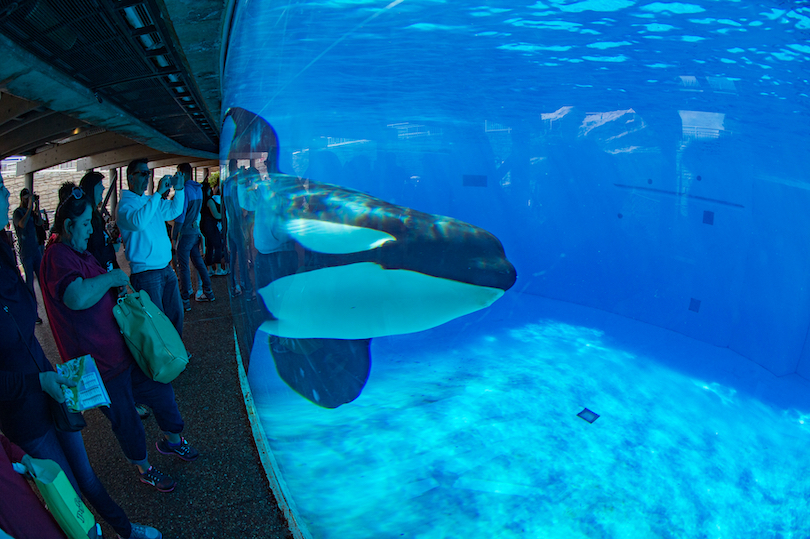 © dreamstime
Captive killer whales should be fed a diet that closely resembles their diet in the wild. This promotes good health among captive dolphins. Many captive animals suffer from problems such as obesity and issues with development, by replicating their wild diet this can be avoided.
Few toothed whale species can be held in captivity due to their size and the high quantities of feed they require. There are an estimated 57 killer whales in captivity in 2021. Their diet in captivity is consistent and doesn't vary much, if at all, from one day to another.
In captivity they are fed a variety of thawed frozen fish, primarily herring, capelin, salmon, and mackerel. A single adult orca will need between 65 to 108 kg of fish per day. They are fed sporadically throughout the day, in an aim to replicate their irregular feeding habits in the wild.
What are the issues with a captive killer whale's diet?
Whilst captive killer whales can obtain most of the nutrients they need from fish alone, there are problems with their diets in captivity. Firstly, they are only fed dead fish. Killer whales use complex hunting techniques to catch their prey in the wild, their diet in captivity is very unstimulating.
Secondly, the amount of water in frozen fish isn't sufficient to properly hydrate a killer whale. To overcome risks of dehydration, enclosure workers must feed killer whales a dietary supplement high in water. Sea World approaches the issue by feeding them gelatine.
A captive killer whale's health will need to be closely monitored through routine medical check-ups to ensure good health and identify any dietary supplements the dolphin may need. Nonetheless, few captive killer whales have lived past the age of 30. In contrast, a wild killer whale's life span is between 50 to 80 years.
What predators do killer whales have?
© dreamstime
Killer whales don't have any natural predators in the wild. They belong to a group of carnivorous predators called apex predators who are at the top of the food chain. These animals are also referred to as top predators or alpha predators.
There are numerous apex predators around the world, from mammals to insects. Killer whales, wolves, lions and tigers are all unsurprisingly apex predators. However, some more shocking examples include the praying mantis, Komodo dragon and black widow spider.
Whilst killer whales have no natural predators, they are hunted by humans. According to the IUCN they are still hunted in Greenland, Japan, Indonesia, and the Caribbean as a food source or to control local population sizes.