Dolphins are known for their energetic, playful, and friendly nature. They are aquatic mammals that live in both freshwater and saltwater. Though most dolphin species live in saltwater; in the open ocean, seashores, bays, golfs and even estuaries. There are just five freshwater species left globally, in a few rivers in Asia and South America.
They often live in small groups that communicate using echolocation. The majority of dolphins have grey coloring, but they can be black and even pink! They are excellent divers that can spend long periods underwater before coming up to the surface to breathe.
Exploring the Diet of a Dolphin
© dreamstime
Dolphins are a class of toothed whale. They are carnivores that only feed on matter of an animal origin. Different dolphin species live in a diverse set of habitats, and their feeding behaviors and patterns are affected by their geographical location.
All dolphin species are predators. In fact, one dolphin species, the killer whale, is an apex predator! They are intelligent hunters that employ a diverse set of strategies and often work together to catch prey.
Dolphins feed on fish, squid, and crustaceans like shrimp. Larger dolphin species also hunt and feed on aquatic and semi-aquatic mammals, sea birds, molluscs, and aquatic reptiles. The species of fish they feed on will also vary, depending on whether they live in the sea or in rivers.
Freshwater dolphins eat a variety of fish and other aquatic river species, like turtles, crabs and shrimp. Amazon River dolphins eat over 40 species of fish, including piranhas!
How Do Dolphins Eat Their Prey?
© dreamstime
Dolphins are born with teeth embedded in their gums that begin to show when calves are around five weeks old. Their teeth are cone-shaped and aren't replaced, they last a lifetime.
Each dolphin species has a unique number of teeth, ranging from around 18 to 240 teeth. Despite how important their teeth are for feeding, they don't chew their food.
Dolphins use their interlocking teeth to grasp, injure and shred their prey. Once they have killed their prey, they adapt their feeding style to their catch and size. Killer whales are the largest dolphin species and can swallow their prey, even large mammals, whole.
Smaller dolphin species often shake their prey or drag them along the ocean floor, feeding on the bite size chunks of meat that break off. They can also use their teeth to tear and shred their prey, breaking it into small pieces they can safely swallow.
How Do Dolphins Hunt Their Prey?
The hunting style and techniques used by dolphins are dependent on their habitat and the food sources available. All dolphin species use echolocation, emitting sounds that bounce off nearby animals, to locate their prey.
They have special features that enhance their ability to echolocate and heighten their depth perception, such as an asymmetrical skull structure. They often hunt in groups, known as pods, to increase their chance of catching prey.
When hunting, dolphins may splash their tails underwater, creating bubbles that startle nearby fish. The fish then rise to the surface where they are easier to catch. They can lash prey with their tails, stunning the animal or flipping into the air and catching it in their mouths.
Some dolphins dive straight down to the ocean floor, catching unsuspecting fish on their way. Dolphins are highly intelligent creatures, and seem to have realized that if they follow fishing boats they can feed on bypass thrown off ships.
What Specialized Hunting Techniques Do Dolphins Have?
© dreamstime
Dolphins hunting in pods can divide their tasks into drivers and blockers, as they hunt. Drivers chase schools of fish and group them together by hitting their tails on the surface of the water, whilst blocker dolphins surround them and block their exit. Once gathered and blocked, the fish are easy prey.
Another technique is pinwheeling, where a group of dolphins surround a school of fish and then swim sideways in a large circle. They flap their tail flukes, pushing the fish into a tight space. In this formation, it is easy for a dolphin to reach in and grab a fish.
Strand feeding involves chasing schools of fish into shallow waters, or against sandbanks, where they are stranded and easy to catch. Additionally, orcas have evolved specialized hunting behaviors like splashing their tails to create large waves in the water that push sea mammals off ice floes and back into the sea where they can be caught.
What Do Dolphin Calves Eat?
© dreamstime
Dolphins are mammals that nurse their calves with a nutrient dense milk. Mothers have inverted nipples that sit within mammary slits. When the slits are stimulated by the calf, the nipples are released so the calf can suckle.
Their breastmilk is very thick, almost solid. This is due to the high fat content. As the calf suckles, it is the mother who is in control of releasing milk thanks to her mammary muscles. The calf will roll its tongue around the mother's nipple, forming a U-shaped channel that the milk passes through into the calf's mouth.
The thickness of the milk and the way calves suckle ensure that milk doesn't leak into the water. Young calves will nurse approximately every 20 minutes for 24 hours a day. In the first week of suckling mothers roll onto their sides and slow down their swimming to help the calf feed. A calf can suckle for up to four years, though most species suckle for one or two years.
Why is Breast Milk Better Than Meat for Dolphin Calves?
The high-fat content in a dolphin's breastmilk is essential for the proper development and survival of calves. Dolphins have a low reproductive rate, mating just once every three or more years. Thus, they need to ensure their calves have the best shot at survival.
Without such a high fat content, ranging between 108 to 180 grams of fat per liter, calves wouldn't be able to build up a layer of blubber. This fatty layer is responsible for temperature regulation in aquatic mammals and prevents heat loss.
Breast milk also provides all the nutrients necessary for proper brain development and gives the calf the antibodies it needs to build up its own immune system. Additionally, breastfeeding creates a strong bond between the mother and calf that lasts their lifetimes.
What Do Dolphins Eat in Captivity?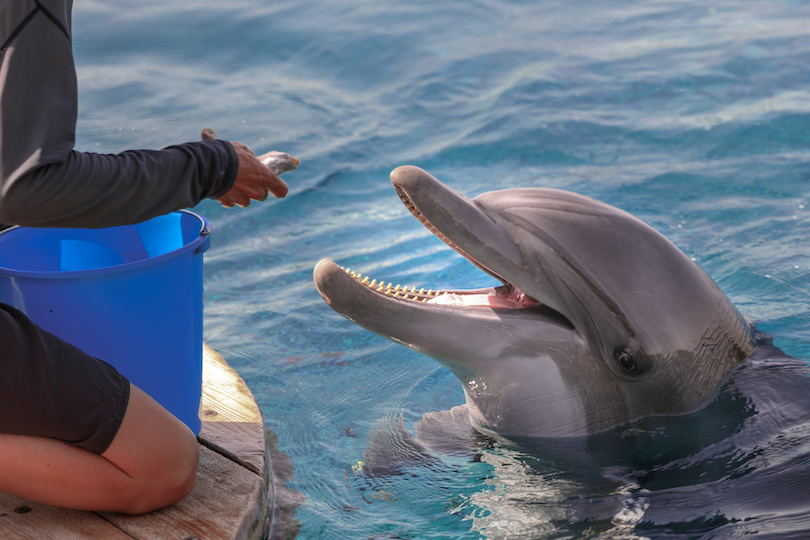 © dreamstime
Captive dolphins should be fed a diet that closely resembles their diet in the wild. Many captive animals suffer from problems such as obesity and issues with development. By replicating their wild diet this can be avoided.
In captivity dolphins are fed a variety of thawed frozen fish. The amount of feed is species dependent. A single adult orca eats between 140 to 240 pounds of fish per day, whilst smaller species eat much less.
Dolphins are fed sporadically throughout the day, in an aim to replicate their irregular feeding habits in the wild. Trainers prefer to feed dolphins small fish that they can use as rewards. Larger fish are cut into smaller pieces before being fed to a dolphin.
However, dolphin species don't do well in captivity. Their life expectancy is shortened significantly. Bottlenose dolphins survive an average 30 years in the wild, and just 12 in captivity. Similarly, orcas survive between 50-80 years in the wild, and a mere 30 in captivity.
What Eats a Dolphin?
All dolphin species have natural predators, except for orcas. Their wild predators vary across habitats. Freshwater dolphins, like the Amazon River dolphin, are predated on by large snakes, jaguars, and caimans. Though once they are past adolescence they aren't often predated on due to their size.
Common species of saltwater dolphins, like the bottlenose dolphin, are predated on by sharks and sometimes even by orcas! In Sarasota Bay, Florida, about 31% of dolphins have shark bite scars.
Though sharks are a problem, humans are one of the biggest threats to dolphin populations. The effects of heavy boat traffic, habitat loss and pollution are causing a decrease in the number of dolphins, particularly coastal species.
Toxins released into the sea in runoff water and waste is also causing issues of development and fertility for dolphins. Finally, bottlenose dolphins are hunted by humans for their meat, leather and oil in places like Japan, Peru, the Solomon and Faroe islands.