Walruses are a species of semi-aquatic mammal. They are adapted to life on land and in the sea. They spend about two thirds of their life in the water and come onto land to birth their young and rest.
They are large and very heavy. They can weigh up to a ton and a half! They gather in their hundreds on rocky and icy shores. Walruses are brown and have many curious features, including a collection of whiskers above their top lip that look like a moustache.
Walruses have two large tusks that make them easy to identify. Their tusks are in fact elongated canines that can measure up to a meter.
Taking a Closer Look at a Walrus' Diet…
© dreamstime
Walruses are carnivores. They feed entirely on matter from an animal origin. Their feeding behaviors classify them as foraging predators. They prey on small invertebrates that are foraged from the ocean floor. They don't hunt their prey or fish like other aquatic and semi-aquatic predators.
A walrus' diet is made up of small invertebrates like clams, molluscs, worms, snails, soft shell crabs, shrimp, and sea cucumbers. Their prey live on the ocean floor in shallow waters, they can be hard to find as they are hidden among the flora of the seabed.
Sometimes a walrus will eat fish or remains of carcasses left by other predators. It is very unusual for a walrus to chase its prey, although they have been observed hunting seals when food sources are scarce.
Are There Variations in Diet Across Walrus Subspecies?
There are two subspecies of walrus: the Atlantic and Pacific walrus. The Pacific walrus is larger than the Atlantic walrus. There are also differences in their lifestyle. Pacific walruses follow the melting ice north in the summer and back south in the winter.
The reason Pacific walruses do this is because they live on ice, thus they must follow the ice edge in each season. These walruses feed from shallow and deep waters of the edge of the ice and forage off the sea ice platform.
Atlantic walruses don't migrate. During the summer, when large areas of the winter ice sheet melts away, they live on rocky seashores. They forage close to land, just off the shore, at shallow depths.
Despite these differences, walrus subspecies have very similar diets. They feed in different geographical areas and conditions, but forage for the same prey. It is estimated that 97% of their diet is benthic invertebrates.
How Much Does a Walrus Eat?
© dreamstime
Walruses are extremely heavy; they can weigh more than a ton. They will need to feed and forage extensively to maintain their body weight. It is estimated an adult walrus will eat somewhere between 3% and 6% of its body mass in feed each day.
In a single feeding, a walrus can consume up to 6,000 clams. They eat twice a day, filling their bellies before returning to land or ice floes to rest. Their meals contribute to building up and maintaining a thick layer of fat, called blubber, that regulates their body temperature.
They are diurnal animals that feed during the day and sleep at night. Feeding habits and food intake do vary across seasons in walrus populations. Walruses eat more during the summer and fall months than they do in the winter and spring.
Pregnant females increase their food intake by some 30% to 40% in preparation for birthing and nursing their calves.
How Do Walruses Find Their Food?
© dreamstime
Walruses feed on invertebrates on the ocean floor. Their prey don't live at great depths, but a walrus will still need to dive up to 300 feet to find food. Although they will usually forage some 200 feet below the sea surface.
Walruses can spend up to half an hour underwater, allowing them enough time to locate, separate and consume shelled invertebrates. They use their whiskers, known as vibrissae, to feel around the ocean bed for food. Once they find food, walruses use their upper lips to grab at the small invertebrates.
Before they can swallow their food, they have to remove the outer shell found on most of their prey. They fill their mouths with water and squirt the water into the shell of clams and other molluscs. The force behind the water acts as a high-pressure hose, pushing the invertebrate out of its shell.
What Do Walrus Calves Eat?
Walruses are mammals. They nurse their young with nutrient rich milk produced in mammary glands. Walruses give birth on land or ice to calves that weigh around 100 pounds at birth.
Mother's birth a single calf, twins have been reported but they are rare. Their reproductive rate is low, so they need to take excellent care of their young to give them the best chance of survival. Walrus calves accompany their mothers on foraging trips and nurse in the water.
They suckle for two or more years, though by six months their diet is partially supplemented by solid foods they forage from the ocean floor. The breast milk is approximately 30% fat, 5% to 10% protein, and 60% water.
Nursing mothers gather in nursing herds that live separate from other females and bulls. Orphaned calves are raised by other females in the herd.
What Features Do Walruses Have That Help Them Feed?
© dreamstime
Walruses have a diverse set of features that have evolved to help them survive and thrive in their environment. They live in cold, icy territories near the sea. A lot of the characteristics they have evolved to help them survive are necessary for foraging and feeding.
They have thick whiskers, called vibrissae, that cover their top lip. The vibrissae look like a thick moustache, giving the walrus an almost comical appearance. However, these quirky hairs help walruses find food. They swim along the ocean floor, touching their whiskers to the ground, and identify prey with their vibrissae.
Once they have found food, they use their thick upper lip to grasp at slippery clams. A lot of their prey are shelled animals, luckily they can use their tough upper lip to suck the animal out of its shell or squirt water into the shell at high pressure to push the invertebrate out.
Why Do Walruses Have Tusks?
Walruses have a distinct feature: their tusks. They can reach a meter in length and are made of strong ivory. Some scientists hypothesise that they use their tusks to dig on the seabed and lift up sediment as they forage, but research is ongoing.
Their tusks are used as a form of defence against predators, so perhaps their biggest role is to stop the walrus from being eaten! They also use their tusks to break breathing holes into ice from below and to help them climb out of the water onto slippery ice.
What Eats a Walrus?
© dreamstime
Walruses aren't the ideal prey. They live in large colonies, are larger than most mammals in their habitat and weigh a ton. Their time is spent both on land and in the water, but they have few predators in either environments.
The only known predators of walruses are polar bears, killer whales and humans. But even these fierce predators are hesitant, opting to prey on walrus calves or injured adults. Walruses use their long tusks to defend themselves against predators.
Commercial hunting of walruses is now illegal. However, Innuit communities can still legally hunt walruses. They rely on their meat, blubber and skin for oil, food, and tough fabrics. Walruses are occasionally hunted for their ivory tusks.
Mother walruses are very protective of their young. If they feel their calf is under threat, they will pick up the calf and hold it to their chest with their flippers, then dive into the water to escape land predators.
What Do Walruses Eat in Captivity?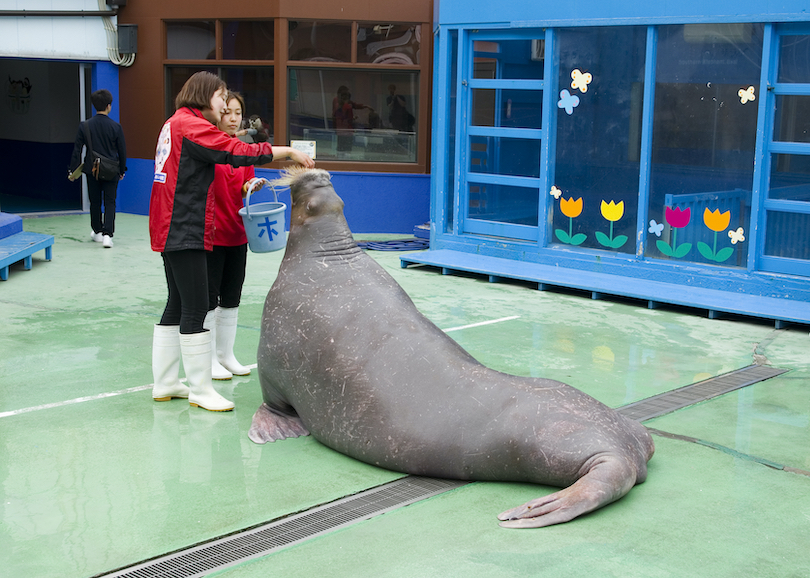 © dreamstime
Captive walruses should be fed to mimic their diet in the wild as closely as possible. Replicating their natural diet helps avoid issues with development and diseases like obesity that are prevalent among captive animals.
Walruses held in captivity have a diet heavily made up of clams. They are fed other available invertebrates, although clams are commercially available and thus tend to be the preferred feed given by zookeepers.
Captive walruses are also fed fish, such as herring and capelin. Calves nurse from their mother's milk, feeding on and off throughout the day. It is usual for a calf to be observed feeding between six and 10 times per day.
Orphaned calves are fed a replacement formula, alongside cream mixed with ground clams and fish. They are also given vitamins and water to supplement their diet. Each calf will drink 300 oz of milk per day.