Brown bears are widely distributed across North America, Europe, and Asia. The global population of brown bears is estimated at 200,000, with over 100,000 of these living in Russia alone.
Scientists can't agree on how many brown bear subspecies there are; but there are currently some 13 subspecies globally. There are an estimated 6 extinct subspecies, including the North African brown bear that became extinct in 1890.
They can range in coloring from a grayish white to almost black. Curiously, the Himalayan brown bear is reddish, although most subspecies are brown. All brown bears have a distinct mane at the back of their neck.
Exploring the diet of brown bears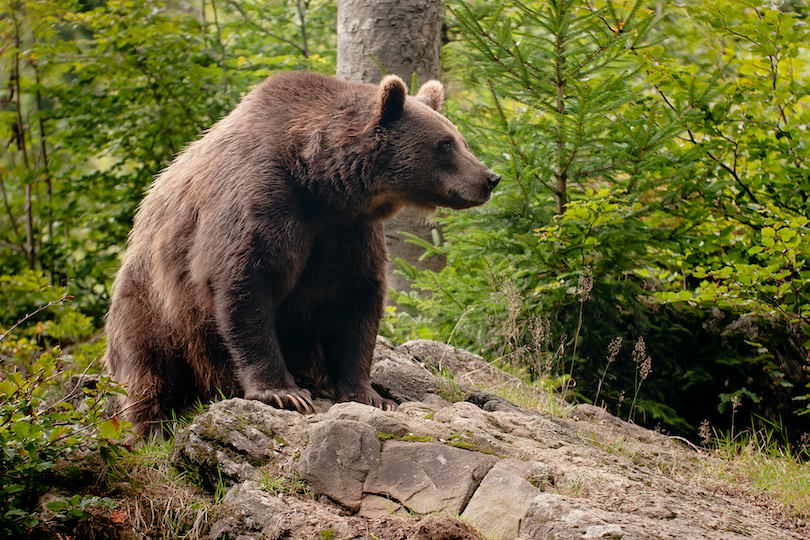 © dreamstime
Brown bears are omnivores, readily eating anything from a plant or animal origin. They are also opportunistic eaters and will eat what's easily available.
They have a varied diet of nuts, leaves, roots, berries, fish, carrion, and mammals (big and small). Their diets change seasonally as they adapt to make the most of abundant food sources.
Whilst you might think of bears as carnivorous animals, the brown bear's diet is 80-99% plant based, depending on the subspecies. Brown bears have teeth that are specially adapted; canine teeth that are characteristic of predators and molars with broad crowns that are suited to grind down plant material.
What a brown bear eats will be affected by its geographical location. Different subspecies that live in different habitats will have their own unique fauna and flora to choose from. Most brown bears live in forests and mountainous regions, but some subspecies live in coastal regions and even in deserts!
How much is a brown bear's diet affected by geographical location?
© dreamstime
A brown bear's diet is heavily affected by geographical location. Let's have a look at three subspecies of brown bears and have a close look at their diets to get an idea of how it can vary.
The North American brown bear feeds on fish, carrion, mammals, and local berries, as well as nuts and fruits it can forage in the forest. They are adept fishers and get a lot of their protein from fish, mostly salmon.
Meanwhile, the Eastern brown bear, or Kamchatka bear, lives near the coast and often feeds on shoreline carrion (like washed up whales or seals) or hunts for sea otters. Like the brown bear, this subspecies also fishes for salmon and forages for wild berries, like blueberries and cranberries.
The Gobi brown bear is a desert brown bear. Only 1% of its diet consists of meat, in the form of small desert rodents and carrion. They largely feed on rhubarb rhizomes, green plants found around desert oases, grasses, and wild onions.
How much do brown bears eat?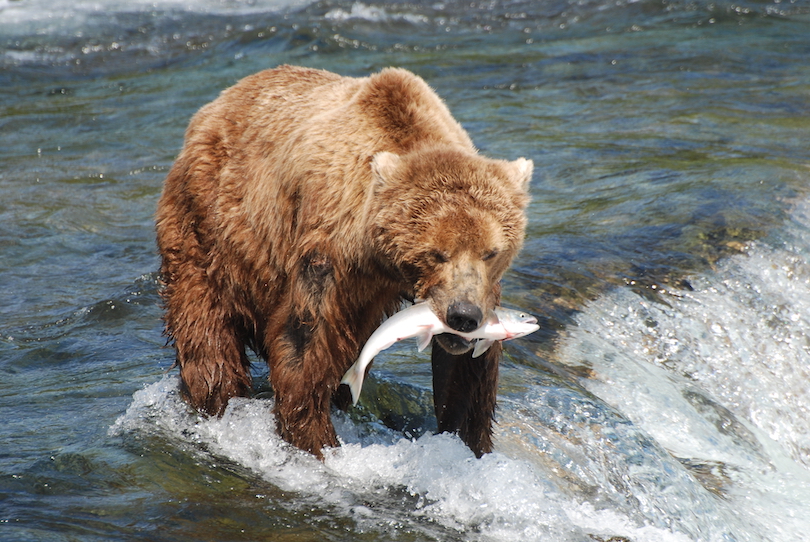 © dreamstime
It is hard to generalize the amount brown bears will eat in a day, as they vary in size dramatically across species. But as a general rule: the bigger the bear, the more it eats!
North American brown bears will eat up to 40kg of food per day. It's not surprising then that males can weigh up to 350kg and females weigh up to 200kg. The biggest brown bear ever caught was from Romania and weighed 480kg.
There isn't an exact figure for how much the Kamchatka bear will eat in a day. But since males can weigh up to 650 kg, it will very likely exceed the 40kg mark of the North American species.
On the contrary, the rarest and smallest brown bear, the desert Gobi bear, will eat much less. Males weigh between 96-138kg and females weigh between just 51-78kg. So eating 40kg a day would likely be excessive for them.
When do brown bears feed?
© dreamstime
There is some commonality in the feeding habits of brown bears across subspecies. Brown bears are diurnal, they sleep at night and are active during the day. Another commonality is that all brown bears hibernate.
They hibernate for up to 6 months of the year, remaining in a state of torpor to avoid the food shortages and adverse weather conditions of the winter months. They will feed mostly during the Autumn in preparation for hibernation. Brown bears eat twice as much in the months leading up to hibernation as they do in spring.
They eat wild grasses and flowers in springtime, hunt in the summer, and make the most of salmon spawning in November.
In hibernation, they will rely on their body fat reserves. It is estimated that brown bears will lose about a third of their body weight during hibernation. Nursing mother bears will use up more of their body fat reserves feeding their cubs.
How do brown bears get their food in the wild?
In the wild, brown bears will hunt, fish, and forage. The variety of ways by which they get their food is reflective of their varied diet. They will spend most of their time foraging, as their diet is largely plant based.
The American brown bear is thought to spend up to 16 hours a day foraging. Brown bears are territorial and compete for foraging ground. They forage in a fixed territory and will cover large distances whilst feeding.
Brown bears fish in rivers by slamming their paws into the water, hurling fish into the air that they catch with their mouth or paws. They are also great swimmers and can dive for fish in deeper waters.
Depending on the size of the subspecies and where they live, brown bears will hunt anything from a rodent to a moose. They can run as fast as 50 kilometers per hour and rely on their sense of smell.
What eats a brown bear?
Brown bears are large animals that can become ferocious if they feel threatened or if they are protecting their cubs. They have few predators in the wild and predate more than they are predated on.
The only known predators of the brown bear are wolves, cougars, and humans. It is hard to quantify how many bears are killed each year by wolves. It has been observed that wolves usually only predate on bears when deer populations are low, and food is scarce.
Human trophy hunting has become one of the brown bear's biggest threats. Bear hunting has also become a tourist attraction across Russia and North America.
Brown bear cubs are more vulnerable to predation. Youngsters can climb up a tree to escape predators, but as they get larger and heavier, they lose this skill.
What do brown bear cubs eat?
© dreamstime
Pregnant females give birth during hibernation, in their den, to two or three cubs. While nested in their den, new-born cubs suckle the fatty milk their mothers produce. Their mothers' milk is rich in fat and calories, so bear cubs grow quickly.
Cubs emerge from hibernation aged two to three months. North American brown bear cubs will weigh between 2-4 kilograms, depending on the number of littermates they shared a den with and how much milk their mother produced.
They will nurse until springtime, when they emerge from hibernation and begin to learn how to forage and hunt for food by observing their mother.
Cubs stay with their mothers for 2 and a half to 3 years before the mother is ready to mate again. By this point the young bears will have learnt how to forage and hunt for themselves and will be chased off by their mother.
What do brown bears eat in captivity?
© dreamstime
Zookeepers try to keep brown bears' diets in captivity as similar as possible to what they would eat in the wild. They will need to change their diets based on the season as a brown bear's metabolism and behavior adapts in response to day length and temperature, varying across seasons.
In captivity brown bears will eat fish, berries, grasses, roots, and meat as they would in the wild. But they are often fed bear chow in addition to this and some of the meats that make up a captive brown bear's diet, like chicken, wouldn't be obtainable in the wild.
One problem that zookeepers have found is that brown bears will skip hibernation as they have a continuous food supply. Because of this they don't lose their winter weight like they would in the wild. Obesity rates among captive bears are high and need to be regulated by restricting calorie intake and adjusting their diets.