Renowned for being the slowest moving mammal on Earth, sloths can only be found in the tropical rainforests of Central and South America. While only being able to inch their way along branches and between trees may seem like a liability, their sluggish and sleepy nature actually has a number of important benefits.
Besides saving them an enormous amount of energy, their spectacularly slow movements also allow them to avoid detection from predators. In addition to this, it also gives algae enough time to grow on their fur which then helps to camouflage them amidst the canopies.
Sloths live in the jungle and spend almost all of their time sleeping and rarely leave the treetops, only descending once a week to go to the toilet at the foot of a tree. In fact, sloths can do almost everything hanging upside down from a branch as they sleep, eat, mate and even breed in that manner.
Despite being so named due to their low metabolism and slow and deliberate movements, sloths are surprisingly very good swimmers, even dropping into pools to go for a paddle from time to time. In total, six species of sloth can be found in the wild with some being two-toed and others three-toed.
1. Brazil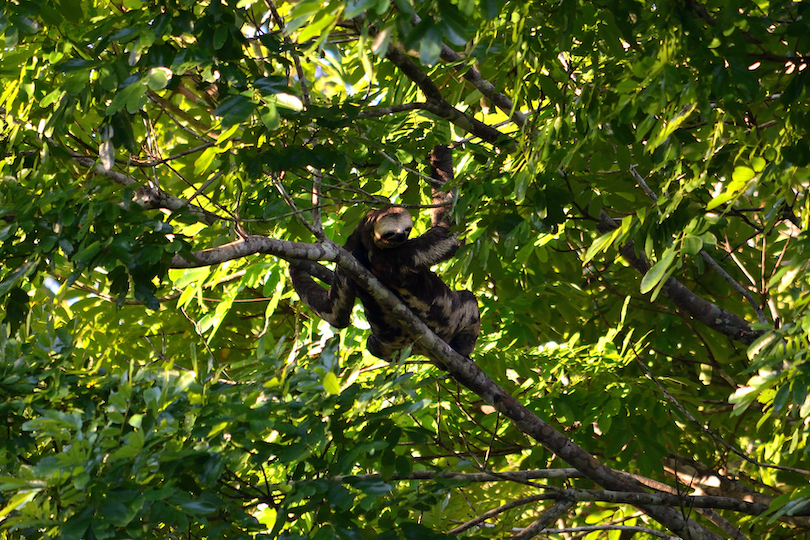 © dreamstime
As so much of the continent-sized country is coated in the dense and diverse foliage and vegetation of the steamy Amazon rainforest, it should come as no surprise to learn that Brazil is home to five out of the six species of sloth.
While both the pale-throated and Linnaeus's two-toed sloth can only be found to the north of the Amazon River, the solitary and mostly nocturnal Hoffmann's two-toed sloth inhabits just a thin slice of the far west of the country. The most common kind, the brown-throated sloth, is actually spread throughout the continent with its wide range even reaching all the way up to Honduras.
Besides all these amazing animals which are unfortunately quite elusive and inaccessible due to the wild reaches in which they reside, Brazil also boasts the majestic maned sloth which can be found nowhere else on Earth. Now considered to be vulnerable, these slow-moving sloths live in the Atlantic Forest that hugs Brazil's southeastern coastline, not far from many seaside cities and towns.
2. Costa Rica
© dreamstime
Long a popular nature travel destination, Costa Rica is home to a whole host of national parks with fabulous flora and fauna, volcanoes and rainforests wherever you look. As well as being one of the most biodiverse places on Earth, the small Central American country also has a couple of charming species of sloth for you to look out for, camouflaged against the canopy and cloud forests.
In fact, Costa Rica is often considered to be the best place in the world to see sloths up close and in the wild as it has just so many national parks and nature reserves in which you can spot them. For instance, the incredible Corcovado, Manuel Antonio and Santa Rosa are all home to the tranquil tree-dwellers, while Tortuguero National Park even has a superb sloth sanctuary to visit nearby.
While the brown-throated sloth is relatively easy to come across, especially at the privately owned Bijagua Ranas and La Fortuna, Hoffmann's two-toed sloth is harder to spot as it is largely nocturnal. With so many places to see them, however, and so much spellbinding scenery on show, Costa Rica really is well-worth visiting if you want to see sloths in their natural habitat.
3. Panama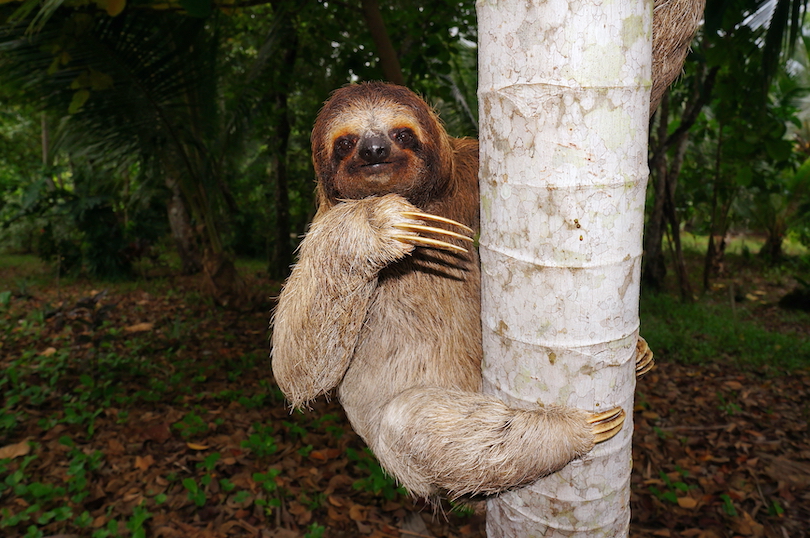 © dreamstime
Situated just to the south of Costa Rica is Panama which is also home to the same species of sloth as its neighbor as well as one more welcome addition – the pygmy three-toed sloth. Mountainous in nature, it lies in between the Caribbean Sea and Pacific Ocean with its dense jungles being home to all kinds of awe-inspiring animals and wonderful wilderness.
Both two-toed and three-toed sloths can be spotted throughout the Central American country with some even spied from time to time in Panama City's Metropolitan Park. Some of the best and most accessible places to see them are in Soberania National Park and at the Gamboa Wildlife Rescue Center which rehabilitates wounded and sick sloths before returning them to the wild.
On the Isla Escudo de Veraguas which lies just off of the country's Caribbean coast, visitors can find the significantly smaller pygmy sloth which only resides within the isolated island's red mangroves. Endemic and exclusive to the area, the sweet small sloths are sadly considered critically endangered with studies showing that only a few remain in the world.
4. Colombia
© dreamstime
Occupying the northwest corner of South America is the colossal country of Colombia which is delightfully diverse in terms of its scenery, landscapes and nature. Besides boasting lots of beautiful beaches and craggy coastal areas, it is also home to the awe-inspiring Andes and Amazon rainforest with three species of sloth to be found scattered here and there.
While the shaggy-furred Hoffmann's two-toed sloth lives in thick forests along the country's Pacific and Caribbean coastlines, both the brown-throated and Linnaeus's two-toed sloth reside within the rainforest. As in many other countries, sloths here are often wonderfully compared to gardeners as they fertilize the forest floor and play an important role in spreading seeds.
If you don't have time to visit the remote reaches of the rainforest, you may instead find them at the Aiunau Sloth Sanctuary on the outskirts of Medellin which nurses sick sloths back to health. On top of this, you can sometimes spot a sloth right in the center of Cartagena in the city's Centenario Park.
5. Peru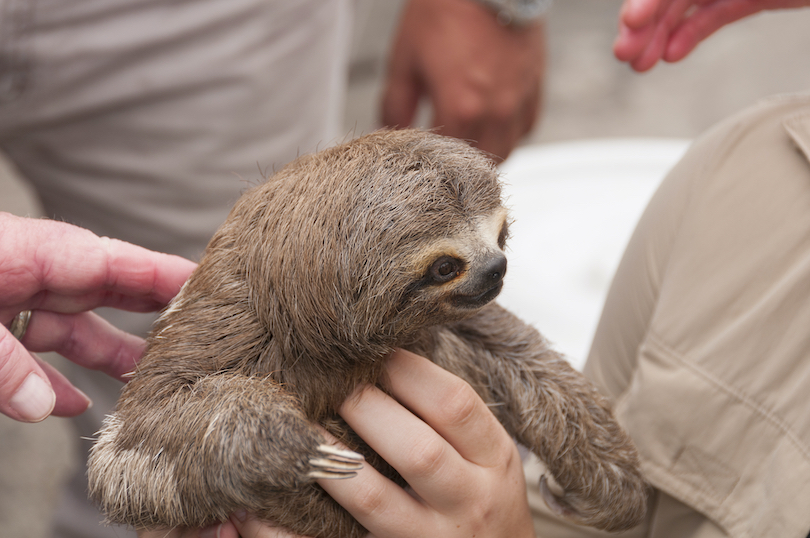 © dreamstime
These same three species of sloth can again be found in Colombia's southern neighbor Peru with all of them living to the east of the Andes in its Amazon rainforest. With a huge variety of trees and canopy plants for them to eat, sleep and mate amidst, its steamy confines are the ideal environment for the slow-moving mammals to inhabit.
While both the Hoffmann's and Linnaeus's two-toed sloths closely resemble one another, the brown-throated sloth is markedly different with its three-toes, blunter nose and smaller size. Although they are all omnivores, a sloth's diet usually mostly consists of lots of low-energy leaves which goes a long way to explaining the fifteen or so hours a day that they sleep.
In Peru, the best places to see sloths in the wild include the phenomenal Pacaya-Samiria National Reserve in the northeast and the tantalizing Tambopata National Reserve in the southeast, both of which also boast lots of breath-taking scenery and nature.
6. Ecuador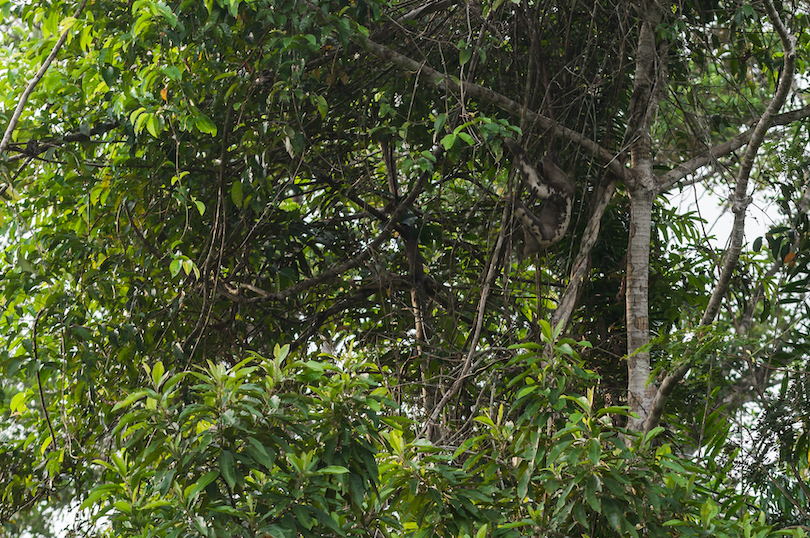 © dreamstime
Nestled in the northwest of South America between both Colombia and Peru is Ecuador which, like its neighbors, is considered to be a megadiverse country. This is because it is home to a number of distinct ecosystems and is very biodiverse with its coastal lowlands giving way to the soaring Andes and expansive Amazon rainforest in the east.
While Hoffmann's two-toed sloths can be found relaxing and reclining along the country's cooler coasts as can the brown-throated sloth, the Linnaeus's two-toed sloth instead inhabits the ever-wet rainforest. Although sloths are heterothermic and can adapt to whatever environment and climate they are in, this species of sloth prefers to live in hot and humid areas.
When traveling along the country's long Pacific Ocean coastline, it is worth keeping an eye out for languid and lethargic sloths lying in the treetops. Alternatively, you may instead want to head to Ecuador's Amazon region which is home to both Cuyabeno Wildlife Reserve and Yasuni National Park. Two of the most biodiverse places on Earth, their vast forests are also inhabited by both two-toed and three-toed sloth alongside countless other incredible creatures.
7. Nicaragua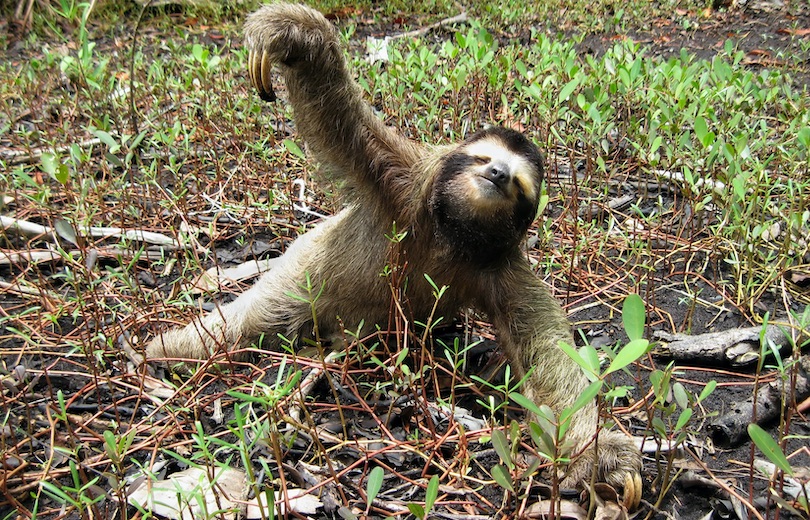 © dreamstime
Sandwiched between Honduras and Costa Rica is Nicaragua which is both the largest and least densely populated country in Central America. Although it is often referred to as 'the land of lakes and volcanoes', it also boasts a remarkable array of plants and wildlife with two species of slow-moving sloth to be found in its rainforests.
In many of the country's seventy or so wildlife refuges and nature reserves, you can come across the sloths casually and calmly hanging upside down, almost perfectly camouflaged against the canopy. As they sprawl over such huge areas and are home to such dense vegetation and forests, the idyllic Indio Maiz Biological Reserve in the southeast and the Bosawas Biosphere Reserve in northeastern Nicaragua are two of the best places to visit to see sloths.
While the Hoffmann's two-toed sloth prefers to move about, mate and eat during the dark of night, brown-throated sloths are more diurnal and are mostly active during the day. This is despite the fact that sloths have poor eyesight and cannot see all that much in bright sunshine – another factor that accounts for them being so slow.
8. Suriname
© dreamstime
While Suriname may be the smallest state in South America, it certainly boasts some of the most untouched and unspoiled scenery and nature on the continent. Mostly made up of tropical rainforest, it lies tucked in between Guyana and French Guiana on the Caribbean with Brazil and the endless Amazon bordering it to the south.
Due to all of its pristine nature, both the Linnaeus's two-toed sloth and the pale-throated sloth can be found residing and reclining within its rainforests. While the latter's arms are almost twice the length of its legs, the limbs of the Linne's two-toed sloth, as it is also known, are much more equal.
The easiest place to see sloths in the wild is at the brilliant Brownsberg Nature Park as it is located just 130 kilometers drive from Paramaribo, the capital. Otherwise, much of its remote rainforest is quite inaccessible with visitors having to travel by boat and 4X4 to reach such scenic, secluded and sloth-inhabited spots as the Central Suriname Nature Reserve.
9. Guyana
© dreamstime
Right to the west of Suriname is Guyana which is home to some of the most unspoiled yet inaccessible rainforest on the planet. While most of the country is made up of rolling highlands with a low coastal plain along the Caribbean, vast swathes of steamy and spectacular rainforest cover its secluded south.
This is where you can find both the Linnaeus's two-toed sloth and the pale-throated sloth tending to their forest gardens and slowly traveling from tree to tree. While their lichen-coated fur helps them to avoid detection, they do run the risk of being eaten by ocelots or jaguars when they descend to the forest floor to defecate. Remarkably enough, up to two-thirds of a sloth's weight can actually be the contents of its stomach. This is because the leaves it consumes are so low in nutrients and take such a long time to digest.
The best place to see sloths in Guyana is undoubtedly at the sensational Sloth Island which is set on the Essequibo River and is home to a whole host of the amazing animals. Another option is to fly to the rugged and remote Kaieteur National Park which is named after its fabulous falls.
10. Venezuela
flickr/Fernando Flores
Another of the continent's megadiverse countries is Venezuela which is home to everything from Caribbean islands and Atlantic Ocean coastline to majestic mountains, roaring rivers and both cloud forest and rainforest ecosystems. In total, its rich, biodiverse realms are inhabited by four of the six sloth species with the tranquil tree-dwellers dotted about delightfully different parts of the country.
The shaggy-furred Hoffmann's two-toed sloth, for instance, only lives in a tiny slice of the far west of Venezuela in the rainforests of the Sierra de Perija National Park. Here you can find the more common brown-throated sloth which also resides in the wonderful wilderness of the south of the nation alongside the Linnaeus's two-toed sloth.
In contrast, the instantly recognizable pale-throated sloth can only be found in the east amidst its hot and humid tropical rainforests. As well as boasting lots of stunning scenery, both Canaima National Park and Parima Tapirapeco National Park count among the best places to see sloths in Venezuela due to their diverse fauna and dense vegetation.