Gorillas are the biggest of all the great ape species. They live in tropical and sub-tropical areas of Africa. They're not so different to you or I – they share about 98% of their DNA with humans! They have dark fur, and broad shoulders. Gorillas are mostly ground dwelling and aren't as nimble as arboreal primates.
There are two species of gorillas, Eastern gorillas that are divided into two, or perhaps three, subspecies. The subspecies are the mountain gorillas, Eastern lowland gorillas, and possibly the Bwindi gorillas! The second species are the Western gorillas, further divided into the Western lowland and Cross River subspecies. Eastern gorillas are bigger, but other than that the two types of gorillas are only differentiated by the sounds they use to communicate and the size of their noses!
1. Western lowland gorilla
© dreamstime
Western lowland gorillas have hairless faces with exposed black skin and rounded, upward facing nostrils. They reach heights of some four to six feet when they stand up and weigh up to 400 pounds. They have dark fur all over, apart from on their auburn chests. Older males often have silvery hairs on their backs and are called silverbacks!
The Western lowland gorilla is critically endangered according to the IUCN, mainly due to poaching and disease. Sadly, some 60% of the western lowland gorilla's population has been lost in the last 25 years. These gorillas are ground-dwellers, spending the majority of their time on the ground rather than up in the trees.
They inhabit Central and Western Africa and are found in countries like the Democratic Republic of the Congo, Angola, Cameroon, and many more! They are the smallest of the gorillas, and the most widespread. Their preferred habitats are dense, swampy, or tropical rainforests. They feed on roots, shoots, fruit, and bark, and live in troops of up to 30 individuals.
2. Cross River gorilla
wikipedia/Julielangford
Cross River gorillas have black fur with a reddish patch of hair on the top of their heads. Young Cross River gorillas have more reddish fur than older gorillas, who get darker with age. These gorillas are similar to western lowland gorillas, but they have different head and tooth dimensions at a closer glance!
These social gorillas inhabit lowland forests in mountainous regions of Cameroon and Nigeria. They are found up in the mountains from 5,000–11,500 feet and in bamboo forests at high altitudes of 8,200–9,800 feet.
Unfortunately, there are just 200–300 Cross Rover gorillas left in the wild today. The IUCN has categorized them as critically endangered and there are on-going conservation efforts trying to restore their populations. It is thought that most of their population decline can be put down to habitat loss and a loss of genetic diversity.
3. Mountain gorilla
© dreamstime
Mountain gorillas are a subspecies of Eastern gorillas found in Central Africa in the Virunga Mountains. These ancient volcanic slopes stretch across the borders between Rwanda, Uganda, and the Democratic Republic of Congo. Curiously, scientists are still debating whether or not the gorillas found in the Bwindi Impenetrable National Park in Uganda are or aren't mountain gorillas, with recent research suggesting they are likely separate subspecies.
These gorillas were named after their habitat – the mountains! They live in forests at altitudes ranging from 8,000–13,000 feet. They have thicker fur than other gorillas that keeps them warm at high altitudes.
Mountain gorillas weigh up to 440 pounds and reach heights of four to five-and-a-half feet when standing! They are a medium-sized group of gorillas that hang out in troops of around 30 individuals. The groups are led by a silverback male that looks over a group of females, a few other males and the troop's playful young. Like all gorillas, they are ground-dwelling by nature and prefer to be on the ground than up in the canopy.
4. Eastern lowland gorilla
© dreamstime
The Eastern lowland gorilla is also known as the Grauer's gorilla (after their discoverer). They have dark brown hair on their heads, gray fur on the bottom half of their bodies, and black fur on the top halves. They are the largest of all the gorillas, weighing some 450–500 pounds and standing at heights of five to six feet!
Eastern lowland gorillas are stocky and muscular and are quite imposing even on all fours, but don't worry, they're vegetarians! They munch on fruit and nearby vegetation, like herbs, as well as seeds and fresh leaves. Their only predators are leopards and humans, so they don't need to be too alert as they feed and rest.
They live in tropical rainforests at low altitudes, but now sadly only inhabit 13% of their historical range. The largest population of eastern lowland gorillas is found in Kahuzi-Biega National Park. It can get rather cold where they live, so to keep themselves warm they have thick skin, lots of fur, and a high fat content.
5. Bwindi gorilla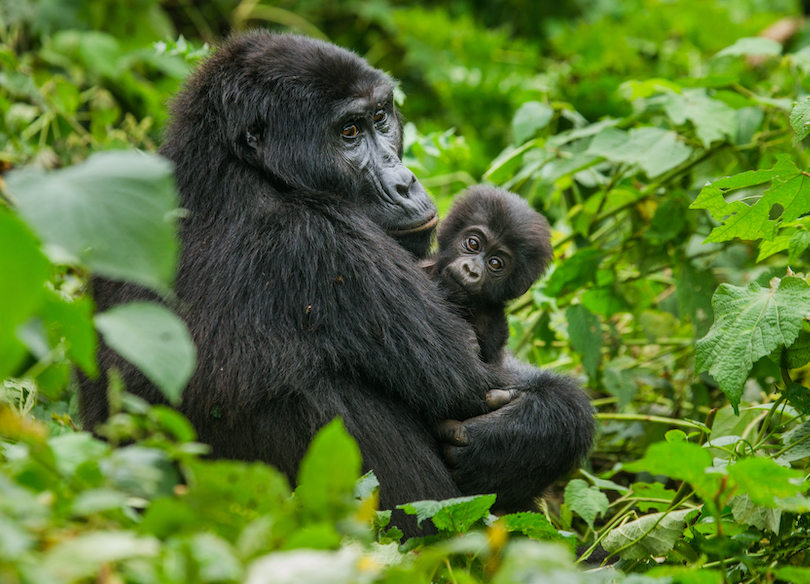 © dreamstime
Bwindi gorillas are found only in the Bwindi Impenetrable National Park in Uganda. Scientists are still debating whether or not the Bwindi gorilla is a separate subspecies from the mountain gorilla, found close by in the Virunga Mountain range at the border between Uganda, Rwanda, and the Democratic Republic of Congo.
The latest scientific research suggests that Bwindi gorillas have smaller skulls than mountain gorillas, and longer faces. However, research is on-going, and more data needs to be collected to conclude whether or not the Bwindi population of mountain gorillas is in fact a separate subspecies!
They have black, fluffy hair that is especially puffy on the top of their heads, giving them an Elvis-like quiff! Despite their hairy heads, their chests and faces are bare, exposing their dark skin. Going in search of Bwindi gorillas is a popular tourist attraction in the Bwindi National Park, and day tours cost some $1,500.