One of the most renowned and respected animals on the planet, the mighty lion is seen to symbolize both power and royalty in numerous cultures and countries around the world. Due to their phenomenal strength, hunting prowess, and regal nature, as well as the male's majestic manes, they are often fittingly called the 'king of beasts'.
While prides of the powerful predators once roamed Europe, Asia, and Africa, today most lions living in the wild are only found south of the Sahara. One isolated population is also located in the Gujarat state of India.
In total, there are sadly only believed to be around 20,000 of the incredible creatures still living in the wild today. This is in large part because human activity has encroached on the grasslands, savannas, and woodlands where lions hunt prey such as antelopes and zebras.
So what are the remained places where lions live in the wild? Luckily, the fearsome hunters do still exist in around 26 African countries with some being home to stable and even increasing populations. Seeing them in the wild is an awe-inspiring experience and safaris are one of the best ways to see lions happy and in their natural habitat.
1. Tanzania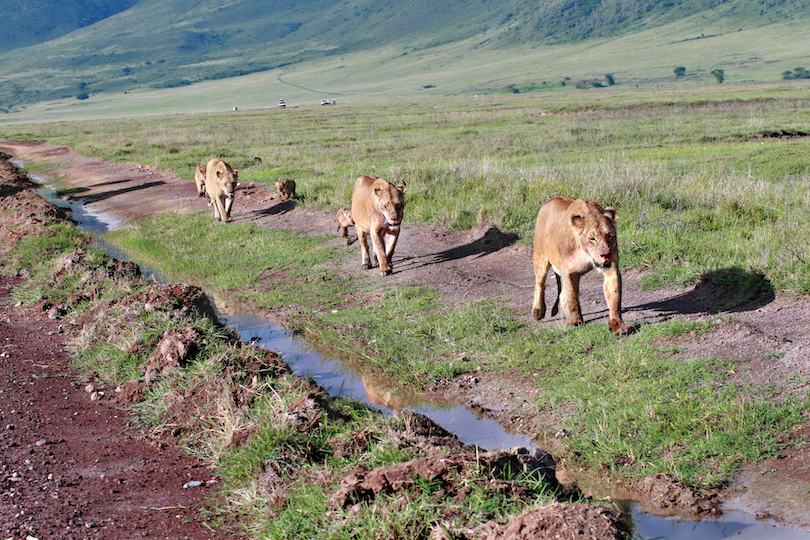 © dreamstime
Home to the most remaining lions in the world, Tanzania is without a doubt the best place to see these majestic animals up close and in the wild. Every year thousands of tourists flock to the East African country to go on safari amidst its stunning scenery. The Serengeti alone is thought to be home to around 3,000 lions.
On the expansive plains, teams of lions coordinate and work together to bring down gazelles, zebras, and wildebeest for the pride to feast on. While both dusk and dawn are their most active periods and preferred hunting times, you can sometimes see them stalking prey throughout the day.
In addition to the Serengeti National Park, both Ngorongoro Conservation Area and Ruaha National Park house large populations of the ferocious predators.
2. Botswana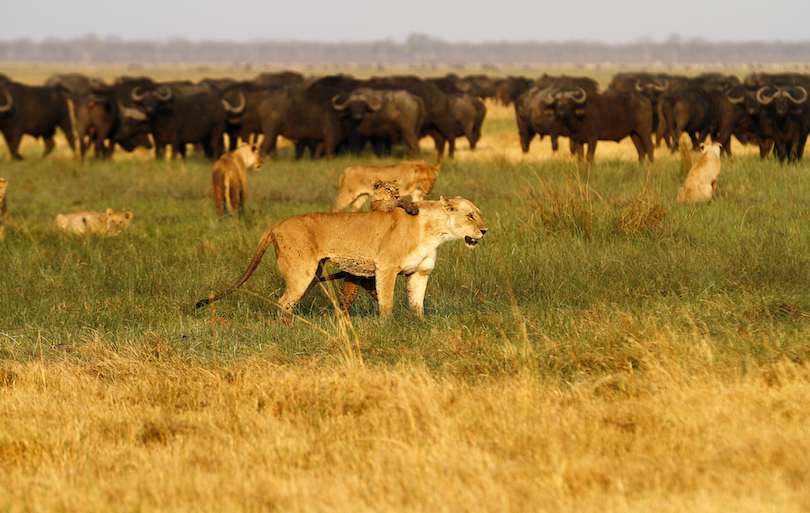 © dreamstime
Botswana's main draw is undoubtedly its wildlife with huge swathes of nature and wilderness protected as national parks. While lions are commonly spotted throughout the country, the most spectacular place to see them is the Okavango Delta; one of the most unique and unforgettable safari destinations on Earth.
While lions usually dislike water, in the Delta they have learnt to navigate channels, floodplains and even islands in search of prey. Even more remarkable is the fact that Botswana's big cats hunt and bring down, not only antelopes and gazelles, but buffaloes, hippos, and adult elephants too.
Besides the Delta's Moremi Game Reserve, the other main place to see lions in the wild is Chobe National Park, which is home to a huge concentration of game.
3. Kenya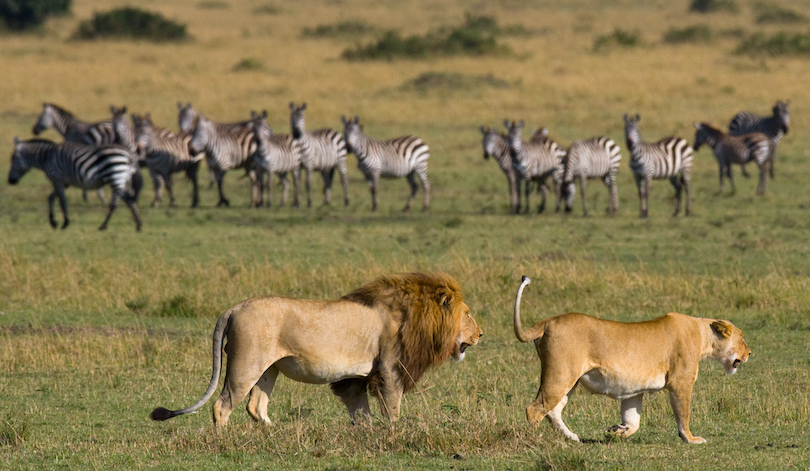 © dreamstime
Rivaling both Tanzania and Botswana in terms of their wonderful wildlife is Kenya, which has long been a popular safari destination. Thanks to successful and innovative conservation initiatives and close work with local communities, more than 2,000 lions are now believed to live in its numerous national parks.
The best place to see them though is the renowned Maasai Mara, which stretches away endlessly in the southwest of the country. While its vast grasslands are home to the Big Five and innumerable lions, lionesses, and cubs, visitors can also see large prides on safaris in both Meru and Tsavo West national parks, among others.
Impressively enough, lions can even be spotted in Nairobi National Park which lies literally on the outskirts of the nation's capital.
4. South Africa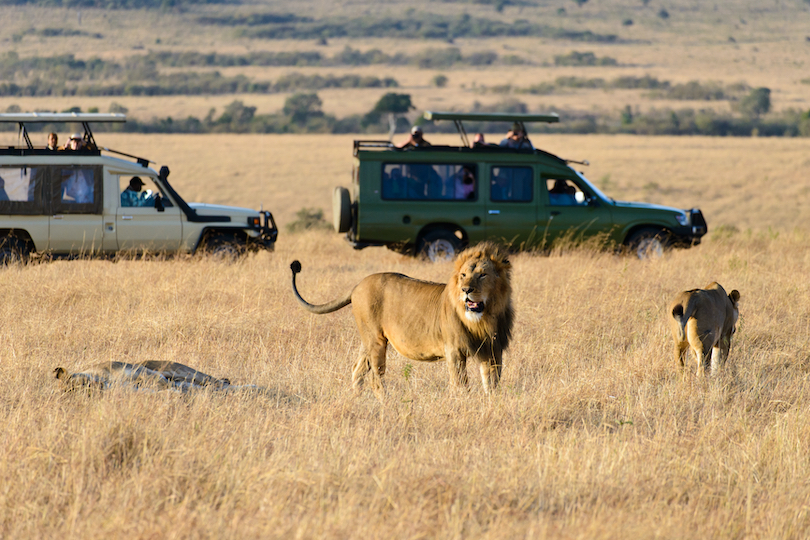 © dreamstime
One of the most famous and popular places to see lions in the wild is in South Africa, which boasts an astounding array of excellent national parks and nature reserves. Once scattered throughout the country, lions now mostly reside within protected pockets with the only free-roaming felines to be found in the north and eastern parts of the nation.
While the Gondwana, Kwandwe and Shamwari game reserves all offer up some fabulous wildlife viewing, the star of the show is undoubtedly Kruger National Park, which is home to around 1,600 lions.
In addition to snapping photos of them resting in the shade or seeing prides of lions roaming about the savanna, you may also encounter the elusive and rare white lion from time to time.
5. Zambia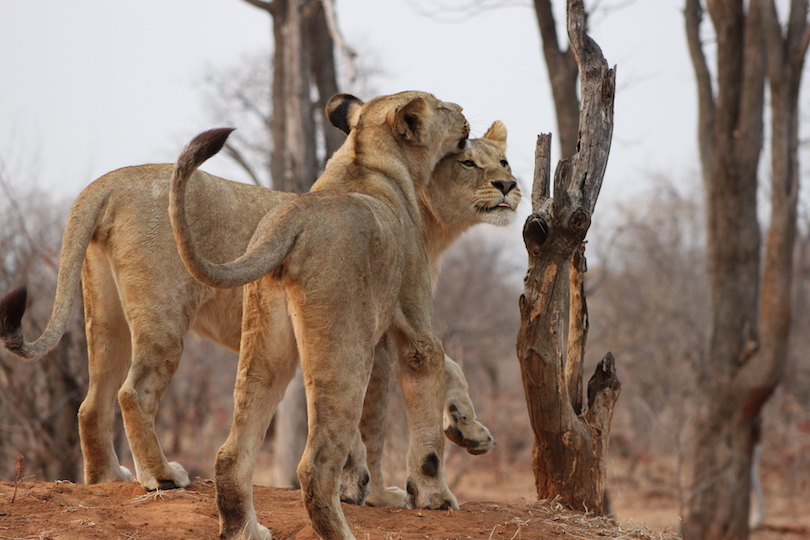 © dreamstime
Although it is often overlooked in favor of neighboring Botswana and Tanzania, Zambia is also home to one of the largest populations of lions on the continent. In total around 1,200 of the mighty creatures are believed to reside within the country. Most visitors head off on unforgettable safaris after having taken in the awe-inspiring Victoria Falls.
The three main places to see lions in the wild are the national parks of South Luangwa, Lower Zambezi, and Kafue. While all three offer incredible wildlife viewing, it is the former that is widely considered to be one of the greatest wildlife sanctuaries in the world. On top of seeing prides of lions during the day, visitors can organize nighttime safaris and even exhilarating safaris on foot through the bush.
6. Mozambique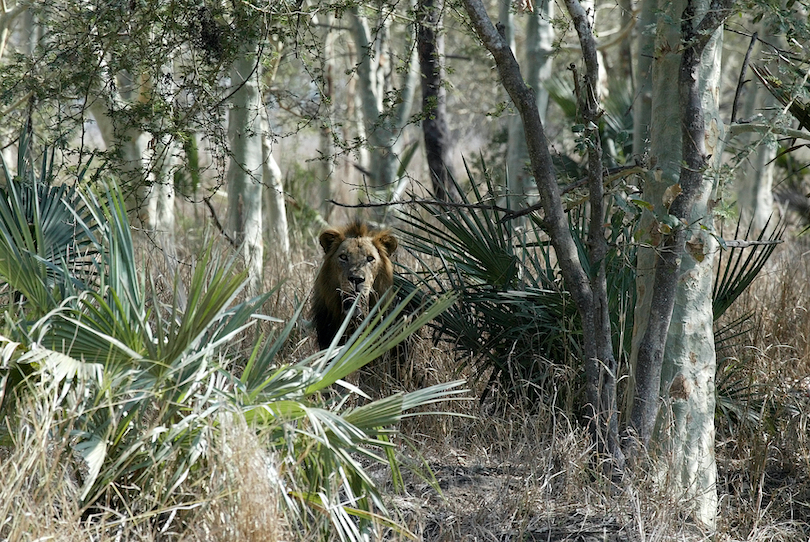 © dreamstime
While countless lions once roamed the game-rich wetlands of the Zambezi Delta, Mozambique's fifteen year-long civil war sadly saw their numbers dwindle drastically. Now, however, the southeast African country's lion population is slowly recovering with over 150 of the majestic animals to be found in Gorongosa National Park alone.
Seldom visited by tourists, the sprawling park encompasses a vast valley with its savannas and woodlands being the perfect habitat for lions to live in. While they remarkably spend around twenty hours per day reclining and sleeping, the rest of the time you can see lions prowling about and hunting for prey.
Besides Gorongosa, you can also spot lions in the wild in Banhine and Limpopo national parks, as well as up north in the Niassa Nature Reserve.
7. Namibia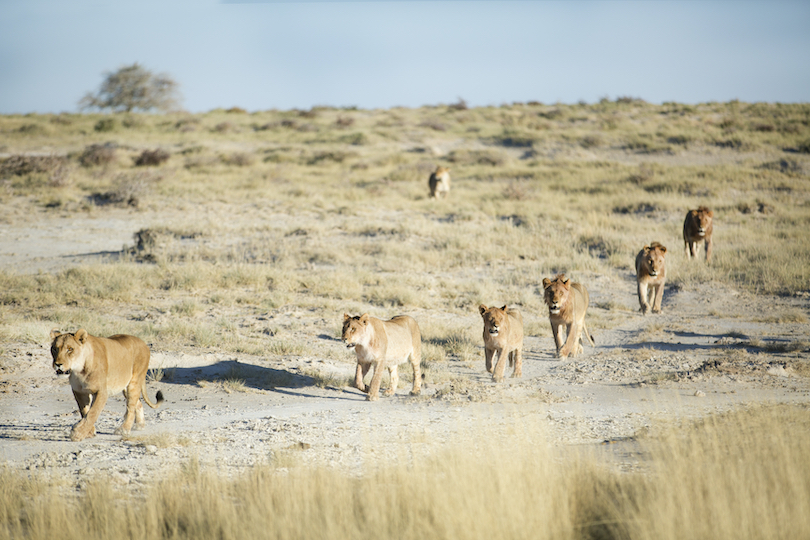 © dreamstime
Widely considered to boast some of the most successful conservation strategies in all sub-Saharan Africa, Namibia is now thought to be home to as many as 800 lions. While most roam about Etosha National Park, some prides of hardy desert lions eke out a living along the sun-scorched Skeleton Coast. They sometimes feed off of seabirds and even seals when other food sources are scarce.
Most of the country's lions, however, live and hunt within the remote realms of northern Namibia; Khaudum and Etosha national parks house the largest populations. In addition to seeing lions congregate around the Okondeka or Ombika waterholes, visitors also stand a great chance of seeing them in the parks and reserves of the Caprivi Strip.
8. Cameroon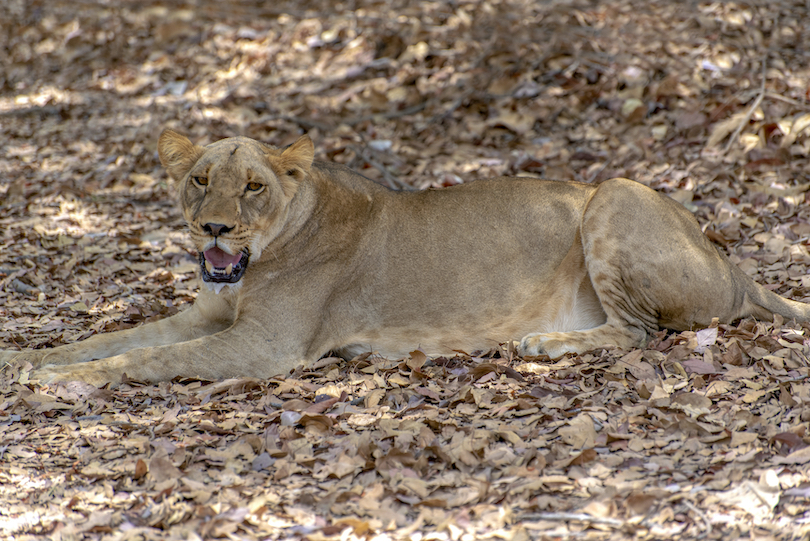 © dreamstime
Delightfully known as 'Africa in Miniature' due to its diverse peoples, cultures and ecosystems, the Central African country of Cameroon is also fittingly home to lots of lions. While many populations are under pressure from human activity, prides of the predators can still be found in the numerous national parks scattered throughout its northern realms.
While only a dozen or so are thought to remain in Waza National Park, many more are believed to live in both Benoue and Bouba Njida national parks, as well as Faro Reserve. In total, just under 300 lions are estimated to reside among Cameroon's grasslands, woodlands, and transition zones. Their most common prey consists of antelopes and waterbucks, as well as the occasional buffalo.
9. Benin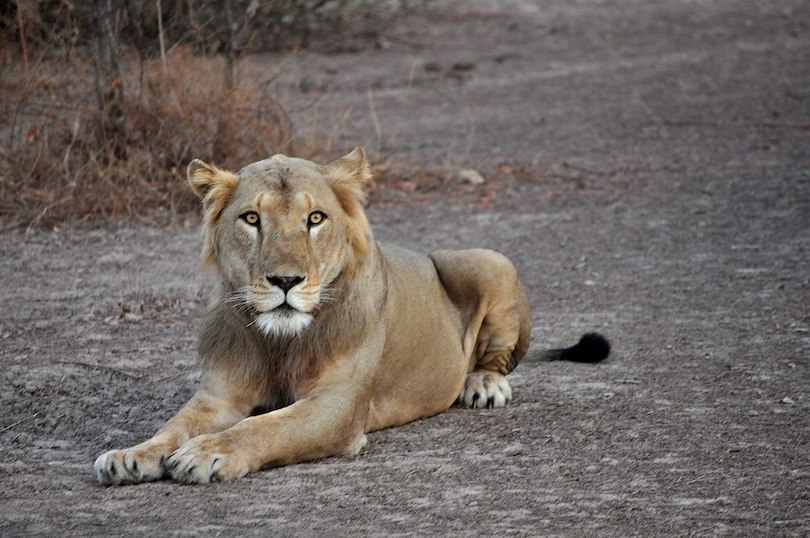 wikipedia/Micho2020
As it is home to some of the largest prides of the critically endangered West African lion, Benin is one of the best places to see the ferocious hunter up close and in the wild. One of the last remaining strongholds of the big cat in the region is Pendjari National Park, which is located in the northwest of the country.
Although often overlooked by tourists, Pendjari is one of West Africa's top wildlife destinations and has around a hundred lions residing within its confines. Besides seeing lions play, prowl, and hunt for prey amidst its vast savannas and woodlands, visitors can spy everything, from elephants and hippos to cheetahs and antelope.
10. India
© dreamstime
Although it is almost certainly not the first place that springs to mind when people think of lions in the wild, India is actually home to the last remaining population of Asiatic lions. While they once roamed across much of the Middle East and Western Asia, the majestic animals can now sadly only be found in Gir National Park in Gujarat.
A conservation success story, the lions are now thought to number around 600, up from just a dozen in the late 19th century. Slightly smaller than their African cousins, Asiatic lions also have a thicker coat and less of a mane. Going on safari in Gir National Park is an amazing experience as you can see lions prowling about its sparse woodlands and dry grasslands.