Hyenas are spread across the African continent and their population stretches eastwards through Arabia to India. There are four species of hyena. They share commonalities in lifestyle and geographical location, but hyena species are differentiated by their uniquely patterned coats.
These animals are often a light brown or beige coloring with spotted or striped fur. Hyenas live in large groups that are called clans.
Hyenas are often thought of as "wild dogs". However, they are closer related to cats. They make a large range of sounds, including their famous laugh-like sounds.
Taking a closer look at the hyena's diet…
© dreamstime
Hyenas are carnivorous animals. Their diet consists almost entirely of feed from an animal origin. They have the digestive system and denture that is characteristic of carnivores, like large canine teeth.
They are notorious scavengers, picking at carcases and rotting meat left behind by other predators. They're often spotted among other scavengers like vultures, competing and squabbling over the left-over food.
Hyenas are adept hunters. They predate on large mammals like antelopes, wildebeest, zebras, jackals and even hippopotamuses that they chase and kill. They also hunt and eat smaller prey, like birds, lizards, snakes, and insects. Hyenas eat eggs, ostrich nests are full of appealing snacks, and bones.
Curiously, the aardwolf, which is in the same family as the hyena, is an insectivorous mammal. It feeds entirely on insects and is referred to as the termite-eating hyena. It captures the termites with its sticky tongue by licking them. They can eat as many as 30,000 termites in a night.
How do hyenas hunt?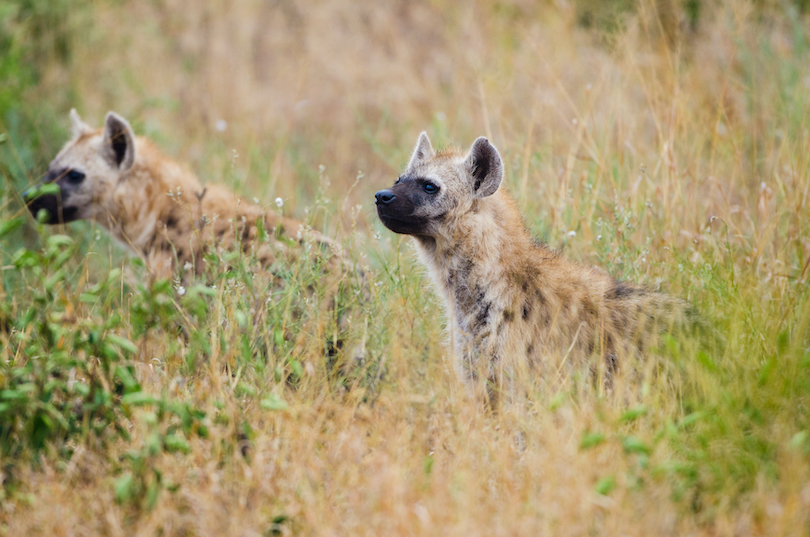 © dreamstime
Hyenas are social pack animals. They live in large clans made up anywhere between 50 to 100 hyenas, with usually some 80 per clan. The clan is led by a dominant female hyena.
Large animals, like grazing herbivores, are hunted by a group of hyenas, whilst smaller mammals, birds and reptiles are hunted by individual hyenas.
While they are adept hunters, they aren't as large as other African predators, and they can be in danger if their prey are in large groups that defend one another. For this reason, their hunting strategy involves isolating herd members or targeting young or weakened members of a herd.
They capture their prey by biting them and dragging them down to the ground. Once they are on the ground, the pack will close in on the animal to kill and eat it.
What adaptations do hyenas have that help them capture prey?
Hyenas can run as fast as 64km per hour and maintain their speed over long distances. They have a high endurance due to their large heart, that accounts for around 1% of their total body weight.
These animals have great hearing, that helps them locate and track down potential prey, and sharp eyesight that allows them to see well even at night.
Hyenas have large and strong jaw muscles and a vaulting that protects their skull against force. This gives them an extremely ferocious bite, the strongest of any mammal. Their bite is up to 40% stronger than a leopard's, perfect for killing prey!
What do hyena cubs eat?
© dreamstime
Hyenas have a 90–92-day long gestation period. Hyena cubs are born blind, with closed ear canals. They are rather defenseless and remain in their den, protected by their mothers. After some seven days they will begin to open their eyes and interact with their environment.
Like all mammals, hyenas nurse their offspring. Hyena cubs will be fully dependent on their mother's milk for six months.
After six months they will begin to hunt their own prey and learn how to forage and scavenge for food by copying an older hyena, often an adolescent hyena, who babysits a group of cubs whilst the adults hunt for prey.
Hyena cubs will nurse for up to a year. They don't nurse from other female hyenas who have also had cubs, even closely related females. This puts a lot of pressure on hyena mothers.
How much do hyenas eat?
© dreamstime
A single spotted hyena can eat up to 14kg of meat in a given meal. Other species of hyena eat less weight because they are smaller or have smaller prey. Termite-eating hyenas will spend hours licking up termites that weigh near to nothing, to get enough food.
Additionally, spotted hyenas live in large groups of up to 100 hyenas. They hunt large prey as a pack and must ensure that there is enough food to go around; the larger the group the more prey they must capture. A large hyena group will need to hunt heavily during the night to feed all its members.
On the other hand, stripped hyenas are largely solitary. Their diet is very similar to that of the spotted hyena. But they are omnivores, so they particularly like melons and dates that they find on the ground near human settlements. They hunt alone and are smaller in size, therefore they don't need to feed as much as the spotted hyena.
When do hyenas feed?
Hyenas are nocturnal animals, they usually feed and hunt at night. However, they will switch between being nocturnal or diurnal depending on their needs and what threats they face. By hunting at night, they can make the most of their sharp vision and surprise their prey.
There is also less competition at night as most large predators are diurnal and will be asleep when hyenas come out to feed. Hyenas can travel anywhere between 25km to 40 km per night in search of food.
Hyenas scavenge throughout the day when they are resting and sleeping, but roughly 95% of their food is their own kill and caught at night.
What do hyenas eat in captivity?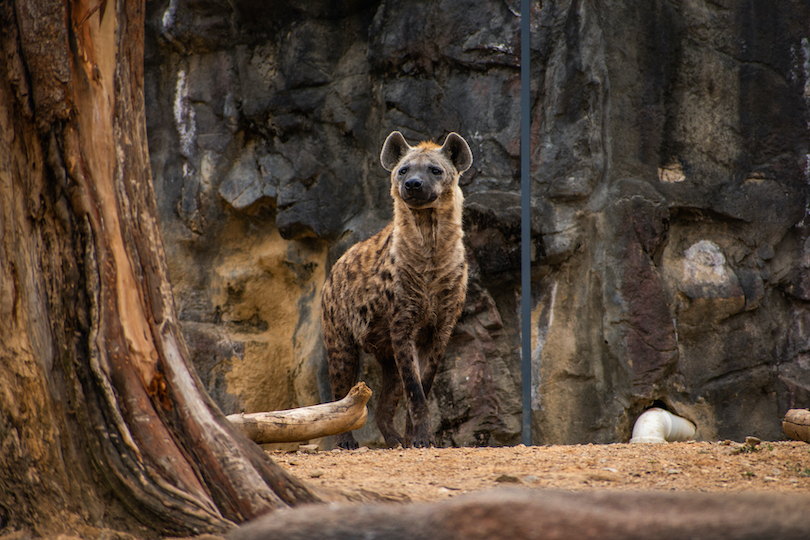 © dreamstime
It is important for zookeepers to keep a captive hyena's diet as similar as possible to its diet in the wild. Hyenas are opportunistic feeders, though they mostly eat meat. They are sometimes known to raid food storages and eat fruits and vegetables, and there is some variation in diet across species.
Captive stripped hyenas are fed a commercial meat-based diet, fruits and vegetables, mice and rats and small bones. Their stomachs are well adapted to optimize nutrient absorption, this reflects their scavenging nature.
A spotted hyena will be fed more meat, though they will eat almost anything! When the diets of hyenas were looked at across several zoos it was found that many were fed a diet high in horsemeat. Poultry and other meats were also common. Curiously, some zoos fed the hyenas dry dog food.
What eats a hyena?
© dreamstime
Hyenas are fast, vigilant carnivores. They have a vicious bite and live in large groups, offering protection from predators. Hyenas are heavy predators, most of their diet is meat they have hunted themselves. These mammals predate far more than they are predated on.
However, sometimes hyenas are killed and eaten by other large carnivores, particularly when they compete for carrion. Lions can be a threat to feeding hyenas.
But the largest predator of the hyena are humans. They aren't often killed for their flesh but are persecuted as they are considered a nuisance or a threat to livestock. As agriculture increases and there are changes in livestock practices, hyenas are increasingly at risk.
The stripped hyena population has now dropped to just 5,000 to 14,000 hyenas. The decline in their population is thought to have occurred because of humans alone.
Do hyenas interact with humans?
© dreamstime
Hyenas and humans share a special connection in many cultures. Some towns and villages have been in close contact with hyenas for hundreds of years.
The city of Harar in Ethiopia is full of hyenas, the animals come out at night and feed on the organic waste left out by the locals. Hyenas sanitize the city in exchange for an easy meal, perfect for these opportunistic feeders. This symbiotic relationship between humans and hyenas is unique.
The Maasai people of Tanzania and Kenya have another approach altogether. They leave out the bodies of deceased family members to be eaten by hyenas and other scavengers. This protects the population from low hygiene and disease spread, and simultaneously benefits the hyenas.
In other towns there are reports of hyenas killing livestock and they have even been suspected as the culprits of human deaths. Sometime hyenas are hunted as they are seen as pests.