Famed for being the fastest land animal on the planet, cheetahs can impressively reach speeds of up to 128 kph when sprinting at full pelt. Perfectly adapted for chasing prey at high speeds, they have a sleek, streamlined body and long, thin legs that propel them forward in explosive bursts.
Once widespread across much of sub-Saharan Africa, Central Asia and India, the majestic cheetah can now mainly be found in eastern and southern Africa. In other areas, they are now either extinct or survive in small, fragmented populations with just 7,000 individuals thought to still be living in the wild.
Cheetahs normally range across large areas in search of prey, typically living and hunting amidst open woodlands, grassy plains and arid mountain and desert landscapes. Their distinctive pale coat and black spots camouflage them against the surrounding savannah. This allows cheetahs to stalk their prey, sprint after them and bring them down in a split second.
Exploring the Cheetahs Diet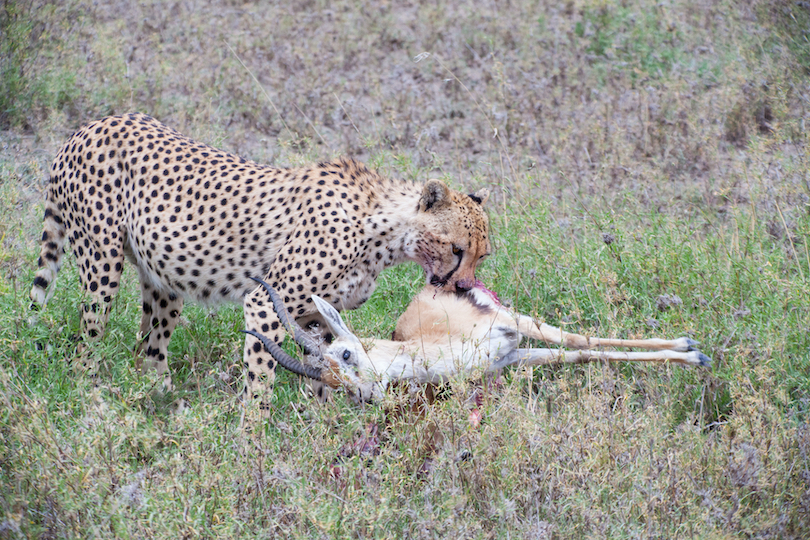 © dreamstime
As cheetahs aren't the largest animals themselves, they primarily hunt small to medium-sized prey with gazelles, impala and springbok making up much of their diet. In general, these ungulates weigh between 20 to 60 kilograms with larger mammals usually being avoided as they are harder to bring down.
Duikers and other kinds of antelope also feature as do the young of larger creatures like kudu, oryx, hartebeest and warthogs. In addition, they also hunt game birds and rabbits while Asiatic cheetahs prey on goitered gazelle, wild goats and chinkara.
Although less common, the quick carnivores also consume everything from wildebeest and ostrich to buffalo, guinea fowls and foxes if the opportunity presents itself. When hunting in a group, they often target larger mammals; something they wouldn't consider when out in the savannah alone.
Cheetahs much prefer to eat fresh prey they recently killed, only rarely resorting to scavenging and eating carrion. Likewise, they only eat some small tufts of grass if they are having digestion issues.
How Much Do Cheetahs Eat?
© dreamstime
How much cheetahs eat depends to a large extent on just how successful they are at bringing down prey. If they have regular access to food then they usually eat about four kilograms of fresh meat a day.
They can however fast and go without food for quite a few days at a time if hunts are unsuccessful or larger and fiercer lions and hyenas steal their kills. When they do manage to finally make a kill, they then may gorge on up to 10 kilograms of meat at a time.
How Often Do Cheetahs Eat?
While lone adult cheetahs normally hunt and eat every two to five days, females with cubs will usually hunt daily so that they can provide themselves and their young with enough food.
When it comes to hunting, cheetahs have a very high success rate and are particularly adept at bringing down Thomson's gazelle and other small prey. This though varies according to the age, sex and number of cheetahs actually involved in the hunt. Impressively enough, mothers with cubs are more often than not the best hunters.
Once a cheetah has killed its prey, they normally wait between five minutes and an hour before they eat as they need to rest and catch their breath. In the meantime, other cheetahs in the group feast on the fresh meat. They all have to be wary, however, as lions, hyenas and even vultures sometimes nip in and steal their kill.
Funnily enough, cheetahs drink a lot less often than they eat, seldom drinking more than once every four days. On occasion, they even go up to 10 days without drinking.
How Do Cheetahs Hunt?
© dreamstime
Unlike most other kinds of cats, cheetahs don't ambush their prey or wait to pounce on them when they are within striking distance. Instead, they rely on their startling speed to chase down their intended target and tackle them to the ground.
As cheetahs use their vision to hunt rather than scent and smell, they usually scan their surroundings for potential prey while concealing themselves in the bush or undergrowth. Once they have locked onto an unsuspecting animal, they slowly stalk them or immediately set off in pursuit if they are already within range.
In general, the chase begins when the quarry is within 70 to 100 meters of the cheetah with very few pursuits lasting longer than a minute. Most last around 20 seconds, with cheetahs covering about 170 meters on average in this time. Any longer or further and they risk both exhausting themselves and the prey escaping.
When in quick pursuit, cheetahs can cover seven meters in a single stride, shooting after the antelope or gazelle at an extraordinary speed. Once they reach their target they trip or tackle them to the ground before sinking their teeth into their prey's throat and either suffocating them or killing them directly.
Cheetahs either hunt alone or team up and take down larger prey with coordinated attacks and the whole group sharing in the spoils of the hunt.
When Do Cheetahs Hunt?
As other large carnivores, like leopards and lions, are mainly active at night, cheetahs generally hunt during the day so as to avoid confrontation and competition with these fearsome predators. Dawn and dusk are particularly popular times to hunt as this means they miss the searing heat of midday, which is when they rest and relax in the shade of trees.
Throughout the day, however, they still keep an eye out for predators and prey and set off in pursuit of a deer or impala if the perfect opportunity presents itself. In areas where prey is less prevalent, cheetahs roam far and wide in search of their next meal, sometimes covering over 11 kilometers in a single day.
When cheetahs are the main predator in an area and don't face competition from lions and leopards, they often change their behavior and hunt more at night. This also happens in highly arid areas such as the Sahara where the heat reaches dangerously high temperatures. Some cheetahs also hunt more on moonlit nights when they can use their exceptional eyesight to spot prey.
What Do Cheetah Cubs Eat?
© dreamstime
As they are born blind, toothless and helpless, young cheetah cubs are very vulnerable and depend completely on their mothers for the first few weeks of their lives. She keeps them hidden away in dense vegetation or in a secluded lair for at least the first couple of months, nursing them with her fatty, nutrient-rich milk up until the age of between four to six months.
At this point, she starts weaning the cubs and introduces small morsels of meat into their diets. From then on, the mother also teaches them how to hunt by demonstrating how to crouch, stalk, spring and take down prey. Sometimes she will even bring back a live animal for them to practice on.
While they initially struggle to catch hares and small gazelles themselves, their success rate steadily increases as they get older, stronger and faster. At the age of about 20 months, the juvenile cheetahs are normally fully independent and can survive on their own in the wild.
What Do Cheetahs Eat in Captivity?
© dreamstime
When held in zoos or wildlife sanctuaries, cheetahs have dramatically different diets from what they would normally eat in the wild. This is because they are hardly ever allowed to hunt for themselves and instead consume carrion meat; something they wouldn't consider in the savannah unless in dire circumstances.
In captivity, they are often fed horse or beef with other domestic animals like chickens, donkeys and rabbits regularly featuring. In many zoos, cheetahs are also given a kind of meat-based feed that is specifically designed for their particular dietary needs.
Despite the constant care, cheetahs don't do all that well in captivity. While stress, small enclosures and increased susceptibility to disease certainly play a part, their different diet also has a massive impact.
As well as eating much more regularly, captive cheetahs mainly consume muscle meat and bones. In the wild however they would normally eat almost the entire carcass with the fatty acids from the skin, bones and internal organs all contributing to them being healthier, happier and living longer.
What Eats a Cheetah?
While the carnivorous cheetah is towards the top of the food chain, there are a couple of larger and more dangerous predators that it has to keep an eye out for. These are namely lions, leopards and hyenas, with humans and habitat loss being by far the biggest threats to cheetahs' survival overall.
Besides poaching, adult cheetahs are seldom hunted or eaten as they simply use their phenomenal speed to burst away from predators. They do have to keep scanning their surroundings, however, as larger foes won't hesitate to attack them if they stumble across them unawares.
Unfortunately cute little cheetah cubs are particularly vulnerable and have a very high mortality rate in the wild with lions, leopards, hyenas and even eagles all eating them. Tragically, mothers usually can't protect their litter from being eaten as cheetahs are built for speed and are much slimmer than the fearsome carnivores facing them.