There are seven different species in the camelid family, and together they are spread across most of South America and Arabia. They are ungulates, meaning they have hoofs, and distribute their weight evenly onto their two toes. These animals are highly adapted to their environment, allowing them to live in harsh terrains like deserts and high-altitude mountains.
Camelids come in a range of shades of white, brown, or black. The four types of the genus Lama can be found in South America while the three types of camels are found in deserts around the world Of the remaining seven species of camelids, only three exist in the wild. Most have been domesticated and are used by nomadic tribes for transportation, or reared for their fiber, meat, or milk.
1. Mongolian camel
© dreamstime
Mongolian camels, also known as Bactrian camels, have two pointy humps on their backs that make them easily distinguishable from the Arabian camel. They can grow to be more than 9 feet tall from the ground to the tip of their humps. Like all camels, they retain fat in their large humps that is broken down as needed into energy and water to fuel this large 1,800-pound animal.
Humans and Mongolian camels have a long history, with camel domestication occurring around 2500 BC. Even now, these animals are raised for their meat, kept for their tasty milk and as a source of fabric. Their skin is used to make yurts and their wool is spun into warm clothing.
They are great companions for nomadic tribes who use them to get around the sandy and baren Gobi Desert. They can travel distances of up to 30 miles a day, even through thick snow, and carry loads of up to 550 pounds, nearly a third of their body weight!
2. Arabian camel (or Dromedary)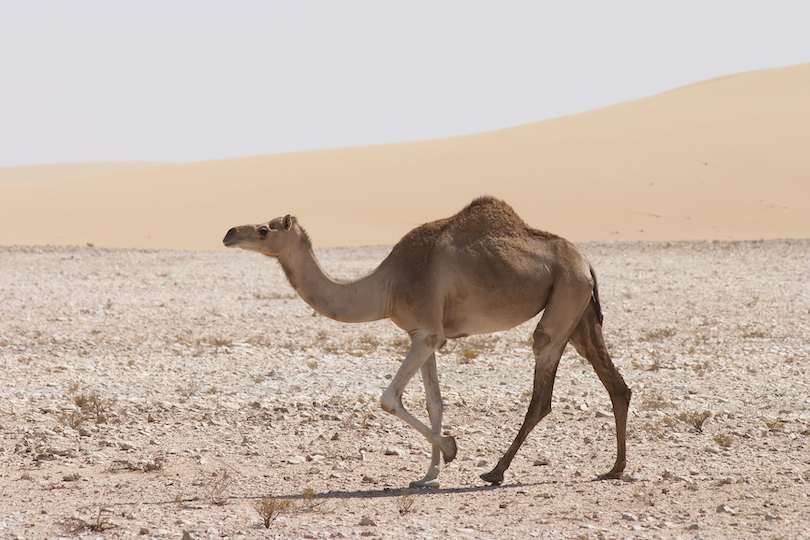 © dreamstime
These camels can reach heights of 7 feet, taking measurements from the ground to the top of their tall hump. They weigh some 1,600 pounds and have a single hump. But they don't really need two humps as they can store some 80 pounds of fat in their hump, which provides them with enough water and energy for 15 days!
Arabian camels can run as fast as 40 miles per hour and cover daily distances of up to 115 miles. They have become legendary because of how well adapted they are to harsh desert conditions. These camels inhabit southwestern Asia, Australia, and northern Africa. They have been very influential in the lifestyles of many nomadic communities across Arabia, such as the Bedouins.
There's not much to graze on in the desert, so Arabian camels rely on their thick, tough lips to eat spiky desert plants. Another feature that helps them thrive in the desert is their closing nostrils, that stop sand from getting into their respiratory tract. It's estimated Arabian camels account for 94% of the planet's camel population.
3. Wild Bactrian camel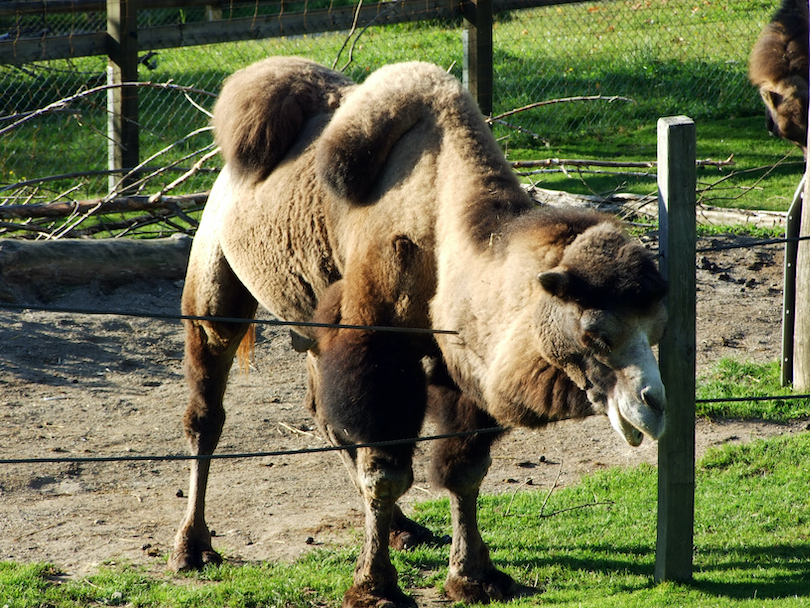 © dreamstime
These types of camels are a small group of wild Mongolian camels. They share a lot of features with their close relatives, but haven't been domesticated. Wild Bactrian camels live in the Gobi Desert, mainly in Mongolia.
They are now a critically endangered species, and it is estimated there are just 400-800 of these intriguing wild animals left. It's very rare to see one, they weren't even known about until the late 19th century. Wild Bactrians share a common ancestry with their domestic relatives, the Mongolian camel, but through time have evolved and now have a slightly different gene pool.
Wild Bactrian camels are slightly smaller and less weighty than their domesticated relatives and can survive temperatures ranging from 151 Fahrenheit to minus -60 Fahrenheit. Luckily, they have specially adapted flat feet with thick, leathery pads and two single toes to help them walk on both hot sand and icy snow!
4. Llama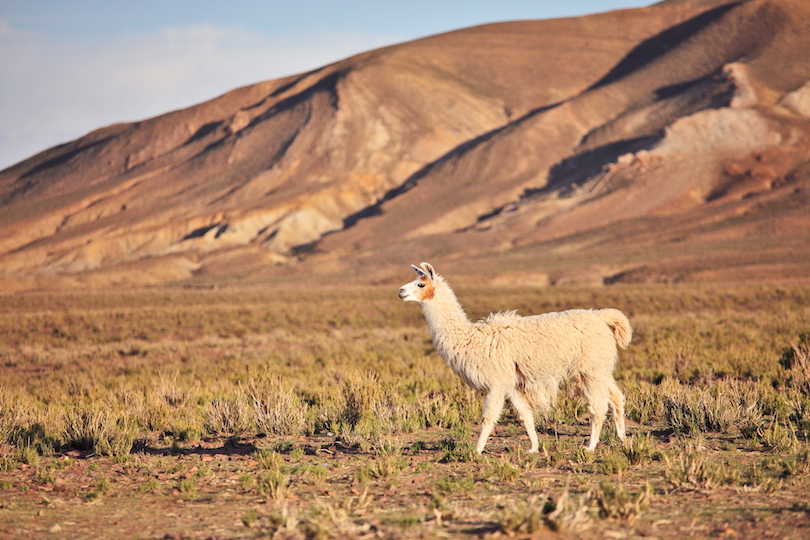 © dreamstime
Llamas are very social creatures and quickly integrate into new families. They are often kept as trusted guard dogs for herds of sheep and goats. Whilst they are usually friendly and pleasant, if they become irritated, they'll quickly let you know by spitting or sticking their tongue out at you!
They weigh some 250 pounds and reach heights of 6 feet at most, though usually they're between 5 feet 6 inches and 5 feet 9 inches tall. Unlike other species, llamas are domesticated camelids. They can now be found across the world, but were historically native to South America where they lived in mountainous regions like the Andes.
Llamas can cover 20 miles of rocky mountain terrain in a single day, with up to 75 pounds on their back. They are great companions for nomadic communities. They have various stomach compartments, and, like ruminants, they chew and regurgitate their food various times before it is digested.
5. Guanaco
© dreamstime
Guanacos are a species of wild camelid. They are just over 3-4 foot tall at shoulder height but have tall necks that bring them up to around 5 feet at head height. Overall, they're still small for a camelid species.
Though they aren't very tall, they can still weigh between 200-310 pounds. It is estimated that these wild animals live somewhere between 20 to 25 years in the wild. Their fur is light brown along the top of their bodies and contrasts with their white underbellies and necks. There is a unique pattern where their fur turns from light brown to white and they have dark, almost black, hair on their tails and faces.
Guanacos come from the same lineage as llamas, but weren't domesticated. These wild animals live across Chile, Peru, and Argentina, where they live at altitudes as high as 13,000 feet. They are particularly abundant in the Andes and Patagonia, but also inhabit low altitude plains and coastlines.
6. Alpaca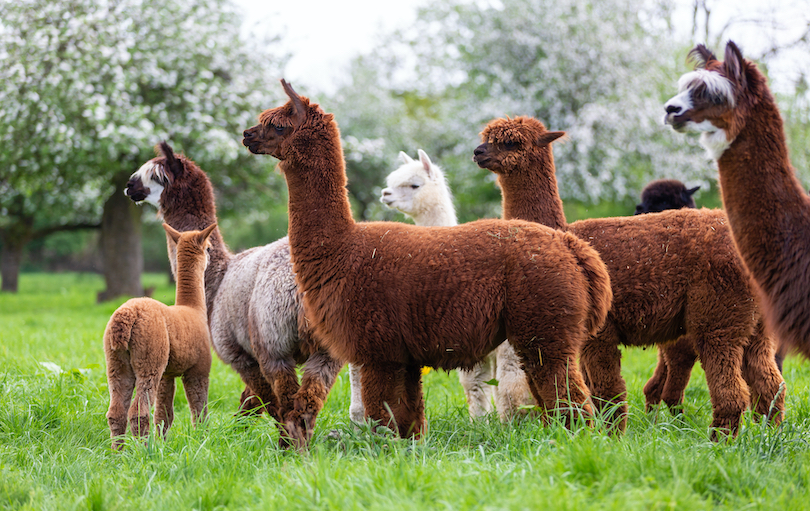 © dreamstime
Alpacas have a thick, fluffy fur that covers their entire bodies, apart from around their mouths and eyes. They come in a range of shades of whites, browns, and blacks. This species of camelid is essentially the domesticated equivalent of a vicuña. Sadly, there are no alpacas left in the wild anymore, though historically they roamed free in the South American Andes.
There are two distinct types of alpaca, the Huacaya and Suri alpaca, which are differentiated based on the length and thickness of their fur. Alpacas are mainly bred for their wool, which is turned into warm garments sold around the world.
They weigh between 120-145 pounds and stand at just 3 foot tall at shoulder height. These camelids live as high up as 15,750 feet above sea level and communicate with hums, alarm calls, and orgles. Alpacas have been exported across the world and have multiple uses. They´re even brought into hospital wards, as they´ve been found to promote good mental health among patients!
7. Vicuña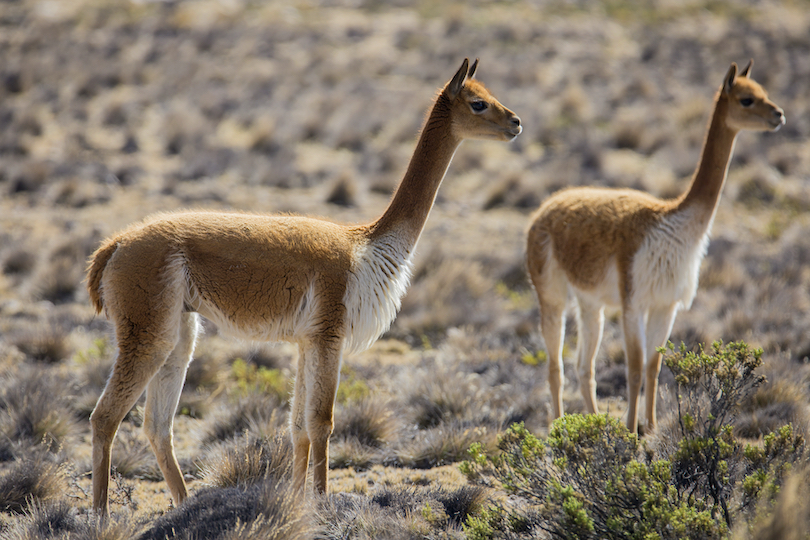 © dreamstime
Vicuñas are the smallest of all the camelid species, standing at just 36 inches tall at shoulder height and weighing a mere 110 pounds. They are the wild ancestors of alpacas, and haven´t been domesticated due to their temperament. Vicuñas look very similar to guanacos but have light fur around their faces and longer hair around the base of their necks.
These little animals make a loud whistling sound when they think they are in danger, or something alarms them. They live in mountainous regions where there are pumas, so they need to be on guard!
Curiously, these little camelids sleep and feed in different spots and stay in small herds of 6 to 10 vicuñas that are led by a dominant male. Vicuñas mainly inhabit Peru, but are also found in areas of Colombia, Ecuador, Chile, Argentina, and Bolivia. They live high up in semiarid grasslands and mountainous regions of the Andes at altitudes between 12,000 and 16,000 feet above sea level.