The planet is riddled with mammals. This large group is made up of more than 6,000 highly divergent species. There are mammals large and small, from the tiny bumblebee bat to the enormous blue whale.
Some of the largest mammals in the world are aquatic, others are terrestrial, and a few have adapted to both land and water. The biggest mammal species around are so heavy they are weighed in tones, and so long they dwarf anything else in sight.
Most of the planet's largest mammals, like giraffes and elephants, live on land. But the largest of them all, the blue whale, spends its life in the ocean. Every mammal species has developed ways to survive and compete in its environment, and large mammals have chosen size as their weapon, fending off predators with their imposing presence!
12. Moose (up to 820 kg/1,810 lb)
© dreamstime
Moose are the largest members of the deer family. They are covered in a warm fur that ranges from light brown to black. Males have impressively sized flat antlers that fork out in all directions. They also have elongated snouts that give them a horse-like head.
They live in the northern parts of Eurasia and North America, where it's cold and there are dense forests. The largest moose subspecies live in Alaska and eastern Siberia, and the largest moose specimen on record is an 1,808-pound Alaskan moose.
Larger moose subspecies can reach heights of 7 feet. These herbivorous mammals feed on different species of plants, like shrubs and conifers. They can even submerge their heads and bring up vegetation from the bottoms of lakes and streams.
11. Camel (up to 1,000 kg/2,200 lb)
© dreamstime
There are two camel species left, the Mongolian camel and the Arabian camel. Mongolian camels still have a wild relative, known as the wild Bactrian camel, that are slightly smaller and haven't been domesticated.
The heaviest camel is the Mongolian camel, which can weigh up to 2,200 pounds. These beasts can reach heights of over 9 feet, from the ground to the tip of their humps. They have two large humps that store huge amounts of fat that can later be broken down into water and energy — that's how they can go so long without a drink.
Mongolian camels live in the Gobi Desert and were domesticated as far back as 2,500 BC. They have become the trusted companions of nomadic tribes that raise them for their milk and meat, and as a form of transportation.
10. Bear (Polar Bear up to 1,000 kg/2,209 lb)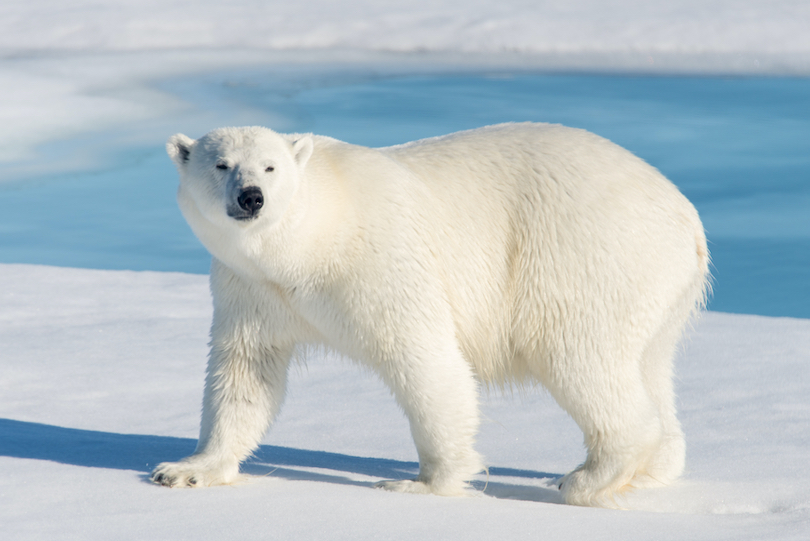 © dreamstime
The largest bear species are the polar bear and the Kodiak brown bear. Whilst the largest polar bear on record, which weighed 2,209 pounds definitely takes the medal, these two bear species aren't normally too different in size.
Polar bears weigh an average 900–1,500 pounds, and reach heights of over 8.5 feet. They have a thick layer of white fur that keeps them warm and dry in Arctic conditions, and well as when they are in the water.
Their Latin name is Ursus maritimus, which translates to "sea bear" and reflects their excellent swimming skills. They feed on fish, seals, and anything else they can find in the water or on the ice sheath. These top predators are threatened by climate change that is driving the destruction of their delicate habitat.
9. Manatee (up to 1,655 kg/3,649 lb)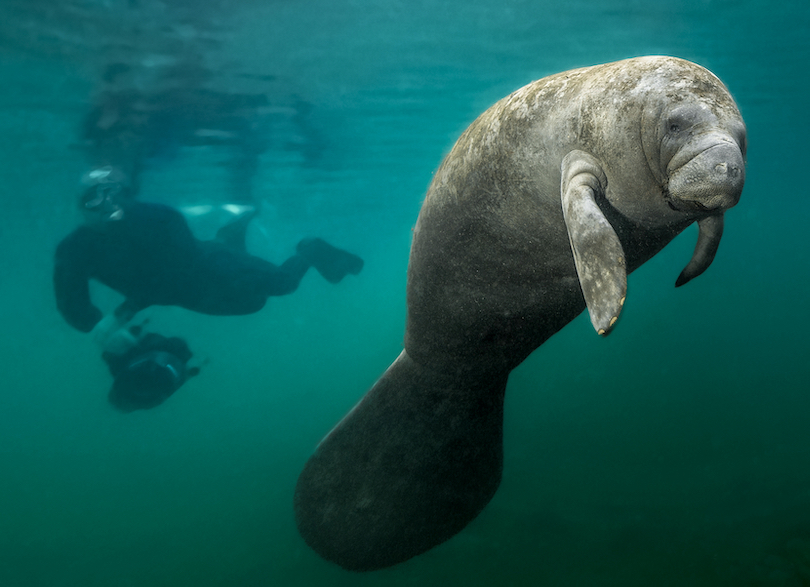 © dreamstime
Manatees are known as sea cows. They are aquatic mammals that live in slow moving rivers, estuaries, and small bays. They use their flippers and large, paddle shaped tail to move through the water.
Herbivores that graze on seagrass and freshwater vegetation, Manatees will sometimes eat fish and invertebrates. Gentle natured and slow-paced, manatees can stay underwater for up to 20 minutes at a time.
The average sea cow will grow to some 10 feet and measure somewhere between 800–1,200 pounds, though the largest on record weighed an astonishing 3,649 pounds.
8. Bovid (Gaur up to 1,500 kg/(3,300 lb)
© dreamstime
Bovids look just like cows, but they have an elevated, crown-like bone on the tops of their heads with horns on either side. The largest of the bovids is the gaur. These large animals live in Southern Asia and are common in India. Their horns are big and curved.
Gaurs weigh an average of 1,500–2,200 pounds, though large males of over 3,300 pounds can be seen. They measure up to 11 feet in length and grow as tall as 8 feet.
Mainly due to its size, the gaur is scarcely hunted. Though they are occasionally taken down by a brave tiger. Males let out a loud roar that can be heard up to a mile away.
7. Giraffe (up 2,000 kg/4,400 lb)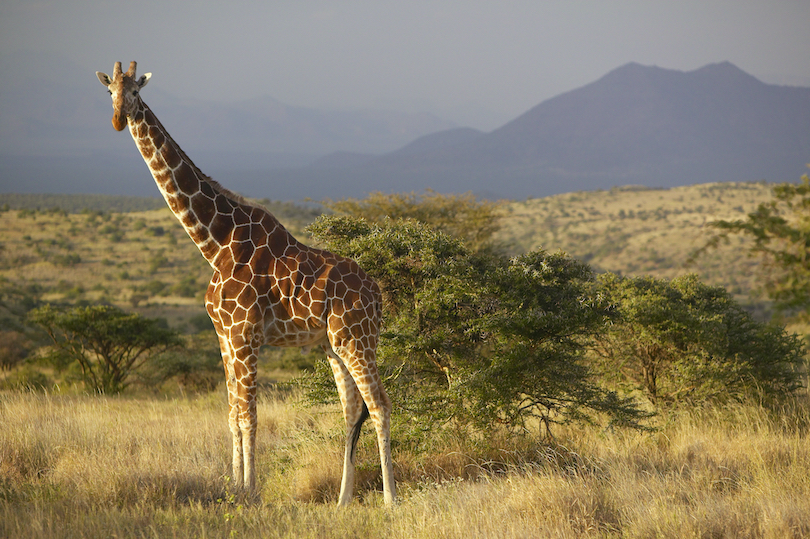 © dreamstime
Giraffes are the world's tallest land mammals, though they are far from being the heaviest. These magnificently long creatures can reach heights of 20 feet and are renowned for their extra-long necks. They are herbivores that graze on leaves from high up branches and spend up to 20 hours a day looking for food and chewing.
Their bodies are covered in dark patches that are different on each individual (just like a human's fingerprint). Giraffes are ruminants, meaning they have four stomach chambers and repeatedly regurgitate their food to get the most nutrients out of their plant-based diet.
These wonderful creatures can weigh up to 4,400 pounds and have comically long blue tongues (seriously, they can grow to lengths of up to 18 inches!).
6. Hippopotamus (up to 4,500 kg/9,900 lb)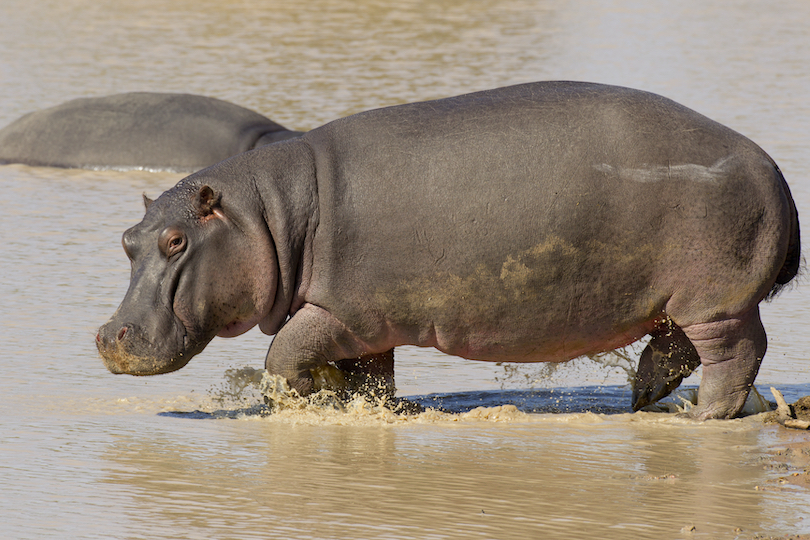 © dreamstime
Hippos are the third largest land mammal, smaller only than elephants and rhinoceroses. These large animals are called "river horses" in Latin, likely referring to their size and love of water. Hippos love being in the water; their young are even able to suckle underwater.
An average male hippo is some 12 feet long, and about 5 foot tall. Males tend to weigh 3.5 tonnes but have been known to reach weights of 9,900 pounds (a whole tonne more than usual). Females are smaller and weigh about 30% less than males.
Hippos used to be widespread across the African continent, but are now only found in eastern, central, and some areas of southern Africa. A big contributor to their declining population size has been hunting. They are hunted for their ivory, meat, and hide.
5. Rhinoceros (white rhinoceros up to 4,500 kg/9,900 lb)
© dreamstime
The largest and heaviest of all the rhinoceroses is the white rhinoceros. Despite their name, they are a light gray color. These enormous mammals can weigh up to a whopping 9,900 pounds and eat some 120 pounds of food each day.
They have specialized snouts that are flat and squared to help them nibble at grasses and plants close to the ground. Their heads are decorated with two pointy horns; the front horn is the longest and can grow to 60 inches.
White rhinoceroses live in the African Savanna, where they can cool off in water holes and laze about in mud wallows before going in search of a tasty meal of fresh grass.
4. Elephant Seal (Southern Elephant Seal up to 5,000 kg/11,000 lb)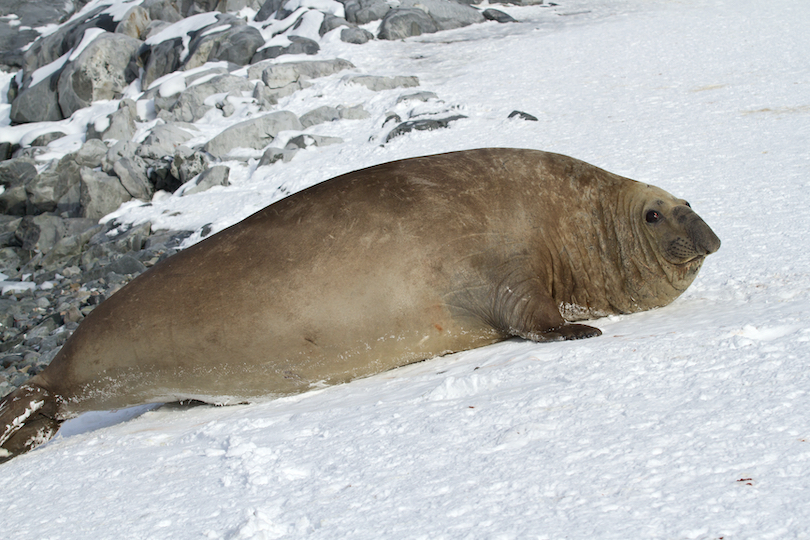 © dreamstime
Of all 18 true seal species, the largest is the elephant seal. There are two species of elephant seal, the southern and northern elephant seals. The largest of the two is the southern species that can weigh up to 11,000 pounds, though the northern elephant seal isn't small either, reaching weights of 5,000 pounds.
These semi-aquatic mammals are a part of the pinniped family. They are piscivores that hunt and feed primarily on fish. Like other seal species, they are predicted to eat about 4–6% of their body weight daily. They can grow to be 20 feet long, that's as long as a giraffe is tall.
These heavy mammals like to laze about on sandy beaches, where they come together in large groups. They are named after the large proboscis that elongates the male seal's snout and looks a lot like an elephant's trunk.
3. Dolphin (Orca up to 10,000 kg/22,000 lbs)
© dreamstime
Dolphins are known for being friendly, social, and cheerful. They live primarily in the world's seas and oceans, though there are still five river dolphin species left. The largest dolphin species is the orca, which can weigh as much as 22,000 pounds and grow to lengths of 32 feet.
Orcas aren't known to be as friendly as their dolphin relatives, in fact, these toothed whales are apex predators (meaning they hunt but aren't hunted) that are even known to play with their prey before eating them, like a cat.
Orcas live in pods that hunt and travel together. They have complex hunting techniques and find one another through echolocation. These beautiful aquatic mammals can live for up to 80 years.
2. Elephant (African bush elephant, up to 10,400kg/23,000 lbs)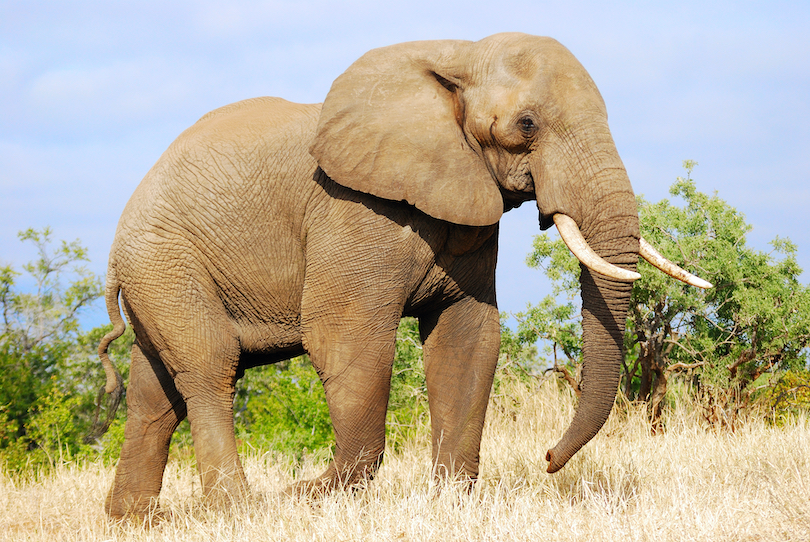 © dreamstime
African bush elephants are the heaviest land animals in the world. Whilst other elephant species, like the Asian elephant that can weigh over 11,000 pounds, are also large, they don't compare to the bulky African bush elephant.
Weighing up to 23,000 pounds and reaching lengths of 24 feet, the African bush elephant is the second largest mammal in the world. These enormous elephants can live for up to 70 years in the wild. They feed on fruits, leaves, bark, grasses, and anything else they can forage nearby. It takes 350 pounds of vegetation per day to fill their large bellies.
Sadly, elephant populations throughout Africa and Asia have been on the decline due to poaching for ivory, habitat loss, and increased hunting rates as they come into contact with humans more and more.
1. Whale (Blue Whale up to 199 tonnes)
© dreamstime
Of all the whale species in our oceans, the largest and heaviest are blue whales. In fact, they are the largest animal on the planet. These serene, captivating animals can reach lengths of up to 98 feet and weigh up to 199 tonnes.
Their heart is the size of a small car and weighs 1,500 pounds. These majestic animals are found in every ocean but are more common in the Southern Hemisphere.
Blue whales are filter feeders; they rely on their baleen plates to separate their meals from the surrounding water. They migrate large distances in search of food, moving to polar waters in the summer when there is an abundance of krill. It takes four tonnes of krill to fuel this massive animal for a single day.