Very powerful yet graceful creatures, the elusive leopard is one of the deadliest big cats on Earth, using its stealth, strength and spring to bring down prey of all sizes. Due to both its flexible diet and adaptable nature, the opportunistic carnivore has historically ranged across huge swathes of Africa and Asia.
Now sadly extinct in many places, the vulnerable species is mainly found in sub-Saharan Africa and India with small, fragmented populations still hanging on in Central Asia, Siberia and China. As leopards can survive in almost any environment, the fierce hunters live everywhere from mountains and deserts to swamps, savannah and rainforests.
Immediately recognizable due to its distinctive rosette fur, leopards are very well-camouflaged and often use their excellent climbing skills to ambush prey from above. While they have a smaller, lighter physique than other big cats, they are more than capable of killing prey much larger than themselves.
Taking a closer look at the diet of a leopard
© dreamstime
Due to its opportunistic hunting behavior, leopards have a very broad diet, eating almost anything that comes their way. Impressively enough, they have been recorded feasting on over 100 different species ranging from dung beetles and fish to birds, reptiles and of course ungulates; by far their favorite prey.
While leopards certainly enjoy an extensive and eclectic diet, in general, they prefer medium-sized animals that weigh between 10 and 40 kilograms. Of these, impala, bushbuck, common duikers and chital are the most popular with other kinds of gazelle and antelope also featuring regularly among their kills.
Their diet varies depending on what is available though with leopards living in the rainforest eating primates and those on islands often surviving off of fish. Rodents and reptiles, as well as birds and beetles, are also scoffed down when the opportunity presents itself.
On top of all this, leopards also hunt and eat other smaller carnivores such as jackals, foxes, genets and even cheetahs. While the fearsome predators usually get all the fluids they require from the kills they make, in particularly dry and arid areas they may also drink water or eat succulent plants and sour grass.
How Much Do Leopards Eat?
© dreamstime
With small prey that they have just caught, leopards usually eat them immediately and entirely. For larger kills and carcasses, they much prefer to drag them to a secluded spot where they can then eat their prey in peace. This could be a bush or cave or more often than not up a tree and out of reach of other predators and scavengers.
On average, male leopards consume around 3.5 kilograms of meat a day with the smaller, slimmer females eating roughly 2.8 kilograms. Over the year, that means they need about 400 kilograms to survive and flourish.
How Often Do Leopards Eat?
In the wild, however, leopards don't typically eat or hunt every day. Usually they'll gorge on a kill and then spend several days resting and digesting before heading out and hunting again.
As leopards don't mind eating carrion, they often store the carcasses of their kill in a tree and feast on the flesh over the course of a couple of days. If it is quite a large animal then they may not hunt again for about 13 to 18 days, typically consuming about a third of it in this time before heading on.
This survival tactic seems to work very well for leopards as prey isn't always readily available every day. They do hunt more regularly though if their last kill was quite small with some leopards having been known to hoard their food and keep catching prey even when they have just enjoyed a meal.
How Do Leopards Hunt?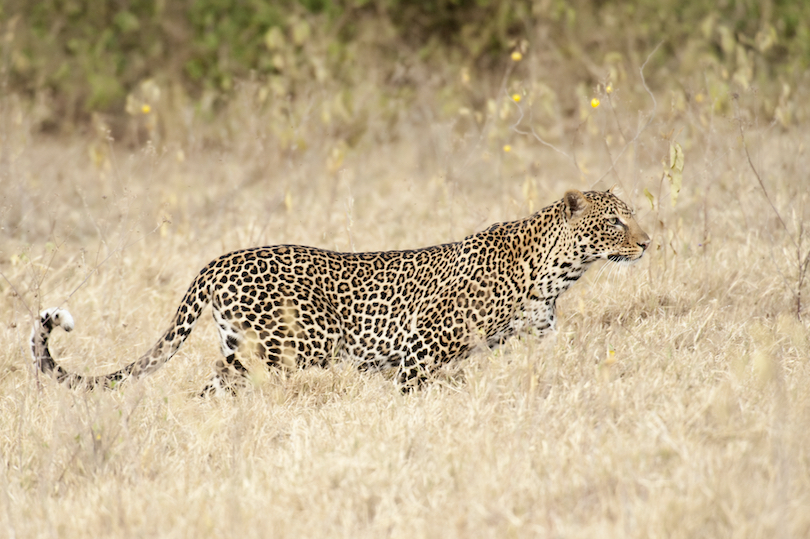 © dreamstime
As leopards are ambush predators, they patiently stalk their prey, approaching as quietly and closely as possible before pouncing on their unsuspecting target. In the savannah their camouflaged coat helps them approach undetected through the bush with leopards also sometimes leaping on their foe from the branches of trees.
Leopards mainly depend on their acute sense of hearing and excellent eyesight to locate and lock onto potential prey. They typically wait to within five meters of their quarry before making a sudden move and throwing themselves at the animal's throat or neck. Leopards have been known to slowly track their target over a range of two kilometers before finally pouncing upon them.
With small prey, they kill them immediately with one bite, holding onto larger animals for longer as they slowly suffocate them with their powerful jaws. While they mostly go for medium-sized prey, the largest kill by a leopard in the wild weighed in at a whopping 900 kilograms; over 10 times the size of the small species' weight.
As they are strong swimmers, leopards also catch fish and crabs when they live alongside rivers or islands and opportunistically eat prey wherever they are when they come across them unexpectedly.
When Do Leopards Hunt?
As most of the animals they prey on are active during the day, leopards usually hunt either at dusk or dawn. The rest of the day they spend resting in or under trees so as to avoid the scorching heat of the strong African sun.
While most are diurnal, some leopards are nocturnal and instead spend their nights prowling about, using their excellent night vision in search of prey. In addition, they will of course leap on any poor unsuspecting animal that happens to stumble within range of it by accident, whatever time of day it may be.
As they prefer to live and hunt alone and stick to their own demarcated territory, leopards generally avoid hunting around prides of lions or cackles of hyena. This is because the groups of larger, more powerful carnivores outnumber them and can easily nip in and steal their kill.
What Do Leopard Cubs Eat?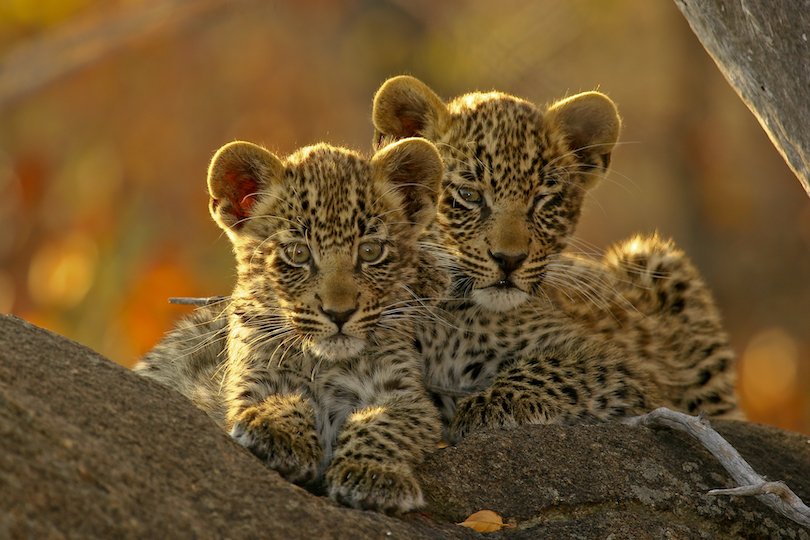 © dreamstime
As they are born blind, deaf and toothless, cubs rely on their mother for food and usually only leave the den once they reach the age of about three months. During this time, the litter of two to four cubs drink her nutrient-rich milk and are slowly introduced to morsels of meat towards the end of this period.
Once they emerge from the den, the cubs start to accompany their mother on hunts and learn how to stalk, pounce and bring down prey. At around 12 to 18 months they are ready to fend for themselves and establish their own territory that often overlaps slightly with the hunting range of their mother.
Once they reach the age of between two and three they start to have their own offspring with leopards in the wild typically living to around 12 or 15. While males for the most part have little to do with their young, females continue to interact with them throughout their lives and sometimes even share kills when they haven't caught any prey.
What Do Leopards Eat in Captivity?
© dreamstime
Unlike some other big cats like cheetahs, leopards do quite well in captivity and often surpass their natural lifespan in the wild with ease. This is in part because the opportunistic carnivores are a lot less fussier than other predators when it comes to food and don't mind eating carrion.
This is what they are normally fed in zoos and wildlife sanctuaries with cows, chickens, horses and other domestic livestock animals all regularly featuring in their diet. Sheep, goats, rabbits and lambs are also sourced from local farms, so that they get some variety with various vitamins and fibres also being added to the leopards' daily meals.
In captivity they generally eat around a kilo or two of meat a day with bones, muscle meat and internal organs all being wolfed down by the leopards.
What Eats a Leopard?
While leopards don't really have any natural predators, they do have to keep a watchful eye out for lions, hyenas and African wild dogs which won't hesitate to attack, kill and eat them if the chance presents itself. This is because they all live in the same habitat and compete for scarce food sources.
Due to their size and strength, adults don't have all too much to fear though as they avoid aggression and confrontation by retreating up trees. Defenseless cubs however have a very high mortality rate, particularly in their first year, and are often eaten by other predators.
In other areas, leopards also have to watch out for both tigers and bears with humans and habit loss of course being the main threats they face globally.