Many travelers dream of going on safari in Africa where they can view wild animals in all their glory. Namibia, formerly part of South Africa, is a good place to start making your dream come true. While you may not see all of the Big Five – lion, rhinoceros, leopard, buffalo and elephant – you should be able to cross a goodly number off your bucket list. The trick is knowing where to go. Etosha National Park is a great place to start, since its home to a wide variety of animals in Namibia.
14. Blue wildebeest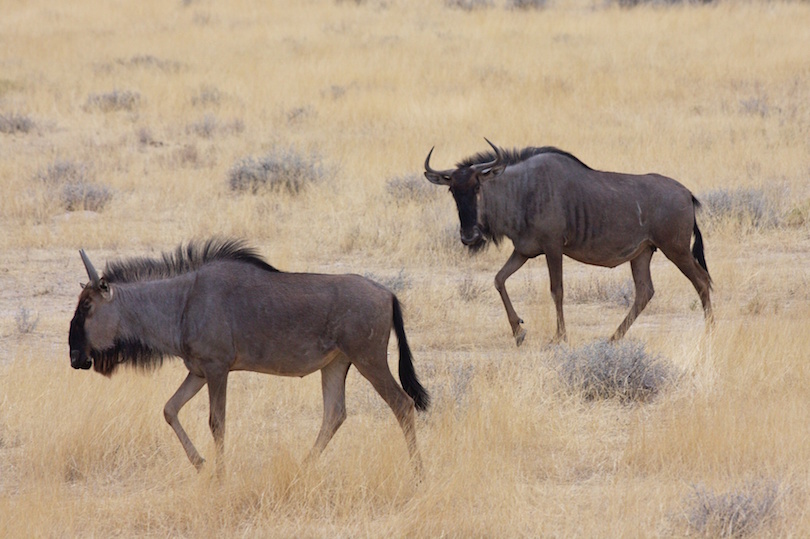 Though it resembles an American bison, because of its broad shoulders and heavy front end, the blue wildebeest is considered a large antelope, with cattle-like horns. It is an agile animal, quite aware of its surroundings. When it is spooked, it will take off running but stop after awhile, looking back to see if it's still being chased. It lives in herds of 20 to 40 animals, preferring to live in southern Africa's open savannahs. Etosha National Park is a good place to see them in the wild.
13. Spotted hyena
You shouldn't have any problems spotting a spotted hyena in the wild since upwards of 47,000 exist in Africa. Also known as the laughing hyena, this animal is a native of sub-Sahara Africa, though the species roamed Europe and Asia in ancient times. Hyenas can be found mainly in Etosha and Skeleton Coast national parks, the Caprivi strip and Kaokoland. These bear-like animals are very social, running in packs that are dominated by the females. In the trivia department, the females have a pseudo penis and are the only mammal that doesn't have a vaginal opening.
12. Ostrich
flickr/Greg Willis
Ostriches can be found naturally in the wilds of Namibia. You're more likely to see ostriches in the wild in the Namib Desert, Etosha National Park, the Kalahari Desert or around Windhoek. Ostriches adapt well to the country's deserts because they can go long periods without water. They prefer living on plains with short grasses and avoid rocky areas. If you don't see any in their preferred habitat, however, you might try an ostrich farm. Ostriches are farmed in Namibia because their meat is lean and every body part can be used for other purposes besides food.
11. Brown fur seal
The cape fur seal, known as the brown fur seal in Namibia, is the largest of the seals. It is an at-risk animal that lives on the coasts of southern Africa. The seals are being threatened by loss of preferred habitat, global warming and man, including the Namibian government, which has an aggressive culling program. These clumsy-on-land graceful-in-water animals can be seen in coastal waters off Namibia, where about two-thirds of the 1.5-2 million cape fur seals live. Cape Frio, on the border with Angola, is one of their breeding grounds. If you scuba drive, don't be surprised to find a friendly seal accompanying you.
10. African leopard
A good time to see the African leopard is early morning or late afternoon as these nocturnal cats are ending or starting their day. While leopards are hunted for sport in Namibia, they can be found in their natural environment at some conservation-oriented lodges such as Okonjima Bush Camp or Okonjima Main Lodge. These spotted animals look more fierce than kitten-cuddly. They eat everything from insects and antelopes to birds, fish and fruit. They stalk and pounce on their next meal, then may drag its carcass up a tree to protect it from other hungry animals.
9. Springbok
flickr/Caroline Granycome
The springbok is the most common antelope in Namibia, where it can be found in the Namib Desert, around Windhoek, and Etosha National Park where it can be found mingling with zebras and wildebeests. The springbok is one of the fastest antelopes, making predators work for their dinner. Both sexes have horns and are prone to "pronking," whereby, in a stiff-legged posture, they leap into the air multiple times, jumping as high as six feet. They can go several years between drinks of water, mainly because their water requirement is fulfilled by the vegetation they eat.
8. Plains zebra
The plains zebra is also known as Burchell's zebra after the naturalist W.J. Burchell. These horse-like animals are noted for their black stripes, usually on a white ,but sometimes gold, background. Plains zebras may all look the same to the casual observer, but each individual has a stripe pattern that is unique to it. They'll herd with other animals in Namibia, such as wildebeests and ostriches, because of the protection they provide from predators. When they flee from danger, they'll do so at the speed of the slowest herd member. Chances are good for spotting them in the wild in Etosha National Park, since it's one of the most common animals there with a 20,000 population.
7. Meerkat
The Kalahari offers your best chance to see meerkats in the wild, though these small mammals may also be found elsewhere in southern Namibia, including game lodges where they are used to humans. They don't like very dry or very wet habitat. Visitors sometimes mistake ground squirrels for meerkats, even though the meerkat is a much bigger animal. It's colored differently, too, being sandy or gray with a dark band across the back. When they sit upright on their hind legs, such as after getting up in the morning or when sunning themselves, they tend to resemble the American prairie dog.
6. Gemsbok
The oryx gazelle is a species of antelope that is more familiarly known by its Afrikaans name, gemsbok. It is the national animal of Namibia, where they are found throughout the country, frequently along roadsides. The gemsbok is a hardy animal, able to live in harsh areas that are inhabitable to other antelope. Unlike other antelope, which are usually beige in color, the gemsbok is gray with black and white markings. They're hunted for sport in Namibia, but it's not uncommon for one gemsbok to die from fighting with another male, since the horns cause deep stab wounds.
5. South African Cheetah
The South African cheetah dominates the cheetah world in southern African, both in demeanor and numbers. Also known as the Namibian cheetah, this medium-sized cat has a vulnerable status, with only about 6,000 existing. More than half of them can be found in Namibia, especially in farming areas. They can also be found in the Kalahari Basin, Kaokoveld, Namib and the northeast, as well as the protected areas of Namib-Naukluft and Bwabwata national parks. The South African cheetah has a spotted bright yellow or gold coat with a white underside. The males are sociable and live in groups, while females prefer the solitary life.
4. Giraffe
The giraffe, the tallest of all animals, is a common sight in Etosha National Park, particularly on the road between Numatoni and Klein Numatoni. You'll notice on this road that the acacia trees have flat tops – that was caused by giraffes snacking on them. The animals do well in dry areas because they can go a long time between drinks of water. They also have nostrils that close up when dust storms occur. The species gets its name from an Arab word, zaralah, which translates as "one who walks quickly." Despite its gangly looks and height, the giraffe does indeed move quickly – as fast at 37 mph.
3. African Bush Elephant
If you've only seen live elephants in zoos or circuses before, you're going to love seeing these Animals in Namibia in the wild. The country has a healthy elephant population. The dry winter months are the best time to see them in Etosha National Park, though any time is actually good. They can also be found in the Zambezi region where they skip customs to cross international borders into Botswana, Zimbabwe and Zambia. Often living to 70 years old, the African bush elephant can eat up to 500 pounds of vegetation and drink up to 50 quarts of water in a day. Hey! Whatever it takes to maintain that svelte 10-ton figure!
2. African Lion
The king of the beasts, the African Lion, can be found in several places in Namibia, mostly in the north: Etosha National Park, Kunene, Kaudom and Caprivi. Etosha, Kaudom and a small section of Caprivi have the highest populations. A smaller number can be found in the south at the ecotourist-oriented Kalahari Game Lodge. Your chances of seeing these magnificent creatures may only be so-so, since there are only about 800 lions in the wild, despite Namibia being a force behind lion preservation efforts. FYI, the lion is the only animal that will attack a standing giraffe.
1. White rhinoceros
Namibia is a good place to see white rhinoceros, an animal that is found mostly in four countries in Africa: Namibia, Kenya, Zimbabwe and South Africa. Once nearly extinct, their population has increased sufficiently to remove them from the endangered list; they are the only rhino species not on the list. Their name is derived from an Afrikaans word, "weit," which means wide, not white. The wide refers to their wide muzzle, not the color of their hide. Their preferred habitat is grassy savannahs. Etosha National Park is a good place to see them.