The term New World monkeys is used to refer to all of the extant primates that live in the Americas, contrary to Old World monkeys that are primates found across Europe, Asia, and Africa.
New World monkeys are all arboreal, which just means they spend most of their time up in the trees. They are almost exclusively diurnal (awake during the day, and sleeping or resting at night), with the exception of one species, the night monkey. Across species they have pretty similar diets, consisting of fruits, seeds, nuts, and leaves, and occasionally insects, sap, and bark.
1. Pygmy marmoset (Cebuella)
© dreamstime
Pygmy marmosets are the smallest monkey species on Earth. They live deep in the South American rainforest in Peru, Colombia, Ecuador, and northern Bolivia and spend their time up in the canopy. They are closely related to another species of tiny monkeys, the tamarins.
These cute little monkeys have gray fur with a distinct orange tinge to it and wide hazel-brown eyes. They weigh just 0.2-0.3 pounds. Marmoset's tails are longer than their five to six-inch-long bodies.
Pygmy marmosets live in families of up to nine monkeys, called troops. They use their sharp teeth to bite into trees and then lick up the tree sap that leaks out of the bark, sometimes there can be up to 1,200 bites on a marmoset's feeding tree!
2. Mico
© dreamstime
This genus of New World monkey includes tamarin and marmoset monkey species. They are found in the Amazon rainforest, south of Rio Madeira, with the exception of the black-tailed marmoset that inhabits the Pantanal and Chaco. All Mico species are native to Brazil.
All the members of this genus have large incisors that help them to bite into trees so they can feed on the exuding sap. They also love to snack on fruits, nectar, and fungus, and supplement their diet with small animals like lizards, frogs, and birds.
They are peculiar looking monkeys, that have large ears sticking out of the sides of their heads and come in a range of fur colors, mostly white, black, orange, light brown and, gray, and often a mix of a few of them!
3. Callithrix
© dreamstime
This genus of New World monkey was previously considered to belong to the same genus as Mico monkeys. It was later discovered, through genetics and scientific research, that they are in fact a separate genus. However, they are still in the same family as tamarins and marmosets (Mico monkeys).
Callithrix species are found in Brazil, like Mico monkeys, but live along the Atlantic coast rather than in the rainforest. They also have enlarged canines that they use to bite into trees to extract sap.
They are a peculiar looking bunch, that are usually covered in black fur with white or brown fur on their faces. Their diets are much the same as those of the Mico species, and made up largely of fruits and fungi, with the occasional lizard, bird, or frog thrown in.
4. Goeldi's marmoset
© dreamstime
These little monkeys are just eight to nine inches long and weigh just 0.9-2 pounds. They were named after Emil August Goeldi who discovered the species on a nature expedition. They have thick black fur that sticks up around their faces and on the top of their heads.
They live in South America: in Bolivia, Brazil, Colombia, Peru, and Ecuador. Their preferred habitats are tropical forests with shrubs. They opt for forests with patchy, rather than dense, canopy, such as bamboo forests and mixed forests.
Generally, Goeldi's marmosets stay on the lower branches of trees, just five meters off the ground. However, they will go up into the canopy in search of fruits to nibble on. They live in small groups of about 6 monkeys that sleep close together in hollowed out trees or bushes.
5. Tamarin
© dreamstime
Tamarins are in the same family as marmosets and lion tamarins. They are small monkeys, that are around the same size as a common squirrel. Their fur is usually a mix of black, white, and brown.
They are a diverse group of monkeys. Species include the emperor tamarin that has a black body and a long, curly, white mustache; the golden-handed tamarin that is black with bright orange hands and feet; and the cotton-top tamarins that can live for up to 23 years!
Overall, they are distributed across southern Central America and South America along the Amazon basin. They are some five to 12 inches long, with a 10 to 17-inch-long tail that is almost double the size of their bodies!
6. Saddle-back tamarin (Leontocebus)
© dreamstime
This tamarin species is thought to have diverged genetically from other tamarins some eight to 11 million years ago. They are native to South America where they are found in Bolivia, Brazil, Colombia, Ecuador, and Peru.
They live in the Amazon rainforest in the same areas as the pygmy marmosets. Saddle-back tamarins and pygmy marmosets have similar diets. However, saddlebacks can't bite into bark themselves, so they often raid the sap holes of the much smaller pygmy species to get their lips on some juicy sap!
Saddle-back tamarins mostly feed on insects and fruit. They have thick, dark fur with a unique speckled pattern in orange and black on their backs. In captivity they can live for up to 25 years, but in the wild they live for just eight to 13 years.
7. Lion tamarin (Leontopithecus)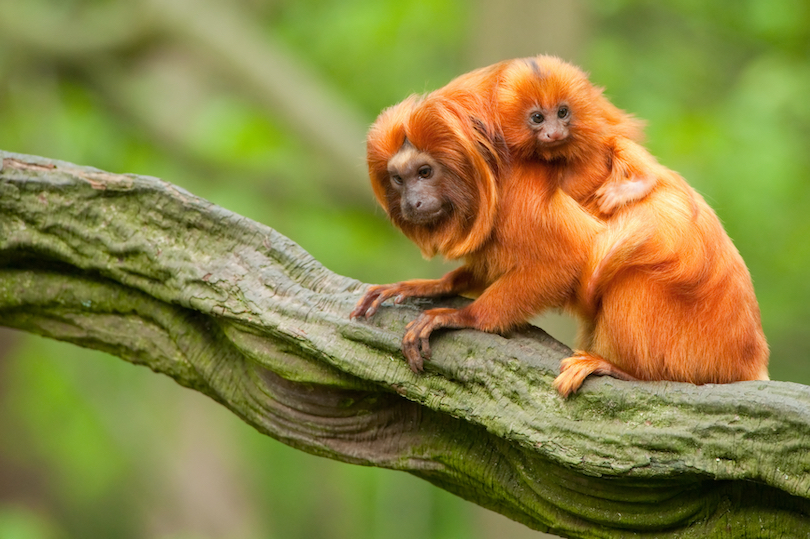 © dreamstime
The genus Leontopithecus is made up of four species that are together called lion tamarins, or maned marmosets. They get their name from the long fur hairs around their faces that stick up like a lion's mane. Lion tamarins are some 12 inches long and have 18-inch tails!
They are bigger than other marmoset species and found in Brazil's eastern rainforests. They lead largely arboreal lives and have sharp claws that they can use to dig up insects from underneath the tree bark.
Lion tamarins have a peculiar system for rearing their children, known as a polyandrous system, where two males share the rearing of a female's offspring. Sadly, all four of the lion tamarin species are now endangered, hopefully conservation efforts can bring the population numbers of these dazzling monkeys back up!
8. Gracile capuchin monkey
© dreamstime
This monkey species is common across both Central and South America, from Nicaragua south to Paraguay. They live in tropical forests and have prehensile tails that help them climb and swing up in the trees.
These monkeys are some 12 to 22 inches long and have a tail of a similar size. Their fur is black almost everywhere, but changes to a very pale yellow around their faces, and upper chest area. They were comically named after Capuchin monks due to the circular, cap like black hair on the top of their heads.
They forage on the ground and high up in the canopy for fruits, insects, corn, and other vegetation as well as small animals. They are also known to raid crop plantations!
9. Robust capuchin monkey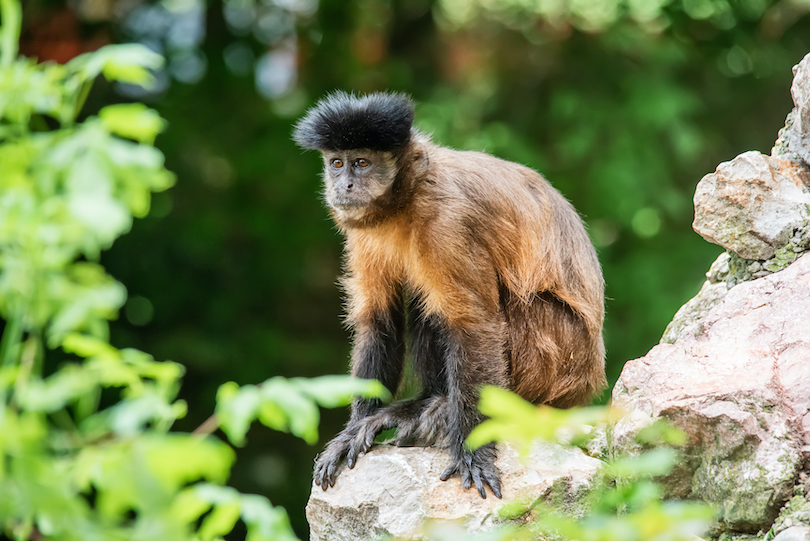 © dreamstime
Before 2012, gracile and robust capuchin monkeys were classified within the same genus. However, they are now classified as a separate genus, the Sapajus. There are some seven species of robust capuchin monkeys, and a whole array of subspecies.
The habitats of different species don't cross-over much, and overall, they extend across most northern South American countries. They are found in Brazil, Venezuela, Colombia, Peru, Ecuador, and many more!
They are very intelligent monkeys that have been observed using rocks as tools to crack open nuts, seeds, and even oysters, as well as for digging. Most robust capuchin species have light brown fur with patches of black fur on some parts of their bodies, but they can also be dark brown or reddish brown in coloration.
10. Squirrel monkey
© dreamstime
Squirrel monkeys are found throughout Guianas' riverside forests and in the Amazon rainforest, they are the most abundant primate in the area! There is also a smaller population in Central America. Their bodies measure between 10 and 16 inches and they have a long, non-prehensile tails that are often longer than their bodies.
They are noisy little creatures, that communicate through a series of about 26 calling sounds. Squirrel monkeys are arboreal and rarely come down to the ground. They hang out in large troops, the largest of any New World monkey species, that consist of up to 500 individuals!
There are various squirrel monkey species, but they all look somewhat alike. The common squirrel monkey has a white face, with orange stockings on their arms and legs. Gray fur with an orange tinge covers the rest of their bodies, apart from their tails that are striped with a gray, orange, and black section.
11. Night monkey (or owl monkey)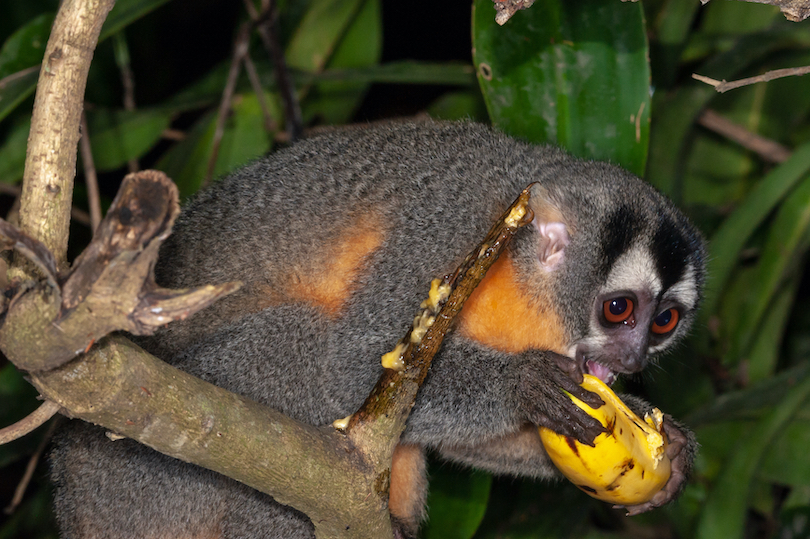 © dreamstime
These monkeys are found in the US and across much of South America in countries like Panama, Peru, Argentina and Bolivia, Ecuador, Colombia in a variety of tropical forests and in mangrove swamps. They are called night or owl monkeys, reflecting their nocturnal nature and owl-like faces
Their bodies are some 10 to 14 inches long. They have non-prehensile tails that are longer than their bodies! To help them see better at night, they have what is known as monochromatic vision, which just means they are color blind.
There are 11 species in the night monkey genus (Aotus). They are all nocturnal and prey on bats, birds, and insects. Night monkeys can live for up to 34 years!
12. Titi monkey
© dreamstime
These little monkeys measure some 10 to 24 inches, excluding their furred tails that are similar in size. There are 20 species of titi monkey, and they are all arboreal, spending the majority of their time off the ground in tree branches.
These monkeys have exposed, hairless, black faces and black, gray, or reddish fur. They feed on bird eggs that they snatch out of nests, insects, small vertebrates like mice, and seasonal fruits. They live in the South American rainforest and are abundant near rivers.
They form monogamous pairs that live in groups. Titi monkeys are very territorial and viciously defend their group's territory from other monkeys and invading titi species.
13. Bearded saki (Chiropotes)
© dreamstime
There are five species of bearded saki monkeys. They are native to South America and found in countries like Venezuela, Brazil, Guyana, Suriname, and French Guiana. Their preferred habitats are tropical rainforests, where they make their homes deep in the forest near rivers.
They get their names from their large, rounded beards. Another peculiar feature of bearded saki species are their coronal tufts, that form large spheres of puffy hair on the top of their heads. They are diurnal animals that primarily feed on fruits.
Their bodies are between 13 and 20 inches in length, with variation occurring between sexes and in between species. They are medium-sized monkeys and tend to weigh some 4.4-18 pounds. Bearded saki monkeys are arboreal and spend their time foraging and jumping amongst the treetops.
14. Saki monkey (Pithecia)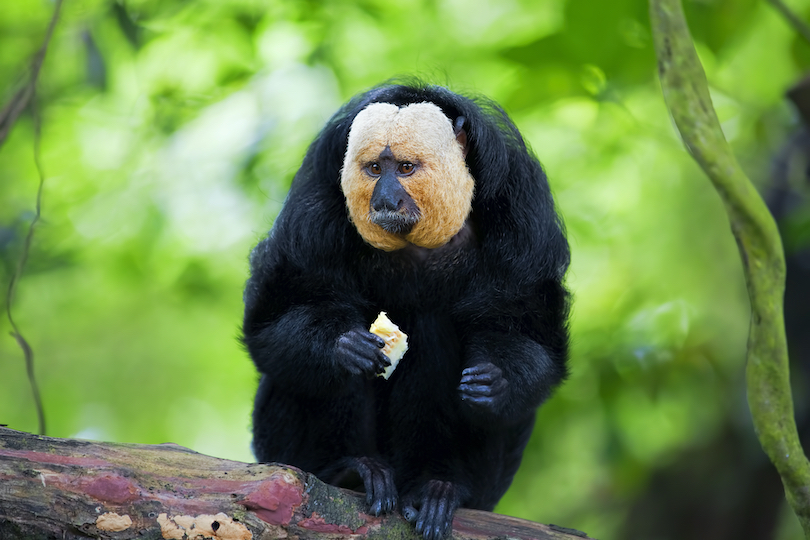 © dreamstime
The genus Pithecia is made up of 16 different saki species that are collectively known as the true sakis. There are another 6 species in the saki group, but not in the Pithecia genus. Pithecia monkeys are some 12 to 20 inches long, without taking into account their 10-to-22-inch tails.
Their weights are sexually dimorphic, with females weighing less than 4.4 pounds and males generally weighing more. They have bushy, rounded tails and thick coats of fur, that are usually black.
One of the most striking saki species is the white-faced saki. Male white-faced sakis are covered in black fur and have white fur on most of their face, apart from on the exposed black skin around their eyes, noses, and mouths.
15. Uakari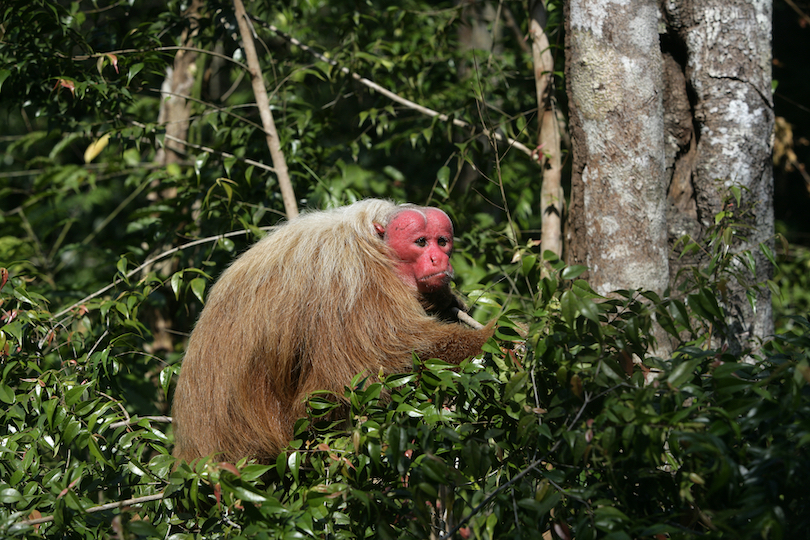 © dreamstime
Uakari monkeys, or the Cacajao genus, are four South American monkey species, namely the red uakari, black-headed uakari, ayres black uakari and Neblina uakari. They have long fur and bald faces.
These monkeys are some 14 to 20 inches long and have extraordinarily short tails that are less than half their body length and non-prehensile (meaning they can't be used to grasp onto branches). When some uakari species, like the red uakari monkey, get excited their faces turn a bright red, it's quite the sight!
They feed mainly on fruits and live in small troops of about 15 monkeys. They live in forests along the upper Amazon River in Peru and Brazil. They can have white, reddish brown, or burnt orange fur.
16. Howler monkey
© dreamstime
Howler monkeys live in tropical regions of Central and South America in forests. They are arboreal monkeys that have long, prehensile tails that they can use to grip onto branches. Their tails are so strong they can hang off them!
Howler monkeys range in length from some 16 to 28 inches. Their tails are much longer, and measure somewhere between 20 to 30 inches. They are bearded monkeys that have black, brown, or reddish fur. There are 15 different howler monkey species, and each has a slightly different coloration!
They hang out in groups of 5 to 15 individuals and forage for leaves, that make up most of their diet. Howler monkeys have an adapted hyoid bone in their throats that makes their voices extra loud, a howler monkey can be heard two to three miles away! In some parts of their habitat, they are hunted for their meat.
17. Spider monkey
© dreamstime
Spider monkeys are a group of seven species that have black, gray, red, or dark brown fur. Sadly, they have faced several threats in the last few decades and are suffering declining population sizes. One species, the brown spider monkey, is critically endangered.
Members of this group are some 14 to 26 inches long and have tails that are longer than their bodies. They weigh around 13 pounds and are found from Mexico to Brazil. Their geographical range extends down through Central America and parts of northern South America where they inhabit tropical rainforests.
They are found in large groups of up to 35 monkeys that forage for fruits, nuts, bird eggs, leaves and spider (which might explain their peculiar name!). They have prehensile tails and no thumbs, features that make them especially nimble!
18. Muriqui
flickr/Pablo Fernicola
Muriqui monkeys are also called wooly spider monkeys and are informally known as Brazil's hippie monkeys! They got this comical nickname because they are often seen hugging in the morning, straight after waking up, and because of their laid-back nature. They have gray or yellowish-brown fur.
They are the largest American primate, found along the Atlantic coastal forests of Brazil. Unfortunately, their habitat has been largely devastated and now only 5% of its original range is left.
There are two species of Muriqui species, the Northern Muriqui that has a black face and the Southern Muriqui that has a black and pink face. Estimates predict that there are less than 2,000 Muriqui monkeys left. Their prehensile tails have a small hairless patch that gives them extra grip when jumping between trees or hanging off branches!
19. Woolly monkey (Lagothrix)
© dreamstime
There are 5 species of woolly monkey, that are found within rainforests along the western Amazon River basin in northern counties of South America like Brazil, Colombia, Ecuador, and Bolivia.
Across species their bodies range between 16 to 24 inches in length and they weigh around 16 pounds. Their fur comes in shades of light brown, gray, reddish, or black. In some species the fur on their heads is darker than on the rest of their bodies.
Woolly monkeys are arboreal and are incredibly nimble! They climb on all fours and can move through the canopy at top speeds of 35 miles per hour! Their favorite snack is fruit.