The category of Old World monkeys is composed of all the monkey species that live across Africa, Europe (though there aren't many left) and Asia; contrary to New World monkeys that live in the Americas. Old World monkeys are divided into two families based on where their internal pouches are.
The Colobinae family have internal stomach pouches that are filled with enzymes that help them break down their leafy meals; a great example is the colobus monkey. On the other hand, the Cercopithecinae family have pouches in their cheeks that they can store food in! The most well-known member of this subfamily is the macaque.
1. Allen's swamp monkey
© dreamstime
Allen's swamp monkeys have gray-brown fur, with a unique green tint on their back hairs. They have long tails that are usually longer than their bodies! They are small monkeys, with larger males reaching just 18 inches in length. Male Allen's swamp monkeys weigh some 13 pounds and are much larger than their female companions who weigh just 7.5 pounds and are smaller in height too.
As their name suggests, they live in swamp forests, and are found across Central Africa. They are populous in Cameroon, Congo, and the Democratic Republic of the Congo. These little monkeys spend most of their day high up in tree branches, and only come down to forage on the ground.
This species of monkey is omnivorous, and lives in groups of about 40 monkeys. Curiously, they have webbed fingers and toes that help them get around in their wet, boggy surroundings. They are great little swimmers too!
2. Talapoin
© dreamstime
Talapoin monkeys are covered in gray fur on their upper bodies and white fur on their underbodies, with an eye-catching olive-yellow band of fur in between the two. They are the smallest species of the Old World monkeys, weighing just 4.4 pounds on average. These little monkeys have very long tails!
Social by nature, they live in groups of 70-100 monkeys that stay near rivers. They are most populous around the Congo River where they live in a variety of forests, like mangrove swamps and lowland forests.
They are omnivorous primates that feed on insects, leaves, seeds, fruits, aquatic plants, grubs, eggs, and even small vertebrates that they forage and catch on the ground or up in tree branches. These little monkeys are very playful and love spending time together getting up to monkey business!
3. Patas monkey
© dreamstime
These striking monkeys have cinnamon-colored bodies, with white legs, tails, and bellies. They have remarkable faces, with exposed dark skin around their eyes and nose, and a big, white mustache above their lips. Females have less prominent mustaches than their male companions and are smaller in size.
Males weigh some 28 pounds and females weigh about half that. Patas monkeys live in small families, with a single male, a dominant female and another 6 females and their young. They prefer grasslands, woodlands, or scrublands, and are found in Central and West Africa and in regions southeast of the Serengeti. They live as far south as Cameroon.
Patas monkeys spend most of their time on the ground, unlike other monkey species that mostly hang out in trees. Their legs and tails are very long, giving them a lanky appearance. Their tails can reach 30 inches in length!
4. Chlorocebus monkey
© dreamstime
Chlorocebus monkeys have cute faces with exposed black skin. They have white fur on their bellies, and dark brown fur on their backs. They weigh anywhere between 7 and 18 pounds, with slight sexual dimorphism present. There are 6 species in this group, though there are disagreements among scientists about their classifications.
They live in groups of around 40 monkeys and are about 19 inches tall, with very little sexual dimorphism. They have long tails that can reach lengths of 30 inches, much longer than their bodies! The males are characterized by their colorful genitals (they have red penis and blue scrotum).
Chlorocebus monkeys inhabit eastern and southern Africa, where they live in savannas, grassy forests, and open woodlands. They are often found close to a body of water and Acacia trees. These cheeky little monkeys even come into urban areas and get up to mischief.
5. Guenon
© dreamstime
There are about 26 species that fall under the classification of guenon monkeys. They are all characterized by the brightly colored markings on their fur. Males of some of the largest species weigh around 15 pounds, and females weigh some 12 pounds. But on the smaller end, individuals can be as light as 5 pounds!
Their bodies are gray, reddish, green, yellow, or brown! There is a lot of variation in size and appearance across guenon species. They mainly live in African forests, but are also found in wetlands.
These territorial monkeys live in groups. Males defend their territories with loud barks and chips. Guenon monkeys are omnivores and happily eat leaves, fruit, and any available vegetation, along with insects and small animals that they forage off the ground and up in trees.
6. Allochrocebus monkey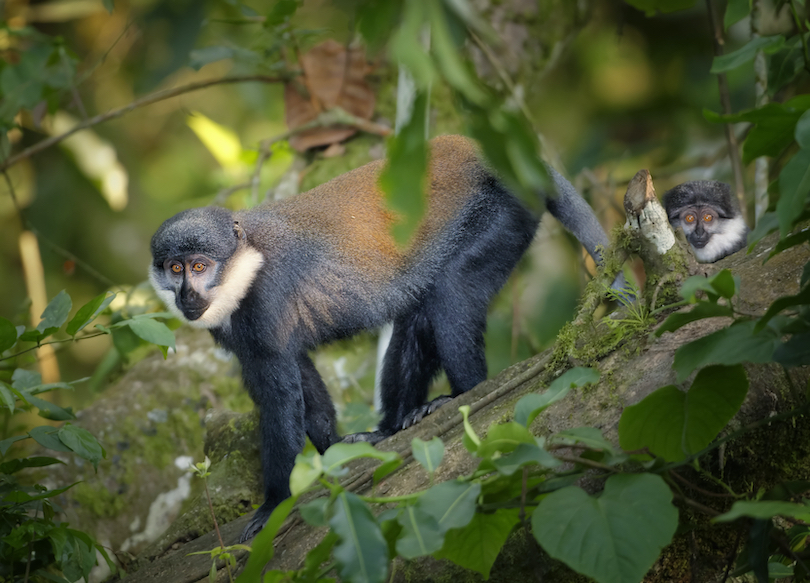 © dreamstime
The Allochrocebus monkeys are a genus of terrestrial guenons. There are three monkey species in this group: the L'Hoest's monkey, the Preuss's monkey, and the sun-tailed monkey. Let's take a closer look at each species.
The sun-tailed monkey weighs some 8 to 20 pounds and lives in dense evergreen forests where it feeds on fruits. They live in small groups with one male and a small cluster of females. They are characterized by their orange-tipped tails.
Preuss's monkeys are black and have a white collar around their necks and a brown patch on their backs. They live in Cameroon, Bioko Island, and Nigeria and are found in groups of 9 to 12 monkeys. L'Hoest's monkeys look extremely similar to Preuss's monkeys. They are found in the Congo, Burundi, Uganda, and Rwanda. They spend the day on the ground, and sleep high up in tree branches.
7. Macaque
© dreamstime
Macaques are a family of monkeys found in Asia and North Africa. It is estimated there are more than 20 species in the macaque family. They have rounded muzzles that have cheek pouches on the inside where they can store food!
These monkeys differ in size and weight across species. They can be anywhere between 16-28 inches tall and weigh anything from 5-40 pounds! Their habitats are equally diverse; macaque species can be seen in forests, on cliffs, rocky terrains, or cleared out plains.
Across species, they live in groups that are led by males. Young males will try to take over the leading males rank in order to mate with females and lead the troop! The biggest macaque species is the Tibetan monkey, which lives in troops of 10 to 100 monkeys.
8. Crested mangabey
© dreamstime
Crested mangabey monkeys are named after the crests of hair on their heads. They belong to the genus Lophocebus, that are closely related to the white-eyelid mangabeys from the genus Cercocebus. They tend to have dark skin and often have black fur.
Females and males are similar in size, with little sexual dimorphism. Their long tails exceed their bodies in length and give them extra balance as they jump between trees. Crested mangabeys feed on fruits, nuts, leaves, seeds, and insects that they forage amongst the canopy or off the ground.
Troops of crested mangabeys are led by a dominant male and range in size from about 10 to 40 monkeys. Males have a unique alarm call called a whoop-gobble that alerts the rest of the group and can be heard from over half a mile away.
9. Kipunji (or highland mangabey)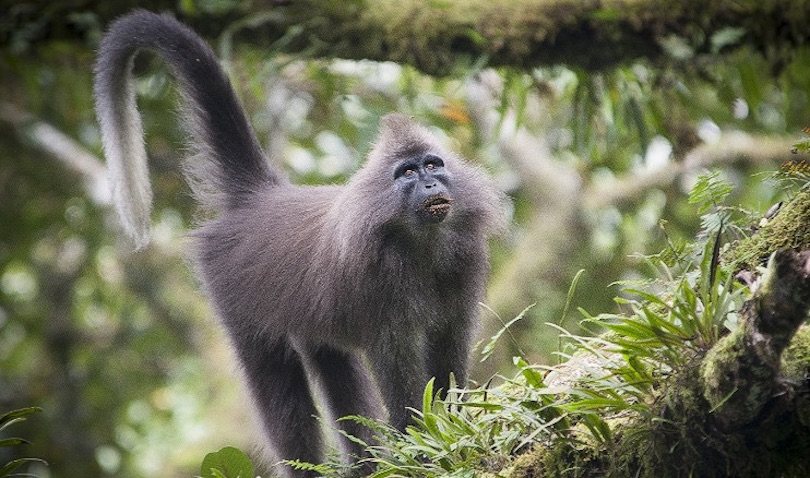 photo/WCS Tanzania
Kipunji monkeys are arboreal, meaning they spend most of their time high up amongst the tree branches and rich canopy rather than on the ground like ground-dwelling monkeys. They live in Tanzania, in two distinct forests in the Eastern Arc forests.
They inhabit mountainous and sub-montane forests, dividing the species into two distinct populations based on habitat. They are only found in the Rungwe-Livingstone forest and Ndundulu Forest Reserve where they live between 4,300-8,000 feet!
They have light brown fur with cream-colored bellies. Their tails are longer than their bodies which help them swing, jump, and balance high up in the tree branches. Monkeys in this species live in troops of up to 40 individuals that communicate through loud chirps and a unique sound known as a honk-bark.
10. Baboon
© dreamstime
Baboons are omnivorous mammals that reach lengths of 20 to 40 inches and have long tails that range from 16 to 23 inches in length. They live in sub-Saharan Africa and parts of Arabia and are divided into 5 species.
Their fur is a light brown, with changes in coloration occurring across species. Females are easily spotted by a glance at their bright red bottoms, though it is thought that their bottoms only swell up and look this way when the female is fertile, signaling to males that they are ready to mate.
They inhabit semi-arid territories, like savannas. Some small populations have been found in tropical forests, but this is an unusual habitat for a baboon troop. Unfussy eaters, they'll feed on pretty much anything they can find, from seeds to antelopes! They are also known to raid crops and can be a nuisance for farmers!
11. Gelada monkey
© dreamstime
Gelada monkeys are some of the most peculiar looking mammal species on Earth. There is a lot of sexual dimorphisms between female and male gelada monkeys. Males have long brown fur around their shoulders, heads, and backs, giving the impression that they are wearing a thick cloak.
Females are smaller and less hairy. Both genders have exposed white chests with distinct red markings and hairless black faces. They group into small bands (families) that travel together during the day, feeding on grasses. However, there are still sightings of large gelada herds that can reach sizes of 1,200 individuals!
They inhabit high mountain meadows in Ethiopia and are a ground-dwelling species of primate. To avoid predation at night they climb up onto steep ledges and sleep together in bands.
12. White-eyelid mangabey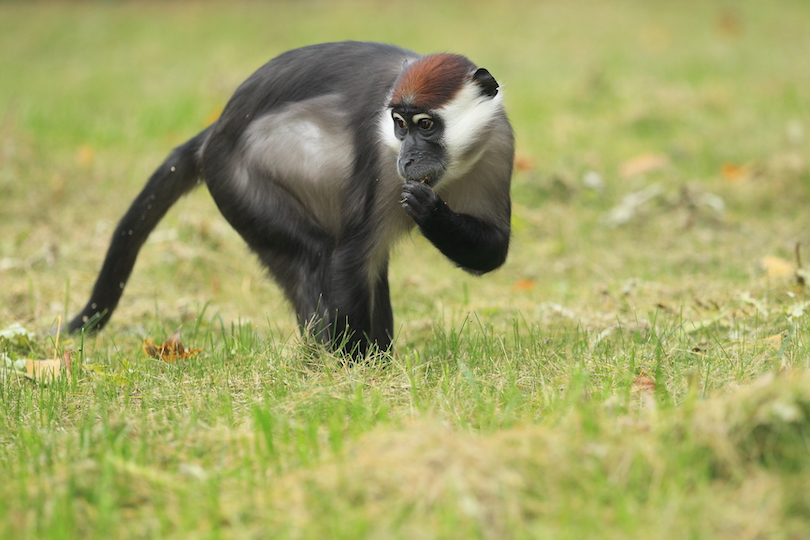 © dreamstime
These Old World monkeys are characterized by their white eyelids that contrast with their dark skin and fur. Their fur ranges from black, through shades of brown and gray, and is occasionally decorated with exotically colored markings!
One of the most eye-catching members of this group are the golden bellied mangabey that have a bright mustard-yellow belly. Usually, white-eyelid mangabey males are larger than females and their tails are longer than their bodies.
They have a throat sac that is used to make alarm calls and makes these little monkeys very noisy! They are mostly arboreal monkeys, but are quite comfortable on the ground where they travel on all fours as they forage for food.
13. Mandrills
© dreamstime
Mandrills have brightly colored skin on their bottom and faces. Their muzzles are decorated with a bright red stripe that runs from in between their eyes until the end of their bright red nose. On either side of the red tripe their skin is pale blue. Their fur is dark brown, gray, and cream colored, and their tails are very short.

Males are much larger than females, about double their size! Mandrills also have bright blue and red bottoms, it is thought that the more colorful a male's rump is, the more females he'll attract.
This species of monkey is omnivorous and feeds on fruits, seeds, insects, small reptiles, and amphibians. They have cheek pouches where they can store food to snack on later in the day. They are ground-dwelling monkeys, who spend most of their time foraging on the ground rather than jumping between trees!
14. Black-and-white colobus
© dreamstime
This species of colobus monkey is characterized by its black fur that is contrasted by bright white fur on their backs and around their mouths. They can live for up to 20 years in the wild and don't have thumbs!
Black-and-white colobus monkeys are native to Central Africa where they live in forests and scrublands. They are largely arboreal monkeys that spend their time jumping between tree branches. In fact, they can leap an astonishing 50 feet! They form troops of 8-15 monkeys that are led by a male.
They are herbivores that feed primarily on leaves and supplement their leafy diets with flowers and seasonal fruits. They have special enzymes in their stomachs that break down the cellulose in their food.
15. Red colobus
© dreamstime
There are 18 subspecies of red colobus monkeys, and sadly 14 of these are endangered or critically endangered. Red colobus monkeys have ginger fur on parts of their bodies, usually around their heads, arms and legs. Aside from the areas of characteristic red fur, their hair can be shades of white, gray, and black. They are generally quite multi-colored!
This species of colobus is native to West Africa and ranges from Senegal to Zanzibar where they live in forests. Their diet primarily consists of foraged leaves. Deforestation and damage to their surrounding ecosystem can heavily affect red colobus monkeys that are facing ever declining population numbers.
Like all colobus, they don't have thumbs. In fact, the word colobus comes from the Greek word kolobos, which means mutilated and refers to their missing thumbs!
16. Olive colobus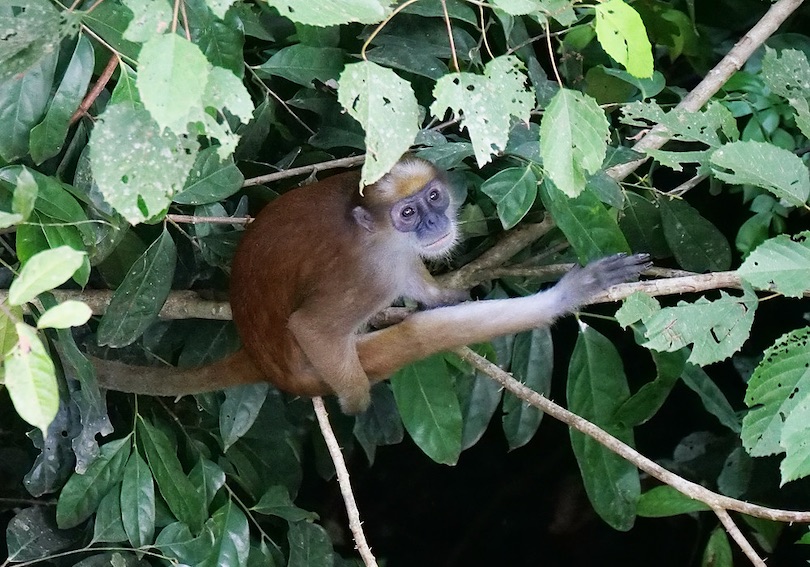 flickr/Nik Borrow
These little monkeys are the smallest species among the Colobine family. They are shy creatures that are hard to spot in the wild! The olive colobus is found along the western coast of Africa, in countries like Benin, Ghana, Liberia and Sierra Leone.
They live in rainforests and swamplands and have an olive-colored pelage with hints of gray and brown that help them camouflage into their surroundings. They have a white ring around their dark faces and white bellies.
Olive colobuses are some 20 inches long and weigh around 9 pounds. Their tails are longer than their bodies, measuring around 24 inches, and help them swing among the canopy. They live for some 20 years in the wild, and around 30 years in captivity!
17. Gray langur
© dreamstime
Gray langur monkeys have been divided into seven species, though they were previously thought to be a single species! They have silvery fur and hairless faces, hands, ears, and fingers with exposed black skin. Their geographical distribution is the widest among the colobines. They are found in Bangladesh, Bhutan, China, India, Nepal, Pakistan, Tibet, and Sri Lanka.
Males are competitive and fight for high-ranking positions within their troops. Females also have social hierarchies that are established based on age and physical conditions; they are less aggressive in nature than male langurs.
Langurs are mostly herbivores, feeding on fruits, roots, and nearby vegetation like bamboo and mosses. They live in tropical rainforests, deciduous forests, open scrublands, and urban areas where they sometimes raid crops and gardens!
18. Lutung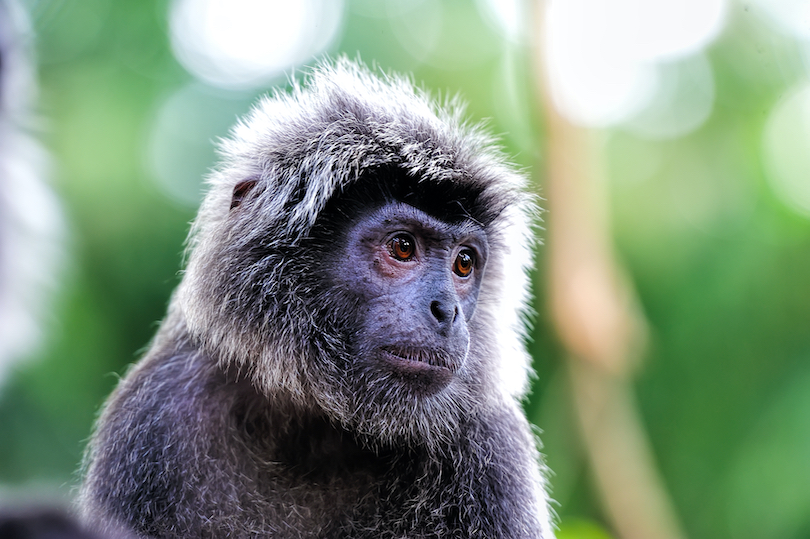 © dreamstime
These medium-sized monkeys are found across Borneo, Sumatra, Thailand, Bali, Java, and parts of China. They inhabit mangrove swamps and forests close to coastal regions or rivers and are occasionally found in mountain forests too.
They are closely related to surili and langur monkeys. Lutungs have long tails and come in a variety of colors, mostly black, gray, and light orange. They measure somewhere between 16-32 inches and weigh some 11-33 pounds, with variation across species.
Lutungs live in groups of 5-20 monkeys and are arboreal, spending most of their day crawling among the canopy. They are diurnal animals that forage for food during the day and sleep high up in trees at night. Lutung monkeys are territorial animals that defend their group's area from other primates and intruding lutungs.
19. Surili
© dreamstime
Surili monkeys are quite small and have fur that ranges in color from brown, grey, black, and orange on the top of their bodies and a gray, white, or orange on their bellies. They are some 16 to 24 inches long, depending on the species, and weigh around 12 to 18 pounds.
These little monkeys are found across Thailand, Malaysia, Borneo, Java, Sumatra, and some other small islands nearby. They are sometimes called "leaf monkeys" as their diets are primarily made up of leaves. Though they also forage fruits and seeds.
Surili monkeys have long tails that often exceed their body length, and help them maneuver through the treetops. Sadly, of the 11 species in the group 8 are facing declining numbers and small population sizes. The Sarawak Surili monkey is now thought to be one of the rarest primates on Earth.
20. Douc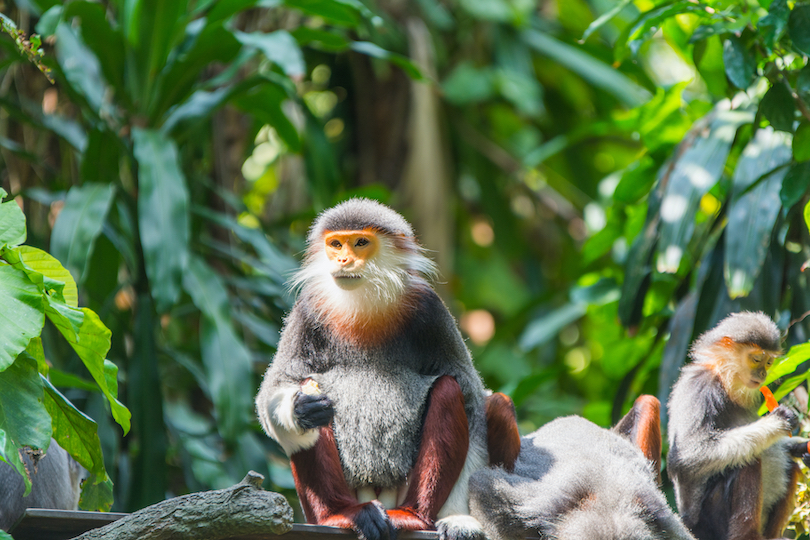 © dreamstime
Doucs are a family of colobine monkeys that are native to Southeast Asia. There are just three species in this family, the red-shanked, black-shanked, and gray-shanked douc langurs. Sadly, all three species have faced population declines of 50-80% in the last 30 years. They are largely arboreal and live in different types of forests across Indochina.
The gray-shanked douc has a golden face, with white chin fur and gray and black body fur. The red-shanked langur has dark orange "stockings" on its back legs and white fur up to its elbows on its arms. They have white beards, with a dark orange collar underneath and gray and black body fur.
Back-shanked douc langurs have black fur, with a white beard and exposed blue faces with yellow rings around their eyes. They are extremely beautiful primates that have very distinctive features and are decorated with eye-catching colors.
21. Snub-nosed monkey
© dreamstime
The snub-nosed monkey family is made up of four peculiar looking species of monkey. They haven't been heavily studied, so they are more mysterious than other common monkey species. They inhabit highland forests in northern Vietnam and central China.
They were named after their flat, little noses that have forward facing nostrils. This group is made up of the golden, black, Tonkin, and Myanmar snub-nosed monkeys that are thought to be closely related to douc monkeys.
All snub-nosed monkeys primarily feed on leaves, and supplement their diet with flowers, seasonal fruits, and seeds. Tonkins are the smallest of the four snub-nosed monkey species and measure some 20-26 inches. The largest species is the black snub-nosed monkey that can measure up to 32 inches. They all have lengthy tails that can grow to 30 inches long.
22. Proboscis monkey
© dreamstime
Proboscis monkeys are easily distinguished by a glance at their long, wide noses that hang over their mouths. They have light, cinnamon-brown fur that is darker at the top of their heads and back, and fades to a brown-gray past their elbows, and along their legs and tails. Their faces and unique nose are hairless.
They live in Borneo along coastal mangroves, in swamps and near rivers. Their bodies measure between 24 to 28 inches and males can weigh up to 50 pounds. They have long tails that are suited to their arboreal lifestyle.
They live in groups known as harems that are led by a single dominant male and include another 2-7 females and their young. They are fantastic swimmers and have evolved webbed hands and feet that help them outswim aquatic predators like crocodiles!
23. Pig-tailed langur
Pig-tailed langurs are covered in black fur, with a large, light brown patch on their backs. They have longer fur around their exposed, hairless, black faces. Like snub-nosed monkeys, they have short, stubby noses with upward facing nostrils.
They have a very niche habitat range, and only inhabit the Mentawai Islands near Sumatra, Indonesia. Pig-tailed langurs live in forests, mangroves, and swamps. They lead arboreal lives, and only come down to the ground if something has disturbed them up in the canopy!
Their bodies measure up to 21 inches, with little variation between males and females. They have unique tails that are short for a monkey of their size, measuring just a third of their body length, and are also hairless.