Black bears are found in the forests, mountains, and swamps of North America, from Canada to Mexico. They are the smallest of the North American bears, yet they have the largest population size of any bear species in the continent.
Contrary to what their name suggests, they can be a range of different colors. Black or brown coloring is most prominent, but there are still a few white black bears left.
Black bears are known for being excellent tree climbers. They use their pointy claws to reach great heights. This skill is essential for young black bears who need to escape predators!
Exploring the Black Bear's Diet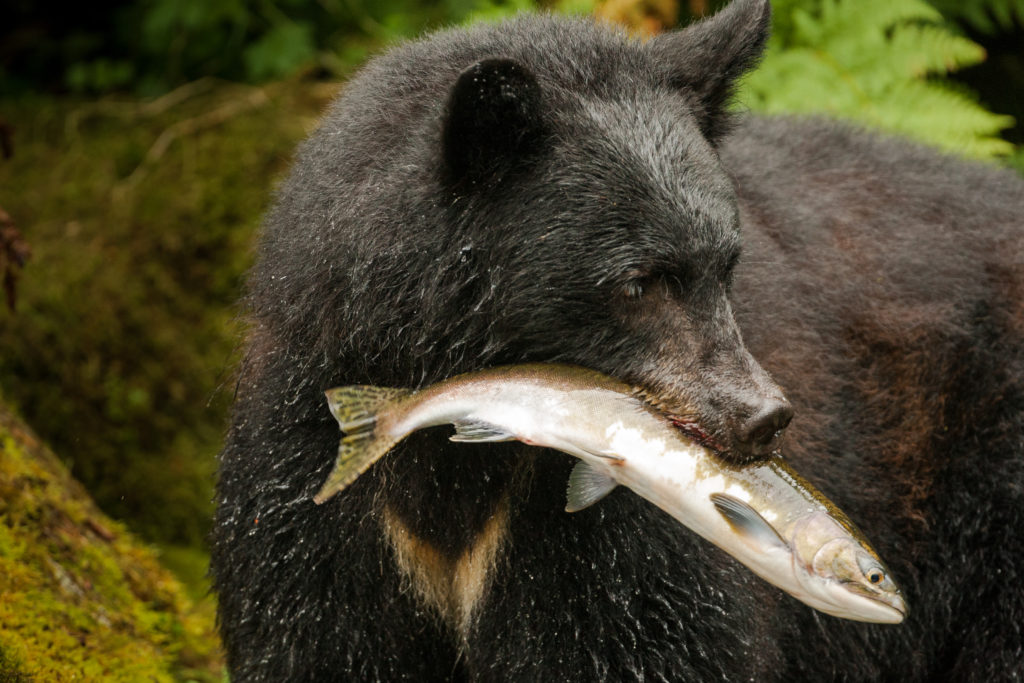 © dreamstime
Black bears have a varied diet. This is largely because they are opportunistic eaters, choosing to feed on whatever is available. They are omnivores, readily eating anything from a plant or animal origin. Whilst you might think of bears as carnivorous animals, the black bear's diet is 95% plant-based!
They eat grasses, roots, berries, insects, fish, mammals and won't hesitate to eat any human food they can get their hands on.
Black bears will happily avoid hunting and eat carrion left by other predators. This reflects their opportunistic style of feeding and saves them time and energy.
When do black bears feed?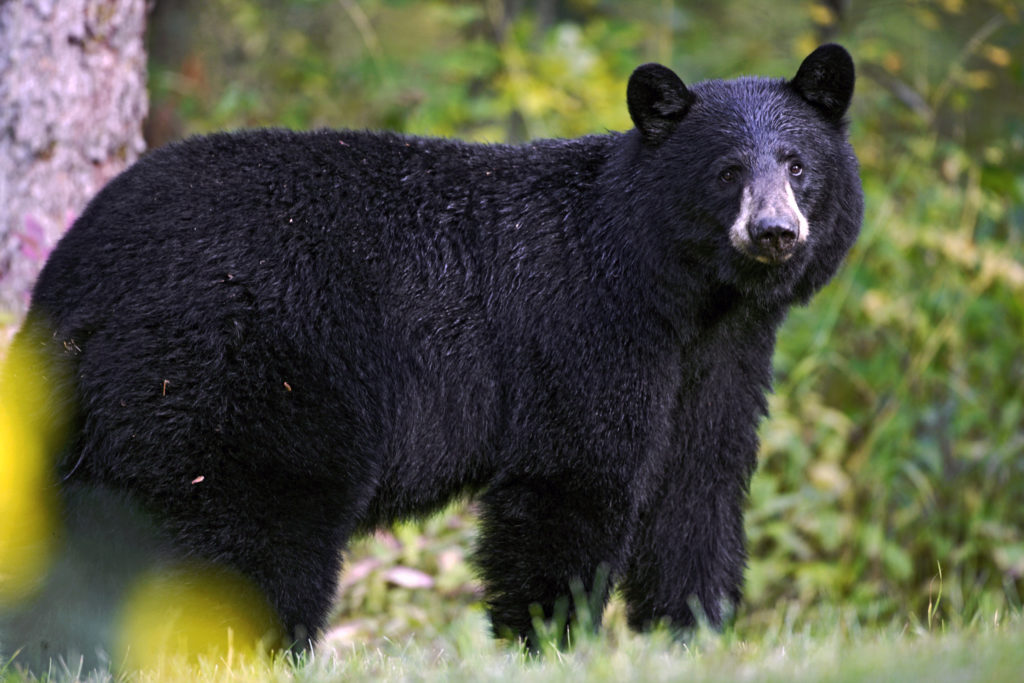 © dreamstime
The feeding patterns of black bears change seasonally. They are heavily affected by the fact that these animals are hibernators. They spend the winter sleeping and nursing their cubs. Before going into hibernation, in the autumn months, they will find a tree trunk or big log to hibernate under and make it cozy with leaves and twigs.
As they hibernate, roughly from December to May, they must make the most of the Summer and Autumn seasons for feeding. Once they are in hibernation, they will rely on their body fat reserves to get through the winter. It is estimated that black bears will lose about half of their body fat during hibernation.
Black bears are diurnal. They sleep at night and are active during the day. They wake up around half an hour before sunrise and stay awake until about two hours after sunset. They mostly feed during the day, although foraging for food at night isn't uncommon.
How is a black bear's diet affected by the seasons?
A black bear's diet is heavily affected by the seasons. As they don't predate on a single animal species, or forage for a particular plant, their diet will change based on what is abundant in each season.
During the spring and summer season, black bears will consume an average 5,000 calories per day. However, during the autumn this increases to a whopping 20,000 calories per day as they prepare for hibernation. In autumn, they may choose to forage during the night to make sure they get enough food.
Black bears hibernate throughout the winter months to avoid a shortage of food, decreasing temperatures and heavy snow. Few plant species grow during the winter season, leaving the black bear at risk of starvation. Hibernation is an adaptive behaviour that black bears have evolved in response to food shortages and harsh weather conditions.
What do they eat in each season?
© dreamstime
During spring, black bears will mostly feed on flowers (like dandelion and catkins), grasses, and leaves. This is also the best time for them to hunt small mammals. They aren't the biggest bears or the most adept hunters, so they mostly hunt deer fawn and moose calves.
In the summer, black bears feed on berries, soft fruits, and insects. Their diet consists of strawberries, blueberries, raspberries, dogwoods, chokecherries, and wild sarsaparilla. Whilst berries are tastier, insects are a great source of protein. Ants, wasps, and honeybees are all on the menu.
As they come into Autumn, they will need to adapt their diet again, relying largely on grasses, roots, wounded animals, and carrion. They need to put on as much weight as possible in the fall, so they may also choose to forage at night to gain extra pounds.
How do bears get their food in the wild?
Black bears are very adaptive. They'll happily hunt, fish, excavate for insects or forage for plants. They do most of their hunting in the summer season and forage on seasonal plants throughout the year.
Black bears can run as fast as 55 kilometers per hour but cannot maintain their speed over long distances. Therefore, they need to get close to their prey when they hunt. They have an excellent sense of smell and good hearing to help them track down prey.
Upon attacking their prey, they will use their claws and teeth to injure and slow down the animal. They usually kill the animal with a fierce bite to the neck. They also have strong front paws that can easily kill smaller prey with force.
Black bears eat larger prey over several days, hiding and covering the carcass in between meals to avoid having to share with other opportunists.
They will mostly fish in shallow waters, grabbing fish with their front paws or jaw. Black bears can swim in deeper waters and dive for fish, but they don't tend to.
What eats a black bear?
Now we have had a look at what it is that black bears eat, you might wonder: what eats them? In reality, the black bear has very few predators. Mountain lions, wolves, brown bears and humans are the only predators of this small bear species.
In the US it is legal to hunt black bears in 27 states, with an estimated 40,000 to 50,000 killings per year. Black bears will also be illegally hunted and occasionally killed in roadside accidents. Despite this, black bear populations are on the rise.
Natural disasters are also a threat to black bears. Changing weather conditions may cause droughts that can lead to food source depletion and ultimately starvation for the black bear. It is also essential to make sure their natural habitats are protected from deforestation.
What happens if a black bear goes hungry?
© dreamstime
Whilst hunger and low food supplies are devastating for any animal species, the black bear may be particularly at risk due to delayed implantation. After successful mating, around the month of June, the fertilized egg will live in the female black bear as a blastocyst until November.
The fertilized egg, or blastocyst, will only implant in the uterine wall for further development if the female black bear has reached an appropriate weight to carry on the pregnancy. She must weigh around 68 kilograms. Otherwise, the blastocyst won't implant, and pregnancy is terminated.
Female black bears also need a high body fat reserve to carry them and their cubs through the winter. This is because black bears give birth in January and nurse their cubs in hibernation for another three to four months before they can come out and look for food.
What do black bear cubs eat?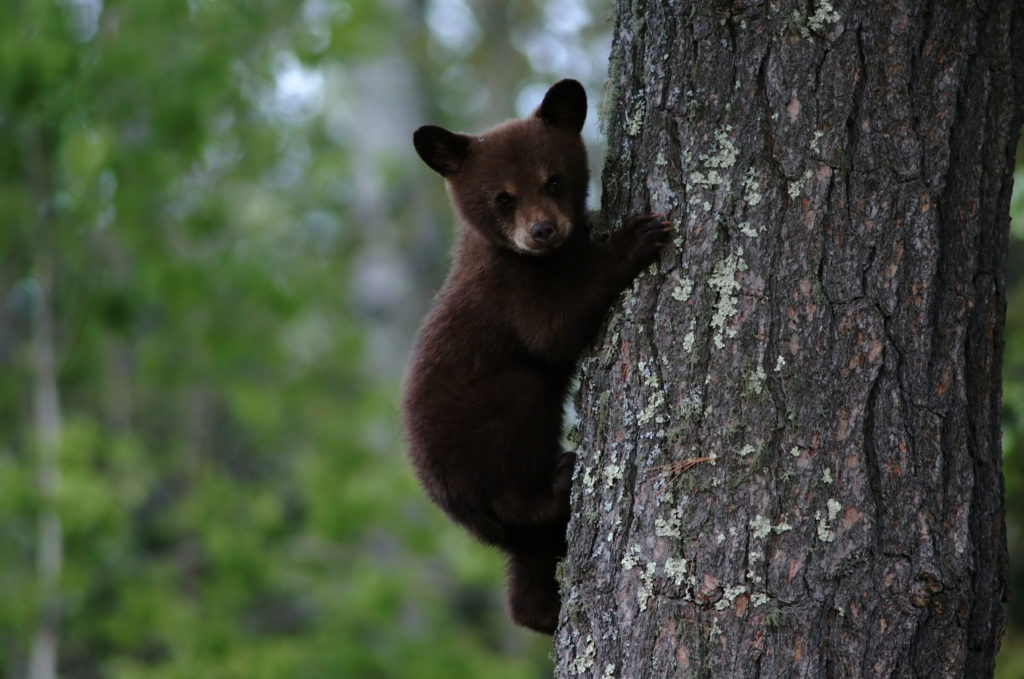 © dreamstime
Nested in their den, newborn cubs suckle the fatty milk their mother produces. They communicate with their mother using sounds. They can signal their hunger with cries and will make motor-like pleasure sounds as they latch on and feed.
Cubs emerge from hibernation aged two to three months. They weigh 2-3 kilograms, depending on the number of littermates they shared a den with and how much milk the mother produced.
At this point, cubs will taste chewed foods offered to them from their mother's mouth, but they won't eat solids until much later. When the following fall arrives and the bear family prepare for their second winter in hibernation, cubs still suckle as their main food source.
After two hibernations the mother will wish to mate again and will chase her cubs off. By this point, the young bears will have learnt how to forage and hunt for themselves by watching their mother.
What do black bears eat in captivity?
In captivity, black bears will have a diet of red meat, fish, fruit, vegetables, fresh greens, and omnivore chow. Their diets will be consistent throughout the year, unlike wild bears whose diets are heavily affected by the seasons.
As these bears have a continuous source of water and food, they may skip hibernation altogether. However, most captive bears will still slow down during the winter season and present lowered appetites. Pregnant black bears still hibernate and nurse their cubs as they would in the wild.