As the largest marine mammals on the planets, whales are an incredible collection of animals that have fascinated and delighted researchers and observers alike for thousands of years. Whales are linked to the ancient cultures of the past, have played pivotal roles in the development of entire nations and are some of the most sought-after species in the world. While whales come in a range of sizes, humans have always been drawn to the largest of these amazing creatures. Count down the top largest whales species on the planet to learn more.
10. Minke Whale (up to 35 feet or 10.5 meters)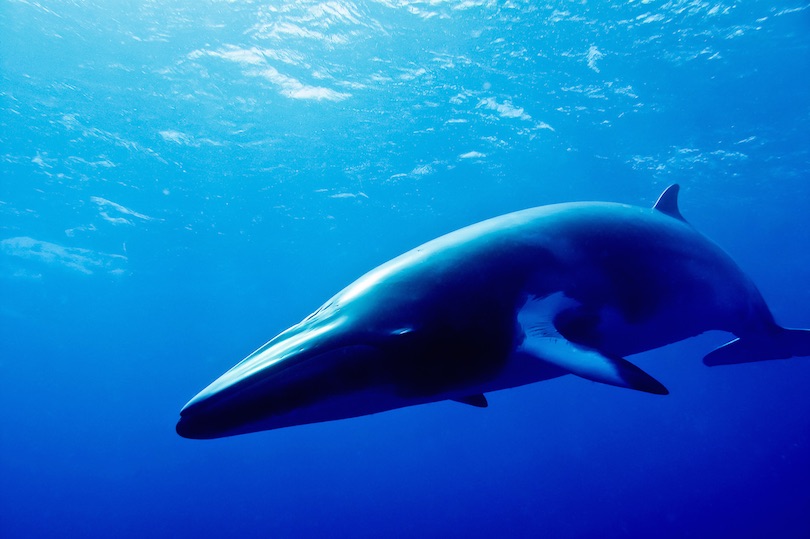 The first on the list is the Minke whale, which is typically a black, dark grey or even slightly purple color. Minke whales are a type of baleen whale, which makes them carnivorous. Mike whales can be divided into two major groups depending on where they live: The northern minke whale and the antarctic minke whale. Minke whales can live between 40 and 50 years, on average, and are capable of diving up to water for a staggering 20 minutes at a time before needing to come up for air.

wikipedia/Chris huh
9. Bryde's Whale (46 feet / 14 meters)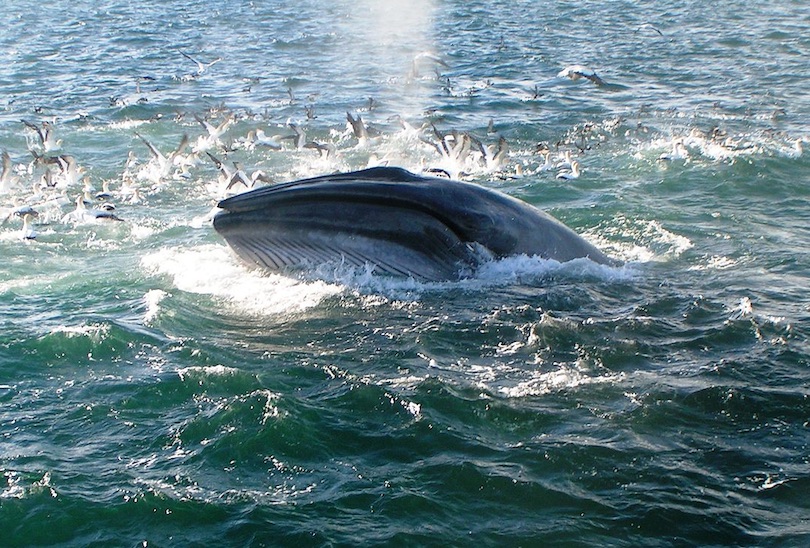 wikipedia/Aucklandwhale
The Bryde's whale is named after John Bryde, a Norwegian who helped to establish the first whaling station in South Africa. Bryde's whales are commonly spotted off the coast of Southern Africa, but they are also found in places like Mexico, the Caribbean, Hawaii and California. Residing in tropical and subtropical waters, the grey-colored Bryde's Whale can grow to become nearly 50 feet in length and weigh up to 25 tons. Bryde's whales tend to stay in pairs, although they might be seen in larger groups when feeding.

8. Gray Whale (49 feet/ 15 meters)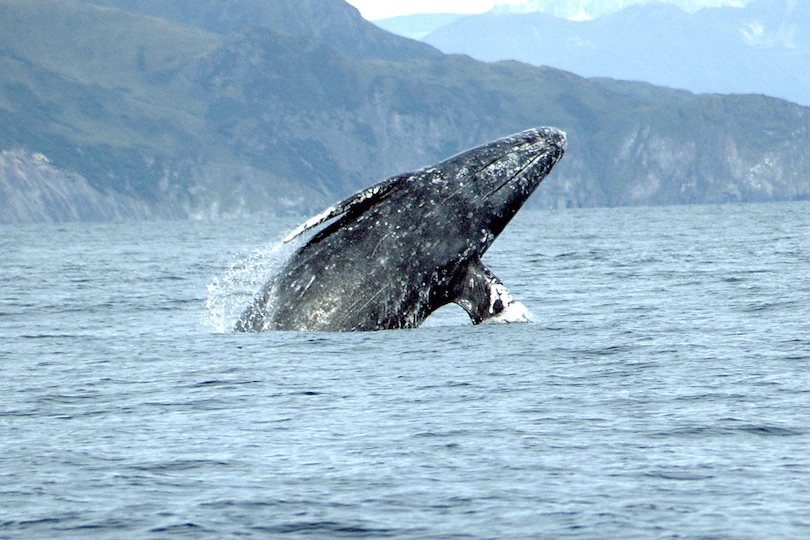 The gray whale goes by many names, including the Pacific gray whale and the California gray whales. As these monikers suggest, the whale is both gray and a resident of the coastal waters of California. While they did live in the North Atlantic until the 18th century, whaling has eliminated them in this part of the world altogether. The gray whale is often seen with white scars on its body, which are left behind when parasites drop off. An average gray whale can grow to become 36 tons, with a few outliers coming in even heavier.

7. Sei Whale (52 feet / 16 meters)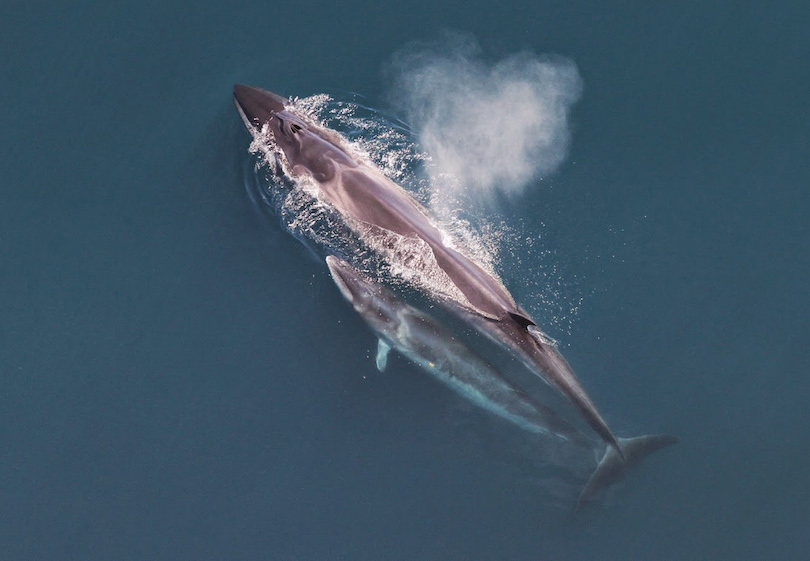 The sei whale is another baleen whale, but it can grow to become much larger than the minke whale. A sei whale can easily surpass 50 feet in length by maturity and weigh as much as 28 tons. A sei whale can be recognized by its dark grey color and its irregular white markings on the front of the body. The sei whale also boasts a slightly arched rostrum, which is one of the few things that separates its appearance from the similar bryde's whale.
6. Humpback Whale (52 feet / 16 meters)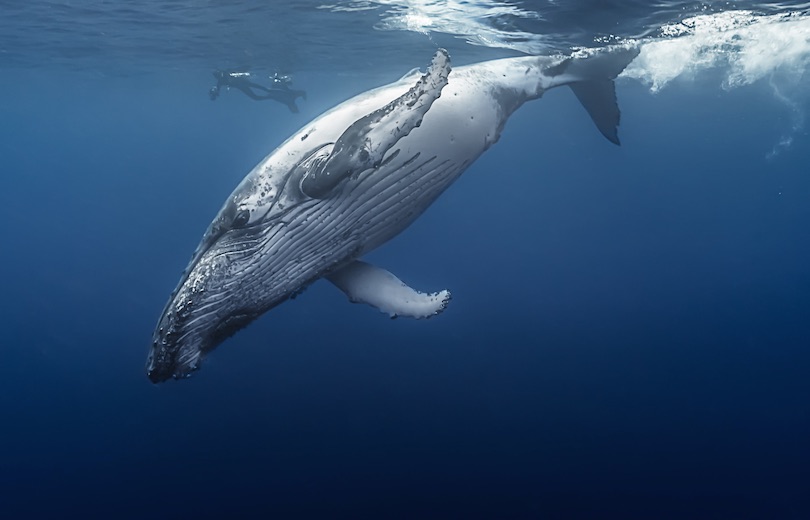 The humpback whale is one of the more distinctive whales species on the planet, and it is easily recognized thanks to its unique head shape and long pectoral fins. Humpback whales are also more likely to breach than most other species, and they spend a lot of time at the surface of the water. This makes them easier to spot and photograph above water. Humpback whales are typically migratory, birthing in the winter and relying on fat stores through the journey. This is easy to do, because the large humpback whales can weigh a whopping 30 tons or more in maturity.

5. Bowhead Whale (59 feet / 18 meters)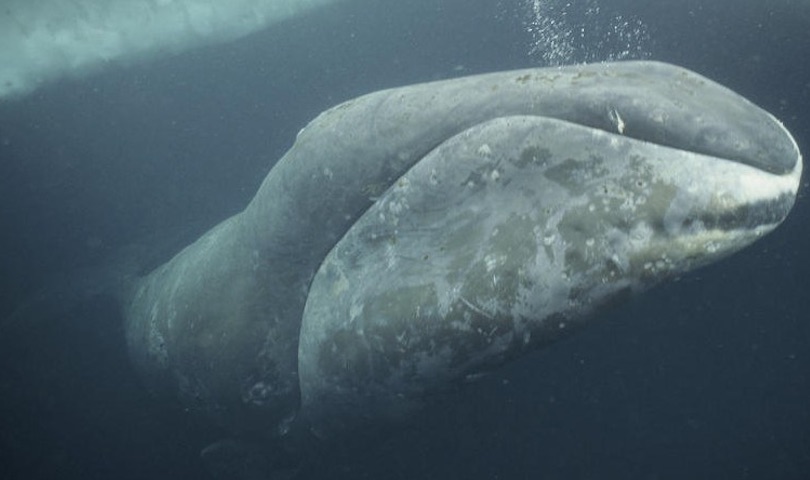 flickr/Day Donaldson
The bowhead whale is an unusual species for a number of reasons, including the fact that it doesn't have a dorsal fin and it has the largest mouth of any whale. Bowhead whales reside in the cold waters of the Arctic and Subarctic, and they can grow to a mammoth 59 feet (18 metes) in length. Their weight, however, is even more impressive, with some males weighing in at nearly 100 tons.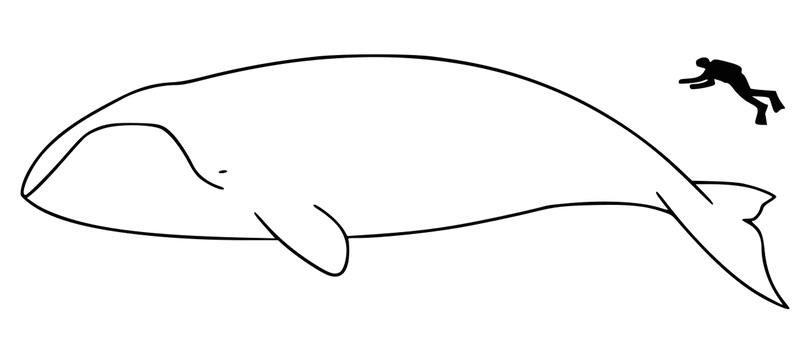 4. Right Whale (60 feet / 18.3 meters)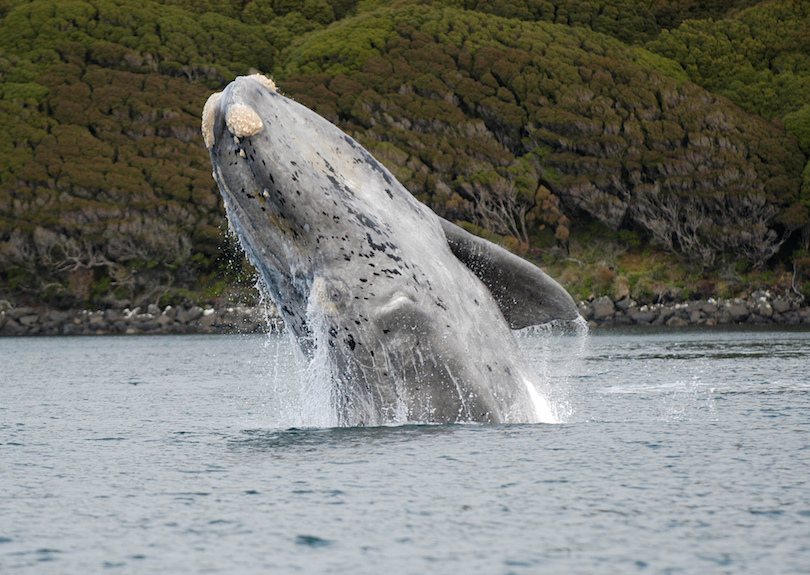 flickr/Oregon State University
The right whale is actually a collection of three very similar whale species: The North Atlantic right whale, the Southern right whale and the North Pacific right whale. Each of these whales is characterized by their round bodies, blowholes in the shape of a V and very dark skin. They got their name because they were specifically pointed out by whalers as the "right" whale to harvest plenty of meat and blubber. An average right whale can grow to 60 feet (18 meters) in length and weigh up to, or even slightly over, 100 tons.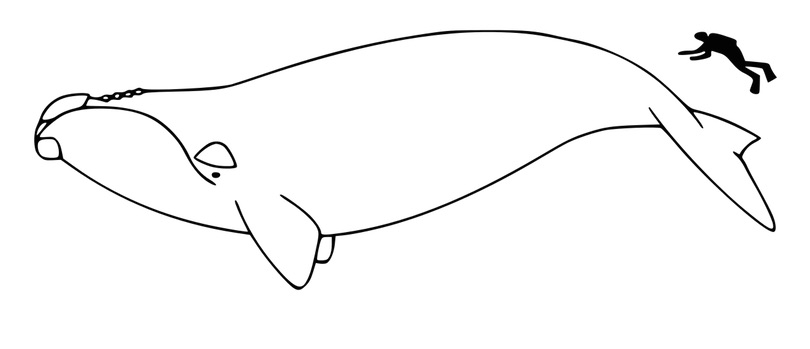 3. Sperm Whale (67 feet / 20.5 meters)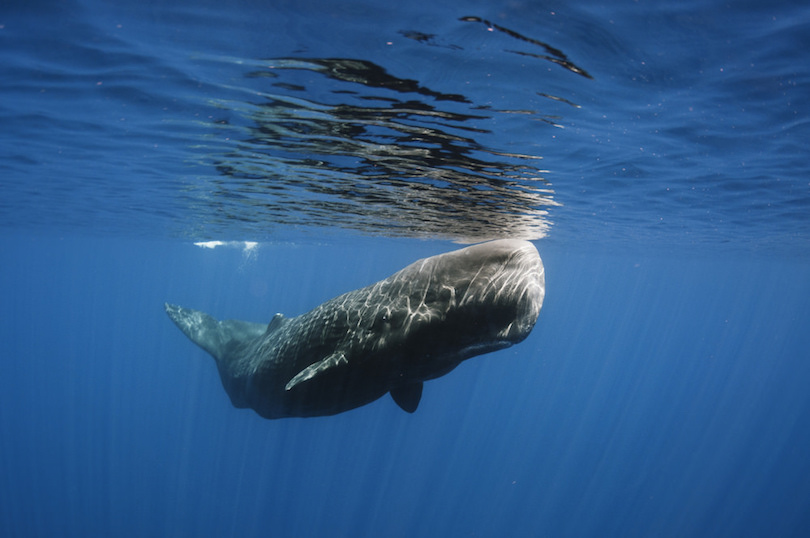 flickr/lakpura
The largest of the toothed whales is the sperm whale, one of the few whale species that can live in a range of environments and is therefore found in oceans across the world. Females travel and live in groups, while male sperm whales are solitary animals except for mating. Sperm whales grow to an average of 67 feet (20.5 meters) in length, with the males weighing up to 56 tons. However, it should be noted that whaling may have reduced the overall size of these whales, as the largest were targeted by whale hunters in decades past.

2. Fin Whale (90 feet / 27.5 meters)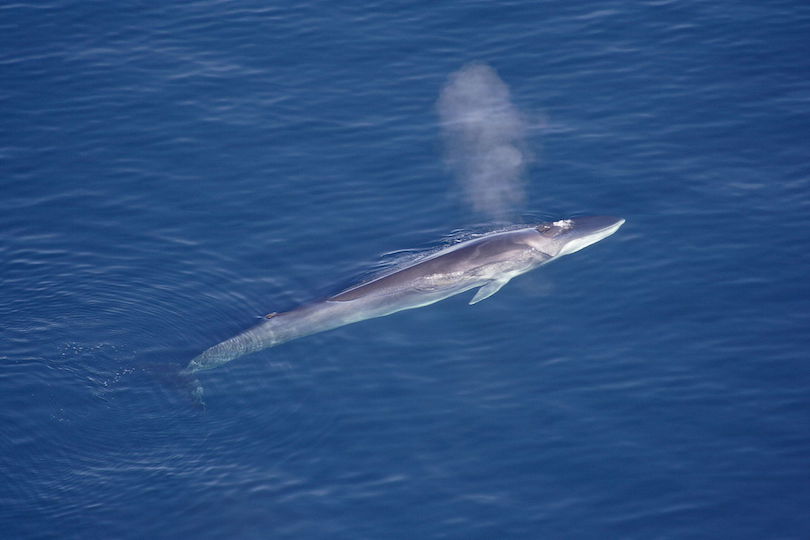 wikipedia/Aqqa Rosing-Asvid
Also known as the razorback whale or the common rorqual, the fin whale is the second-largest whale species in the world. The fin whale tends to be long and slender, with a dark brown body and a white underside. The fin whale can live anywhere from the Arctic to the Pacific, although it tends to mate in temperate waters. Fin whales are able to dive up to 1,500 feet below sea level with a single breath. These whales can grow to become nearly 90 feet (27.5 meters) long, although their slimmer shape means they weigh a maximum of 72 tons.

1. Blue Whale (98 feet / 30 meters)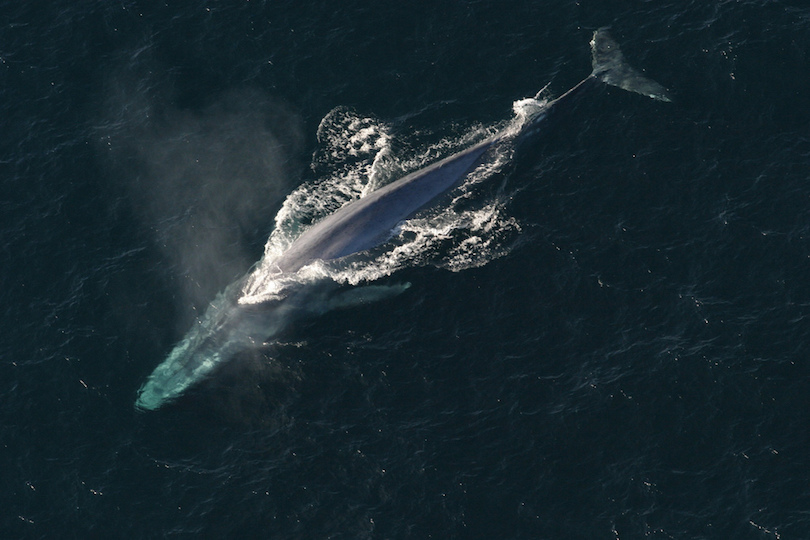 flickr/noaaphotolib
The blue whale is not just the largest whale species, it is also the largest known animal in the world. Blue whales can grow to be 98 feet (30 meters) in length, but they have been known to weigh upwards of 173 tons. Like the name suggests, blue whales are a dark blue color with a paler underside. Commercial whaling brought down the number of blue whales drastically, but today these animals live in the North Atlantic, North Pacific and in parts of the Southern Hemisphere.