One of the deadliest big cats on the planet, leopards are instantly recognizable due to their fabulous fur which is dotted with distinctive dark rosettes. Along with their stealthy nature, this camouflaged coat helps them to sneak up undetected before using their powerful physique to pounce on prey and take down deer and gaur, gazelle and wild boar.
While the solitary and elusive creature is now sadly extinct in lots of countries, small, fragmented populations of different leopard species can still be found not only in sub-Saharan Africa and the Indian subcontinent but China, Southeast Asia and Siberia too.
Remarkably adaptable, the opportunistic hunters inhabit everywhere from swamps and savannahs to mountains, rainforests and deserts with each of the eight types of leopards boasting its own unique characteristics and coloration.
1. African leopard
© dreamstime
The most widespread member of the family, the African leopard has traditionally ranged throughout almost all of sub-Saharan Africa with some hardy individuals still surviving in the Atlas Mountains of Morocco. Although much of their historic domain is now fragmented or under threat from habitat loss, the majestic creatures still live everywhere from arid desert areas and savannah to grasslands, mountains and rainforests.
Due to the diverse ecosystems the African leopard inhabits, the color of its fur varies considerably with some appearing pale yellow or tawny and others dark brown or even black. As it blends in with its surroundings, the stealthy predator can quietly approach its prey and leap out at the unsuspecting animal at the opportune moment. While most males weigh about 130 to 200 lb, females generally reach half this size with both sexes preying on everything from hares and hyraxes to zebras, gazelles and impalas.
2. Indian leopard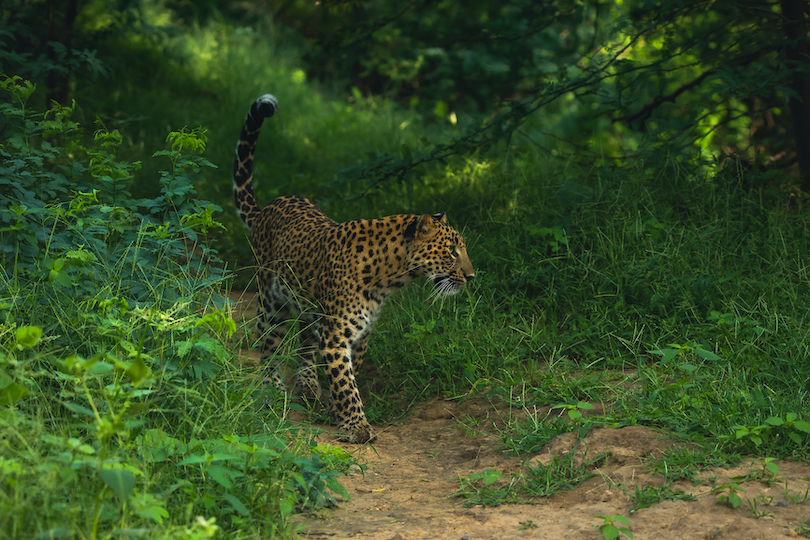 © dreamstime
Like its African relative, the Indian leopard is widely distributed with populations found in Bhutan, India, Nepal and parts of Pakistan. While it is unknown just how many still exist in the wild, India alone is estimated to be home to over 15,000 with the beautiful big cats preferring to hide and hunt in forested areas or mountainous regions.
Slightly smaller in size than the African leopard, it has strong legs, a long tail and large rosettes with its fur color ranging from pale and cream to grey and dark gold depending on the local habitat. As with the rest of the species, they are sexually dimorphic with males being much larger and heavier than females in general. Elusive, solitary and largely nocturnal, the opportunistic hunter mainly eats sambar deer and wild boar with nilgai, axis deer and peafowl also featuring in its diet.
3. Javan leopard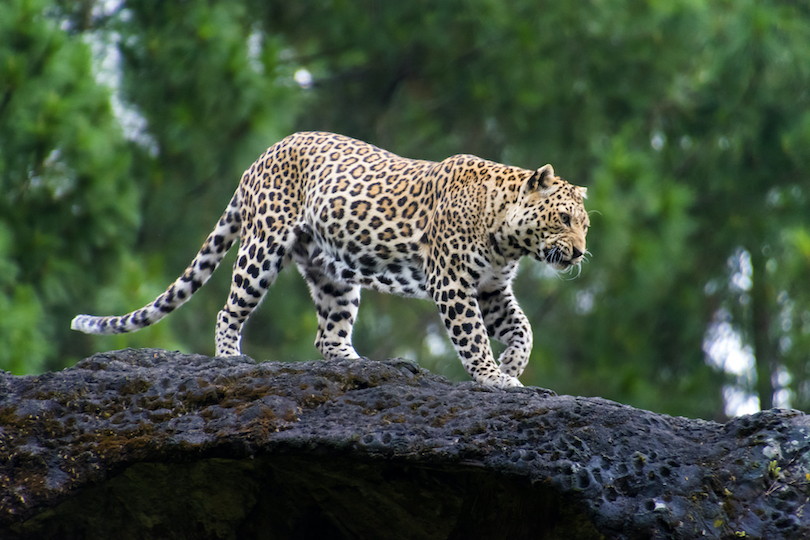 © dreamstime
Now sadly considered to be critically endangered by the IUCN, the Javan leopard is endemic to the enormous Indonesian island of the same name. Once found throughout all of Java's tropical forests, mangroves and mountains, now only small, fragmented populations of some 180 – 570 individuals remain in protected areas and national parks.
This tragic decline is due to a number of factors such as agricultural expansion, human population growth, poaching and depletion of their prey base. Efforts are, however, now being made to protect the awe-inspiring animals and the areas they inhabit with national parks being enlarged and studies on the species being conducted.
As well as barking deer and wild boar, Javan leopards also prey on chickens, goats and dogs if they live near human habitation and primates they surprise in the trees.
4. Arabian leopard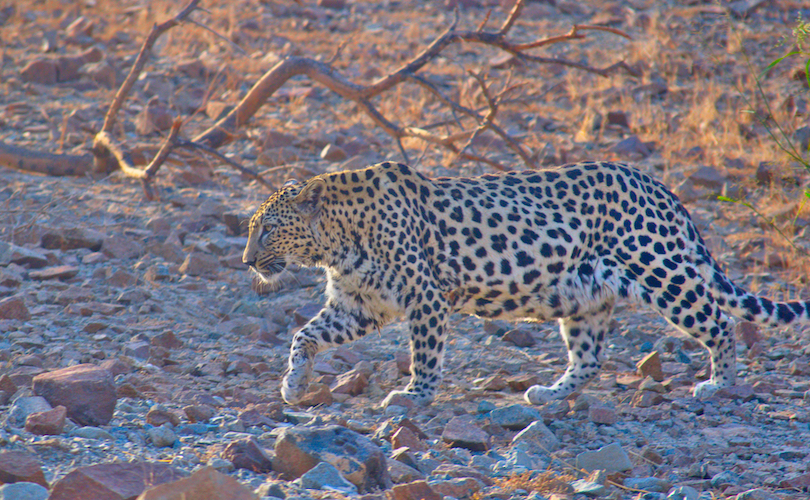 © dreamstime
Another critically endangered member of the family is the Arabian leopard that inhabits the huge peninsula of the same name. Thought to now number less than 200 in the wild, they prefer to live in mountainous areas or hilly steppe regions where they can hunt hare and hyraxes, ibex and gazelle.
Despite being one of the smallest of the species, it is the largest cat in the Arabian peninsula with mature males weighing around 66 lb and measuring 72 to 80 inches in length and females being slightly shorter and lighter.
Ranging from pale yellow to deep golden with some individuals being tawny or grey, their coats are covered with wonderful rosettes that camouflage them against their dusty surroundings. Predominantly nocturnal, they tend to focus on smaller prey species with hedgehogs, rodents and birds all featuring from time to time.
5. Persian leopard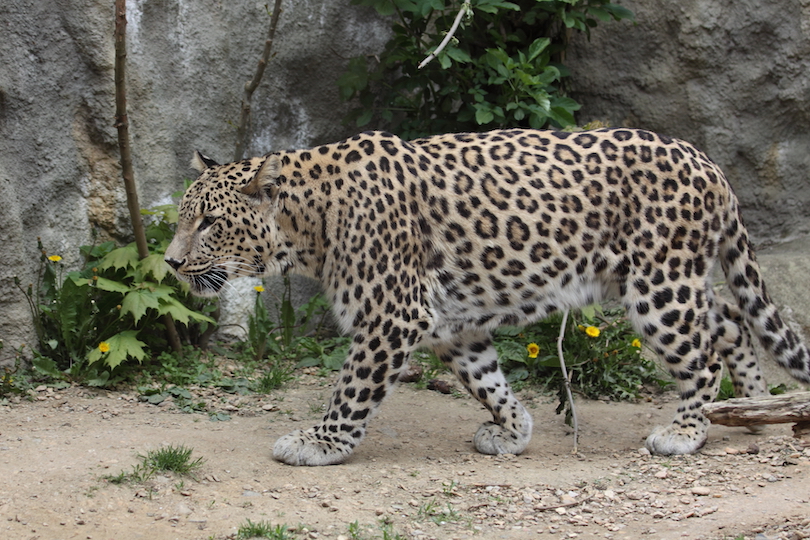 © dreamstime
Weighing in at almost double the average weight of its nearby neighbor is the Persian leopard of the Iranian plateau. Although now also listed as endangered, it can still be found in Iran, Turkey, the Caucasus, Southern Russia, Turkmenistan and Afghanistan with the fierce predators primarily living in rugged ravines, sparse forests and remote mountainous areas.
Believed to number between 870 and 1,290 in total, they have greyish, slightly reddish fur which is dotted, of course, with large rosettes that are either pale or dark depending on the individual. In the pristine and untouched areas it inhabits, the Persian leopard mainly hunts and eats wild goats, roe deer and mouflon with some gazelle and wild boar also thrown in every now and again.
6. Amur leopard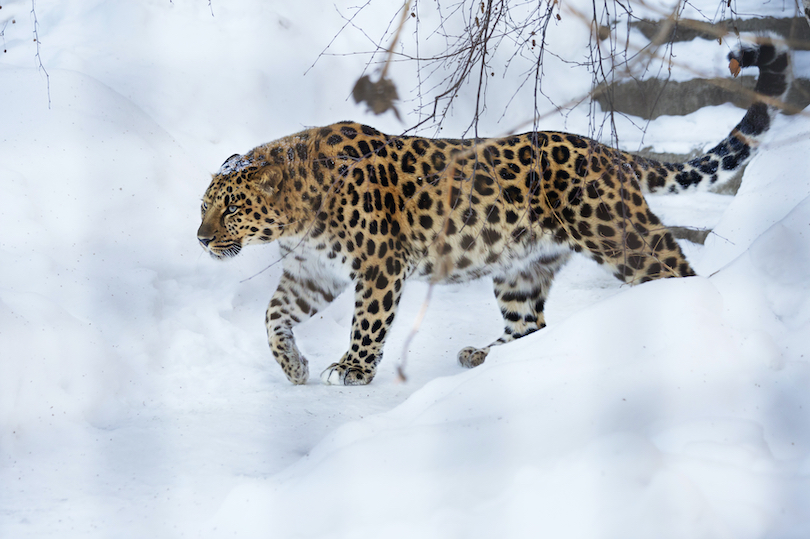 © dreamstime
Native to both the Russian Far East and northern China, the Amur leopard is now one of the rarest cats on Earth as it too is also unfortunately listed as critically endangered. Thought to number only about ninety in the wild, the hardy species is very well adapted to cold climate and heavy snowfall with the gorgeous animals usually living high up in the mountains at elevations of over 3,000 feet.
One of the larger kinds of leopards, it can easily be distinguished from its cousins by its thick, pale cream colored fur and widely spaced rosettes. While its coat is duller during winter so it can blend in with its surroundings, it regains its more vivid coloration pattern in summer.
Also known as the 'Siberian leopard', the carnivorous creatures typically prey on elk, deer and Manchurian wapiti with poaching, habitat loss and development projects being the main threats they face to their survival.
7. Indochinese leopard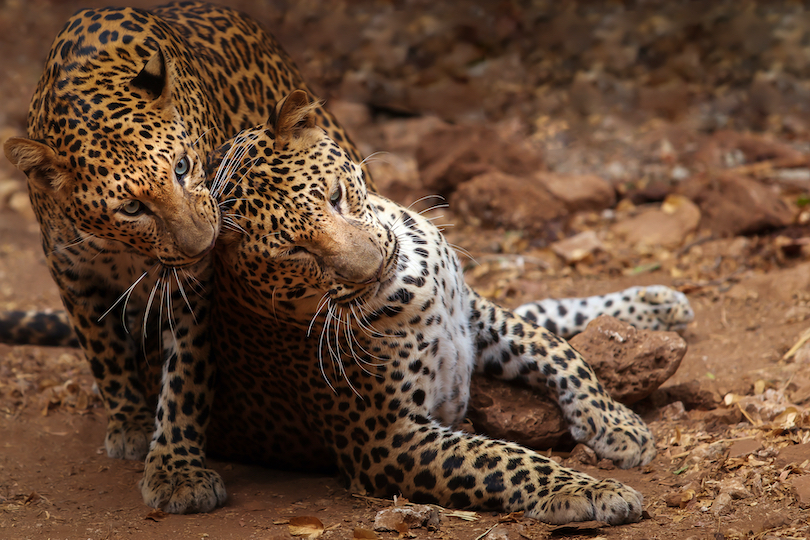 © dreamstime
Despite their historical range having decreased by more than ninety percent over recent decades, the Indochinese leopard is thankfully at least a little better off than some of the other leopard species. In total, 970 to 2,500 of the majestic mammals are believed to remain in Southeast Asia and Southern China with Peninsular Malaysia, eastern Cambodia and the Thailand-Myanmar border considered to be particularly important strongholds.
Mainly found in dense tropical forests or hilly areas and mountains, the stealthy hunters normally prey on muntjac, gaur and wild boar with the solitary, territorial animals often roaming across huge areas in search of food.
While habitat destruction, deforestation and illegal hunting have contributed to their decline, the depletion of their prey base and the traditional medicine trade also pose serious problems to their remaining populations.
8. Sri Lankan leopard
© dreamstime
Located on the island nation of the same name, the Sri Lankan leopard is one of the larger members of the species, partially because it occupies an ecological niche and doesn't have to compete with any other big wild cats. As such, males average around 124 lb while females weigh roughly half this with particularly large specimens reported to even reach up to a colossal 220 lb at times.
Although estimates put their population at only around 800 or so, leopards still inhabit almost every part of the island, ranging from grasslands and forests to tea estates, hills and nature reserves.
Tawny in color with dark spots and close-set rosettes dotting their fur, they mostly hunt at night, silently stalking their prey until they can get close enough to pounce on their victim. As the deer, wild boar and monkeys they eat are relatively abundant, most threats to their survival are due to either habitat loss or fragmentation.