Famous for their slowness of movement, sloths have a low-calorie diet that mostly consists of leaves. Because there is so little nutrition in the leaves they munch on, they have very slow-paced lives that requires next to no energy.
They have rounded faces that tend to have markings on them. Their arms and legs end in small, toe-like protrusions that have two or three claws on them. Contrary to what their name might suggest, all types of sloths have three toes on the end of each limb, but two-toed sloths have just two claws on their forelimbs.
1. Brown-throated three-toed sloth
© dreamstime
This sloth species is found in Central and South America. They have light brown-gray fur with darker hairs around their head, chests, and shoulders. Their faces are a pale gray with two dark lines running from their eyes outwards to the edge of their cheeks.
Brown-throated three-toed sloths feed on rainforest leaves that are usually toxic, however thanks to their specialized, multi-chambered digestive systems they are able to optimize what little nutrients are in the leaves! But it's slow work, meaning it takes them two weeks to digest a meal. These sloths spend a lot of their time hanging upside down among the canopy about 100 feet up. They also sleep and eat in this position.
Brown-throated sloths come down to the ground once a week to urinate and defecate in a small hole they dig at the base of a tree and then cover up with leaves. They can rotate their heads 300 degrees thanks to their nine cervical vertebrae (most mammals have just seven). Their flexible necks help them watch out for predators like snakes, owls, and eagles.
2. Pale-throated three-toed sloth
© dreamstime
These types of sloths are covered in light brown-gray fur, apart from the yellow fur around the top of their foreheads and along their throats, and the white hairs on their faces. Males also have a light orange patch on their backs that is divided in two by a black, central stripe.
Pale-throated sloths live in the more northern countries of South America, namely Guyana, Suriname, Venezuela, Colombia, Brazil, and French Guiana. Their only inhabit tropical forests with rich canopy and lead entirely arboreal lives.
These unhurried little creatures are some 18-30 inches long and weigh between 7-14 pounds. Their arms are almost twice as long as their legs, and all their limbs end in three toe-like protrusions with long, arched claws coming off them.
3. Maned three-toed sloth
© dreamstime
This species of sloth lacks the characteristic face markings found on most other sloth species. They have been around for almost 64 million years, and they've taken it slow! Males are up to 28 inches long and weigh some 17 pounds, whilst females are larger and reach lengths of 30 inches and weigh up to 22 pounds.
Their fur is varying shades of brown, and longer around their faces. The thick, mane-like hairs on their heads are about six inches long and give this species their unique name! Curiously, they have algae living in their fur, that gives them a greenish tint and camouflages them among the canopy. And that's not all – their fur also grows downwards from their bellies to their backs. This direction of growth helps them in their upside-down lifestyle.
They inhabit regions of rainforests in Brazil, along the Atlantic coast, and live at altitudes as high as 3,300 feet! Mind you, when you spend 80% of you day asleep, it might not matter much where you live!
4. Pygmy three-toed sloth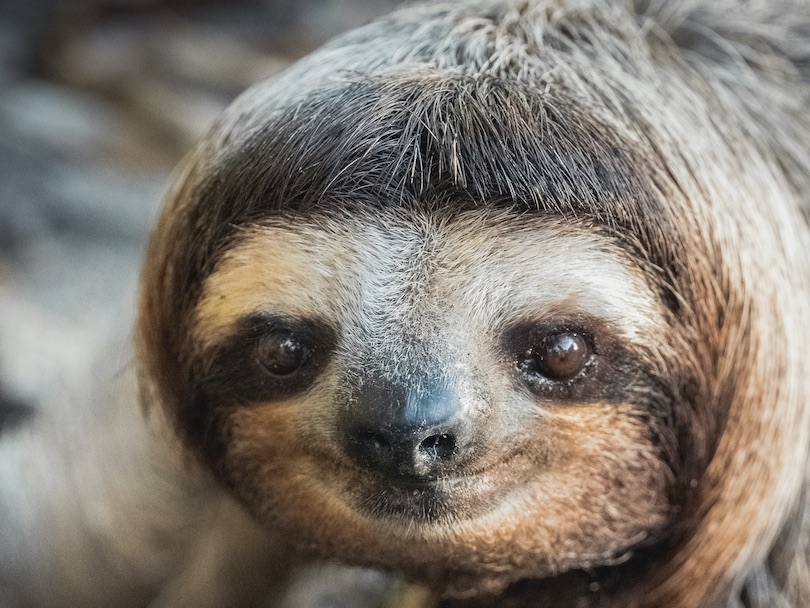 © dreamstime
Pygmy three-toed sloths have scruffy brown fur, with lighter hairs on their faces and dark lines around their eyes that runs diagonally to the edge of their cheeks. They are also known as monk dwarfs. They have a very niche habitat and are exclusively found on the Island Escude de Veraguas of Bocas del Toro, off the coast of Panama. The coastal red mangroves on this tiny three-mile-wide island is the only place pygmy sloths call home!
Whilst they lead arboreal lives and spend the majority of their time sleeping and resting up in the canopy, sloths can actually walk and swim. But they are rather awkward on land because of their long claws.
They lead solitary lives, with little social interaction. Their diet mainly consists of leaves, which makes them folivores. More often than not, there is algae growing among their fur that gives them a greenish tint and helps them blend into their surroundings. Pygmy three-toed sloths are now sadly classified as a critically endangered species.
5. Linnaeus's two-toed sloth
© dreamstime
Linnaeus's sloths have three toes on each limb, but just two claws on their forelimbs. However, their hindlimbs do have a claw on each toe, just like three-toed sloth species. Another distinguishing feature of Linnaeus sloths is the lack of dark markings on their faces.
They have long, knotted, light cinnamon fur that is darker along their limbs and around their faces. They are some 18-34 inches long and weigh anywhere from nine to 19 pounds! They are (possibly) the slowest mammal on Earth! Their scientific name is Choloepus, which means lame foot and references their slow pace.
Linnaeus sloths have two layers of fur, that grown downwards from their stomachs towards their backs. They live in Central America and in the more northern South American countries, as well as parts of Brazil and Peru. They spend their time high up in the dense rainforest canopy, where they sleep for 15-20 hours per day and wake up at night to look for food.
6. Hoffmann's two-toed sloth
© dreamstime
Hoffmann's sloths have cinnamon colored fur on their backs and limbs, and cream-colored faces and bellies. They live in rainforests in Central and South America. Their arboreal lifestyles are well suited to their low energy levels and allow them to evade most of their predators.
They grip onto branches with their curled claws and can spend long days suspended upside down! Luckily, they can swim too, which is handy as they sometimes lose their grip and fall into rivers, and need to get back onto land!
These two-toed sloths have two claws on their forelimbs and three on their hindlimbs. They are herbivorous mammals that feed on leaves, fruit, and tree shoots. Hoffmann's sloths are about 24 to 27 inches long and weigh some 18 pounds. They do well living in captivity, unlike three-toed sloths.