A very widespread and diverse group of squamate reptiles, lizards both large and small live across all the Earth's continents except for Antarctica. In total, there are believed to be over 6,000 lizard species with each boasting their own unique characteristics and camouflage, attributes, and behaviors.
While some such as tiny geckos and chameleons only measure a couple of inches in length at most, the largest lizards in the world can reach almost a dozen feet and weigh hundreds of pounds. A fascinating family of animals, the mostly quadrupedal, cold-blooded, carnivorous creatures have an interesting array of abilities and antipredator adaptations with each lizard species being perfectly suited to the environment they live in.
10. Bengal Monitor (up to 7.2 kg/16lb)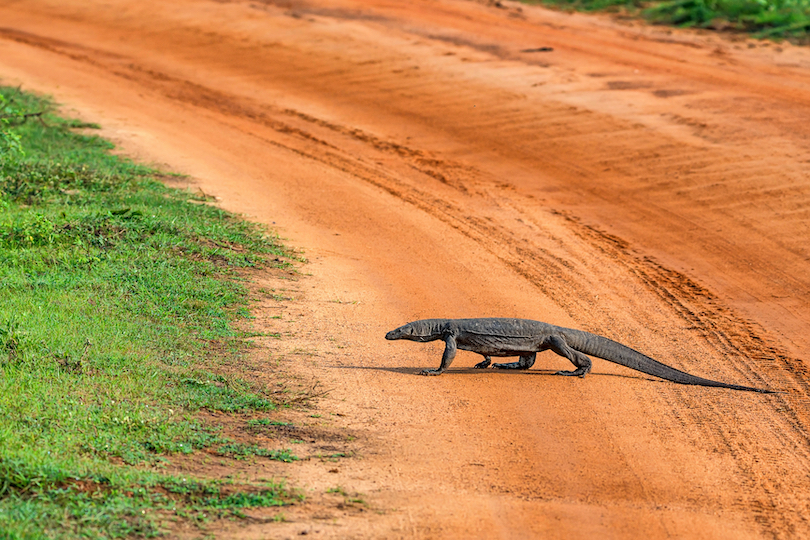 © dreamstime
Quite widely distributed around not only the Indian Subcontinent but parts of West and Southeast Asia too, the massive Bengal Monitor can reach up to 69 inches in length from the tip of its snout to the end of its tail. Weighing in at almost 16 lb, the large lizard mainly lives at lower elevations and is often found in agricultural areas, semiarid desert habitats, and even moist forests.
Due to its striking size, adults face very few natural predators besides humans and pythons although their young are more vulnerable and defenseless. Deceptively fast across the ground, they can both climb and swim well and remain active throughout the day as they hunt frogs and birds, snakes, and rats, eat insects, and feast on eggs.
9. Rock Monitor (6 to 8 kg/13 to 18 lb)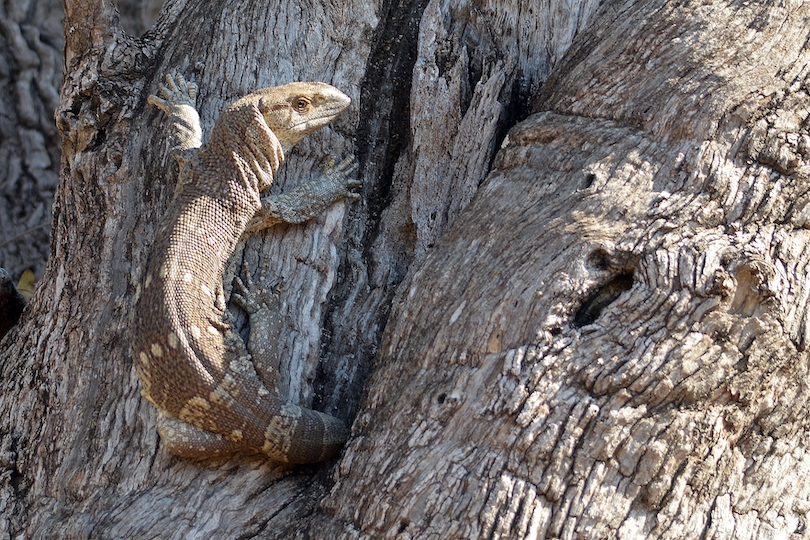 © dreamstime
One of the largest lizards in Africa, the Rock Monitor is endemic to the central, eastern, and southern subregions of the continent. While most adult males normally attain a weight of between 13 and 18 lb, particularly hefty individuals can remarkably weigh up to 37 lb with mature females being much smaller in size on average at just 7.1 to 11 lb.
At their absolute longest, these incredible creatures can measure six foot seven inches in length with their body and tail being of equal size. Mostly found in dry, arid habitats such as savannahs, steppes, and prairies, they opportunistically eat a wide array of prey ranging from whole tortoises and beetles to molluscs, millipedes and even the corpses of already dead monkeys.
8. Green Iguana (6 to 8 kg/13 to 18 lb)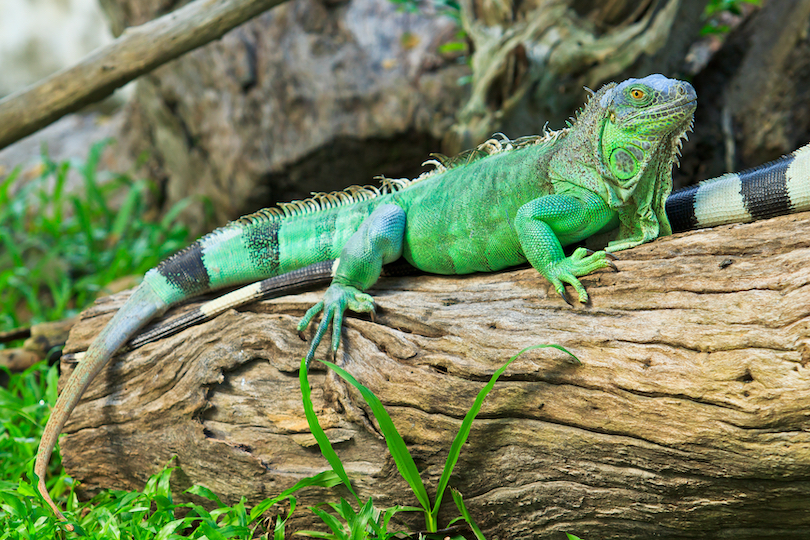 © dreamstime
Known to most people simply as 'iguana', the Green Iguana is native to a gigantic geographic area, ranging from the south of Brazil right the way up to the north of Mexico. Due in part to the exotic pet trade, their adaptive nature, and diverse diets, they are also considered to be an invasive species in the Caribbean, Fiji, Hawaii, and the southern United States.
Very agile climbers and swimmers, they can grow up 6.6 feet long with some very large specimens having reportedly weighed over 20 lb. Most adult males however weigh around 8.8 lb with females typically being several pounds lighter. Primarily herbivores, the distinctive green lizards feast on a diverse variety of shoots, leaves, flowers, and fruits with all kinds of plants and vegetables featuring in their diets.
7. Giant Tegu (7 kg/15.4 lb)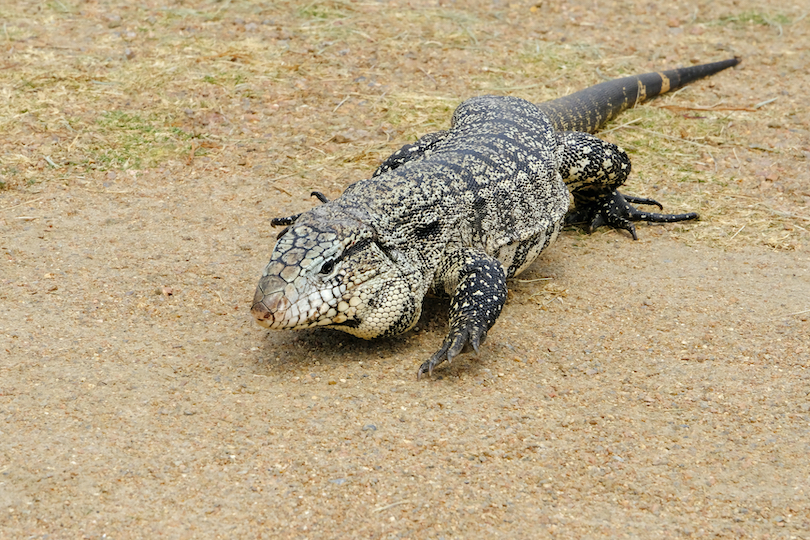 © dreamstime
Aptly known as the Giant Tegu, this beautiful black and white lizard mainly inhabits the savannahs, semi-deserts, and steamy tropical rainforests of both central and eastern South America. The largest species in its family, they can impressively reach up to 4.5 feet in length and weigh between 5.5 and 15.4 lb at their heaviest.
Omnivorous, they eat everything from invertebrates and other lizards to crustaceans, fruits and fish and are notorious egg predators of almost every species. Although the giant tegu is quite aggressive, has a strong bite and often charges at its prey, they are also noted for their high intelligence and can even be housebroken and kept as pets. Usually highly active during the day, they brumate in autumn when the temperature drops becoming sluggish and eating less food if any during this time.
6. Lace Monitor (20 kg/44.1 lb)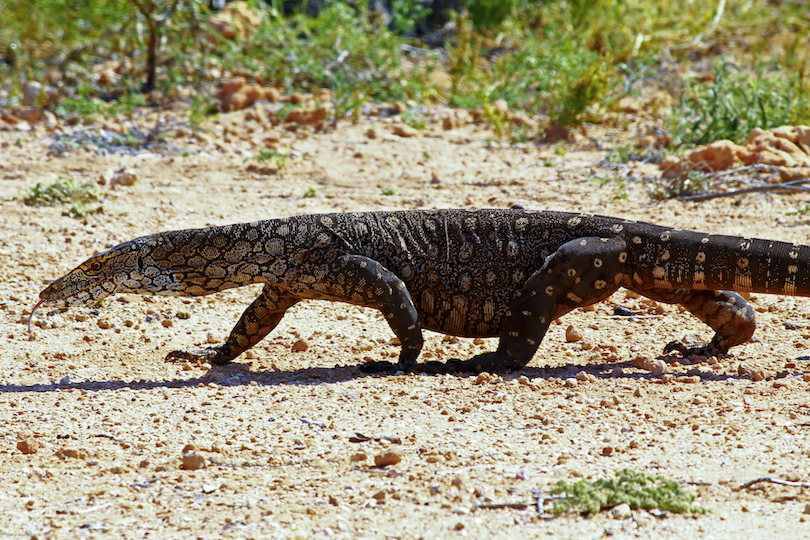 © dreamstime
Even bigger than the giant tegu is the huge Lace Monitor which can measure up to seven feet in total and weigh a staggering 44.1 lb. Only found in eastern Australia, they are the second-largest lizard on the continent after the perentie with both their respective populations being separated by the mountains, plateaus, and hills of the Great Dividing Range.
Named after the lace-like patterns that coat its scales and help camouflage it against the surrounding scenery, it inhabits both open and closed forests. Despite its hefty size and considerable mass, lace monitors can climb very well and often seek shelter in either dark tree hollows or under fallen trees and large rocks. While they mainly feed on the dead carcasses of various animals, they also eat lots of insects, eggs, and even forage around in rubbish dumps.
5. Nile Monitor (20 kg/44.1 lb)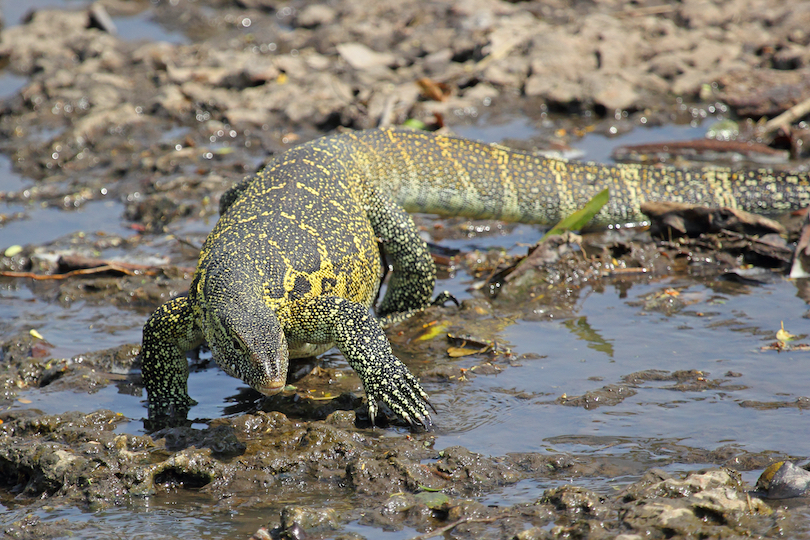 © dreamstime
The longest and largest species of lizard on the continent, the massive Nile Monitor can be found not just along the banks of the mighty river but throughout much of sub-Saharan Africa. While most individuals weigh about 13 to 33 lb and reach up to 7.3 feet in length, exceptionally large specimens can remarkably clock in at 44.1 lb and 8 feet.
Very well adapted for an aquatic lifestyle, Nile Monitors are also excellent climbers and quick, agile runners, preying on everything from fish and frogs to rodents, reptiles, birds, eggs, and carrion. Due to this, they thrive in not just the gushing rivers and dense rainforests of Central Africa but the lush forests and arid savannah of West Africa too.
4. Perentie (20 kg/44.1 lb)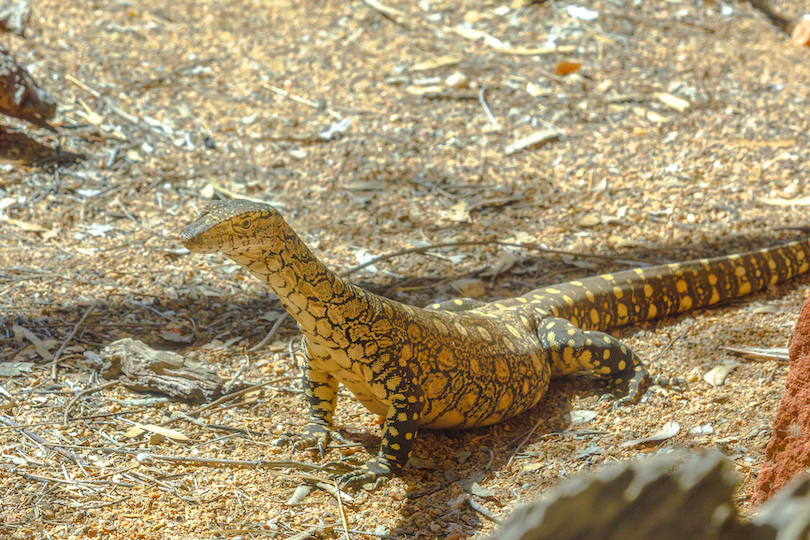 © dreamstime
Rivaling its African cousin in terms of its size and stature is Australia's Perentie which grows up to 8.2 feet in length and can attain a weight of 44.1 lb at its heaviest. Occupying the arid desert areas of Western and Southern Australia, the North Territory and Queensland, it just pips the lace monitor to the crown of largest lizard on the continent.
Very reclusive and even slightly venomous creatures, they prefer to live amidst rocky outcroppings and gorges where they feast mostly on other reptiles with some snakes, small mammals, and birds featuring from time to time. Able diggers, they use their long claws to both burrow and climb trees, sometimes standing on their back legs and tail so they can scan their surroundings and spot prey.
3. Crocodile Monitor (40 kg/80.4 lb)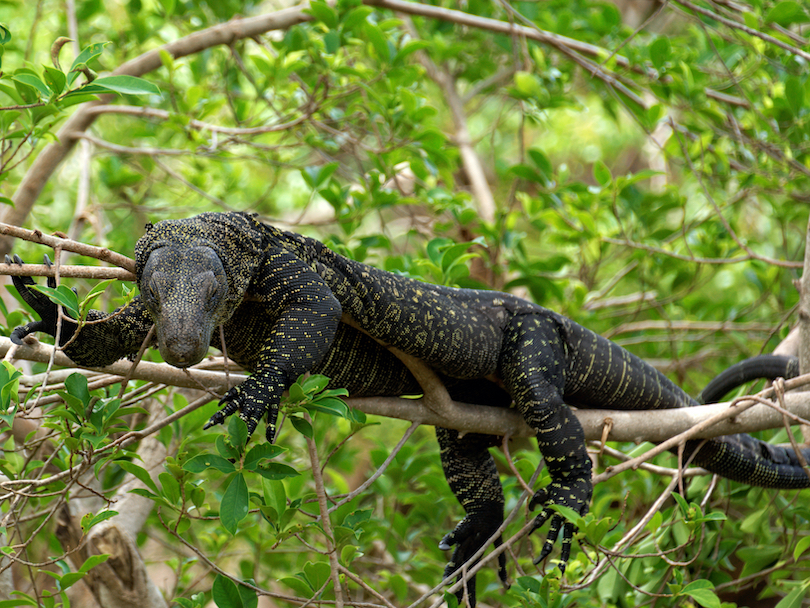 © dreamstime
Even longer than its nearby neighbor is the Crocodile Monitor of New Guinea; a remarkable reptile which spends most of its time up trees in either mangrove swamps or coastal rainforests. The longest reportedly caught measured 10.6 feet in length with some researchers reckoning the species can weigh up to 200 lb, although most specimens are much, much smaller on average.
Located in both Papua New Guinea and Indonesia, the aggressive and unpredictable animal has an especially long tail and is distinguished by its blunt, bulbous snout, curved claws, and long, straight, sharp teeth. Known to take down pigs, deer and even hunting dogs, they mostly prey on birds, bats, and rodents with the occasional nest of eggs or small mammal also making for a tasty treat.
2. Asian water monitor (70 kg/154 lb)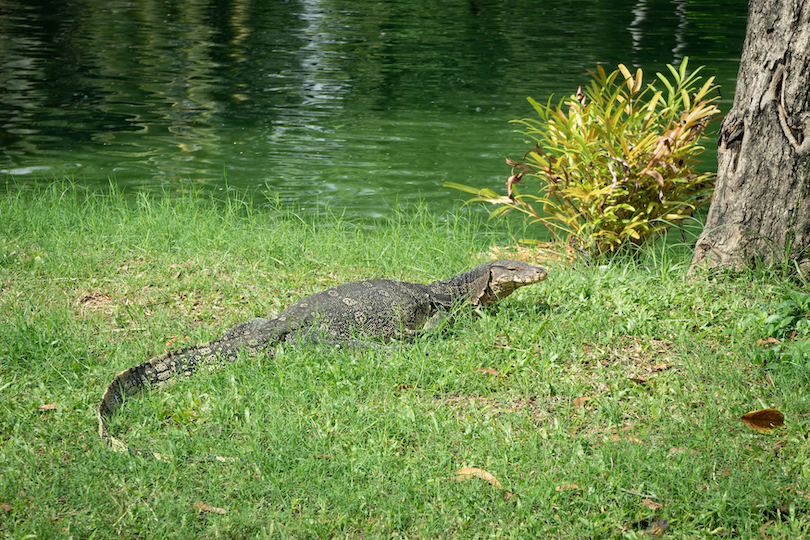 © dreamstime
Endemic to both South and Southeast Asia, the enormous Asian Water Monitor is impressively the second-heaviest lizard in the world after the Komodo Dragon. While some unverified and possibly unreliable reports put their maximum weight at 200 lb, the muscular and powerful monitors can, at their largest, grow 10.5 feet in length and weigh 154 lb.
One of the most common lizards of its kind, it primarily inhabits freshwater areas and wetlands with some also living in swamps and forests. Very opportunistic, the semiaquatic creatures eat fish, frogs, crabs, and snakes and have even been spotted eating young crocodiles and domestic cats and dogs in urban areas. Due to their hulking great size, Asian water monitors have very few natural predators with only humans and saltwater crocodiles posing them a problem.
1. Komodo Dagon (166 kg/366 lb)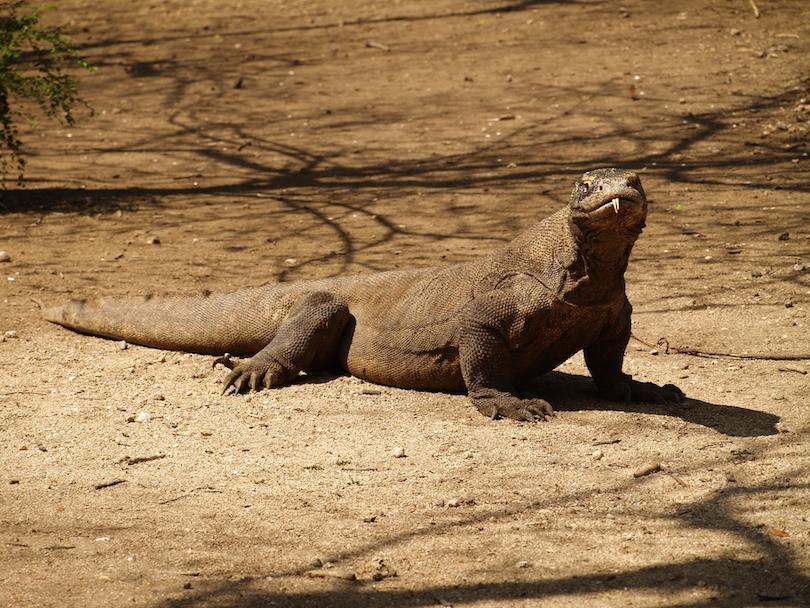 © dreamstime
The largest of all the living lizard species on Earth, the colossal Komodo Dragon can reach 10.3 feet in length and immense 366 lb in weight. Only found on the Indonesian islands of Komodo, Rinca, Flores and Gili Motang, the fierce apex predator dominates the ecosystems it inhabits, munching everything from small mammals and monkeys to deer, horses, and even water buffalo.
Besides their big bodies, powerful claws and sharp teeth, Komodo Dragons use their deceptive speed and venomous bite to bring down prey. They often hunt together in a group with the larger members usually eating before the smaller ones. On average, adult males normally weigh about 174 to 201 lb with the slighter females clocking in at 150 to 161 lb.