Stingrays are a family of fish that are found in most of the planet's oceans. Spotting a stingray on a swim isn't uncommon in some parts of the world. These beautiful creatures have thin, flat bodies that move elegantly through the water, and long, slender tails that trail behind them.
All types of stingrays can be dangerous to humans as some stingray species have venomous spines along their tails that deliver a painful sting. However, stingrays aren't aggressive in nature and usually only attack if they are accidentally stepped on or provoked. They can range in size from just 6 inches, to over 16 feet!
1. Sixgill stingray
photo/NOAA
This unique stingray species has six gills, whilst others have just five. The animal has a rounded body and a long and very pointed snout with a short, stubby tail. It's thought that the sixgill stingray might use its unusually pointed snout to sort through the sediment on the seafloor in search of food. They have a protrusible jaw that allows them to extend their mouths to capture buried prey.
This rather obscure looking animal has been seen in various spots across the Indo-Pacific Ocean between South Africa and Hawaii, off the coast of several Indonesian islands, and Western Australia, and in the Pacific Ocean from Japan to the Philippines.
The sixgill stingray is mostly observed at depths between 1,640–3,670 feet, with a few rare sightings in shallow waters. They swim along the seabed and opt for rocky, muddy, and sandy habitats.
2. Deepwater stingray
photo/Fishes of Australia
The deepwater stingray has a long tail and a black coloration around the edges of its rounded body and pointy snout. Its coloring fades into a red-brown further into its body and gets darker again in the center and along its tail. Its snout gives the top of its body a triangular appearance. Deepwater stingrays have a venomous spine attached to their tails. Be careful, they can leave a nasty wound!
This species of stingray lives in the Indo-Pacific around South Africa and Mozambique, from Japan to Australia, off the shores of southern India and east of the Philippines. It has on occasion been spotted around Hawaii and smaller neighboring islands. They prefer to live on sandy seabeds, rocky underwater landscapes or along coral reefs. The majority of this specie's populations live along continental slopes.
They mostly live in deep waters, as their name suggests, below 145 feet. Deepwater stingrays have been observed at extremes of 2,560 feet. However, they usually hang out between 900-2,230 feet. They feed on anything they can find at these depths, from fish to buried sea worms.
3. Round stingray (stingarees)
© dreamstime
The round stingray family is made up of about 35 different species. They range in size from just 5.9 inches to 31.5 inches; small compared to other stingray families. Their fins make their bodies look diamond shaped and are often colored to help the fish camouflage itself. Stingarees come in shades of light or dark brown that help them blend into their sandy, rocky, or muddy surroundings. However, there are some brightly colored stingarees with eye-catching patterns.
They are found in the Indo-pacific and western Atlantic Ocean in tropical and temperate waters and tend to avoid colder seas. Stingarees mostly stay close to the shore, but some inhabit depths of 2,300 feet!
Stingarees are bottom dwellers that feed on small fish, crustaceans, and invertebrates that pass by as they wait, half buried in the sand. Most of them have one or more poisonous, serrated spines along their tail. Watch where you step, especially if you're in Australia!
4. American round stingray (or round ray)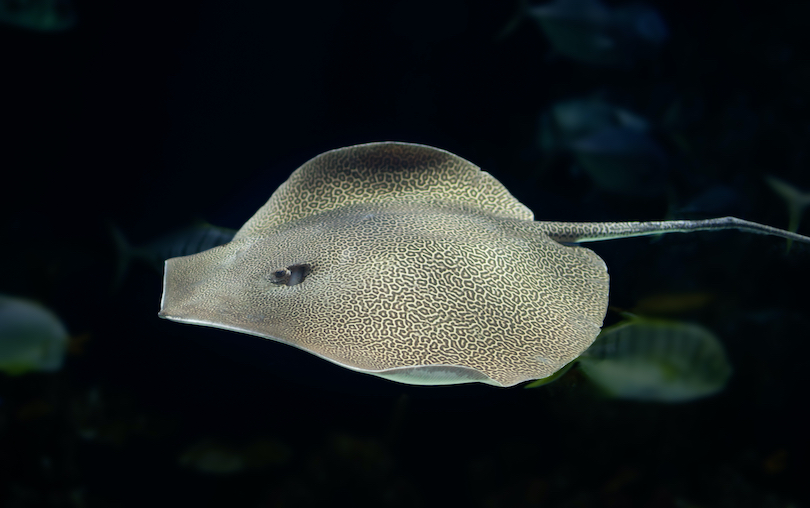 © dreamstime
The American round stingray is a family of stingrays that are found extensively off the coasts of the American continent, with many species located around Mexico. Most species have a brown coloration that ranges from a very light, sandy brown to almost black. A few species are decorated with bright yellow spots and speckles on their dorsal side. They all have a white or faded yellow underside.
They inhabit shallow waters in tropical and temperate seas, across the Atlantic and Pacific Ocean. American round stingrays can be dangerous as they have one or two venomous spines at the end of their tail that can leave a sore wound.
The species in this family feed at night, relying on their keen sense of sight and smell to locate their prey in the dark. They have a rounded body, giving them their name, though some have a more pointed snout. American round stingrays measure between 6.3 to 31 inches, with variation across species, making them medium-sized at their largest.
5. Whiptail stingray
© dreamstime
Whiptail stingrays are a group of fish with a diverse geographical distribution. They are made up of somewhere between 60 and 100 species, with most scientific estimates predicting there are around 70 species. They range in size from just 12 inches wide to a shocking 6 feet 6 inches wide! Like their size, subspecies also have an incredibly varied coloration ranging from off-white to almost black.
Their tails are thin and long. Along it they have venomous spines, usually just one or two, that are serrated and stick out. These dangerous spines can be as long as 16 inches! Watch out! Whiptail stingray's eyes are always on the top of their bodies, known as the dorsal side, and across species they have just five gills that are positioned underneath their bodies, known as the ventral side.
They live in estuaries, river mouths, and coastal waters. They are often half-submerged in water, waiting patiently for prey to go by. They have refined senses and catch passing crabs, shrimp, worms, and fish easily. On their dorsal side they have spiracles that help them get oxygen to their gills when they are buried in the sand.
6. River stingray (or freshwater stingray)
© dreamstime
This family of stingray species are all found in rivers across Southeast Asia, the Amazonian River, in South America, and in rivers in Australia and Africa. Unlike other stingrays, they don't go into marine waters. Some have venomous stingers attached to their tails, whilst others don't.
They feed on fish and crustaceans and have spiracles that help them get enough oxygen to their five ventral gills when they rest on the riverbed. One of the most eye-catching members of this family is the Amazonian River stingray. It has a brown, rounded body and is covered in characteristic red spots that have black rings around them.
Another fascinating species of the freshwater stingray family is the giant freshwater stingray that lives in rivers across Thailand, Cambodia, Indonesia, and Malaysia. They are light brown, and have long, pointed snouts. This species can reach lengths of 16.5 feet (including its tail)! They are thought to be the biggest fish species on Earth.
7. Butterfly ray
© dreamstime
Butterfly rays belong to the family Gymnuridae, a group of about 12 different ray species. They are called butterfly rays as their fins are much broader than they are long, giving them a butterfly-like appearance. They range greatly in coloration and can be spotted, uniformly colored, or speckled.
They live in oceans and occasionally estuaries, and have been spotted in the Atlantic, Pacific and Indian oceans in tropical and subtropical regions that are fairly warm. Their preferred habitats are sandy areas where they feed on fish, invertebrates, and anything else they can catch!
Some of the species in this group have venomous spines on their tails, but they aren't as dangerous as other stingray families. They don't have many predators they need to look out for, although sharks won't hesitate to eat one up as a snack.
8. Eagle ray
© dreamstime
This family of ray species live in marine habitats. They have winglike fins and a characteristic whip-like tail that can have a sharp, serrated spine attached to it that leaves a nasty sting! They feed on small mollusks and crustaceans that they hunt from sandy and rocky seabeds and crush with their flat teeth.
However, it isn't uncommon for them to hang out closer to the water's surface. They are found across the world in tropical and subtropical oceans, though each species has an individual and distinct geographical distribution.
One of the best known eagle rays is the spotted eagle ray. Members of this species have a black body covered in small, bright, white spots. They have a wingspan of some 7 feet! It would be hard to miss one if it swam by.
9. Cownose ray
© dreamstime
The cownose ray is a species of eagle ray that lives in the western Atlantic Ocean, preferring tropical and temperate waters where it isn't so cold. They forage for their food, and feed on small invertebrates, mollusks, and crustaceans. They eat shelled and unshelled species that they crush with their flat teeth.
Cownose rays have long, pointed pectoral fins that look like wings and join together at the top of their bodies in a formation that looks a lot like a cow's nose from above! This peculiar feature gives this ray its name.
They migrate in large groups and can reach widths of 3 feet in adulthood. Cownose rays have brown bodies and a comical appearance from their ventral side (underneath). These unique rays spend their time close to the shore in coastal areas but can be spotted as deep as 72 feet. They have a venomous spike on their tail, but they are timid in nature and don't often get close to humans.
10. Pelagic eagle ray (Aetobatus)
© dreamstime
This species of eagle ray is one of the most distinguishable among the group. Its body is black and covered in small, white, but debatably yellowy, spots that make it stick out like a sore thumb. There is no chance of camouflage for this eagle ray species.
They have the long, wing-like fins that are characteristic among eagle rays. Their fins are usually 7 feet long but can grow to be as wide as 10 feet. Pelagic eagle rays reach lengths of 16 feet or more, taking their tails into account. They live in tropical regions of the Atlantic, Pacific, and Indian Oceans worldwide.
These beautiful rays have venomous stingers attached to their long, straight tail. They have been seen at depths of 196 feet but are also known to swim along the water's surface. Pelagic eagle rays occasionally jump out of the water and have even jumped up onto boats! Perhaps they really do have wings…