Otters are carnivorous mammals that are members of the weasel family. Most otter species live in bodies of freshwater, like lakes and rivers, though two of the thirteen otter species are marine. They are semi-aquatic animals that are adapted for life in the water and on land.
All types of otters have fully or partially webbed paws that help them paddle and strong tails that they use to push themselves through the water. They can be anywhere between 2-6 feet in length, with large variation across species. These magnificent mammals have strong jaws and claws that help them hunt fish, crustaceans, amphibians, and mollusks.
1. Eurasian otter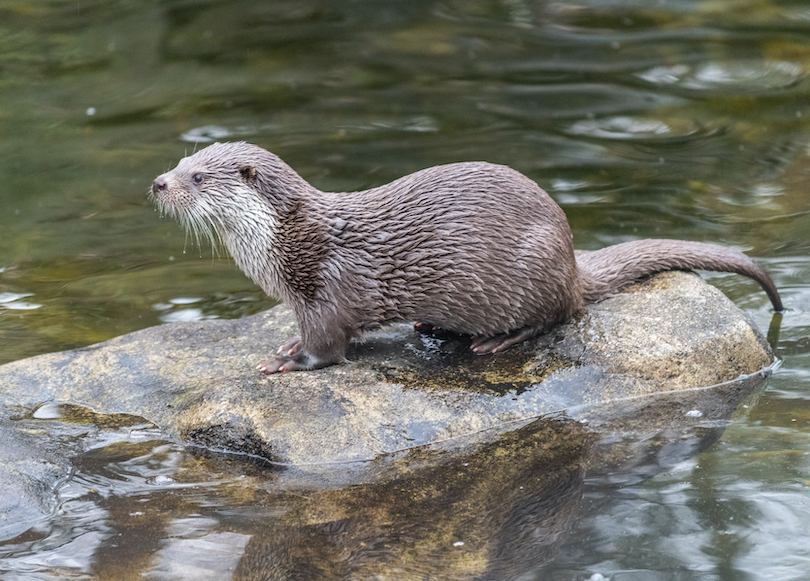 © dreamstime
Eurasian otters have the widest geographical distribution of all the otter species. They are found across Europe, Asia, and even Africa! They live in rivers, swamps, marshlands, lakes, streams, and coastal areas.
They use the rich vegetation around their wet habitats to hide from predators and to make safe dens where they can sleep and rear their young safely. Eurasian otters have brown, furry bodies with a gray tint and a lighter, almost cream-colored belly.
Their thick muscular tails help them propel themselves through the water and steer as they swim. Eurasian otters mainly feed on fish, but also snack on small mammals, birds, crustaceans, and aquatic insects!
2. Hairy-nosed otter
© dreamstime
One of the rarest otter species on Earth, this solitary mammal is found in Southeast Asia, in countries like Cambodia, Malaysia, Thailand, Laos, and Indonesia. The tip of the otter's snout is covered in short hairs, giving the animal its comical name. They have short brown fur that is lighter on the animal's belly.
Another telling feature of this species is their white chins and beards. A hairy-nosed otter usually weighs some 12-18 pounds and is some 23-32 inches long. They are thought to live for up to 10 years in the wild.
These otters set up their homes in coastal areas or by large inland rivers. They are active during the day when they hunt for fish, crustaceans, mollusks, and water snakes. Their webbed paws are perfect for their semi-aquatic lifestyle. They have sharp claws that help them catch, kill, and tear up their prey.
3. Spotted-necked otter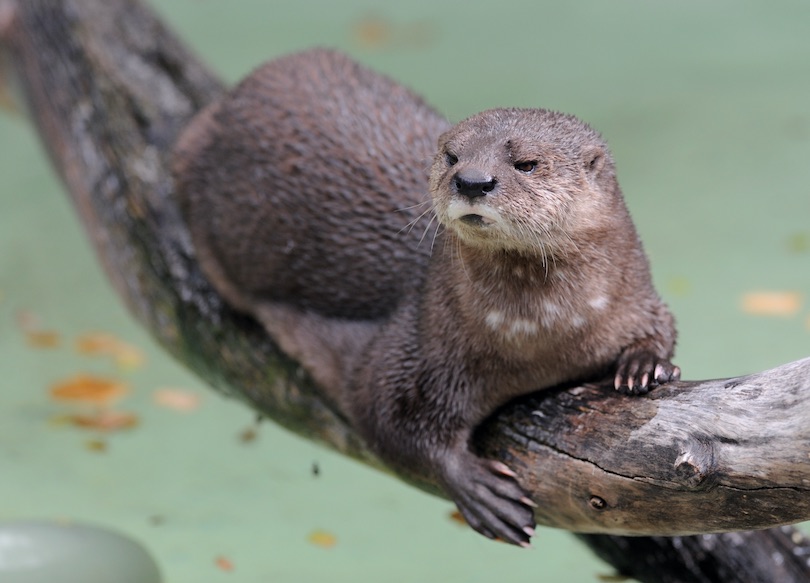 © dreamstime
Spotted-necked otters get their name from the brown and white spots on their chins and underside. The rest of their slender body is covered in a reddish brown or light brown fur. They are native to central Africa.
These curious little mammals are abundant at Lake Victoria and Lake Tanganyika, as well as some wet areas of sub-Saharan Africa. They aren't fussy when choosing between lakes, rivers, streams, or swamps, but they are heavily aquatic and spend nearly all of their time in the water.
Female spotted-necked otters are shorter than males and have lighter colored fur. They are some 34-42 inches long and weigh around 9 pounds. They hunt for fish and other aquatic animals during the day and sleep at night.
4. Smooth-coated otter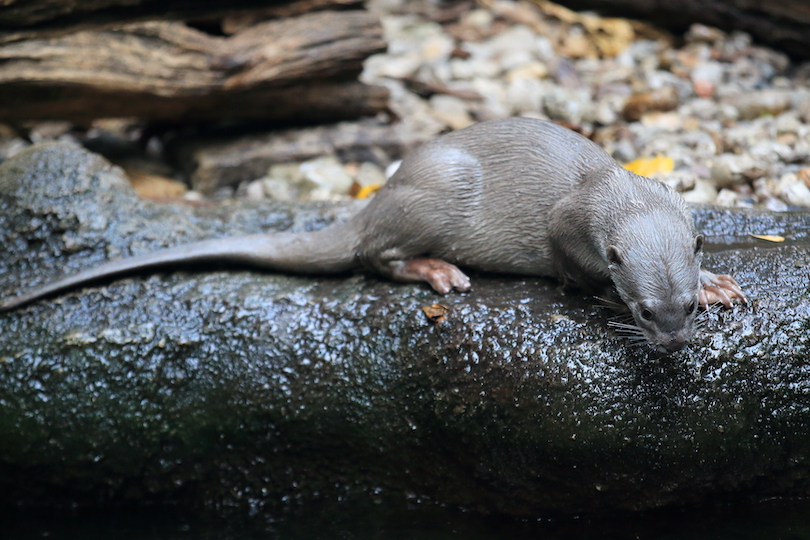 © dreamstime
This otter species gets its name from the short, smooth pelage that covers its sleek body. In fact, they have two layers of fur. The first is called a guard fur and keeps their second layer of fur, that is underneath, dry when they are in the water. This way, smooth-coated otters can stay warm when they are swimming and hunting.
They have chocolate-brown fur on their top side, and very pale brown fur on their underside. Their tails are thick, long, and muscular. They are found in southern and southeast Asia, India, China, and Iraq where they live in rice-paddies, mangroves, rivers, swamps, lakes, and wetlands alike!
Smooth-coated otters form monogamous pairs that mate and rear their young together in small shelters or burrows near the water. Otter mothers breastfeed their young alone, and their father plays a role in bringing the family food once the pups have been weaned.
5. North American river otter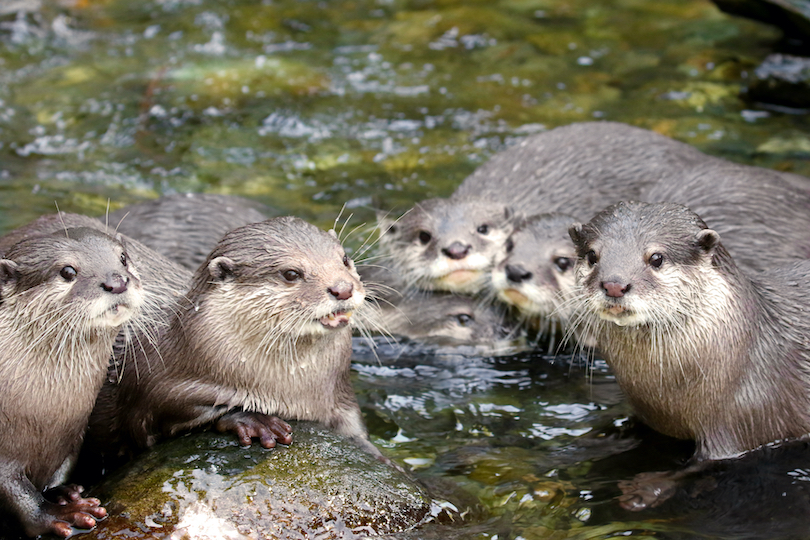 © dreamstime
North American river otters have dark brown fur on their bodies that fades to almost white around their mouths and chins. They can weigh anywhere between 11 to 30 pounds and are about 22-32 inches long, excluding their tails that reach lengths of 12 to 20 inches!
Otter pups are raised by their mothers in a den near the water's edge. This species of otter is semi-aquatic and is equally comfortable swimming or walking on land on all fours. They have specialized nostrils and ears that close when they are in the water, and they can hold their breath for some 8 minutes.
They live in estuaries, rivers, lakes, and swamps in Canada, the US, and Mexico. Their thick fur keeps them warm during cold winters and acts as an insulator when the animal is in the water.
6. Southern river otter
© dreamstime
This otter species is found in southern South America in Chile and Argentina. They have brown fur on their upper bodies, and a lighter, cinnamon colored fur on their undersides.
Despite their name, these otters actually inhabit both marine and freshwater habitats. But they do prefer rivers and lakes that are surrounded by thick vegetation that they can use to build their dens and hide in when a predator is in sight.
Southern river otters are piscivores, meaning they feed mainly on fish. They also hunt mollusks, crustaceans and occasionally even birds! They are nocturnal animals and rely on their keen senses to hunt at night.
7. Neotropical river otter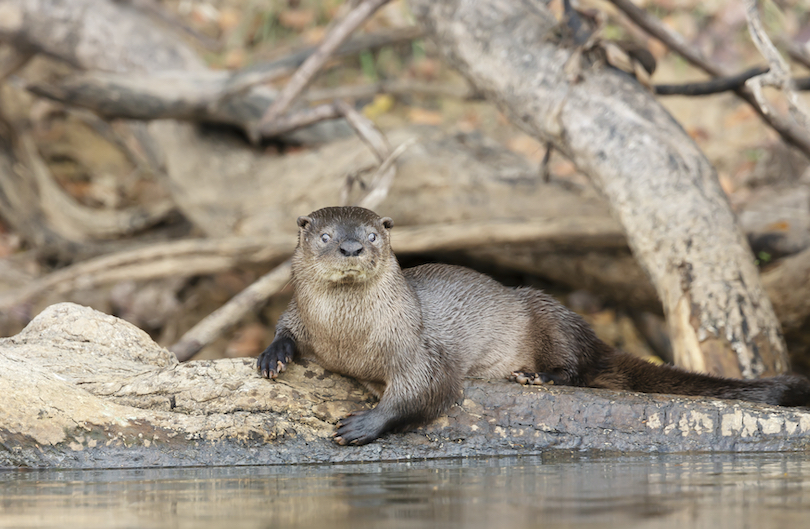 © dreamstime
These otters have fully webbed paws, and long muscular tails that help them get about in the water. They rely on their strong jaws to crush up crustaceans and other prey. Neotropical river otters are found in Central America, South America, and on the island of Trinidad.
They have a wide geographical distribution that extends all the way from Mexico down to Argentina. Their preferred habitats are fast-flowing rivers and streams within forests, savannas, and the wet landscape of the Pantanal. But they are found in a diverse set of habitats, including coastal regions and glacial lakes in the Andes.
They build cozy dens near the water's edge where they raise their young and sleep. The neotropical river otter is diurnal and spends the majority of its day hunting in the water for fish and other aquatic species.
8. Marine otter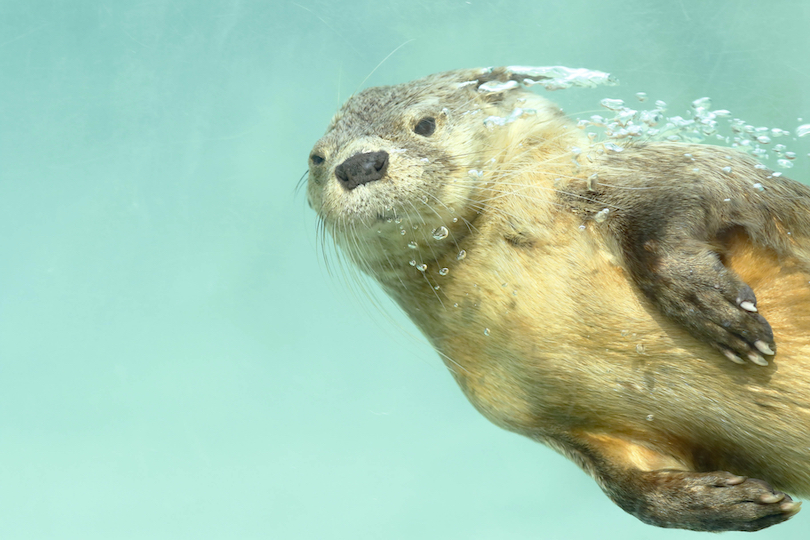 © dreamstime
These semi-aquatic otters live off the Pacific coast of South America. They inhabit coastal regions of Peru, Chile, and Argentina. However, despite their name they don't spend much time in the water. They are quite small for otters, weighing just 13 pounds and reaching lengths of 33-45 inches.
Marine otters live on land, where they mate and build their dens along rocky coastal cliffs. They are largely terrestrial, but make short hunting trips into the sea. They have a thick brown fur that regulates their body temperature when they are in the water.
These otters mainly feed on invertebrates, like clams and crabs, that they can catch on land. They supplement their diet with fish, and even the occasional bird or small mammal. Impressively, individuals can dive down some 100-130 feet during a hunt!
9. Giant otter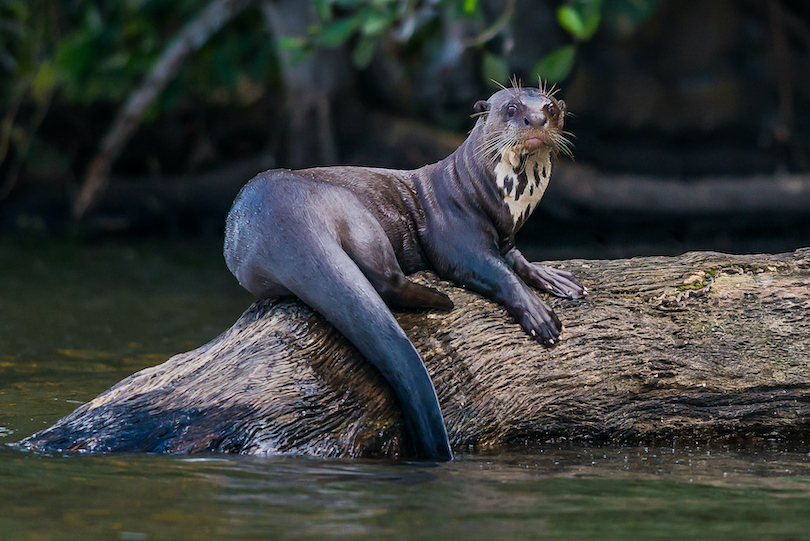 © dreamstime
The largest of all the otter species, the giant otter, reaches lengths of 6 feet! They have a very niche habitat and are only found in rivers and creeks along the La Plata River system of the Amazon rainforest.
These large otters weigh around 75 pounds in adulthood and have to eat some 6-9 pounds of food per day to keep their tummies happy! They mostly hunt fish but are opportunistic feeders that will gladly munch on crustaceans, snakes, and other aquatic species.
Unlike other otter species that are largely solitary, giant otters live in large families made up of monogamous parents and several generations of offspring. They have thick, brown fur with characteristic white patches under their chins.
10. African clawless otter
© dreamstime
The African clawless otter is the 3rd largest species of otter on the planet. They have two layers of thick fur, the top of which is known as guard fur and acts as a waterproofing layer. These large otters have chocolate brown colored fur, that is a lighter cinnamon brown under their chins.
Their bodies are some 30-35 inches long, with muscular tails which reach lengths of 18 inches. They build dens near the water that can be up to 10 foot deep and are used by a small otter family for sleep, rest, birthing, and anything else they can't do in the water!
They inhabit countries along the coast of Africa, from South Africa to Ethiopia and inland until Senegal. African clawless otters opt to live near springs and rivers, although some live along coastal areas if there is freshwater nearby.
11. Asian small-clawed otter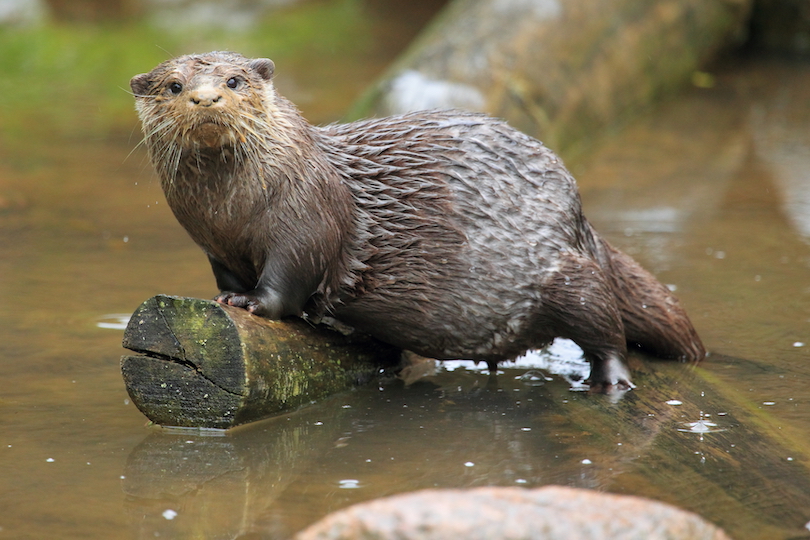 © dreamstime
Asian small-clawed otters are the smallest of all the otter species. They are very little compared to other otters, reaching just 2 foot in length. Their tails alone can be one foot long, half their body length. Overall, they weigh a mere 11 pounds.
They are a highly intelligent species of otter that can be trained to catch fish! Aside from their intelligence, they are also very social creatures. They live in extended families of up to 12 otters. Their dark brown fur is contrasted by a lighter cream pelage under their chins and down their underside.
Populations are distributed across Southeast Asia, the Philippines, Indonesia, and occasionally in southern India and China. They are found living in coastal regions, rice paddies, and among wet mangroves as well as in freshwater rivers.
12. Congo clawless otter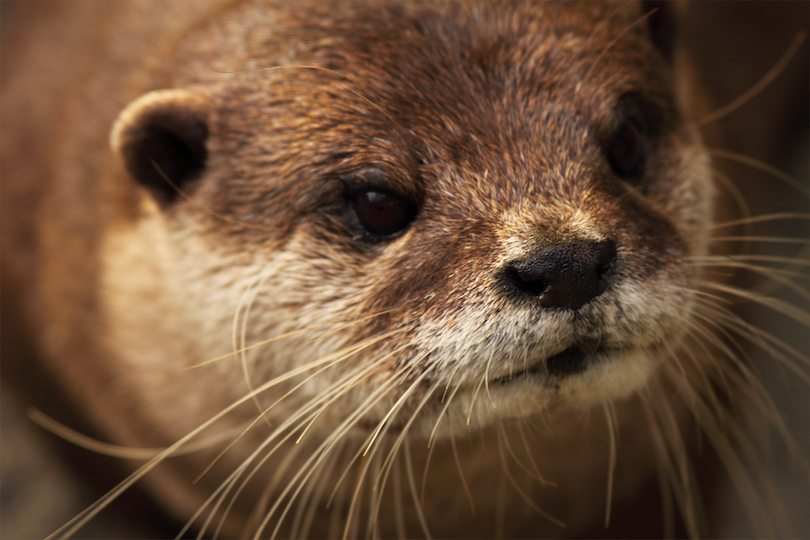 © dreamstime
These African otters have dark brown fur, with white furred chests and two distinctive spots between their eyes. They are largely nocturnal animals that rest for most of the day.
This species of otter lives between southeastern Nigeria and western Uganda along the lower Congo basin. They inhabit swamps, streams in dense rainforests, rivers, and ponds. Congo clawless otters reach lengths of 30-38 inches and have long 30-inch tails.
They lead semi-aquatic lifestyles, happy both in the water and on land! They don't have long, sharp claws like most other otter species, instead they have short, underdeveloped claws. Only their back paws are webbed, and just partially. These adaptations help them forage among the mud.
13. Sea otter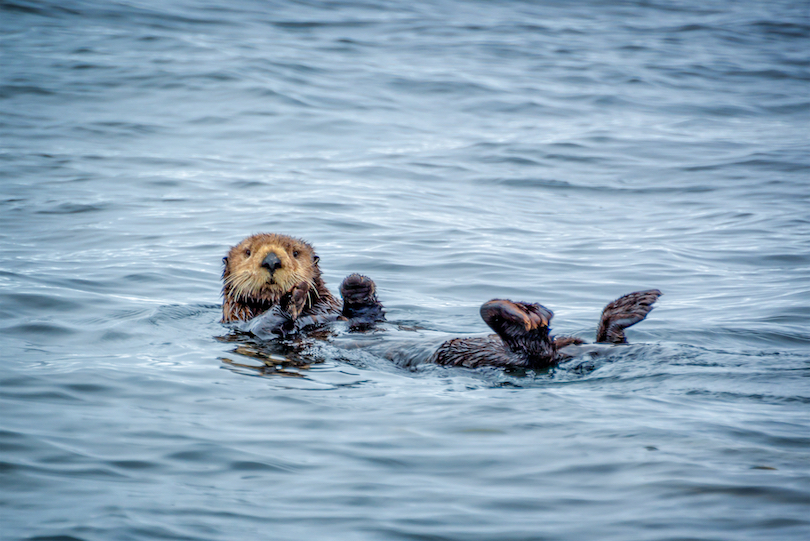 © dreamstime
Sea otters are a marine species of otter, as hinted by their telling names! They live along the coast of the Pacific Ocean in Asia and North America. They can weigh up to 99 pounds, making them the heaviest otter species.
They have various adaptations that help them thrive in their unique aquatic environment. Their nostrils and ears close when they are in the water, they have webbed paws, and thick brown fur that regulates their body temperature in cold seas.
Sea otters spend a lot of their time in the water floating on their backs and can even sleep in this position! They dive down to the seafloor to collect sea urchins, crabs, mollusks, fish, and shellfish to munch on. Cleverly, they smash their shelled prey against nearby rocks to break its shell so they can pick out the tasty meal within.