Macaws are colorful, exotic species of parrots that are native to Northern, Central, and South America. These noisy birds live in a variety of tropical and sub-tropical habitats and are often very friendly in nature. They can be easily distinguished from their environment because of their bright colors, if you don't hear them first!

They have been kept as pets for a long time. Most macaw species are traded because of their vibrant feathers, exotic homelands and gentle manner. They can be anywhere from 40 to 12 inches long. All types of macaws come in vibrant greens, reds, yellows, blues and more often than not, a mix of all of them.
1. Hyacinth macaw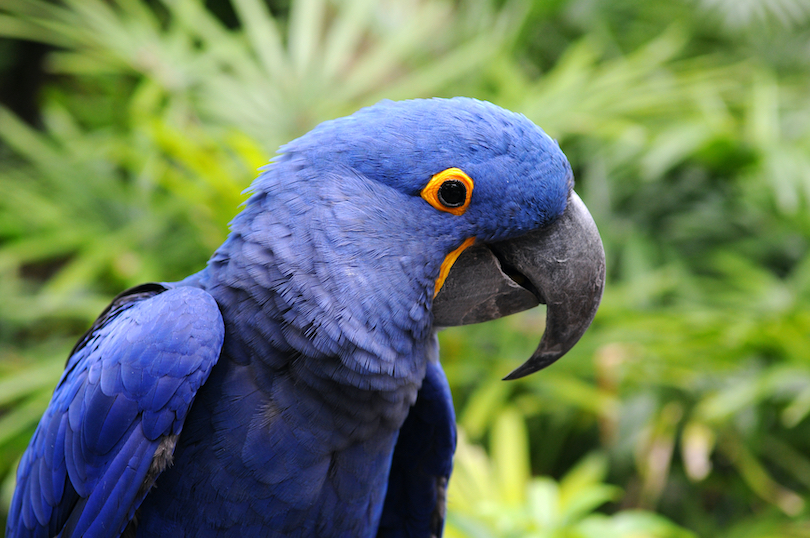 © dreamstime
This elegant macaw is the largest of all the parrot species. Males can measure up to 40 inches in length and have an even longer wingspan! These majestic birds are covered in cobalt blue feathers and have a small, bright yellow ring around each eye. They have black beaks, with a patch of bright yellow lining their bottom beak.
They used to be more geographically widespread, but now mostly inhabit the Pantanal, an extensive freshwater wetland. They also live in scrubland at the edge of the rainforest in Brazil and Bolivia.
Hyacinth macaws can live for up to 60 years. They mature slowly after hatching; it takes a chick some six months to become a mature adult. They don't begin to mate until they are seven years old.
2. Indigo macaw (or Lear's macaw)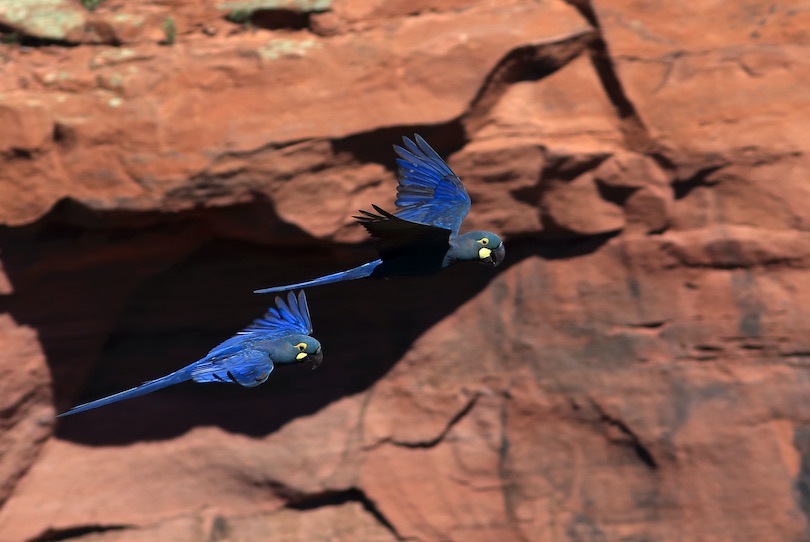 © dreamstime
The indigo macaw has a similar appearance to the Hyacinth macaw. Both have a bright blue plumage and small, bright yellow rings around their eyes and bottom beak. However, indigo macaws have black feathers underneath their tails and wings, and chest feathers with a green tint.
They live in Brazil, in a few different landscapes across this immense country. They tend to lay their eggs in sandstone cliffs and spend most of their time on tree branches.
Indigo macaws can measure up to three feet in length and live anywhere between 30 and 60 years. They like to form flocks of about eight to thirty birds, a colorful and noisy family indeed!
3. Little Blue macaw (or Spix's macaw)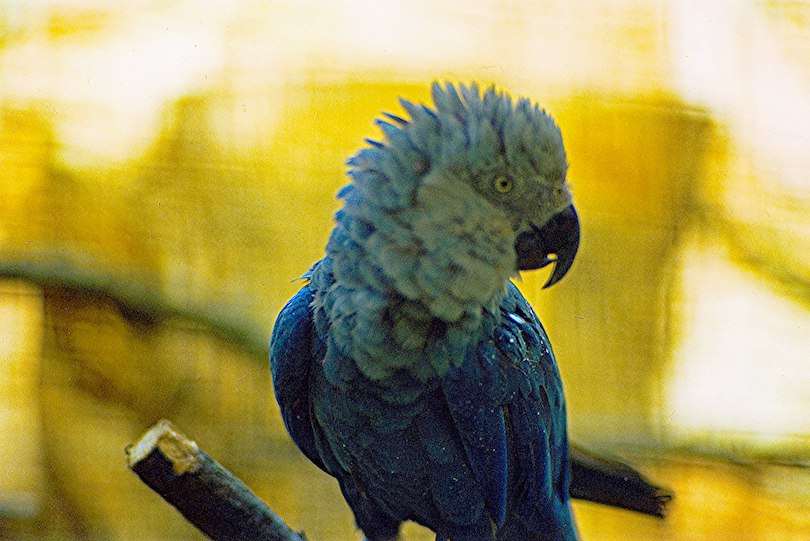 wikipedia/Rüdiger Stehn
These little macaws have a blue-grey plumage, with bright blue tail and wing feathers and a light grey crown. They are the rarest of all the macaw species and no longer live in the wild, anywhere in the world.
These birds were historically native to Brazil, where they bred in treetops and foraged in the wild in small groups or pairs. Now they are critically endangered and live only in captivity. Most of the remaining individuals are owned by private collectors. It's estimated there are just over 100 of these macaws left.
They measure just over 22 inches in length and live somewhere between 28 to 40 years if cared for well. They are very chatty and can mimic human speech excellently.
4. Blue-and-yellow macaw (or Blue-and-gold macaw)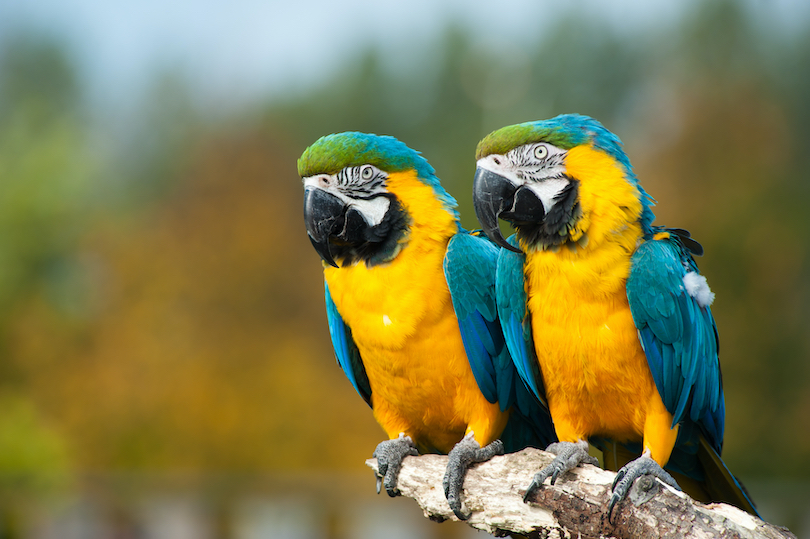 © dreamstime
This extremely colorful macaw species is easy to spot among a crowd. Individuals have bright blue tail and wing feathers, with a light mustard-yellow chest. There is a small featherless area around the macaw's beak and eyes that exposes their white skin and is surrounded by a small patch of black feathers below and green feathers above.
These birds are native to the northern areas of South America. They live in the woodlands and exotic tropical forests of Brazil, Bolivia, Paraguay, Peru, Venezuela and some areas of Panama.
These birds are some 30 to 35 inches in length and can live up to 60 years! They feed on nuts, seeds, and tropical fruits that they forage on the ground or pick at as they sit in the treetops.
5. Blue-throated macaw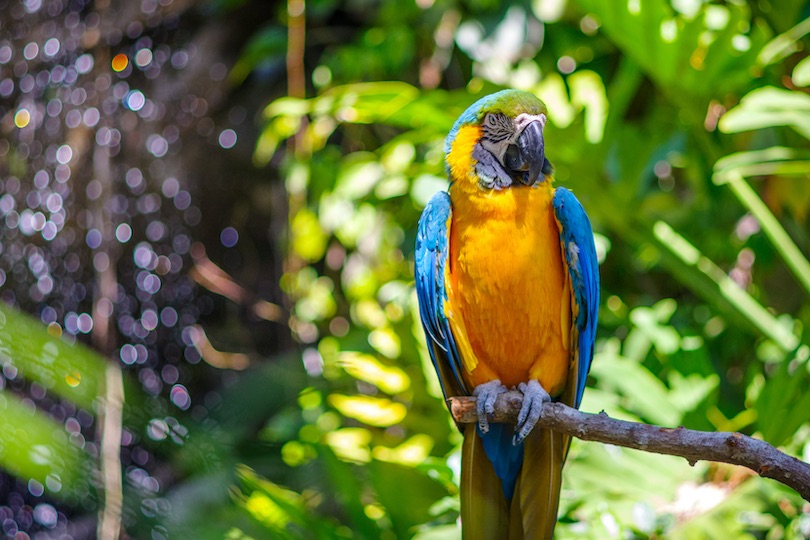 © dreamstime
These impressive macaws have dark yellow feathers on their chest, and vibrant blue feathers on their wings and tail. They were named the blue-throated macaw because of the little patch of blue feathers under their beaks, which is surrounded by yellow plumage on either side.
Beautiful and intelligent, these macaws are sadly only left in one place in the wild. There are some 250-300 blue-throated macaws in Los Llanos de Moxos, Bolivia. But there are lots in captivity and kept as pets.
An interesting fact about these birds is that the color of their irises change with age, from black at birth, to a bright yellow in adulthood. They are some 32 inches long and can live up to 80 years of age!
6. Military macaw
© dreamstime
There are two subspecies of these bright, eye-catching macaws. They live in a variety of habitats across Central and South America. Their ability to be adaptable enables them to live anywhere, from humid rainforests to arid terrains from Mexico to Argentina.
They are mostly covered in bright green feathers, though they have blue plumage on the top of their wings. Their tail feathers are a colorful mix of blue, red, and green. They also have a characteristic bright red band above their top beak.
Military macaws are some 28 inches long and live an average of 50 years. They like to live in large flocks and spend much of their time screeching from treetops. These friendly and social macaws make great pets.
7. Great Green macaw (or Buffon's macaw)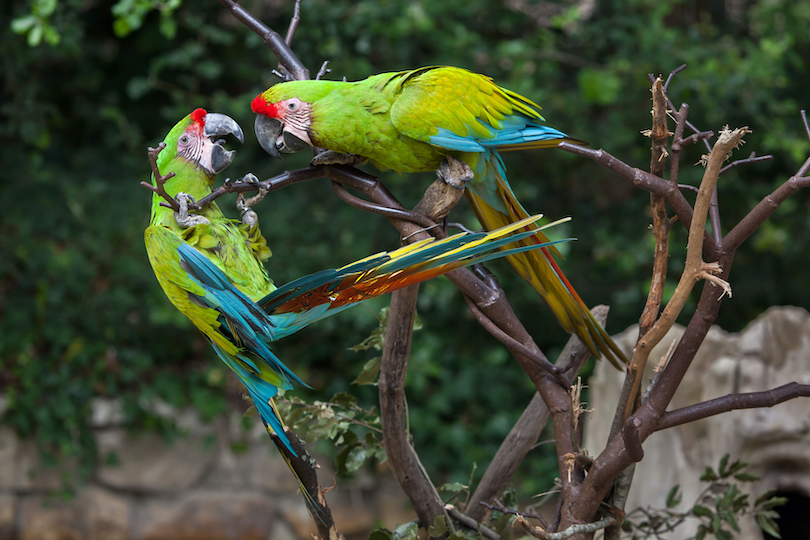 © dreamstime
These noisy, playful macaws have bright green plumage with turquoise wings and colorful tail feathers in blue, red and green. They live in a few spots across Central, North and South America. Their scattered geographical distribution indicates they have adapted to a variety of habitats.
They spend the day squawking and feeding. They eat seeds, nuts, fruits, flowers, bulbs, and even tree roots and bark. They form life-long partnerships, breeding and raising their chicks together. Chicks stay with their parents for up to five months.
These magnetic birds can grow up to 35 inches long and live for about 30 years in the wild. Some of their habitats cross-over with that of the military macaw, at a glance it's easy to confuse these similar looking birds.
8. Scarlet macaw (or Aracanga)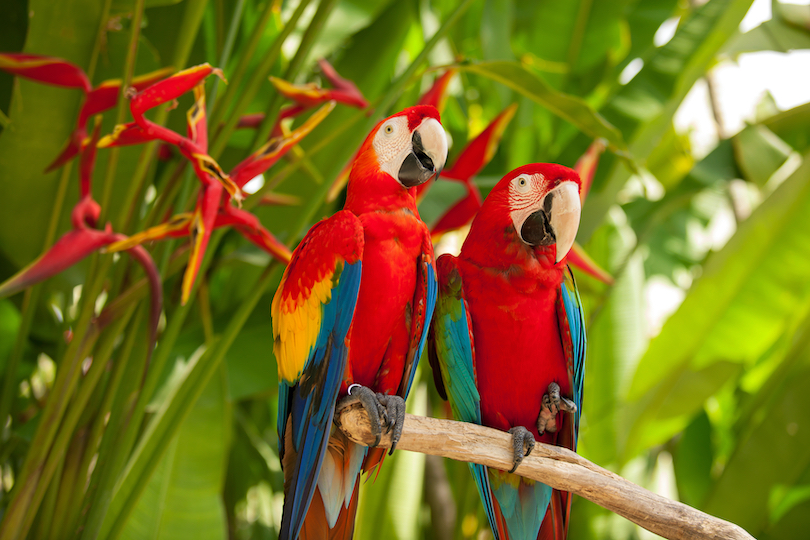 © dreamstime
If you think of a parrot, the scarlet macaw will likely be the first to jump to mind. These majestic birds are mostly scarlet red, with yellow and blue feathers on the top halves of their wings. They have a featherless patch around their eyes that exposes their white skin.
This parrot species is quite common in South America, where they live in evergreen forests that are humid and rich in canopy. They are also found in some countries in Central America, like Guatemala, Belize, and Mexico.
These birds can reach 32 inches in length and fly at an impressive speed of 35 miles per hour. As long as they evade any predators and poaching, they can live for up to 50 years in the wild.
9. Red-and-green macaw (or green-winged macaw)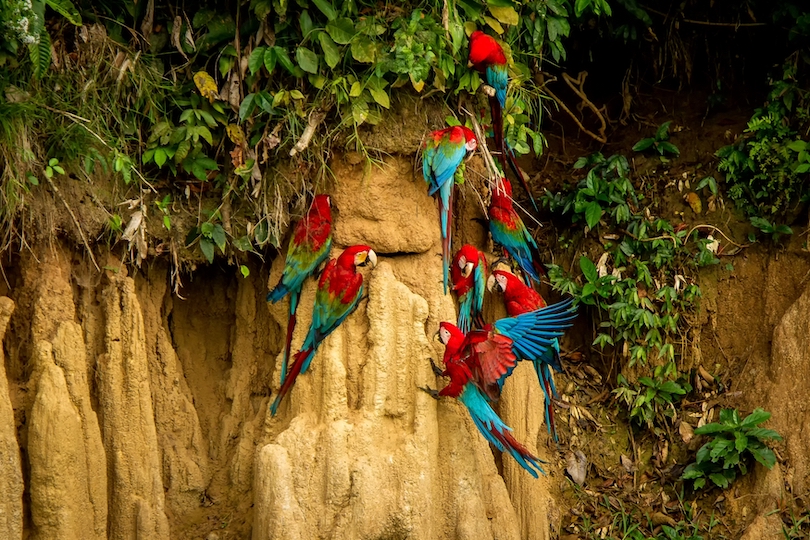 © dreamstime
Intelligent and curious, these social birds are easy to spot because of their fantastic colors. They have a bright red head and body, and bright blue wing feathers, with a streak of green in between the two. Their tails are long with blue and red plumage.
They live in the more northern countries of South America, in low altitude landscapes like humid evergreen forests and deciduous forests. They breed in holy sandstone cliffs and in tree holes that offer safe nesting spots.
They are up to 40 inches long and they are the second largest parrot in the world. They usually have a life expectancy of around 50 years. These captivating birds have been kept in captivity since the 17th century as they are exotic but gentle in nature.
10. Red-fronted macaw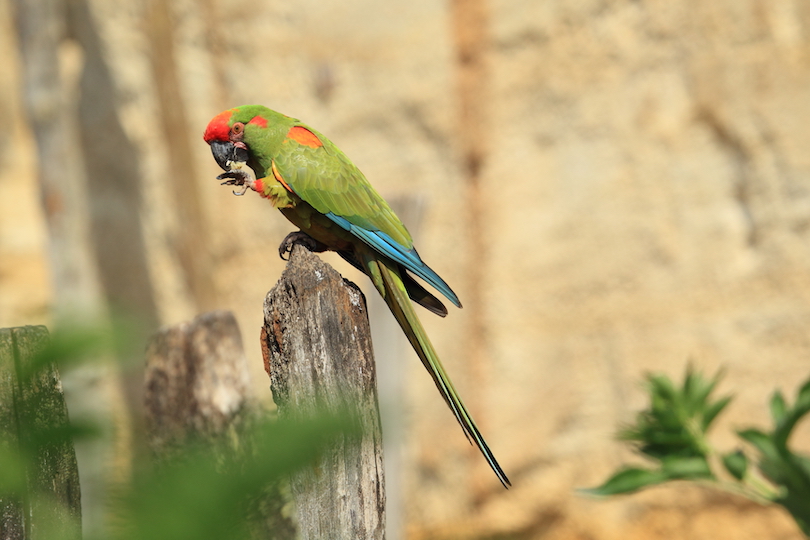 © dreamstime
Green, blue, and red in coloring; these birds look a lot like Military and Great Green macaws. But these little green birds have a defining patch of red plumage on their crown and around their claws. Their wing feathers are blue above and green underneath, with a band of red that stretches across the top of their wings.
These small parrots only live in arid, semi-desert mountains in Bolivia. Unfortunately, they are now critically endangered. Estimates predict there are just some 130-270 individuals left and populations are decreasing.
Smaller than most macaws, these birds are just 22 inches long and live to some 50 years of age. You'd be very fortunate to spot one of these little birds, they have become very rare!
11. Chestnut-fronted macaw (or Severe macaw)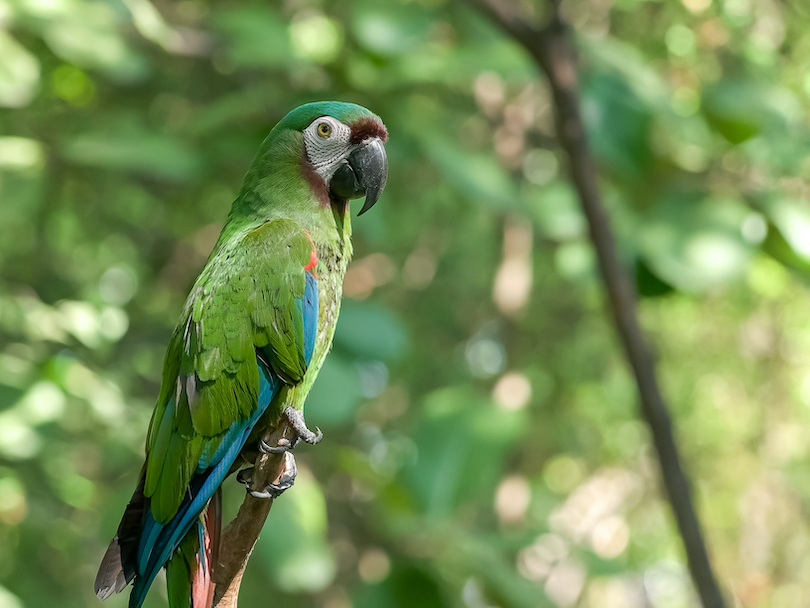 © dreamstime
This species of macaw has a mostly green plumage. The tips of their wings and tails are a magnificent light blue color. They don't have feathers around their eyes, exposing their white skin. But just above and below their beaks they have a small patch of black feathers. If you get to see them in flight, you'll notice that their wings are red underneath.
These captivating birds live in forests and woodlands across most northern South American countries. They also inhabit agricultural lands where palms and trees are abundant. They love eating fruits and often raid maize crops, they aren't popular amongst local farmers!
Chestnut-fronted macaws are about 18 inches long, small for a macaw but one of the larger mini-macaw species. They can live for 40 years or more in captivity.
12. Red-bellied macaw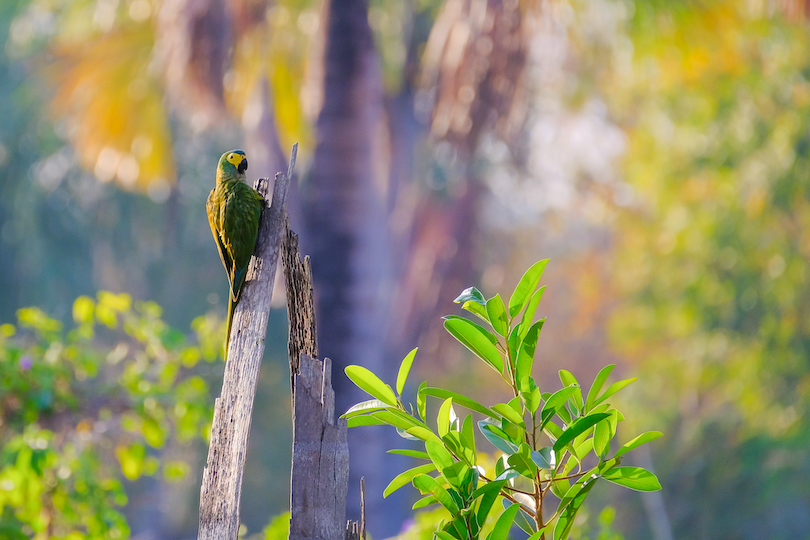 © dreamstime
These small green macaws look very similar to chestnut-fronted macaws. They have an almost entirely green plumage, with vibrant electric-blue tones running through their feathers. Their eyes are dark, and their face is featherless, exposing their yellow skin. Their bellies are a brown-red color, and their underwings are yellow.
They live in swampy, lowland rainforests and sandy savannahs. They favor areas with palm trees as they use the palm's wide branches for nesting. They are native to Amazonian South American countries, like Colombia, Peru, Bolivia and Brazil.
These birds are around 20 inches long and can live anywhere between 15 and 40 years. They hang out in groups of around three to twenty birds, and pair up during the mating season. They can be hard to spot in the wild, their feathers look a lot like their surroundings!
13. Blue-headed macaw
© dreamstime
Another member of the mini-macaw species, the Blue-headed macaw is easily distinguished from other macaws by its unique coloring. This macaw's plumage is almost entirely green, a vibrant and eye-catching shade! It has turquoise blue wing feathers and a mix of blue, green, and red tail feathers. But the bird's most defining feature is its grey-blue head feathers that give it its name.
Blue-headed macaws are native to the Amazon rainforest and some low altitude regions, up to 5,100 feet, of the Andes. They prefer humid forests near clearings or rivers, but are also spotted on the outskirts of South American towns and swamplands.
The bird is some 16 inches long, a medium sized macaw. They usually live around 25 years; a little less than most macaw species. If they are cared for well, they can live up to 40 years in captivity.
14. Blue-winged macaw (or Illiger's macaw)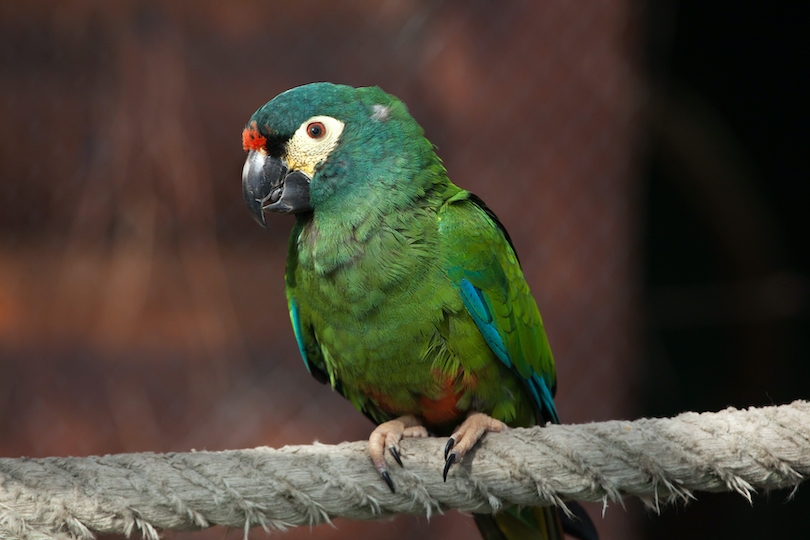 © dreamstime
These multi-colored and exotic birds are decorated by vibrant green, blue and red feathers that make them stand out wherever they are! Their bodies are mostly a bright green. Their wing feathers are a mix of blue and red with olive-yellow wing coverts underneath. They don't have plumage around their eyes, exposing their white skin. They have a little patch of red feathers above their beaks that fades into a patch of blue feathers. The bottom of their bellies are scarlet red.
Their home is South America, across Argentina, Brazil, and Paraguay. Although some can be found in Central America in Mexico. They live in a variety of forests and savannas, and especially thrive in the Amazon rainforest.
This species of macaw is a part of the mini-macaw group, they measure some 14 to 17 inches in length. Their tails are very long, and account for about half of their length. They usually live for around 40 years, though in captivity they have been known to live for up to 60 years, a true life-companion.
15. Golden-collared macaw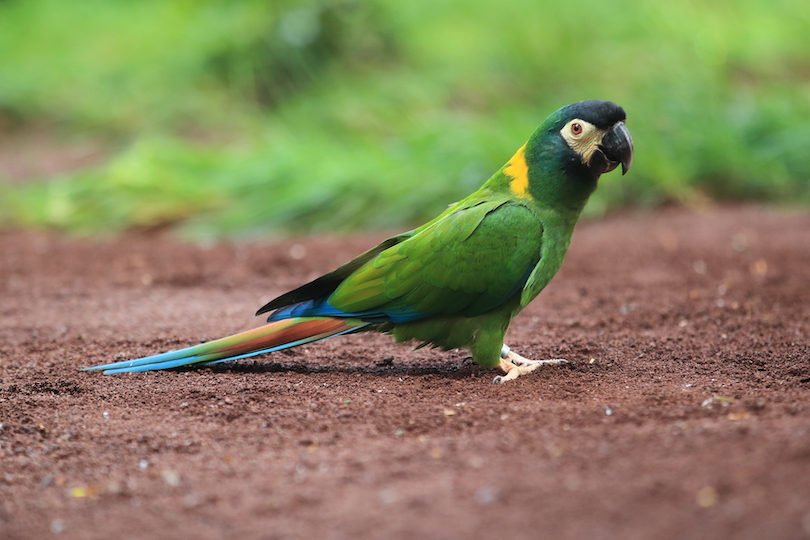 © dreamstime
The golden macaw gets its name from the bright yellow collar around its neck, broadest at the back. Their body feathers are a bright green, and they have blue wings that are an olive-yellow underneath. Their tail feathers are a mix of red, green, and blue. They have some black feathers above and below their beaks, and exposed white skin around their eyes.
These birds are native to the central regions of South America. They live in Brazil, Argentina, Paraguay and Bolivia in lowland forests, savannas, grasslands, and woodlands.
They are around 15 inches long. These birds are highly social and love to be around their owners, they need a lot of interaction to keep them happy! In captivity they can live up to 50 years if they are well cared for.
16. Red-shouldered macaw (or Hahn's macaw)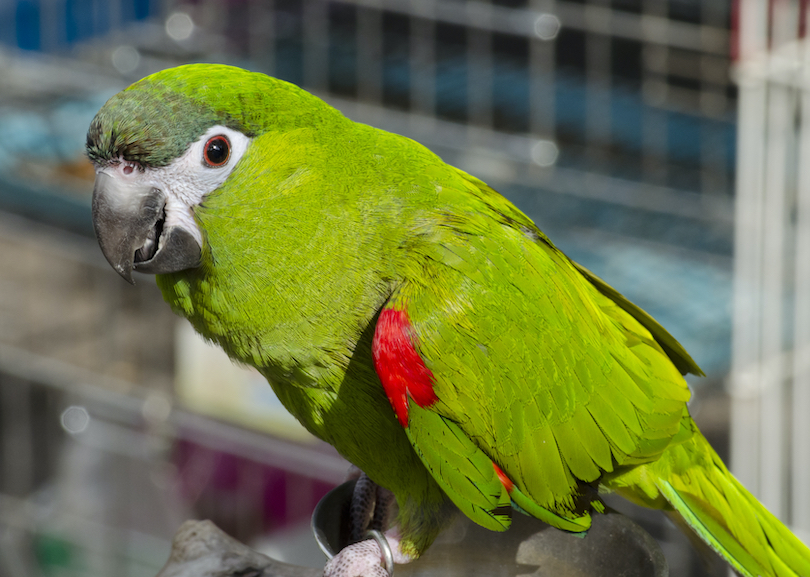 © dreamstime
The Red-shouldered macaw is the smallest of all the macaw species. They measure just 12 inches in length. Their body is covered in vibrant green feathers. Their hidden tail and underwing feathers are a pale yellow. They are characterized by the patch of bright red plumage at the top of their wings, around their shoulders, which explains their name.
In the wild, they live in tropical forests across Brazil, Venezuela, and Guyana and some areas of Peru and Bolivia. They also inhabit some savannas and swamplands.
These small macaws are great pets, though they are very vocal and can become quite noisy! They can live for up to 30 years in captivity, but they require a lot of attention and like to have plenty of toys to play with.